6 AI Content Writing Tools That Writes Like Humans: Write Faster and Better With These AI Writing Software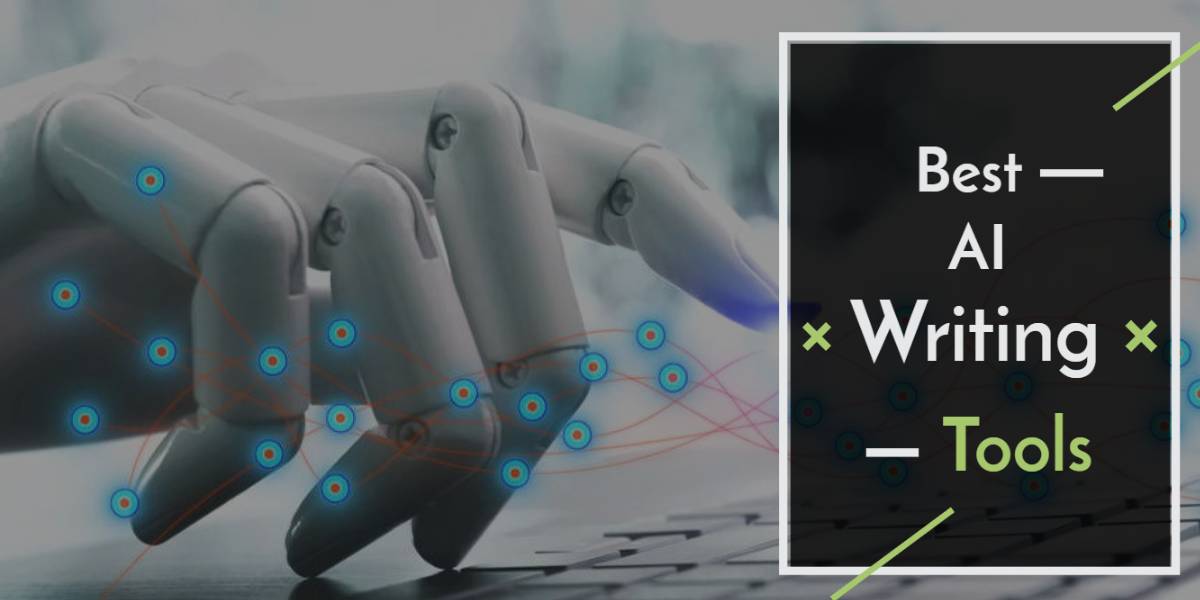 Every now and then, a new technology comes along that blows your socks off and reshapes the entire industry. One most recent example of this 'sock-blowing technology' is the advancement of AI in content marketing. The rise of AI writing software has forced us to rethink content creation.
While people have differing opinions on whether artificial intelligence will replace writers or not, everyone agrees that it will impact them one way or another. As a content writer or content marketer, it's better to be an early adopter and use an AI writing assistant to streamline your workflow.
I tested a bunch of tools to pick the best one for my content creation workflow. I've listed my top AI content writing tools in this post. Hopefully, this AI writing software buying guide will make your decision easier. 
How do you use AI in content writing?
You can use AI to generate content ideas, write article outlines, brainstorm headlines, and even create the first draft. AI tools are becoming increasingly popular in digital marketing. AI writing assistants help content marketers create more content with fewer resources. Content creators can focus on being creative and making content that is emotionally appealing.
Best AI content writing tools (quick read)
Frase – Best AI article writing tool (SEO focused writing)
Jasper AI – Best AI content generator tool (ad copy, social posts and SEO content)
Grammarly – Best software for grammar, structure, style and spell check
Wordtune – Best paraphrasing tool
Word AI – Bulk content rewriting tool
Rytr -Budget-friendly artificial intelligence writing software
What is an AI writing tool?
Artificial intelligence (AI) writing tools are programs that are trained on human-written text and then programmed to generate original content. These applications rely on machine learning and natural language generation to produce output. You can use these tools for copywriting, SEO writing, customer support, automated emails, and other stuff. Some AI writing software includes a plagiarism checker to ensure that the generated text is original.
Best AI writing software (deep-dive)
Frase AI writer
Frase is an AI writer that combines SEO features and AI content writing. The AI writing assistant looks back 3000 characters, so the text generated will be contextually relevant.
It uses artificial intelligence and natural language processing to analyze the topic coverage on top-ranking web pages. Once the analysis is done, you get a list of keywords and phrases you should use in your content to get better rankings on search engines like Google and Bing.
You can easily create an article structure in Frase's outline builder. You can either create your content brief manually or let the tool generate one for you. It also comes with some content brief templates that you can use as a starting point for your next blog article.
If you subscribe to the SEO add-on, you'll see the domain authority and backlinks associated with each ranking page. It's helpful to gauge how competitive a keyword phrase is in terms of SEO (both content and links).
Key advantages: The key advantage of Frase is that it uses a proprietary content writing technology, so it doesn't have the usual topic limitations of normal GPT3-based AI writers. It comes with SEO content optimization features, so you won't have to pay for an additional SEO tool like Surfer SEO or MarketMuse. You can train and build your templates, giving you complete flexibility.
Cons: Frase is focused on SEO copywriting, so it might not be a good fit if you're looking to write other forms of copy like ad copy or press release — unless you're willing to build your templates.
Best use case: long-form content with a focus on SEO
Plans and pricing: Frase offers three plans: basic, team, and enterprise.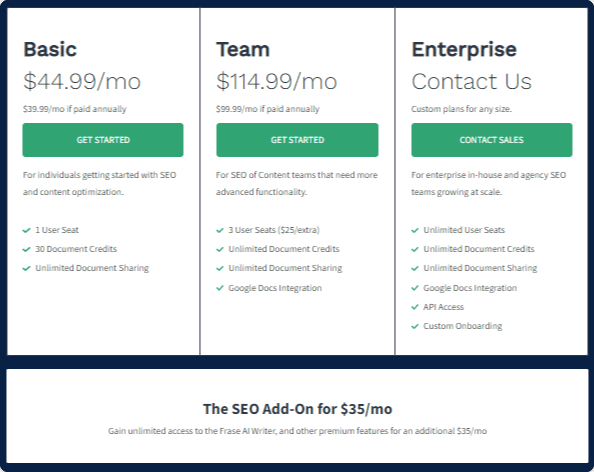 The basic plan consists of 1 user seat, 30 document credits, and unlimited document sharing. This plan costs $44.99/month and $39.99/month if paid annually. The team plan costs $114.99/month and is meant for content teams that need advanced functionality.
The team plan comes with 3 user seats, unlimited document credits and sharing as well as google docs integration.
The enterprise plan on the other hand is for enterprise in-house and agency SEO teams growing at scale. This is a custom plan consisting of unlimited user seats in addition to unlimited document sharing and credits. Other features are google docs integration, API access, and custom onboarding. Frase AI is free to use with a 7-day trial period for the premium version.
Jasper AI (formerly Jarvis AI and Conversion AI)
Jasper AI was originally called Conversion AI. After a merger with Shortly AI, the company was renamed Jarvis AI. But that didn't last long; after a copyright lawsuit from Marvel Studios, they were forced to rebrand as Jasper AI.
Jasper is an AI writing software powered by Open AI's GPT3-based AI technology. The AI output is similar to that of most other GPT3-based tools, but it's faster and has a better user interface. Jasper boss mode comes with a long-form editor, which better understands context since it looks back 3000 characters. The AI-based writing experience is much better in Jasper AI boss mode since the editor accepts free form commands. Read my full Jasper AI review to see all of the templates in action.
Key advantages: The AI writer comes with many pre-built templates and integrates with a wide range of tools. The team is developing the tool at breakneck speed, so the software will only improve over time.
Cons: The AI writer is GPT3-based, so it has topic restrictions. So it might not be a good fit if you write about sensitive topics like sexual wellness and health. Jasper does not come with in-built SEO features like Frase, so you'll have to pay for a third-party SEO tool. The good news is that they have a direct integration with Surfer SEO, so you don't need to copy and paste your content between the two applications.
Plans and pricing: Jasper AI charges based on the number of words you write. You have two choices, the starter plan and boss mode. The starter plan costs $29/month for the first 20,000 words, then it increases based on the word count. It includes 50+ AI copywriting templates, unlimited user logins, and unlimited projects. Boss mode includes all the features of the starter plan plus the long-form document editor, and free-form commands. There's a 100% money-back guarantee on Jasper plans if you inform the team within 5 days of purchase.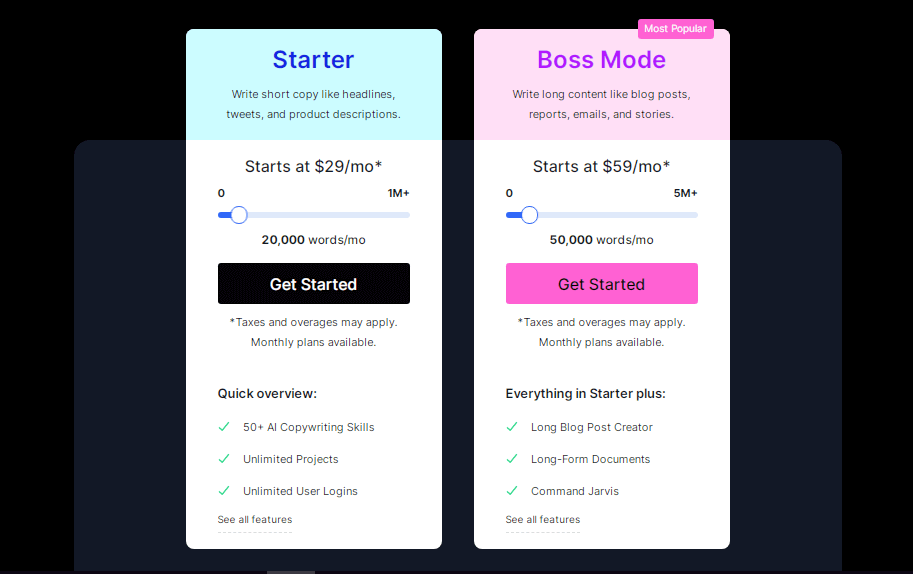 Best use cases: AI copywriting, sales copy, product descriptions, and marketing copy, such as email copy and social media posts. You can use it to write long-form content if you're willing to pay for a third-party tool.
Wordtune AI writing assistant
Wordtune isn't an AI writer in the traditional sense since you can't use it to write paragraphs of text by feeding it a topic. As the brand name implies, it's designed to fine-tune your sentences.
Key advantages: It's incredibly helpful for perfecting your sentences because the underlying AI technology looks for context within a sentence or paragraph. You can choose a casual or formal tone when you're rewriting your content.
Best use case: Editing and polishing your content to make it sound more natural. Creating variations of your social media posts.
Cons: Wordtune doesn't have the same bells and whistles that the other AI writing software on our list have. It won't be a good match if you're looking for an AI writer that does most of the heavy lifting for you.
Plans and pricing:
You can choose between a free tier and a premium tier that has more features. The free plan allows 20 rewrites per day. They have a premium plan for individuals and a premium plan for teams. Individual plans are $9.99/month and include unlimited rewrites, casual and formal tones, shorten and expand features. The team plan includes the same features as the individual plan, but with premium support and team billing.
Grammarly
Grammarly is an AI writing assistant that's popular among students and professionals. It detects grammar mistakes and gives you feedback on how to fix them. It's incredibly helpful to ensure high-quality content even as you scale up your content creation. Even seasoned copywriters and content writers will find it useful to be alerted to silly mistakes they might otherwise overlook. Like any other writing software, Grammarly isn't meant to replace human editors. Instead, it complements them. It will at the very least speed up your editing process.
Key advantages: Grammarly integrates with almost all popular writing tools including the AI content generators on our list. The Grammarly keyboard works on a mobile device, too. You can choose between American English or UK English based on your needs.
Cons: Grammarly is an AI-powered grammar correction tool, so it won't work if you're looking for an AI content generation tool.
Plans and pricing:
There are three plans available: free, premium, and business. The free plan includes basic writing suggestions. Premium plan options include style, clarity improvements, and additional advanced corrections for $7.20 / month. The Grammarly business plan is designed for teams and costs $12.50 per month.
Rytr AI tool
Rytr is one of the most affordable AI writing software on the market. It can be used to write several content types including website pages, product descriptions, short stories, blog posts, and social media posts.
Cons: Rytr doesn't allow you to run free-form commands like Frase and Jasper AI, but you can still use the AI writer to create articles by expanding individual sections of a blog post.
Key advantages: Rytr is the best AI writing software for people on a tight budget.
Plans and pricing:
This AI writing software offers three plans: free, saver, and unlimited. With the free plan, you can generate up to 5000 characters per month. The saver plan costs $9/month and lets you generate up to 50k characters. At $29/month, the unlimited plan gives you access to all the features and unlimited credits.
Word AI content generator
Word AI used to be a simple content spinner, but now they use AI to generate original content. While I always recommend writing original text, I understand that sometimes you need to rewrite your own work. And that's why I included Word AI even though I don't use it. Make sure to run the generated text through a plagiarism checker to make sure it's original. It has integrations with other AI writing software, such as Article Forge, which I don't recommend.
Key advantages: Word AI has a user interface that's easy to use. You just add the text to be rephrased and hit a button to get a new version of the text. It's handy when you have to rewrite large amounts of text.
Best use case: Rewriting text for location pages or articles.
Cons: This AI writer is mainly geared towards rewriting existing text.
Plans and pricing: A monthly subscription costs $57/month and yearly subscription costs $27/month (paid annually). The company also offers a custom plan with additional features.
I considered but didn't include the following tools either because they didn't focus on SEO copywriting or their output wasn't good enough: Copy AI, Article Forge, Articoolo, Copysmith AI, and Closerscopy.
FAQs
What are the best AI writing tools?
Frase for SEO copywriting, Jasper AI if you're looking to write different types of copy such as web content and PPC ads. Grammarly for checking grammar and Wordtune to tweak your sentences.
Which is the best paraphrasing tool?
Wordtune is by far the best AI paraphrasing tool I've tried. The only downside is that you'll have to rewrite sentences one by one.
What is a writing assistant?
 A writing assistant often refers to SEO software that helps content marketers produce high-quality copy for websites and other digital channels. These tools check your work for grammar, spelling, and punctuation errors, and provide feedback on how to improve it. Additionally, some writing assistants help writers write SEO-friendly content and organize their thoughts into a coherent story.
Can AI create new ideas?
The answer is no, at least for now. AI writing software is great for brainstorming ideas if you pre-train it to follow certain patterns, but it cannot form novel ideas or concepts on its own. It needs human steering and guidance to make it happen. As AI advances, it will soon play a big role in ideation and content creation.
Can AI write stories?
Yes, AI can be used to write very short stories if it's pre-trained with similar patterns. If you need an AI writer to write longer stories, you'll have to guide the AI in the direction you want to go. AI tools are best for producing non-fiction articles, blog posts, and landing pages that are optimized to attract customers or readers.
Why should I use an AI writing tool?
Using AI tools for content writing makes it easier to quickly write high-quality blog posts, marketing copy, and emails. It will also ensure that your text is polished and consistent with your brand voice.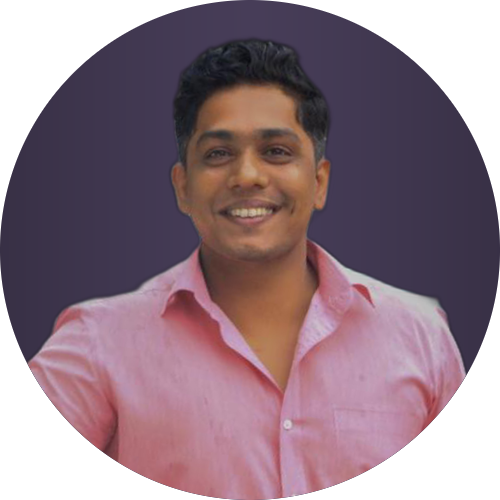 Vivek Mathew
(aka The Mindful Marketer, aka the guy who rocks a pink shirt 😄)
I'm a content consultant who helps small businesses become iconic brands by clarifying their brand message and creating strategic content. I've worked with brands like EY, Natwest, and some early-stage startups like Vivartah.

Click the button below and book a call with me.