In-Depth Copy AI Review: A Skeptic's First-hand Experience
Affiliate Disclosure: This post may have affiliate links, which means I get a commission if you buy using my link — at no extra cost to you. I never recommend products I haven't tried and found helpful. (You have ChatGPT for that.)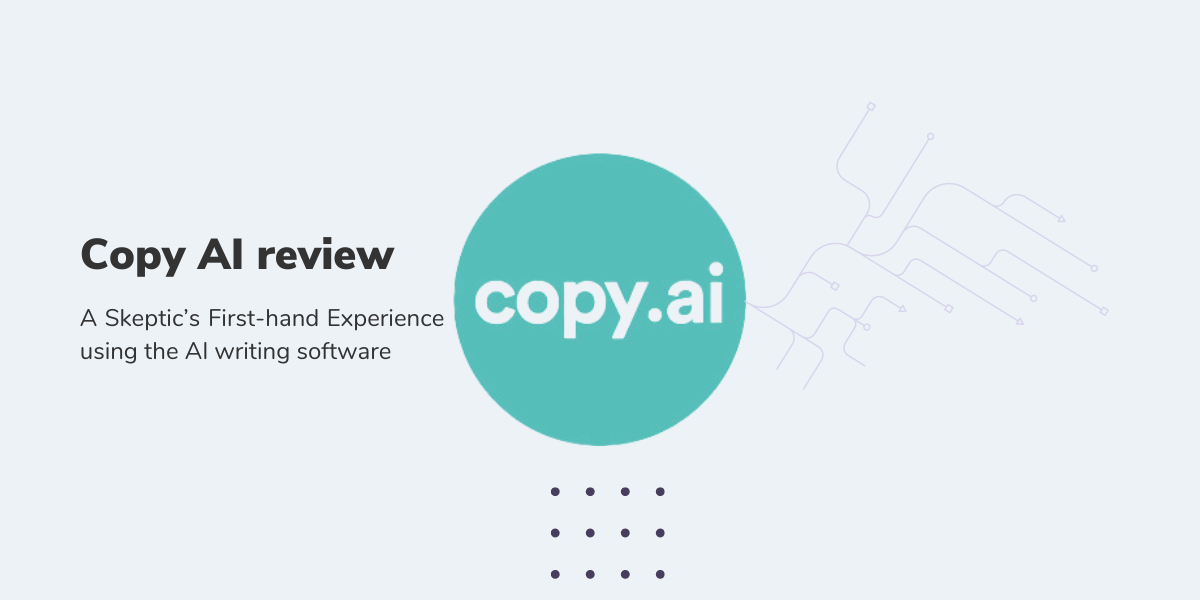 So you're trying to decide whether Copy AI is the right AI copywriting tool for you. You've heard amazing things, but there's still that lingering doubt.
And that's good. It's hard to trust recommendations when affiliates and influencers seem more interested in their kickbacks than your success.
Skepticism is as healthy as kale in today's world.
I aim to be the voice of reason in this madness. So this won't be another hyped-up endorsement. Instead, I'll share my first-hand experience using this AI writer.
Copy AI review
Copy AI review summary
Copy AI can significantly speed up the content creation process for most online content creators. Although, I feel it's unsuitable for complex writing projects like novels or academic papers. It offers innovative features like brand voice incorporation, custom AI workflow creation, URL analyzer features, and custom template generation. Despite lacking SEO features, plagiarism checking, and a flexible long-form content editor, Copy.ai is a valuable writing tool for marketing teams, small businesses, and solo freelancers.
Who is Copy AI best suited for?
Copy.ai is a good fit for marketing teams, small businesses, or solo freelancers who need a lot of content. With the security features, customization, and generous limits, the enterprise plan is a good fit for bigger companies that need a lot of customization.
Who is Copy AI not for?
If you're looking for an AI tool to help write novels, Copy AI won't be a good fit because of the limited document editor. It'll get messy when you have multiple storylines and characters to manage.
If you're in academia, legal, or medicine, Copy AI might not meet your needs because it lacks the tools to fact-check your content or cite research papers. You'll be safer writing it manually unless you plan to use it just for creating content outlines or brainstorming ideas.
Copy AI use cases
Blog Post Creation: Copy AI has a blog post wizard that can create first drafts in as little as five minutes. It's also capable of crafting engaging blog post intros, outlines, and sections, making writing a blog post fast and easy.
Email Marketing: The AI writer is perfect for generating various types of email marketing copy, such as welcome emails, discount emails, recurring email newsletters, cold outreach emails, launch promotion emails, and holiday promotions. This feature takes the guesswork out of crafting compelling email content.
Copywriting: Copy AI can create copy for your sales page and ad. It can help create engaging and persuasive text that drives conversions.
Website Copy: It's also helpful in creating website copy for pages like "About Us" and the homepage.
Human Resources: The tool has practical applications for HR managers. It can create job descriptions, rejection letters, and hiring blurbs, helping to streamline the HR process.
Content Marketing: Copy AI can assist with video scripts, YouTube descriptions, and case studies. This makes it a versatile tool for all your content marketing needs.
Social media content: If you've ever dreaded constantly coming up with new content ideas or spent too much time creating the perfect social media post, you'll love Copy AI. It's super efficient in producing compelling content for various social media platforms – including captions for Instagram, LinkedIn posts, tweets for Twitter (or X if you're team Elon), and TikTok video descriptions.
In-depth Analysis of Copy AI's Strengths and Weaknesses
The good
Five users, even on the basic plan, which is a lot compared to other AI writers.
The interface is easy to navigate and use. Some AI writers, especially desktop AI writing tools, have a learning curve. Copy AI has zero learning curve. You can jump in and start using the software.
Copy AI uses Open AI's large language models, which are the best in the market right now. So, the generated content is very high-quality for a first draft.
Offers a wide range of pre-built tools and templates suitable for various types of writing.
Project folder with access control. You can share projects and folders with your team, keeping certain documents confidential.
It's beginner-friendly compared to other tools.
Speeds up the writing process and improves productivity
Generates accurate grammar and style
It has a URL analyzer feature in the chat, which allows you to feed data without typing.
Cost-effective compared to other AI writing tools
They have a lot of educational content
You can add custom tones and brand voice
You can easily create custom templates
The not-so-good
No Chrome extension
No SEO features
Limited long-form content writer (It doesn't have a Google Docs style editor)
Only Email support
You don't get the flexibility to choose AI models. Sometimes, the model switches to GPT-3, and you have no way to control it.
I've seen some Copy AI reviews complaining about the lack of support
Limited features, such as word limits and lack of customization options
Unreliable AI performance, including technical issues and inconsistent results
The output in some languages like Spanish can be a hit or miss.
It doesn't have a built-in plagiarism checker.
No AI image generator.
No built-in grammar checker.
There is no version history for the document editor.
Cannot edit long-form content in real time.
Copy AI pricing
Copy.ai has three pricing plans: Free, Pro, and Enterprise.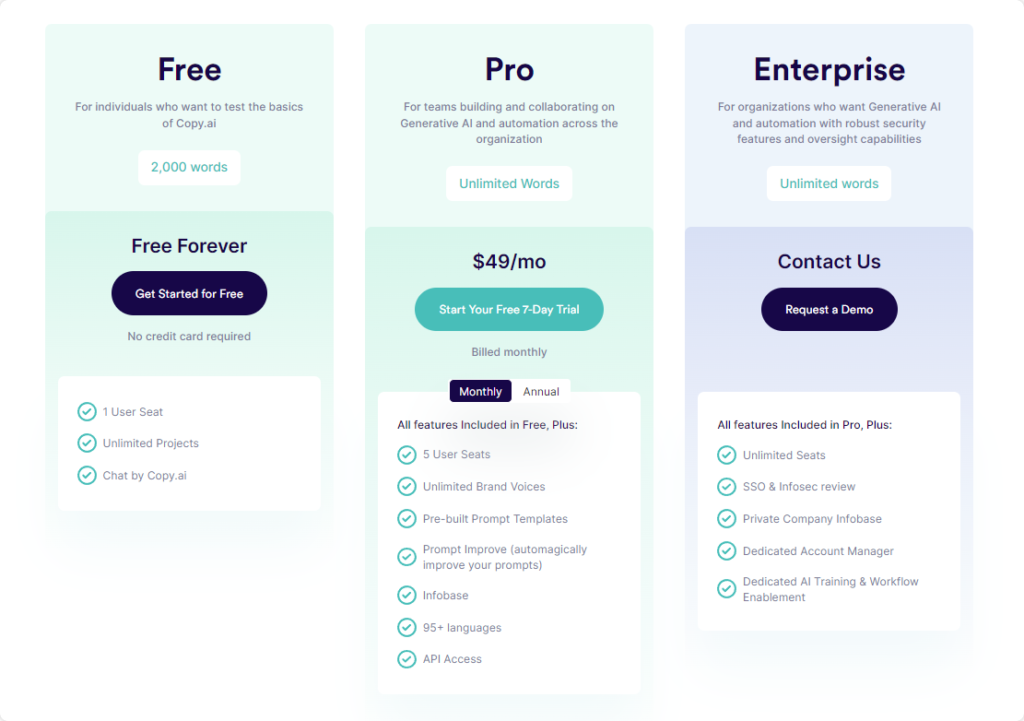 Free plan:
The perfect starter package for those who want to try out Copy.ai.
Free 2,000 words a month.
You don't need a credit card to sign up.
It comes with one user seat and unlimited projects.
Allows access to Copy.ai Chat.
Copy AI pro plan:
The pro plan is designed for teams building and collaborating on Generative AI and automation across the organization.
Includes all features of the free plan.
Provides Unlimited Words for $49 per month (billed monthly) or $36 per month (billed annually).
It comes with five user seats and unlimited brand voices.
It has pre-built prompt templates and a Prompt Improve feature to improve your prompts automatically.
It provides API access so you can integrate it with other tools.
Enterprise Plan:
Enterprise plan is designed for companies that need generative AI and automation with robust security features.
Includes everything in the Pro Plan.
Offers unlimited words.
Unlimited seats for team members.
Includes additional features such as SSO & Infosec review, Private Company Infobase, dedicated account manager, and dedicated AI training and workflow support.
Have to contact the sales team to get a quote and demo.
Key features that I like:
AI workflow: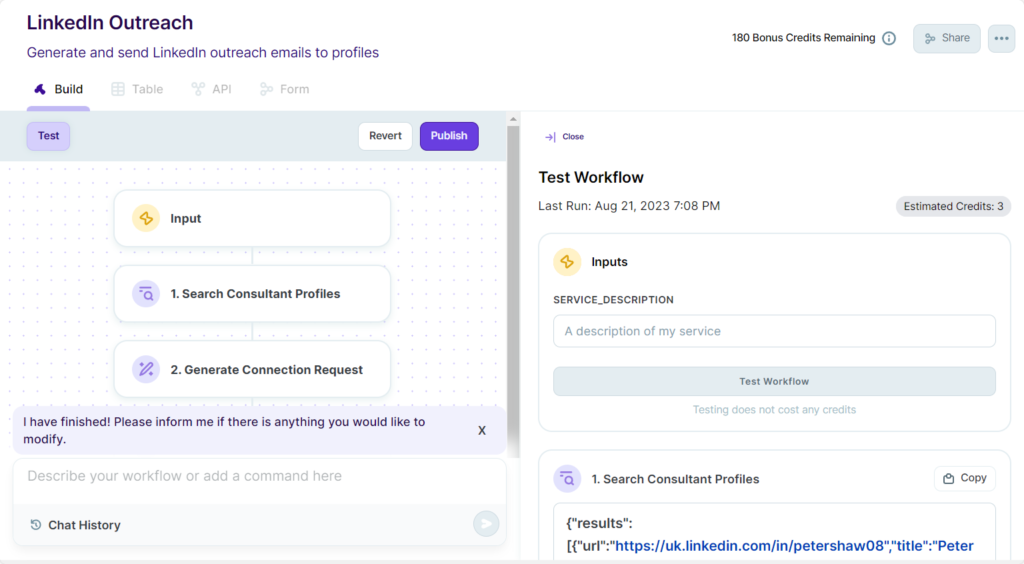 Copy AI's workflow feature is a powerful tool that allows users to automate content creation and business processes. Think of it as your personal assembly line. You map out a series of steps, and Copy AI executes it automatically. That big heap of personalized emails you must send is as simple as a button click with workflows. Workflows have many practical applications, like programmatic SEO and social selling.
Setting up a workflow in Copy AI is a straightforward process. Here's a step-by-step guide:
Login to your Copy AI account.
Access the Workflow section from the main navigation menu.
Choose between 'Workflow Templates' and 'Custom Workflow' based on your needs. Templates offer pre-built, customizable workflows for different use cases. Custom Workflows allow you to create workflows from scratch tailored to your requirements.
If you choose templates, browse the available templates or search for one that fits your needs. Click on the template you want and add it to your workspace.
Customize the template by configuring its settings, including inputs, outputs, prompts, and other options as needed.
Inputs: Define the data or variables required for the workflow, such as keywords, URLs, or contact details.
Specify the format you want the generated content to be delivered in.
Save your changes once you have configured all the necessary settings for your workflow.
To run a workflow:
Go to the Workflow section again and locate your desired workflow under "My Workflows."
Click on it and choose between solo or bulk run options depending on whether you need a single output or processing multiple inputs.
Follow any additional prompts or instructions specific to your workflow configuration.
Review and utilize the generated content according to your requirements.
Workflows can be modified at any time by tweaking the settings.
Brand voice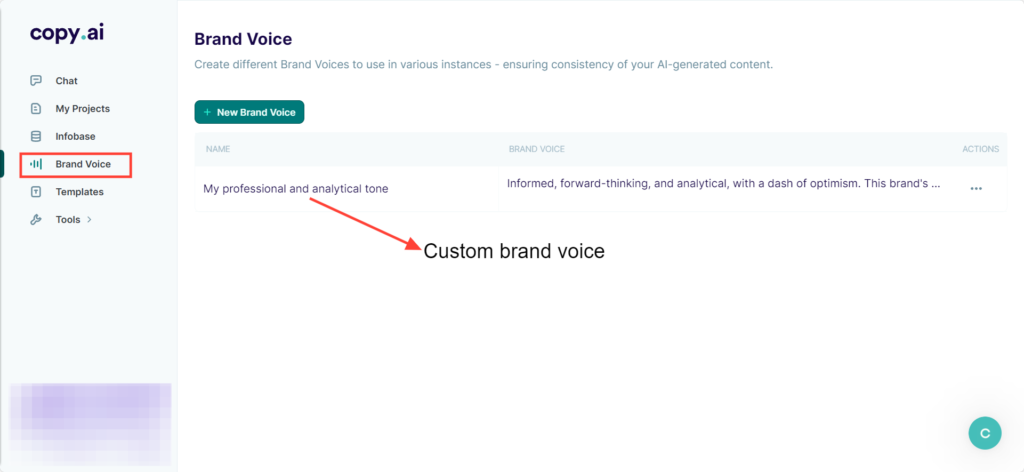 Copy.ai's brand voice feature allows you to inject your brand's distinctive tone and style into the content you generate. It's designed to help brands maintain a consistent brand copy. You can input examples of your brand's unique voice, such as blogs, emails, or social media posts. The AI then analyzes the content and generates copy that reflects your brand's style and identity. You can review and tweak the generated copy to capture your brand's unique flair. Plus, with secure inputs and confidentiality guarantees, you can trust Copy.ai to keep your brand-specific information safe.
Supercharge:
The supercharge feature in Copy.ai allows you to input a website URL or competitor's blog post and feed the information to AI as background information. It can pull in details like the product name, description, unique aspects, target audience, and more. With this information as context, you can quickly generate relevant and effective copy for your marketing materials, sales pages, ads, and other promotional content. The Supercharge feature helps you save time and create more focused messages.
Custom templates:
Custom templates are personalized AI tools you can create and modify to suit your specific use case. Templates are perfect if you want the AI to follow a particular style. You can even provide examples for reference. You can build templates from scratch or tweak existing templates using the freestyle tool.
For example, if there's a specific framework you'd like to follow for your blog post introduction or ad copy, you can create a custom template for that. Adjust the inputs in this template for any new ad copy templates. It streamlines your AI copywriting process and ensures brand consistency.
Massive library of pre-built templates:
Copy AI stands out with over 100 pre-built copywriting templates. You'll find it helpful if you handle a wide range of writing tasks. Whether it's emails, blog content, sales copy, headlines, ads, content briefs, or product descriptions, these templates give you a great starting point. Those blank pages won't feel as intimidating anymore.
Certifications assuring confidentiality:
Copy AI is SOC 2 Type II certified, a stringent security and compliance standard. This certification guarantees that businesses uphold the safety of your data and honor your privacy rights.
In simple terms, it's a promise that Copy AI has security measures to prevent unauthorized access, use, or disclosure of your data. So, you can rest easy knowing that any info you give, like brand-specific details, is kept under lock and key.
Infobase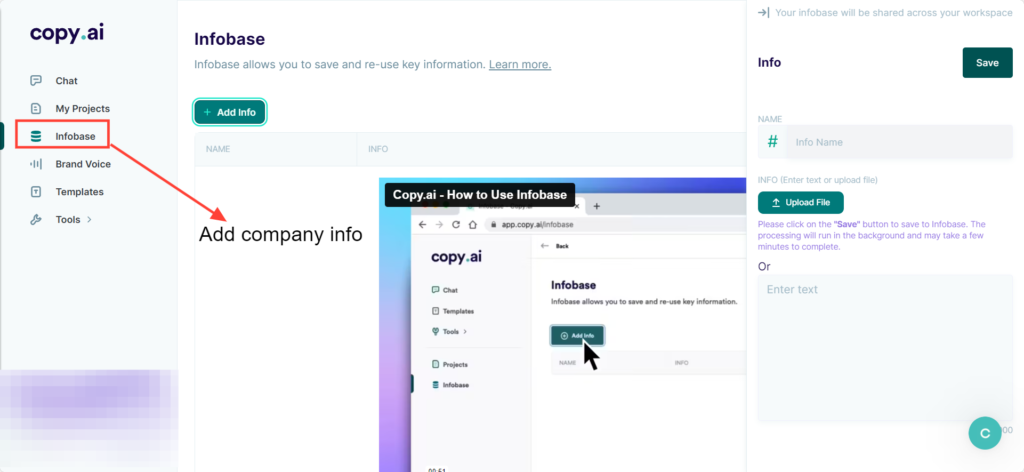 Copy.ai's Infobase is your library for all things related to your brand. This feature allows you to find and reference important brand-specific information faster. It serves as a repository where you can save company details like brand guidelines, value propositions, and positioning documents. You can use this information to guide the AI writing tool when generating content. It eliminates the need to write context repeatedly, resulting in more effective AI commands. Infobase helps you to create accurate and personalized content faster.
Blog post wizard

Copy.ai's Blog Post Wizard guides you through a series of steps to write articles using AI effortlessly. Provide the title, keywords, and desired tone of voice, and the AI writing software will create a comprehensive outline tailored to your specifications.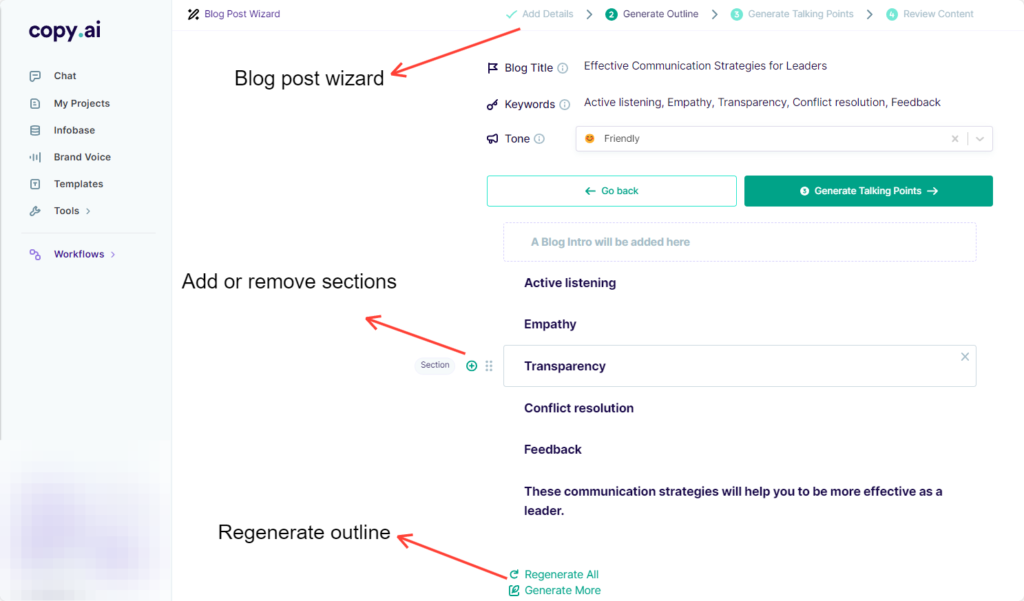 The best part is that you have complete control to edit and customize each section or even add your own. This saves you substantial editing time. When you're happy with the outline, the AI writer will generate key talking points based on your outline.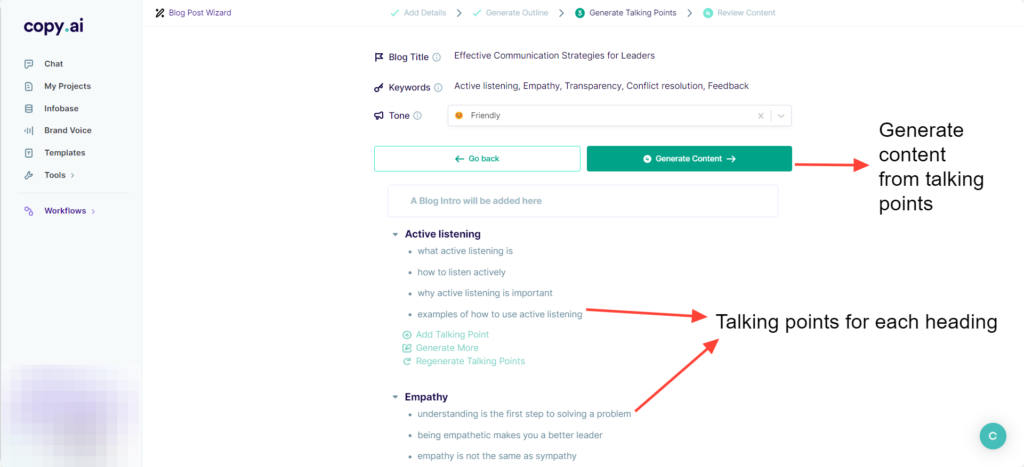 The final step is developing the body of the post. The Blog Post Wizard can do this with the click of a button. I appreciate this segmented approach to AI content creation because it gives you granular control. You can combine the blog wizard with the blog ideas tool to automate a big part of your content generation.
Prompt improver
Copy AI's Prompt Improver is a useful feature that takes a basic AI prompt, adds a hint of magic, and transforms it into more effective AI commands. This means you have to spend less time agonizing over each word choice or sentence structure. You get concise, polished, and ready-to-use prompts.
Some popular Copy AI alternatives
Jasper AI — Read my full Jasper AI review
Zimmwriter — Read my full Zimmwriter review
Frase — Read my full Frase review
Rytr — Read my Rytr review (coming soon)
Writesonic — Read my Writesonic review (coming soon)
Scalenut — Read my Scalenut review (coming soon)
WordHero — Read my WordHeroreview (coming soon)
Related AI writer comparison articles:
FAQs
Is Copy AI free?
Copy AI offers a free plan that allows you to generate up to 2,000 words per month without needing a credit card to sign up. However, you'll need the pro plan for additional features and unlimited words. There's also an enterprise plan for bigger companies.
What is Copy AI?
Copy AI is an advanced AI-powered writing assistant designed to assist marketers, writers, and entrepreneurs in generating high-quality written content for any need. It can help you write text-based content like blog posts, social media posts, advertisement content, emails, and website copy.
Is Copy AI better than ChatGPT?
Copy AI is more suited for marketers, while ChatGPT is ideal for general-purpose language tasks. Therefore, the 'better' decision depends on your writing needs and preferences. If your focus is solely on marketing and copywriting, then Copy AI might be a more fitting choice. However, both tools have interactive chatbot-style interfaces and language generation capability, making them formidable contenders in AI-writing technology.
Who is behind Copy AI
Chris Lu and Paul Yacoubian founded Copy AI in October 2020. They started Copy AI with a vision of using artificial intelligence not to replace human creativity but to enhance it. They saw a world where small business owners and marketers could use AI to craft effective, persuasive content.
How does Copy AI work?
It uses Open AI's artificial intelligence models to generate text. You can use the Copy AI chat, pre-built templates, or freestyle editor to prompt the AI model with your desired requirements, and it will generate unique, customized content for your needs. The content generated depends highly on the quality and detail of your prompts.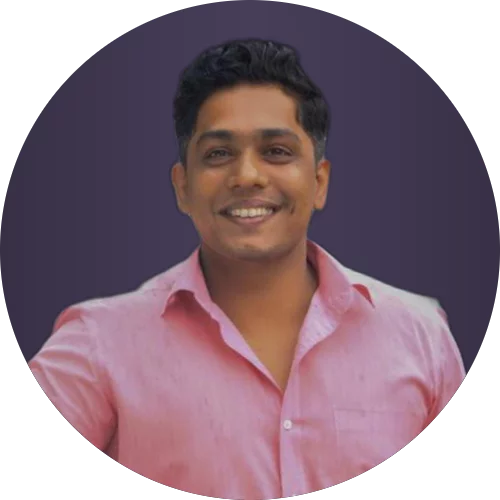 Vivek Mathew
(aka The Mindful Marketer, aka the guy who rocks a pink shirt 😄)
I'm a content consultant who helps small businesses become iconic brands by clarifying their brand message and creating strategic content. I've worked with brands like EY, Natwest, and some early-stage startups like Vivartah.

Click the button below and book a call with me.