How To Humanize AI Content? [2-Step Brand-Centric Content Strategy]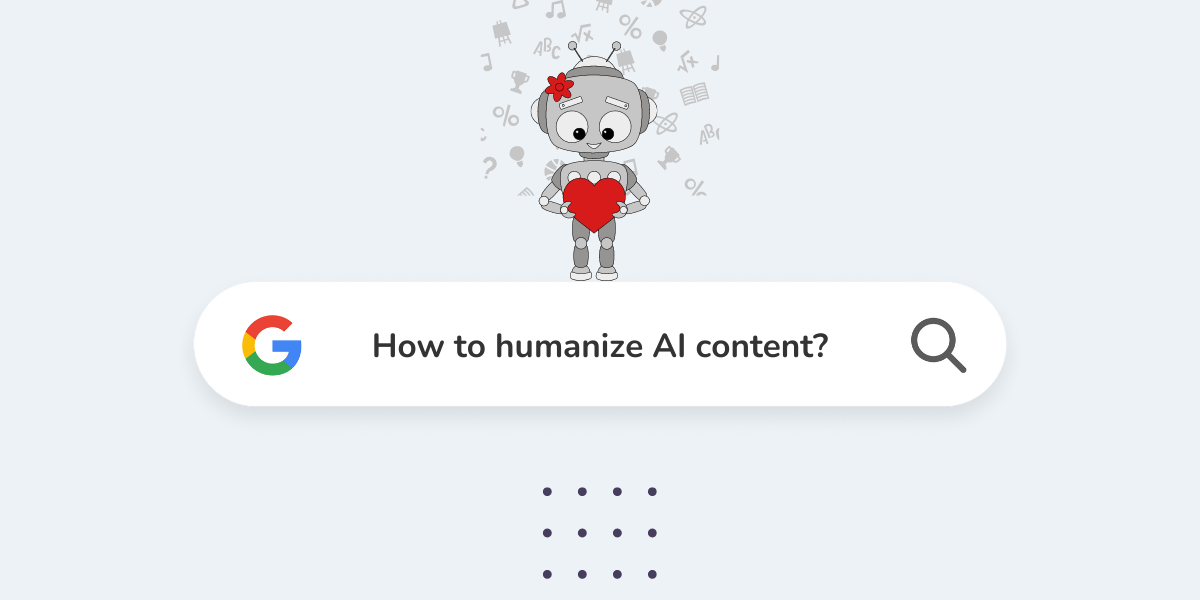 We're living in a brave new world. AI blogging isn't just knocking on the door; it's kicking it down. With AI text generators gaining traction, so is the concept of humanizing AI content.
People want the AI-generated text to sound like something a skilled writer would write on a caffeine-fueled creative rush. (Coffee-induced creativity level: maximum. Sanity level: questionable.)
Inevitably, when there's demand, there's supply. So the market is flooded with writing tools that promise to magically turn your AI-written content into human-written content. All you have to do is run the machine-spun text through their machines, aka AI paraphrasers. (As logical as hiring a fish to give flying lessons.)
And companies selling AI content detectors are peddling the theory that Google will penalize your content if it doesn't pass their "AI sniff test." But if your content receives a good grade on their tool, it'll be considered human and not face any consequences.
Quick side note on AI content detection: Google has recently clarified that AI content can rank on Google as long as it follows the guidelines. Plus, AI detection is notoriously unreliable, so there's really no need to use a content detector in your blogging workflow.
Finally, some content creators recommend adding personal stories and experiences to AI-written content to make it more human. While this approach has merit, it's just part of the solution.
Our efforts are misplaced with all these approaches. They're classic examples of the 'can't see the forest for the trees,' problem as we're prioritizing minor details while losing sight of the overall strategy.
So, what's the solution?
A brand-centric content strategy coupled with meticulous content-level editing. Let's break this down into smaller steps.
How to humanize AI content?
Step 1: Reframe the discussion to focus on brand-level clarity
It's easy to get caught up in the mainstream narrative of trying to humanize AI-generated text. Let's switch gears for a second and shift the conversation to clarifying the brand instead of focusing on individual content pieces. Content is an extension of your brand. So unless you're planning at the brand level, you can't be consistent at the content level.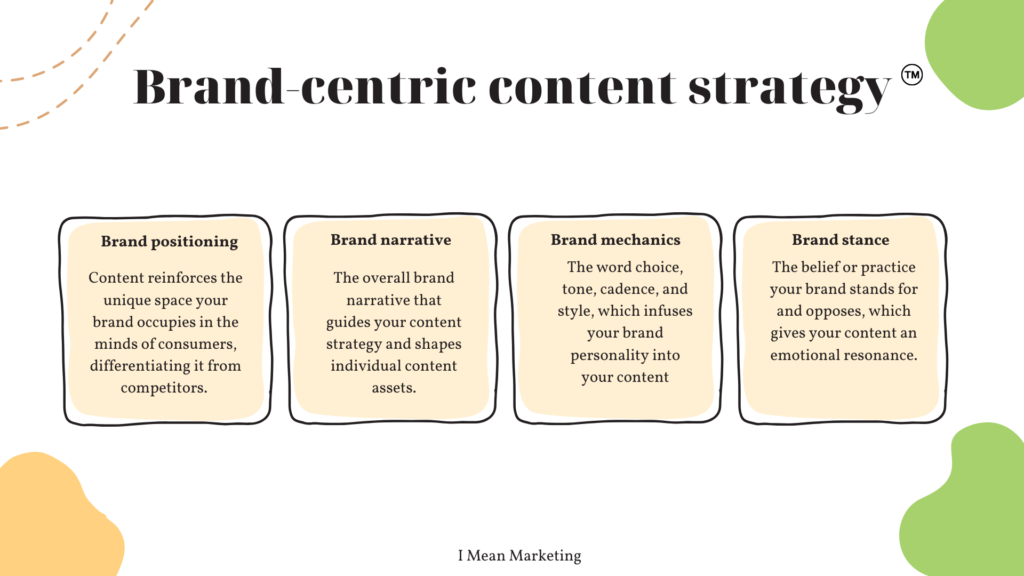 You need a brand-centric content strategy to humanize AI text:
If you're clear on these pillars, all your assets —including AI-generated content—will fall in line. That's the beauty of brand-centric content strategy; it's like a roadmap that guides your content creation process.
When your brand is at the core of your AI writing, your narrative, voice, and stance will match, and every piece of content will be cohesive. Clarity of your brand improves your writing — AI or otherwise. It creates a consistent experience for readers. They'll get a sense of who you are just by your narrative, voice, and stance. Now that you have brand-level clarity. The next step is content-level execution.
Step 2: Content level 'humanizing.'
After you've done the first step, the second becomes easier. All you have to do is document it as a brand guide. The brand guide explains your brand strategy to human writers. And if you're using AI assistants, well-crafted AI prompts based on the brand guide can help you write more effectively. Here are some practical tips for converting AI to human text.
Craft compelling narratives aligned with your purpose:
Whether you're writing a blog post or an internal newsletter, knowing your overall brand narrative makes it easy to find the right narrative for your piece. Call out why this cause or topic is close to your heart and how it aligns with your brand's core values.
Let's say you run an eco-friendly clothing brand. Your ethos is sustainability and conscious consumerism. Suppose you're writing a piece on the harmful impact of fast fashion on the environment — your narrative can tie in with your brand's mission. You can talk about how fast fashion is causing a social and environmental crisis with its rapid mass production of stylish, inexpensive clothes. This narrative underscores your brand's commitment to sustainable fashion and can be a powerful way to communicate your message.
Take bold stances with conviction:
Know where your brand stands on various issues. Standing up for a cause with confidence will make your brand stronger. Put your point of view into your AI prompts so the AI-generated content reflects your values.
Be very mindful and strategic when picking your battles because the choices you make will define your brand. When you pick a side, you're repelling one group and attracting another. You risk alienating current customers and attracting the wrong ones if you choose the wrong one. Here are a few ways to approach this.
Advocate for a cause: Choose a social, environmental, or ethical issue that aligns with your brand's values and take a firm stance on it. Clearly communicate your beliefs, share relevant information, and inspire action.
Real-world example: Patagonia has always been a vocal advocate for environmental conservation and corporate responsibility.
You can also do the same. If you're a make-up brand, you could rally against animal testing, toxic ingredients, and plastic waste. A fashion brand could advocate for sustainable materials, ethically sourced materials, fair labor practices, and waste reduction.
Challenge industry norms: Identify conventional practices or beliefs within your industry that need to be questioned or improved. Present an alternative perspective and explain why your approach is more effective or beneficial.
Real-world example: Traditionally, publishing houses played the gatekeeper role in the publishing industry. With self-publishing platforms like Amazon Kindle Direct Publishing (KDP), Google Books, or Smashwords, authors can directly publish their work without going through traditional publishers. This democratizes the process. Hugh Howey's "Wool" series is an example. The book was self-published at first but was so successful that Howey got traditional publishing deals.
You can also do the same. For a content marketing company, it could be: "In a world where people are jaded by generic SEO content and bland AI content, we challenge the status quo. We create content that influences culture, makes people think, and inspires them to be better. We do this by looking beyond the obvious, prioritizing quality over quantity, and tackling difficult topics. When everyone automates and focuses on mass-produced content, we deliberately slow down, create personalized experiences, and engineer meaningful interactions.
Address controversial topics: Tackle sensitive or controversial subjects relevant to your industry or target audience. Express your viewpoint clearly, supported by well-researched facts and logical arguments. Encourage constructive dialogue and invite others to share their perspectives.
Real-world example: Nike's controversial "Dream Crazy" ad campaign is an example of this. Nike featured Colin Kaepernick, the former NFL quarterback who knelt during the national anthem as a peaceful protest against racial injustice in the United States. The ad's slogan: "Believe in something. Even if it means sacrificing everything. Just do it." echoed Kaepernick's own journey. This choice was not without controversy, but it demonstrated Nike's commitment to standing up for its beliefs. The campaign sparked intense discussions globally about racial inequality and police brutality. While this move led to some backlash and calls for boycotting the company, Nike's sales increased significantly after the campaign launched. It showed that many consumers appreciated Nike's willingness to take a stance on societal issues.
You can also do the same. A healthcare company could address the high cost of life-saving medicines. A tech company could champion a more ethical and responsible development of artificial intelligence.
Infuse your unique brand voice:
Express yourself in a way that is unmistakably you. Many people think brand voice is just adding random adjectives like "professional" or "upbeat" to your AI content writer. It's so much more than that. But the easiest way is to visualize your brand as a person and then describe how that person would sound in real life. How would this person communicate in different situations? The answer to that question is your brand voice. Once you have your brand voice, here are some ways to replicate it using content generators.
Whatever your brand strategy is, consistency is key when infusing your brand voice into AI-generated content. Continuously provide feedback, review the output, and refine the prompts or training data to ensure the AI models understand and replicate your brand's voice accurately.
Weave stories into your content:
Weaving personal stories into your content is a powerful way to humanize AI-generated content. It adds a layer of authenticity and relatability that helps you connect with readers. Here are some examples of how personal stories can be incorporated into AI-generated content:
By incorporating personal stories like these, AI-generated content can become more engaging, relatable, and humanized, creating a deeper connection with your audience.
Share insights from your experience:
Sharing your earned experiences is a very effective way to humanize AI-generated content. By incorporating personal insights and wisdom, you bring a unique perspective. It builds credibility and trust. Here are some examples for inspiration:
There you have it, the key to humanizing AI-generated content. Try applying some of these tips to your own content and see the difference for yourself.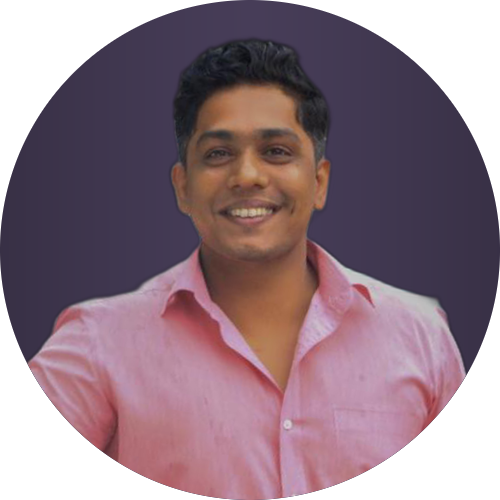 Vivek Mathew
(aka The Mindful Marketer, aka the guy who rocks a pink shirt 😄)
I'm a content consultant who helps small businesses become iconic brands by clarifying their brand message and creating strategic content. I've worked with brands like EY, Natwest, and some early-stage startups like Vivartah.

Click the button below and book a call with me.