Jasper AI vs. ClosersCopy: Which AI writing tool Reigns Supreme?
Affiliate Disclosure: This post may have affiliate links, which means I get a commission if you buy using my link — at no extra cost to you. I never recommend products I haven't tried and found helpful. (You have ChatGPT for that.)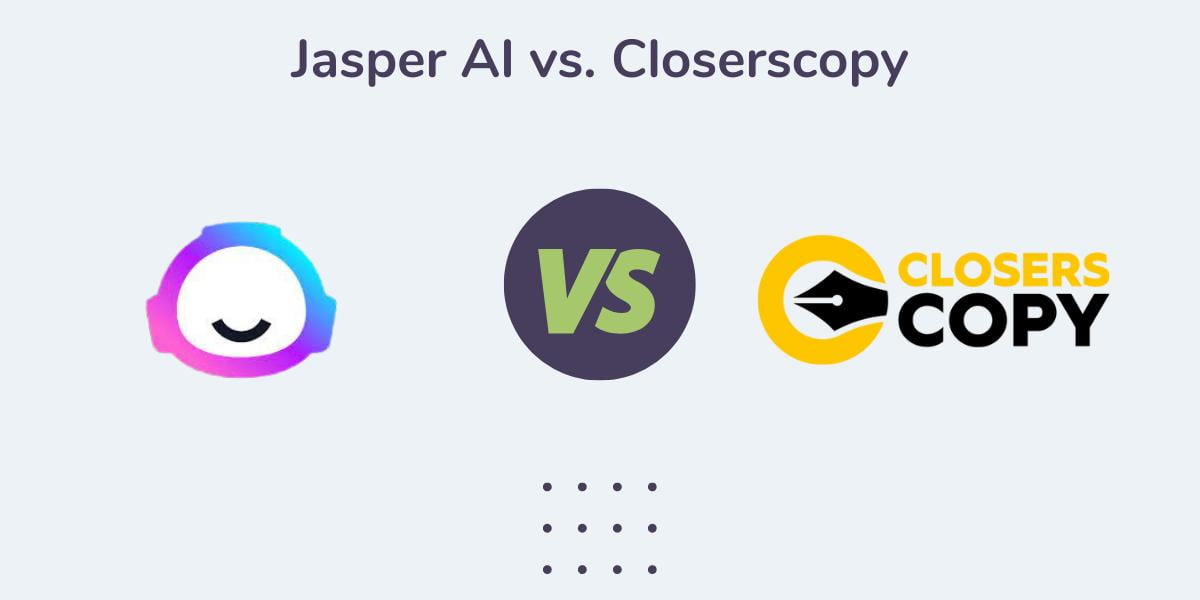 So you've finally decided to invest in an AI copywriter and join the AI writing revolution (all aboard the AI train).
And out of all the AI copywriting software, now it's down to Jasper AI vs. ClosersCopy. They're both powerhouses, so choosing one can be tricky unless you know them inside out.
In this blog post, I'll make a head-to-head comparison of both tools to help you decide. We'll explore their standout features, pricing plans, and limitations in detail.
By the end of this post, you'll be able to choose:
The right tool for your budget
Features that make sense for the type of content you need
Unique features that differentiate Jasper and Closerscopy
Jasper AI vs. ClosersCopy (the quick answer)
Jasper AI is like a fancy sports car, while Closerscopy is like the trusty ol' family sedan — it gets the job done but is not quite as sleek or powerful. Jasper AI is powered by Open AI's super-advanced language model under the hood, making it the clear winner in terms of output quality over Closerscopy. And with OpenAI planning to release even more advanced models, like GPT-4, it's safe to say that Closerscopy will have a hard time catching up.
Jasper is also more versatile. You can use it for any type of content (including novels and essays). But ClosersCopy is specifically designed to create sales and marketing-focused content. Pricing-wise, Closerscopy is cheaper, but Jasper is well worth the price (if you have the budget for it).
A comparison table: ClosersCopy vs. Jasper AI
| | | |
| --- | --- | --- |
| | | |
| | | |
| | | |
| | | |
| Freestyle commands in editor | | |
| | | |
| | | |
| | | |
| | | |
| | | |
| | | |
| Copyscape plagiarism check | Direct integration (paid extra) | |
| | | |
| | | |
| | | |
| | | |
| | Yes + 10,000 words bonus credit | |
| | 5-day money-back guarantee | 14-day money-back guarantee |
| | | |
| | | Starts at $49.99 per month |
Jasper AI Deep Dive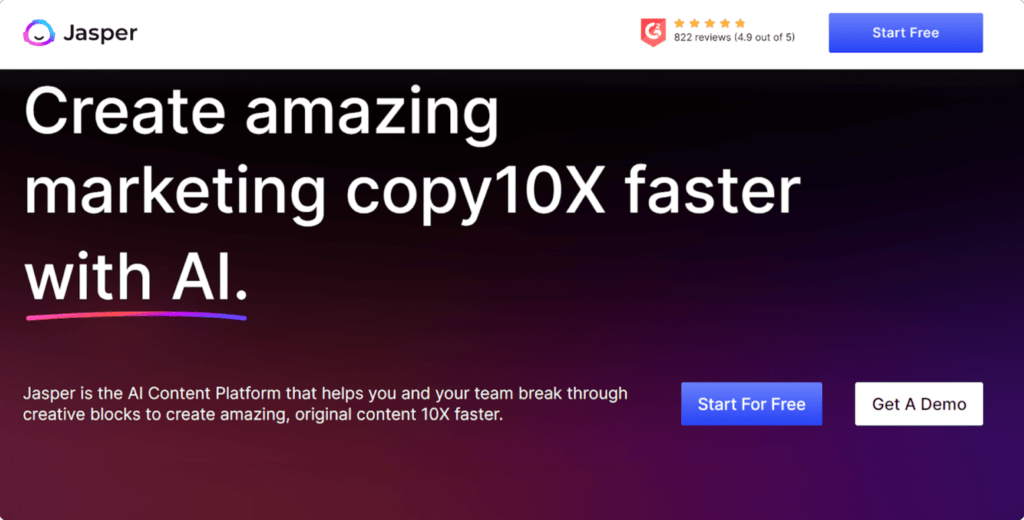 Formerly known as Jarvis, Jasper is a popular AI writing tool that uses Open AI's engine (language models like GPT-3and GPT-3.5) to generate text. GPT-3 and GPT-3.5 are large language models based on neural networks that are capable of generating human-like text. You can use it to write blog posts, posts for social media, emails, advertising, or content for your website.
You can work with Jasper in 29+ languages and try it for free. Leading brands like iHeart Media, Google, Airbnb, and Harper Collins use Jasper.
With its collaboration feature, teams can collaborate in real time and brainstorm together for fresh ideas.
G2 Rating: 4.8 /5
Standout Features of Jasper AI
Boss Mode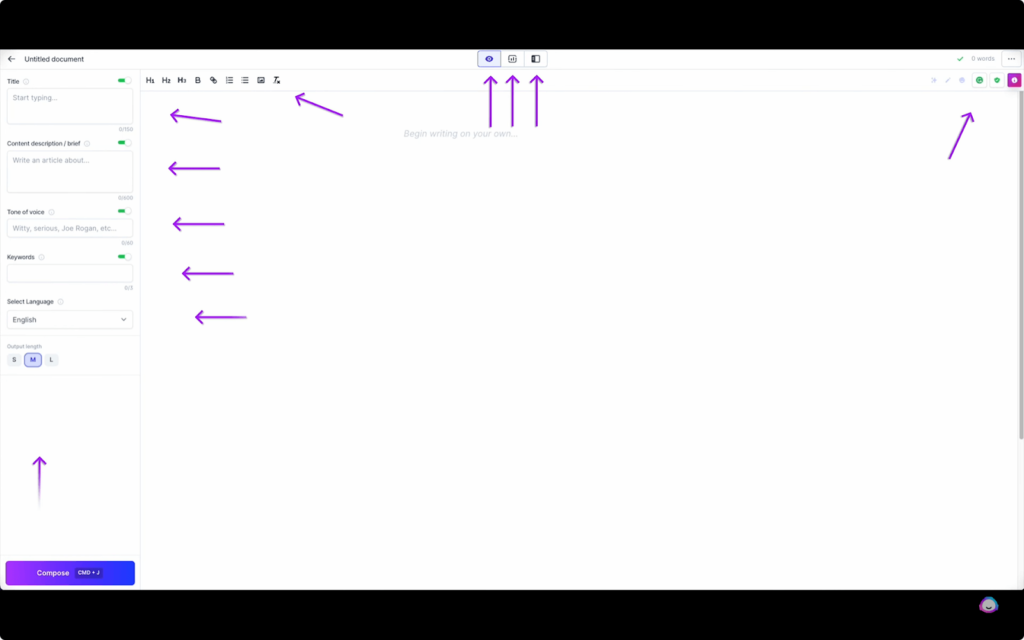 Boss mode offers an unrestricted editor interface enhanced with AI writing capability. The editor, combined with AI writing, makes it easy to generate high-quality long-form content. You'll love how easy AI makes writing in-depth content like blog posts.
The boss mode also has the ability to read up to 3,000 characters of your previous text. This will reduce repetitive content, maintain a cohesive writing style, and save you a lot of editing time.
You can also run freestyle commands in boss mode. This means you're not restricted to pre-built form-based templates that you normally find in most AI writing tools. Run any command you want, and it will generate the output for you. Think of it as having a personal assistant at your beck and call. It's a great time saver and an invaluable tool to maximize your productivity. So, you sit back and be the boss you are while the tool does all the legwork for you.
Recipes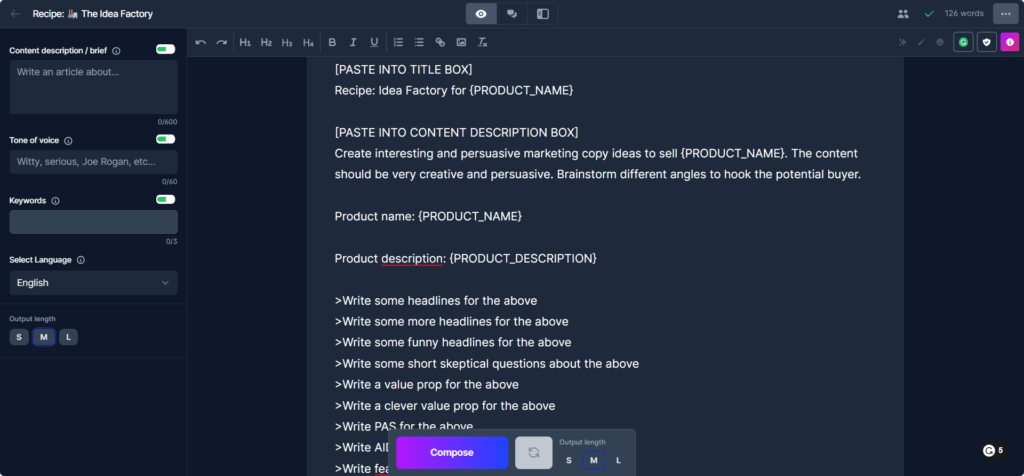 Imagine you're preparing your favorite dish, and midway you realize that you're missing something, but you don't know what. So you look up the recipe and see what the steps are.
That's how Jasper's recipes work.
Recipes are pre-built workflow commands that act as a guide while creating content. For example, the recipe for a blog post will have:
Topic brief
Title ideas
Introduction
Outline
Outline of section 1
Outline of section 2
Outline of section 3
Conclusion (section 1 + section 2 + section 3)
You run each command sequentially, culminating in a full-fledged blog post. In the community section, you can also find recipes created by professional copywriters and content marketers.
Jasper Chat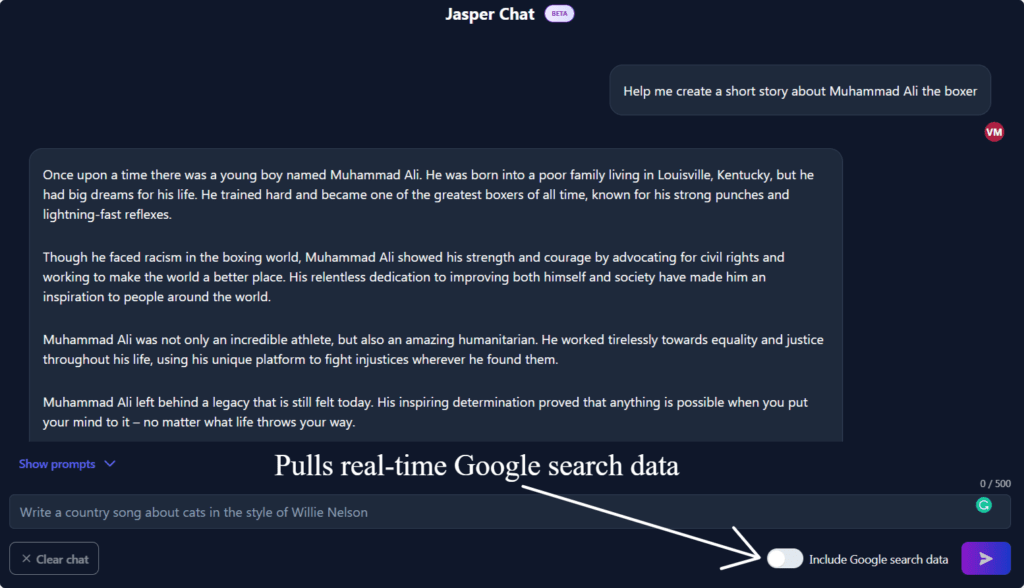 Unless you've been in perpetual exile on some distant star, you must've heard of ChatGPT. I mean, you just can't go on the internet without some guru posing it as the solution to all of humanity's problems or fear-mongering that it'll make us obsolete.
Anyways, Jasper Chat is very similar to ChatGPT. It's a conversational AI chatbot that follows every command you give it. It gives you the experience of talking to a human assistant. The best part is that if you're unsatisfied with the outcome, you can ask the chatbot to make changes until you're happy with the results. The AI model uses natural language processing to learn from your feedback and make better suggestions. I'm sure you'll like it if you play around with it.
For example, you can say, "write a social media post promoting this idea."Jasper will write a unique social media copy for you. Here's a quick video on Jasper Chat.
If you're not satisfied, you can ask it to make changes by saying, "add more humor and make it shorter." Jasper will follow your commands until you are satisfied with the results.
Jasper Art
Jasper art has a text-to-image feature you can use to create unique images and artwork.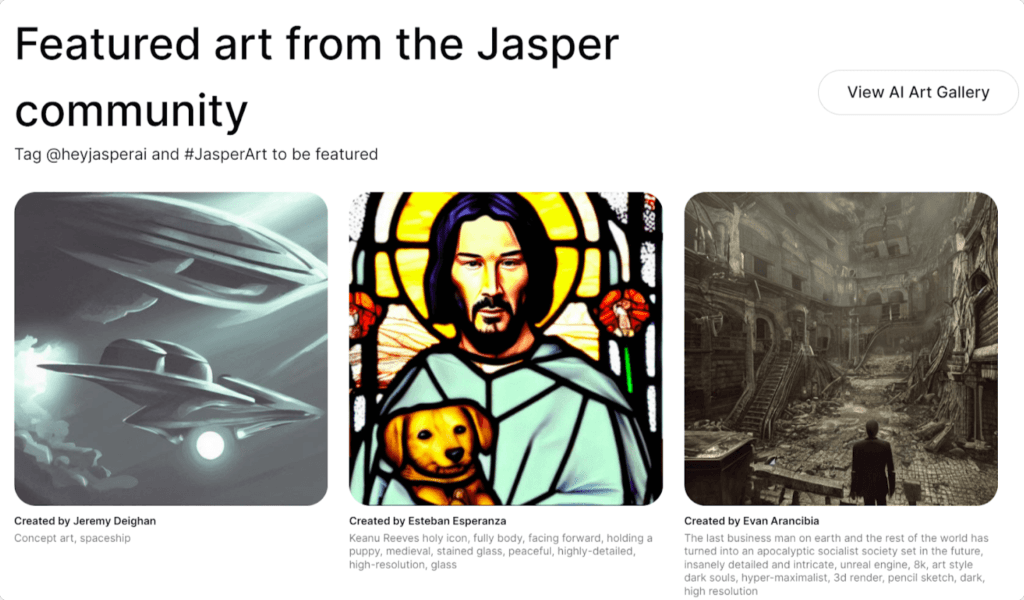 You can even specify what style you want, like illustrations, watercolor paintings, oil paintings, collages, or fan art. You can generate pictures for blog posts, Facebook ads, YouTube thumbnails, or just for the fun of it. Like the outlaw space cowboy, I generated.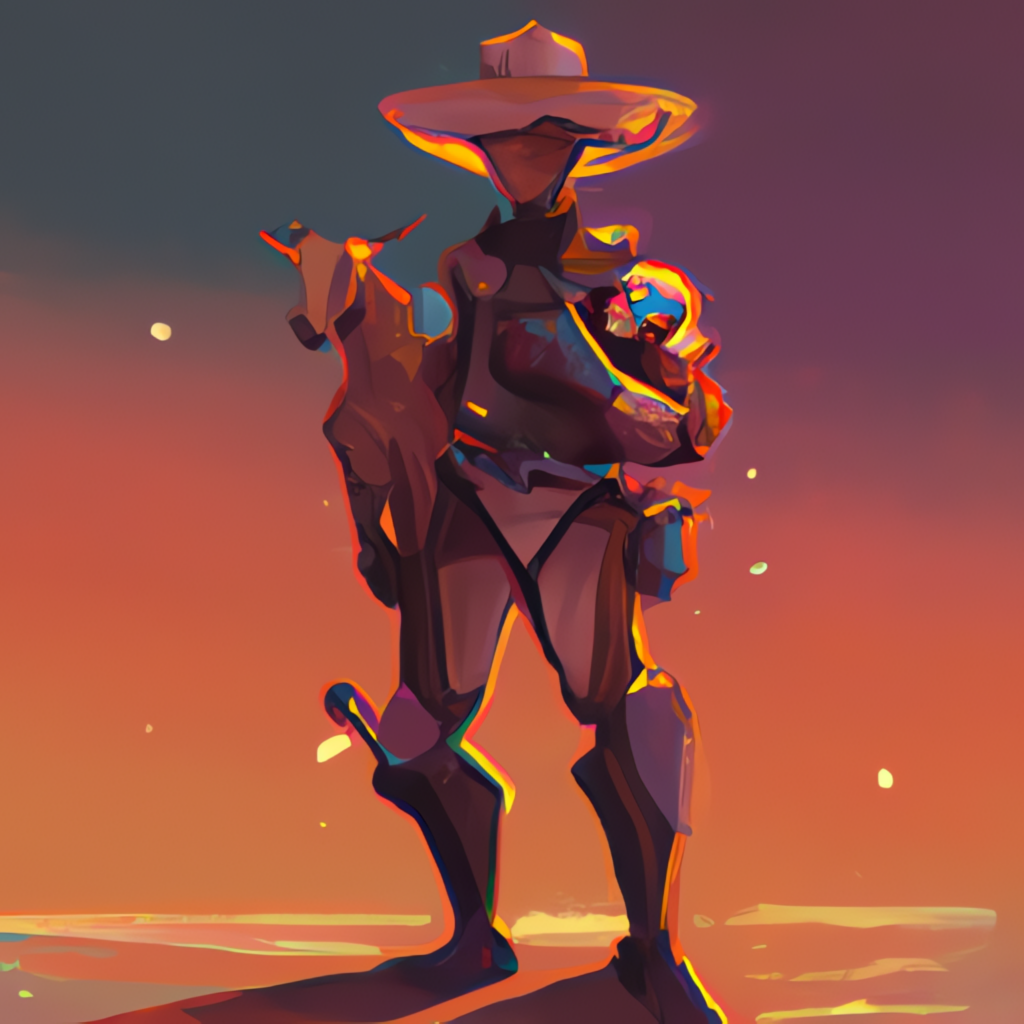 Now the process is really simple and fascinating. Just visualize the picture you want. Then write a description of it in the description box. For example, you can write — an old house in the woods. Jasper will give you four unique images to choose from.
You can be as creative and detailed as you want. You can go as crazy as you want, like a lion wearing a hat and relaxing in the pool.
Integrations with Surfer SEO, Copyscape, and Grammarly
To make your content SEO-friendly, Jasper has integration with Surfer SEO — a very popular SEO tool. This feature is available only with the Boss mode. There's a lot of love for it because it eliminates the need for separate SEO platforms.
Copyscape is another integration that comes with Jasper. This tool helps in detecting plagiarism to ensure that your content is unique.
Jasper also integrates with Grammarly, which checks spelling, grammar, readability, sentence structure, and many other aspects of writing. This integration is completely free to use.
Other features of Jasper
Jasper gives you 50+ templates to create a high-quality copy. It uses proven examples to generate product descriptions, blog post outlines, LinkedIn bios, SEO titles, Google ads descriptions, and more. There's a template for almost every use case.
To streamline workflow, Jasper AI has introduced its chrome extension. With the extension, you can use Jasper right within all your favorite apps, such as Word and Gmail. No need to open the app separately.
Jasper offers support through email and live chat. For business users, a dedicated account manager is assigned for better support.
You can work with 29+ languages in Jasper. This is less than Closerscopy because it offers 100+ languages.
Limitations of Jasper AI
❌ The sources of the data collected are not listed. You will have to manually look for the source to ensure the credibility of the information. Like all AI writing tools, Jasper AI makes up facts, so you have to fact-check your copy in your editing cycle.
❌ Jasper fails to produce high-quality content for super-technical and niche topics. It can work well only with generic topics for which deep research is not required. You can get it to write technical topics as long as you're feeding it the facts.
❌ Like any AI tool, Jasper needs human guidance to produce engaging copy.
| | | |
| --- | --- | --- |
| Starter | Boss Mode | Business |
| $29 per month | $59 per month | Custom Pricing |
| 5-day free trial | 5-day free trial | No free trial |
| 5 users | 5 users | 5+ users |
| 20,000 words | 50,000 words | Custom words |
| 50+ AI templates | 50+ AI templates | Custom AI templates |
| Short-form copywriting | Long-form content | Long-form content |
| Email support | Live chat support | Live chat support |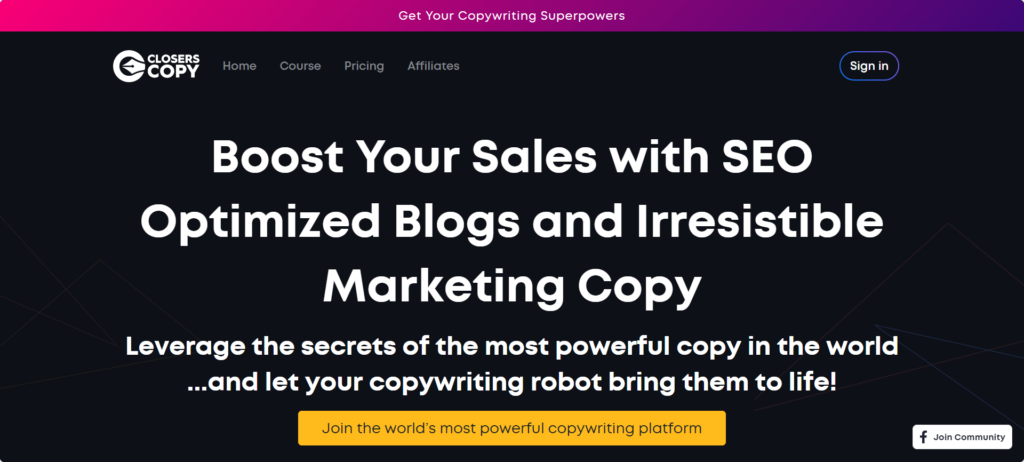 Closerscopy is an AI copywriting assistant that helps you create website copy, sales letters, marketing emails, social media copy, and more in a few seconds. While most AI writing tools, including Jasper, use GPT-3 technology, Closerscopy doesn't. The team created its own AI algorithm.
One advantage that Closerscopy has over Jasper is that it supports nearly 127 languages. Also, this tool is more focused on sales and marketing. So if you are a social media manager or an advertising person, this tool will serve you right.
Another thing worth mentioning is that it provides 700+ marketing frameworks (templates) to suit multiple content formats. There's also an option to work on dark mode to avoid strain on your eyes. However, the user interface of this tool is not beginner-friendly. First-time users may struggle with the dashboard even though the design is elegant.
G2 Rating: 4.1 /5
Features of ClosersCopy
Artificial Intelligence Models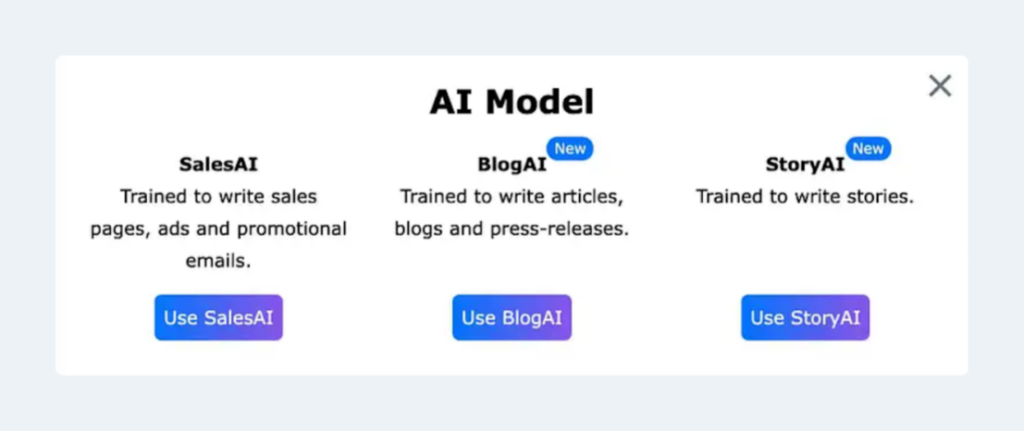 Closerscopy, unlike other AI tools, doesn't use GPT-3 technology. Rather, it has developed its own AI technology, which comes in the form of 3 unique AI models — Sales AI, Blog AI, and Story AI.
If you want sales or marketing-focused content, use the Sales AI feature. If you need content for a blog, use the Blog AI feature. To create stories and novels, you can use the Story AI feature. However, the quality of the output depends on the quality of the input you provide.
Content Sentiment analysis tool
Content sentiment analysis tells you about the tone of your copy. It helps you understand the emotions your content evokes and how it resonates with your readers. It categorizes your copy into friendly, professional, passionate, funny, and so on.
It's a valuable tool for marketers, businesses, and writers because you can identify and adjust the tone of your copy to engage your audience better.
For example, If you're writing a blog post about the top comedy TV shows of all time, you might want to use a funny tone of voice. But imagine using that tone when writing about a recent natural disaster that killed multiple people. It's best to avoid humor or levity when discussing such serious matters.
Another application would be to identify content that's overly negative and adjust it to fit your brand's messaging.
100+ Languages
Closerscopy has an advantage over Jasper because it offers support for almost 127 languages. In contrast, Jasper provides only 29 languages support.
These include some of the major languages spoken all over the world. You can also translate your copy into German, Albanian, Italian, Japanese, Slovenian, or Spanish.
Frameworks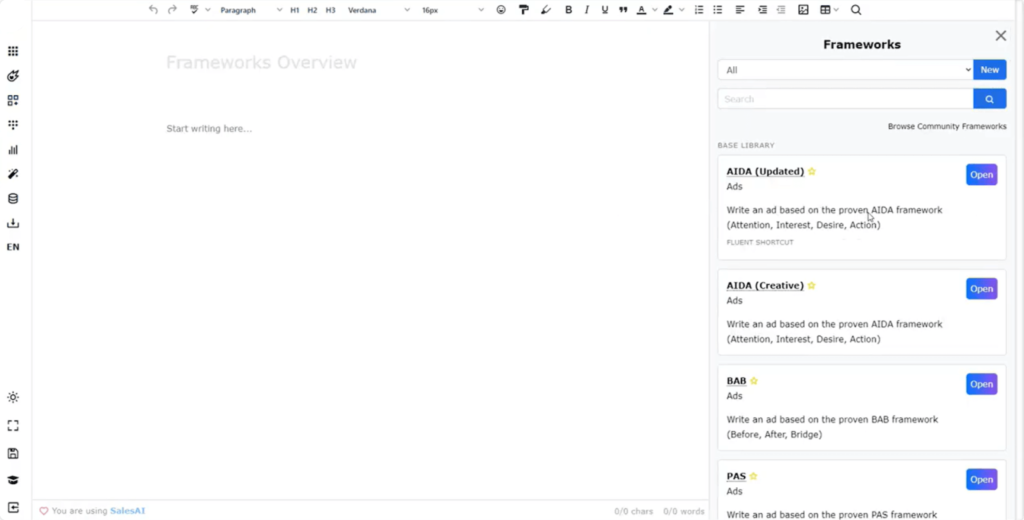 ClosersCopy provides 63 frameworks. In addition, there are 200+ other frameworks shared by the Closerscopy community. Frameworks are AI templates. They are a set of pre-built instructions you can use when creating your copy.
Frameworks work with minimal input from the user and generate great copy using the templates. Some examples of frameworks are AIDA, Product descriptions, Sales letters, Email subject lines, meta descriptions, YouTube video descriptions, and more.
Compete
Just as the name suggests, the Compete feature helps you compete with other high-ranking websites. Using this feature, you can do a keyword search to analyze which keywords are used by the top-performing websites. You can compare your website with those websites and make improvements where needed. It's a game-changing feature if you want to be on top of Google's algorithm.
Workflow
Workflow helps you arrange various frameworks in a step-by-step manner. This is similar to the Recipe feature in Jasper AI. For example, let's say you want to write a blog post. To write a blog post, you will need a collection of frameworks such as — a headline, introduction, outline, and conclusion. Now, using workflows, you can sequentially arrange these frameworks to write a blog post.
You can customize your workflow according to your requirements. Workflows are used to create emails, sales letters, product descriptions, landing pages, and other types of copy.
The advantage of working with workflows is that you get a structured guide to create a high-quality copy. You also get numerous pre-built workflows from the community library in Closerscopy.
Other features of Closerscopy
Lifetime updates are provided with all the pricing models of Closerscopy.
You get excellent email support.
You get a community of 12,000+ members.
The collaboration feature lets you have a team member on board.
You get the in-built SEO tools – Audit and Planner.
Limitations of ClosersCopy
❌ The interface is not beginner friendly.
❌ Closerscopy does not provide any integration with other tools.
❌ Content generated may contain repeated words.
❌ They do not offer a free trial.
ClosersCopy pricing plans
| | | |
| --- | --- | --- |
| Power | Superpower | Superpower Squad |
| $49.99 per month | $79.99 per month | $99.99 per month |
| Two users | Three users | Five users |
| 300 AI runs per month | Unlimited AI runs | Unlimited AI runs |
| 50 SEO audits per month | Unlimited SEO audits | Unlimited SEO audits |
My Verdict (Two AIs enter, one AI leaves!)
Jasper AI is the better copywriting tool because it offers a wider selection of practical tools and better output quality compared to ClosersCopy. Jasper chat, AI image generator, direct integrations with the best tools (SurferSEO, Grammarly, and Copyscape), the chrome extension, and the community around it are some of the points that make it a winner for me. While Closerscopy has many features and looks great on paper, I wasn't impressed with the quality of the output.
Jasper is also capable of writing different types of content, including stories, blogs, sales copy, images, marketing, and editorial content.
Related comparison articles: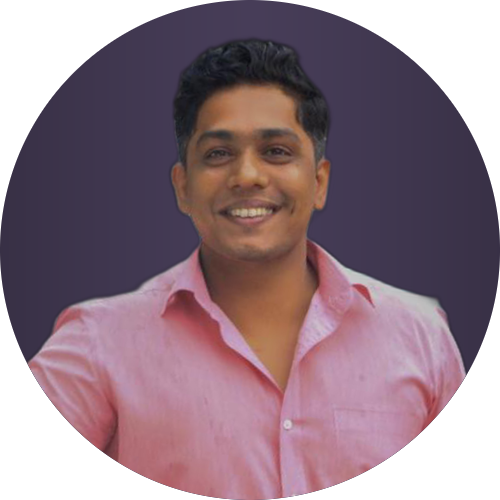 Vivek Mathew
(aka The Mindful Marketer, aka the guy who rocks a pink shirt 😄)
I'm a content consultant who helps small businesses become iconic brands by clarifying their brand message and creating strategic content. I've worked with brands like EY, Natwest, and some early-stage startups like Vivartah.

Click the button below and book a call with me.