ZimmWriter Review: The Good, the Bad & the Meh
Affiliate Disclosure: This post may have affiliate links, which means I get a commission if you buy using my link — at no extra cost to you. I never recommend products I haven't tried and found helpful. (You have ChatGPT for that.)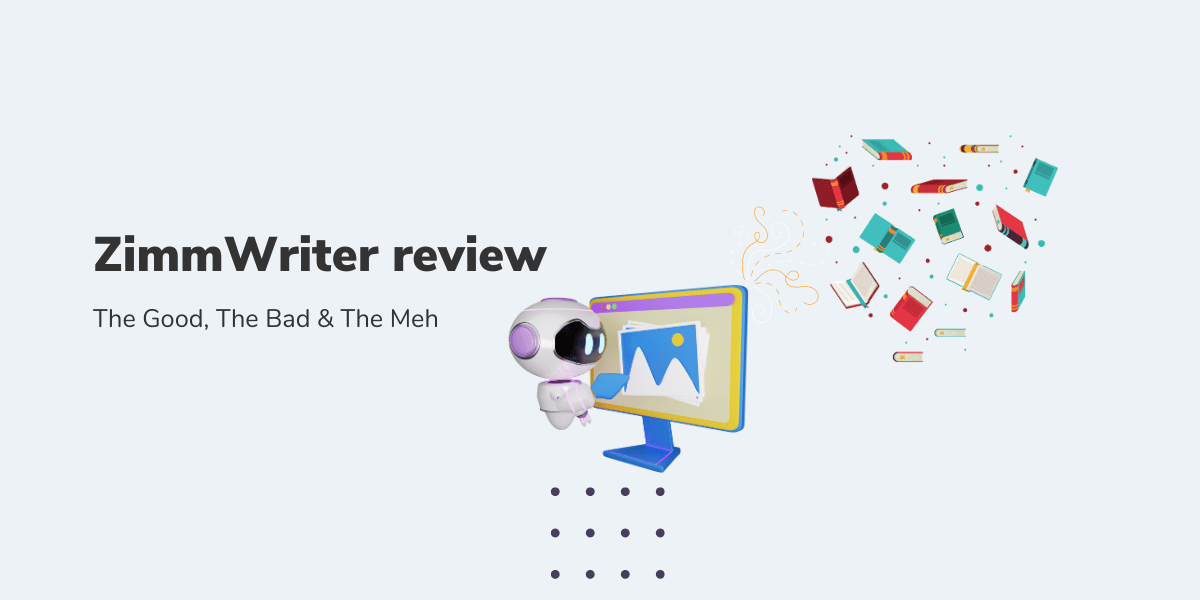 Ah, the fascinating world of tech. It's a dizzying carousel of shiny objects with new technologies, services, and tools popping up every day. And the latest sensation is ZimmWriter, an AI writer that has everyone excited like squirrels at a nut convention.
But with the carefully engineered hype around every AI writer, it's hard to tell if it's truly useful. So I'll keep this review grounded. There won't be any glossy brochure talk. Just an honest-to-goodness account of my experience testing the crap out of the tool.
We'll do a level-headed analysis of the features, benefits, drawbacks, and applications of the AI copywriting tool. I'll give you the good, the bad, and the "meh."
ZimmWriter review summary:
ZimmWriter, created by Matt Zimmerman, is an incredibly flexible desktop-based AI writing tool. It has a wide range of features for content automation, local SEO pages, and one-click blog post generation. With its carefully designed prompts, literary devices, and well-thought-out input fields, ZimmWriter produces natural-sounding AI content.
It's brilliant for local SEO. You can create all your service pages and location pages in a few clicks. While there's a slight learning curve and room for improvement in the user interface, it's an absolute steal for the value and price. I wholeheartedly recommend it.
How it works:
ZimmWriter is powered by artificial intelligence models developed by Open AI (an AI research organization). You must set up your Open AI license key to use the AI content writer. Unlike other writing tools, ZimmWriter doesn't set it up for you. You'll need to create an Open AI account and get your key.
Once set up, it uses the key to process your AI commands and provide you with the results. While there's an extra step, the upside is that you won't have to pay for maintenance; you just pay for usage.
Who it's for:
It's best for solo content writers and affiliate marketers looking to automate their content writing.
Who it's not for:
It won't be a good fit for digital marketing teams that need collaborative features, strict adherence to style guides for consistent brand copy, high-touch content, and robust brand voice features.
Pros:
ZimmWriter is an absolute beast for content automation.
It's exceptionally flexible with its triggers, commands, background information, literary devices, and custom prompts.
It generates high-quality content.
It's one of the few AI writers focusing on local SEO content.
ZimmWriter's magic command can be triggered anywhere because it's a desktop app. It works in Notepad, Word, Microsoft Word, Notion Desktop, and similar apps where most web applications fail.
It's very cost-effective. There's an affordable monthly subscription and a lifetime deal.
Add your own Open AI key, so only pay for your usage.
Cons:
The Mac version is not live yet. I really wanted to put this under pros because Mac users usually get everything first and are pretty smug about it. Jokes aside, the Mac version is in development and should be available soon.
ZimmWriter is more suitable for solo content creators. It doesn't have any collaborative features or a long-form content editor. So if you're looking for a content writing tool with team features, I'd recommend looking into Copy AI or Jasper AI.
I'm not a fan of the brand voice implementation with brand archetypes. I believe the framework has too many flaws. Archetypes are helpful in broadly categorizing the brand personality when you're talking to someone who's not a marketer or branding professional. It's the starting point, not the end.
You need to set up your Open AI key. It's effortless, and the app comes with detailed step-by-step instructions. But you might find this inconvenient if you prefer to have nothing to do with Open AI keys and setting it up. I don't mind this because it's a one-time thing.
Only Open AI models are available. I'd love to see other AI models like Anthropic's Claude Instant, 1 and 2. Calude 1 and 2 have much longer context windows with about 100K tokens.
It's probably subjective, but I think the interface could be better. The grey background and the font style make the design a bit dull. I've heard others say it has a user-friendly interface, so maybe it's just me.
It doesn't have in-built grammar and plagiarism checks. If you're buying the tool only for the bulk blog generation feature, that's something to consider. Honestly, I don't think AI content can be published without editing, so I'm not bothered by it. If you need an AI writer directly integrating such tools, check out Frase or Jasper AI.
Unique features compared to other AI tools
Most AI tools are cloud-based. ZimmWriter is a desktop program. All the files and AI outputs are saved in your local folder.
You have to bring your own Open AI API key. This means you only pay for usage.
Not many tools handle bulk content generation as well as ZimmWriter does.
Many AI writers are just fancy wrappers on the Open AI model. But ZimmWriter has fine-tuned custom prompts created by an expert. This translates into high-quality content.
ZimmWriter is one of the few AI writing tools designed for local SEO content.
ZimmWriter pricing:
ZimmWriter offers three pricing plans: two monthly subscriptions and a lifetime deal (one-time payment for perpetual use of the software).
Normal Plan: This plan includes ZimmWriter for Windows at $5.97 monthly. It provides the basics such as Magic Commands, Continue Writing, Rewriting, and 1-Click Blog Generation.
Ultimate Plan: You get more advanced features for $9.97 a month. It includes all the features of the Normal Plan and additional features such as SEO Blog Generation, 1-Click Blog Generation, Bulk Blog Generation, and Local SEO Buffet.
Ultimate Lifetime Deal: This special offer allows users to own ZimmWriter forever for $197. It provides all the features of the Ultimate Plan.
Feature deep dive:
Let's have a look at the main tools and features of ZimmWriter.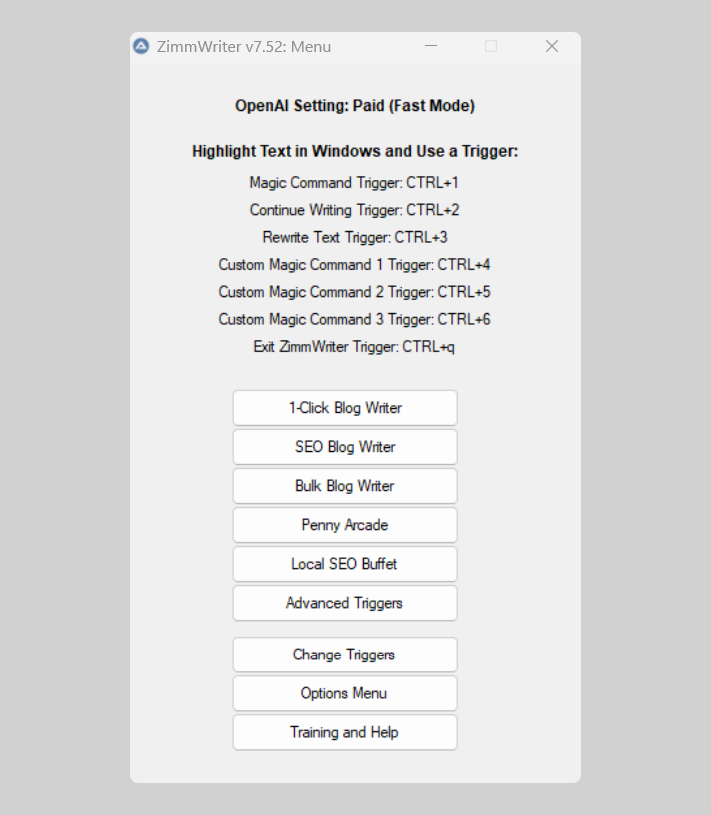 SEO Blog Writer:
ZimmWriter's SEO Blog Writer is a powerful tool designed to help you create SEO-friendly content with a high probability of ranking on search engines like Google. I like the surgical approach ZimmWriter takes to writing SEO content. You can customize the AI-generated text exactly as you wish. I've listed all the controls it offers in the section (down below) that discusses ZimmWriter's flexibility.
Here are some of my favorite features of the SEO Blog Writer: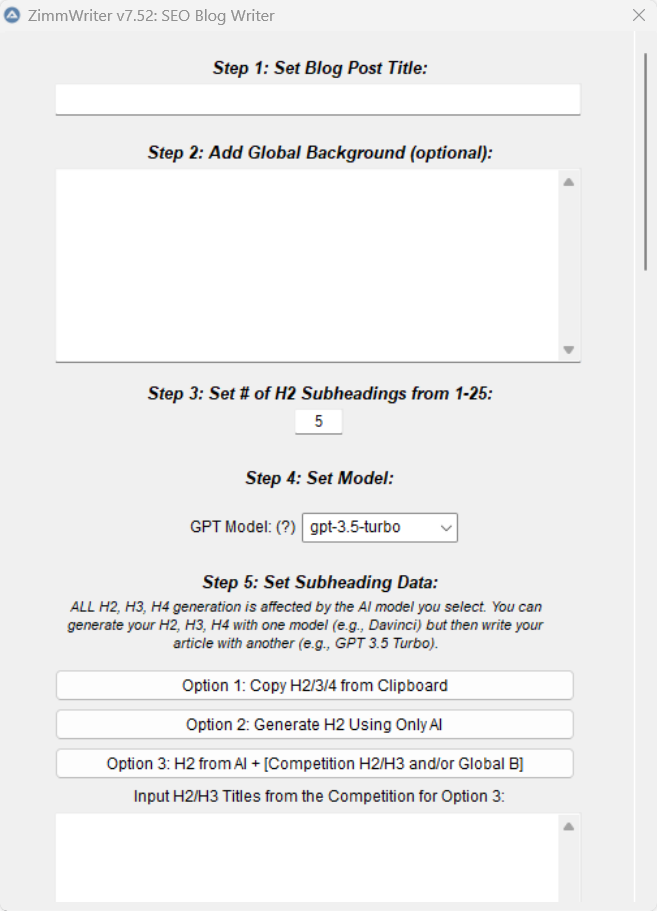 The Global Background section: it allows you to provide up to 1,000 words of information to teach the AI about niche subjects, products, current events, or any other topic it doesn't know much about. You can even add details about your target audience. You can also use URLs to scrape text from other sources. ZimmWriter will summarize the URL content and use it as background information.
Subheadings: I like how the SEO Blog Writer gives you multiple options to dictate the headings for your article. The H2 subheadings can be generated manually, copied from the clipboard, or generated using AI with the help of global background and competitor headings.
Subheading background: The subheading background feature allows you to give the AI extra information on specific subheadings. It works similarly to the global background but on a subheading level. It helps ensure that the AI understands the context and writes targeted content.
Product layouts: The product layout feature in the SEO Blog Writer is designed to help you create content focused on specific products. It triggers a specific formatting style. The product layout format includes two paragraphs and bullet point lists of product specifications, pros, and cons. It's crucial to provide enough information about the product when using the product layout feature.
Custom Prompts: With custom prompts, you can add personalized prompts to guide the AI. Custom prompts can be applied to individual sections, giving you finer control. For instance, if you don't want transition or linking words in your introduction, you can write a custom prompt to avoid it. However, you might have to do some trial and error to get it right. You can also specify a different model just for the custom prompt. For example, you can use GPT-3.5 for your overall article and GPT-4 (a much smarter AI model) for your custom prompts. This becomes useful when you have complex prompts that the older AI models can't understand.
Midjourney prompts: Midjourney is the most advanced AI text-to-image generator. ZimmWriter can automatically generate Midjourney prompts for your blog. All you have to do is plug the image prompt into your Midjourney discord server, and you'll have a beautiful featured image to go along with your post. You can even have ZimmWriter write Midjourney prompts for each H2 headings if you want to break up the text with images.
Youtube videos: You'll need ScrapeOwl credits for this feature to work. If you have that setup, SEO Blog Writer automatically adds relevant YouTube videos to your blog posts. When you enable this option, ZimmWriter will search for up to three videos on YouTube related to your topic. It'll then include links to those videos in your article. This is great because embedding YouTube videos can improve your visitors' time on the page, which can indirectly help SEO.
Auto Styling: By selecting this option, the SEO Blog Writer can emulate someone's writing style. You'll need lots of content online in your voice for the AI to mimic you. It usually works well for celebrities. It learns the personality and tone associated with that individual and applies it to the generated content. It can even mimic brands to some extent.
Automatic Keywords: This feature in the SEO Blog Writer generates long-tail SEO keywords that can be used throughout your content. It helps to create SEO-optimized articles right out of the box.
Manual Keywords: With this feature, you can provide relevant keywords to guide the AI in writing the article. These keywords can shape the content and ensure that specific topics and long-tail keywords are covered in your blog post. It allows for more control and SEO optimization of the AI content. This workflow is ideal if you use a third-party SEO tool like Frase or Surfer SEO.
Multiple AI Models: SEO Blog Writer offers different AI models, including GPT 3.5 Turbo and GPT-4, each with varying costs and capabilities. Users can choose the model that best suits their needs and budget, balancing quality and affordability.
Beat AI detection: Although wildly inaccurate, most AI content detectors look for common patterns to spot AI-generated content. ZimmWriter includes features that help bypass AI content detectors by increasing the randomness of the AI content.
My thoughts: SEO Blog Writer is my favorite ZimmWriter tool purely because of its flexibility. With the ability to choose from multiple AI models, customize prompts and keywords, and choose literary devices, the output provides a decent first draft. The option to add relevant keywords and YouTube videos increases the chance of ranking in the search engine.
Local SEO Buffet
The Local SEO Buffet feature allows you to create multiple location and service pages for your local business. It helps optimize your website by generating unique content tailored to each service and location. Instead of writing everything manually, the AI can generate up to 625 pages of content in one go. I can't imagine any content writer enjoying writing that many service and location pages by hand. Local SEO Buffet offers a variety of options for customizing AI content. This feature saves time and effort, attracting more customers and potentially increasing your business.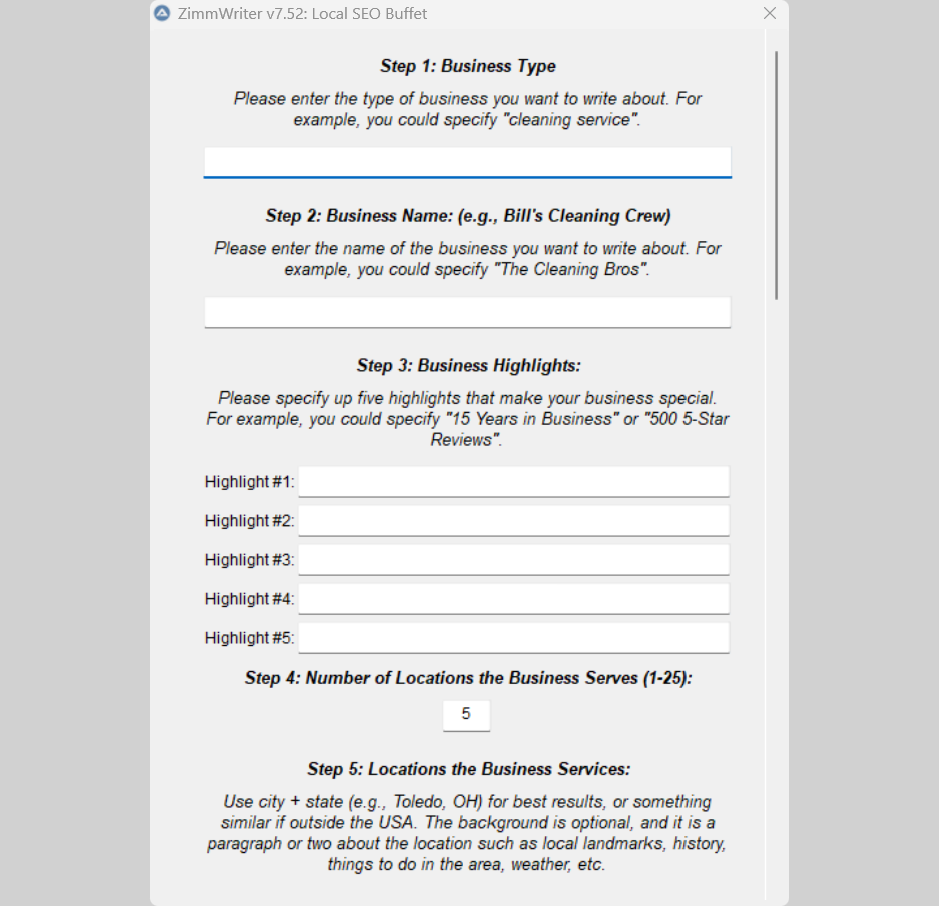 Let's say you own a pet grooming service. Here are some of the input fields and example inputs:
Business Type: Enter the category of your local business. Your business type will be: "Pet Grooming."
Business Name: Enter the name of your business. Your business is named "Paws and Claws Grooming."
Business Highlights: Enter some quick highlights that make your business stand out.
For our example, it could be:
Certified Pet Groomers
Gentle Handling Techniques
Customized Grooming Packages
Luxury Pet Spa Treatments
Over 500 Happy Pets Served
Locations you serve: Enter the number of areas your business operates in. For example:
San Francisco, CA
Oakland, CA
San Jose, CA
Palo Alto, CA
Berkeley, CA
Services the Business Offers: Enter the different services that your business offers. In our example, they could be:
Dog Grooming
Cat Grooming
Rabbit Grooming
Pet Spa Treatments
Pawdicure Services
USP and Benefits: Describe the special features and benefits of your unique selling proposition. For your USP, you might offer a unique "Fur Therapy" grooming technique that improves pet coat health. The benefits of this technique could be:
Improved Coat Shine
Reduced Shedding
Enhanced Pet Comfort
My thoughts: I'm absolutely smitten with the local SEO features in ZimmWriter. Manually crafting individual local landing pages can be such a trouble in the tush. So having AI automate this is nothing short of brilliant.
1-Click Blog Writer
The 1-Click Blog Writer is exactly what it sounds like. It generates an entire blog post with a single click. All you need to do is enter a topic and hit the generate button. ZimmWriter will work in the background and save the completed article to a folder of your choice.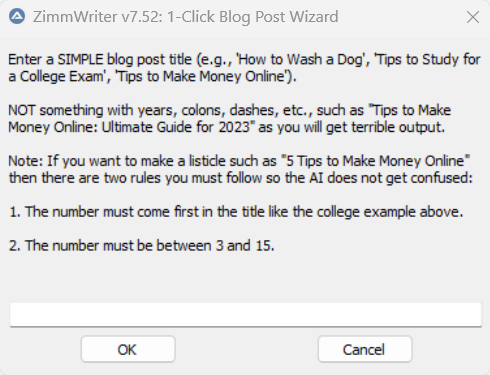 My thoughts: The 1-Click Blog Writer works best for informational and listicle-style content. It doesn't give you any control over the output like the SEO blog writer. But it's great for quickly generating content and spinning up ideas. It's a lazy SEO writer's dream come true.
Bulk blog writer
The Bulk Blog Writer can produce up to 1,000 blog posts in one shot. It's the 1-Click Blog Writer on steroids. It even offers a wealth of customization options. You can play around with H2 subheadings, adjust the voice tone, and add automatic keywords. Plus, you can enable or disable FAQs, lists, tables, and conclusions.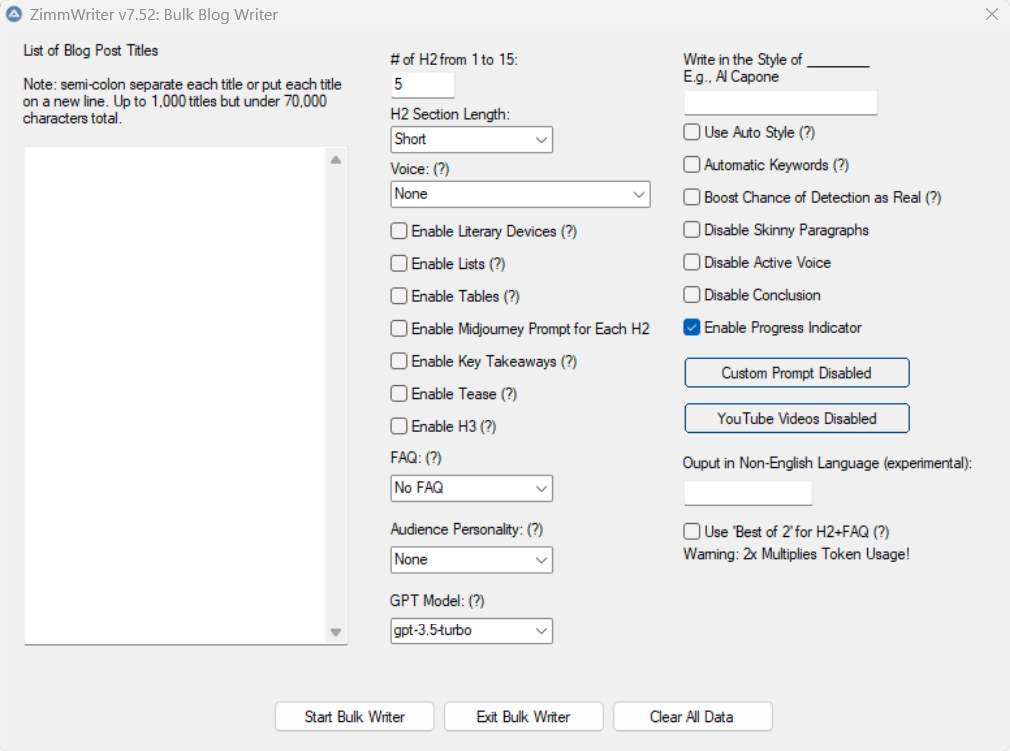 However, my opinion of Bulk Blog Writer is murky. I've always been more of a fan of thoughtfully crafted, hand-written content. So the notion of bulk content generation is a bit off-putting for me. And we'll have bad players cluttering the internet with subpar articles. But it's a powerhouse tool that can empower local businesses and a veritable goldmine for SEO testing. It's both fascinating and perplexing.
My thoughts: While I have my reservations, I know this tool, like any other, is as good or as bad as the person using it. While it lets you create multiple blog posts in a few clicks, I don't think it's the way to go if you're thinking long-term. I think it's best suited for SEO testing or even producing a rough first draft.
Penny Arcade
The Penny Arcade is a nifty feature in ZimmWriter that allows you to crawl and rewrite up to 1,000 URLs. ZimmWriter then generates content based on the crawled and summarized data. You can manually paste the URLs or have ZimWwriter do the heavy lifting by providing the sitemap URL. Penny Arcade offers many of the same settings as the SEO Blog Writer. It has voice selection, literary devices, lists and tables, non-English output, and short answer FAQs.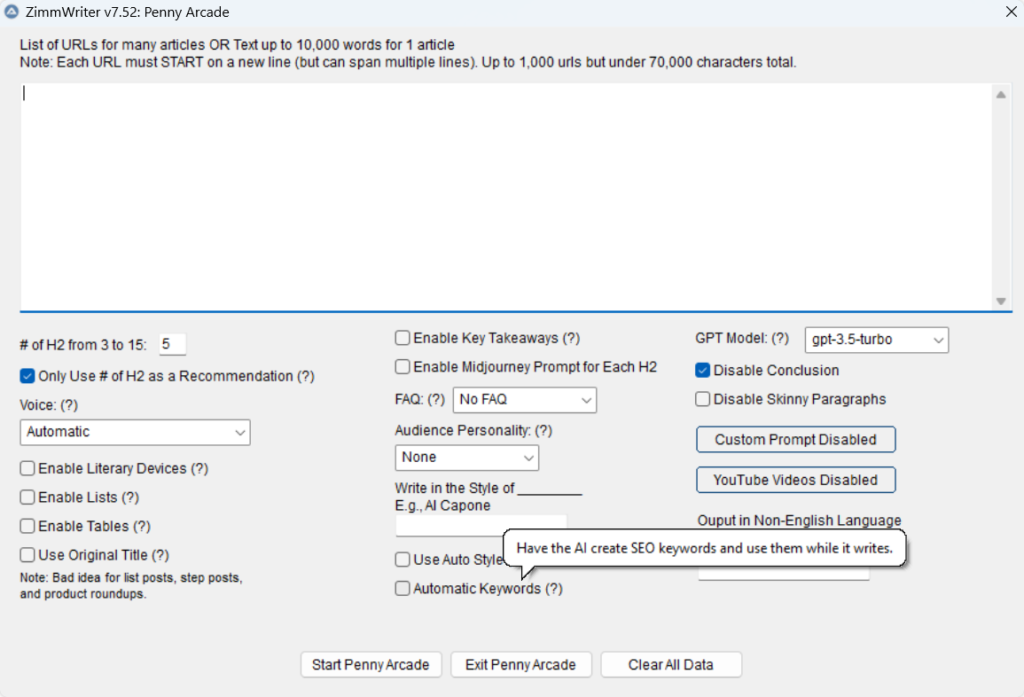 With its low cost of creating articles, ranging from 2 to 7 cents per article, Penny Arcade in ZimmWriter is a cost-effective way to generate bulk content. The generated text can be directly copy-pasted into your WordPress website, and it'll be correctly formatted. You can even use YouTube transcripts instead of webpage URLs.
My thoughts: The quality of articles is a gamble, as it depends on the crawled source, but it is a quick way to generate content for lower-tier SEO content. Personally, I wouldn't recommend this feature for any business website.
Zimmwriters magic command
Magic commands give you the convenience of using keyboard shortcuts to run your commands. You can write and run AI commands anywhere.
Magic command Ctrl 1: Runs your command (also works with URLs)
Magic command Ctrl 2: Continues writing
Magic command Ctrl 3: Rewrite text
Ctrl 4, 5, and 6: Custom commands
Just type it out, hit Ctrl 1, and watch the magic unfold. Maybe you'd like to continue an existing piece of writing. Ctrl 2 has got you covered. The rewrite text functionality is just a Ctrl 3 away.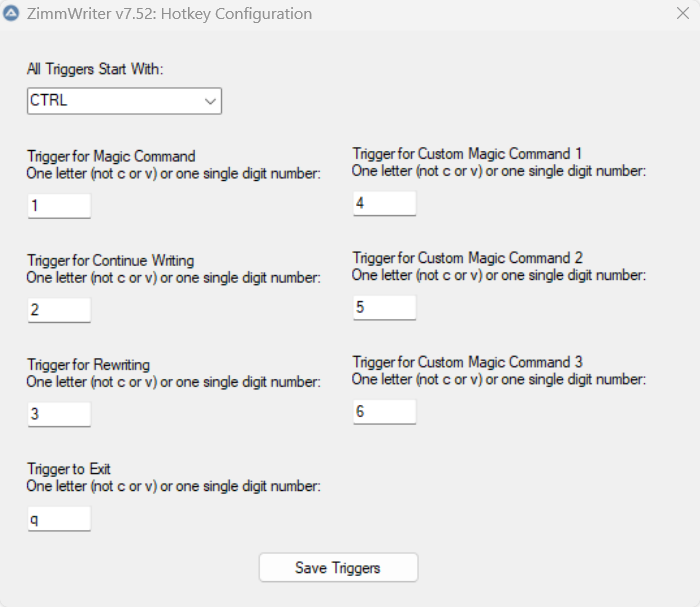 The real magic lies in the flexibility to add custom magic commands. Ctrl 4, 5, and 6 are your keys to this personalized experience. Create your magic command, assign it a keyboard shortcut, and trigger it whenever you need it. Maybe you're in Notepad, jotting down some ideas, or perhaps you're in Notion, organizing your day. ZimmWriter's magic command feature lets you run AI commands without leaving your favorite app, which speeds up the writing process. You can also change the default shortcuts and assign new ones.
My thoughts: It might seem like a simple feature, but it's a huge productivity booster once you start using it. It makes a massive difference in the content creation process. I wish we could add more than three custom commands or even have some sort of search bar to select saved AI prompts.
Flexibility
ZimmWriter is your canvas. It gives you the reins, letting you customize every detail. Want to tweak the length of the H2 sections? Go ahead. Do you prefer a third-person perspective? It's as easy as a click. Do you fancy literary devices like similes and analogies for an artistic touch? You can. Enable or disable lists, tables, and FAQs. The options run long.
It can even mimic personalities and scrape URLs to create personalized content. Even with all its features, ZimmWriter never compromises on simplicity. Here's the full list of controls ZimmWriter offers.
Adjust the length of the H2 sections from options: tiny, short, medium, and long.
Specify the perspective: first person, second person, or third person.
Choose to include or exclude literary devices such as similes and analogies.
Incorporate lists into the AI content.
Choose whether to use tables in the text.
Add transitions under headings for smooth flow.
Use Frequently Asked Questions (FAQs) for better understanding.
Enable mid-journey prompts for engagement.
Enable key takeaways for summarizing main points.
Enable AI detection for advanced features.
Disable conclusion if not required.
Disable active voice for a more formal tone.
Choose the audience personality for target-specific content.
You can mimic someone's personality for a distinctive style.
Specify a list of keywords for targeted content.
Scrape URLs for gathering information.
My thoughts: ZimmWriter is one of the most flexible AI writing tools I've ever used. I like that the advanced features are tucked away so they don't confuse new users, but they're just a click away for those who want more features.
Advanced triggers
With the advanced triggers, you can set up global settings, which will influence all the content generated by ZimmWriter. You can save and assign keyboard shortcuts for custom commands, choose the point of view (first person, second person, etc.), specify formatting options, give context, and more.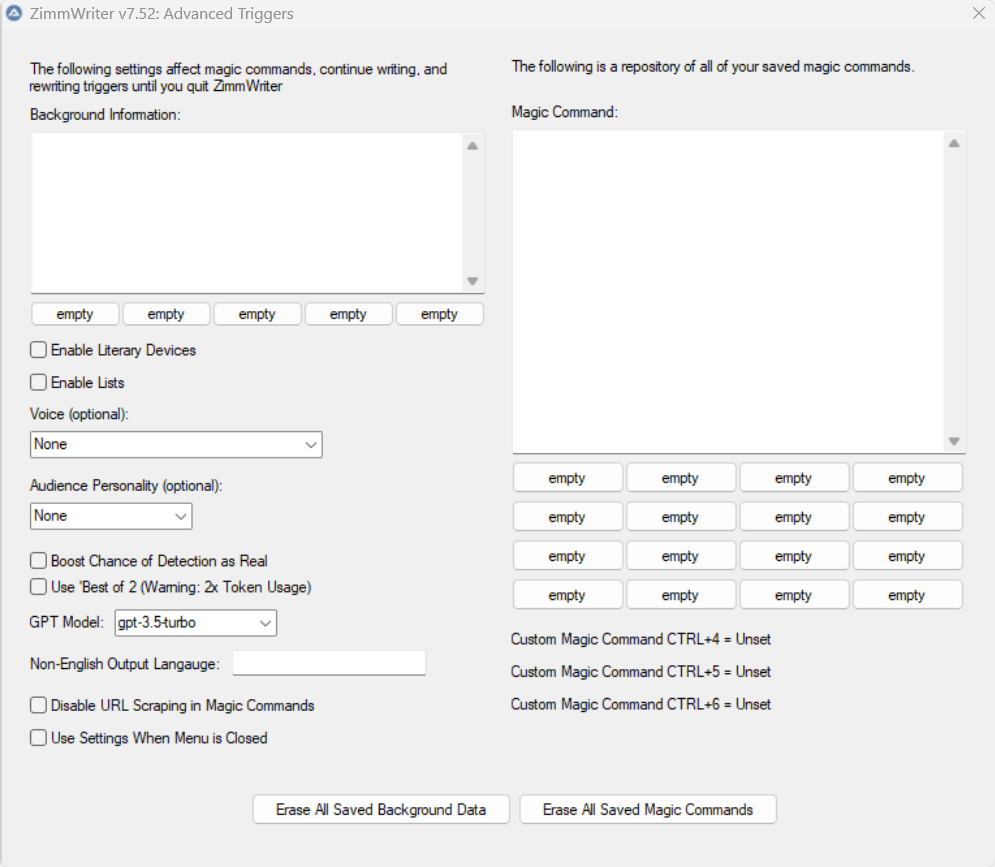 My thoughts: I like these advanced features because I don't have to add info for each prompt. I wish I could set up different brand and target audience profiles and choose them when creating content.
Final thoughts
With all the content automation features, local SEO pages, and a one-time payment, ZimmWriter is a great deal. I like that it's a desktop app that works in most apps where other browser-based apps don't. If you're a solo content creator or an affiliate marketer looking for an AI tool, give it a try.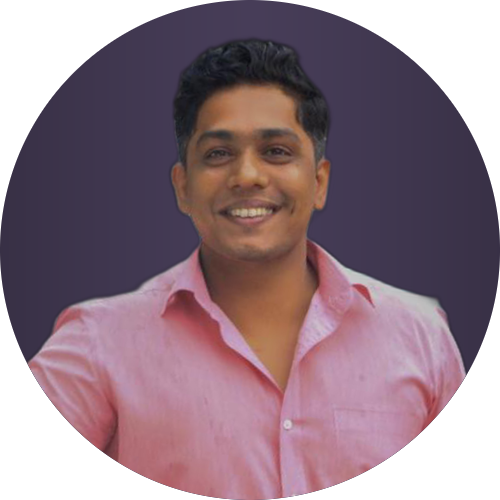 Vivek Mathew
(aka The Mindful Marketer, aka the guy who rocks a pink shirt 😄)
I'm a content consultant who helps small businesses become iconic brands by clarifying their brand message and creating strategic content. I've worked with brands like EY, Natwest, and some early-stage startups like Vivartah.

Click the button below and book a call with me.