Social Media Marketing For Small Business: Cheat-Sheet To Dominate Your Market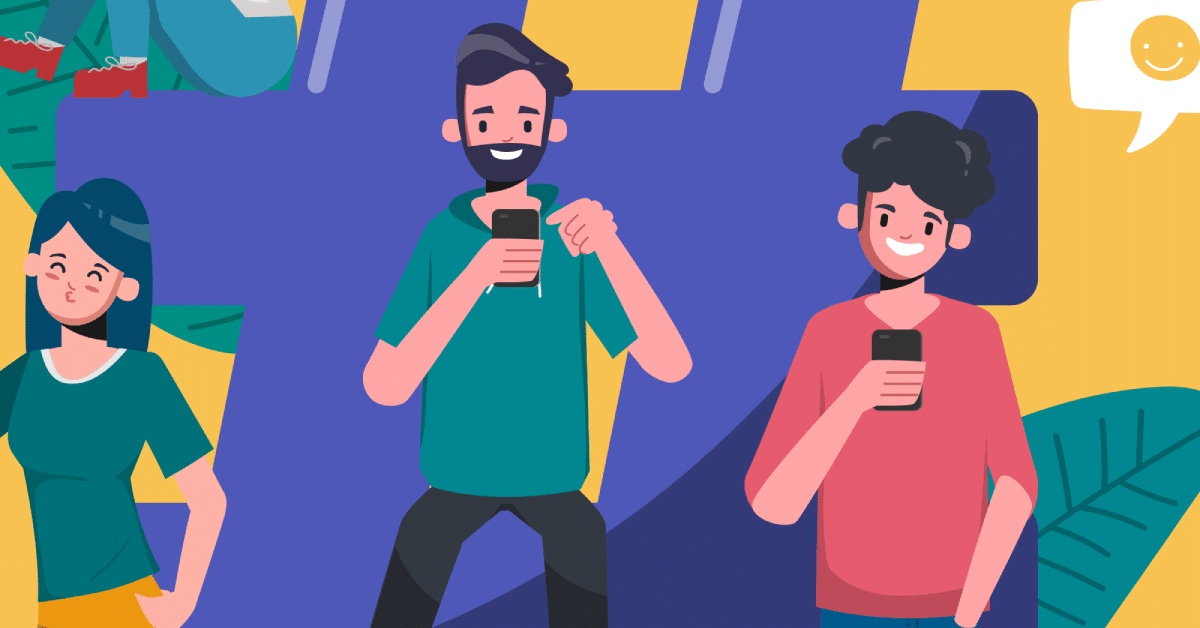 Social media marketing can do for your small business what the sling did for David in his fight against the giant Goliath.
How is social media marketing for small business even related to a battle story?
You're convinced that you have a fantastic product that your customers would love. They would become repeat customers and tell their friends about it because you've put so much effort into perfecting them for them.
If only you could reach them and tell them about the story behind you and your product.
Making yourself heard with all these giant companies dominating the market with their massive marketing budget is not easy.
It reminds me of the story of David challenging the formidable enemy Goliath. David, with his sling and Goliath with his armor and spear. David hurls a stone using his sling and strikes Goliath on his forehead, causing him to fall.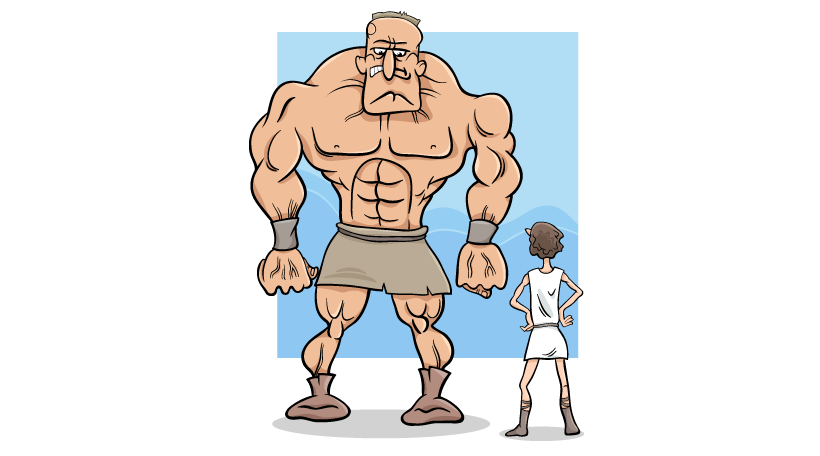 Social media marketing is that sling for your small business marketing.
Why small businesses can use social media to level the competition
While smaller companies have the disadvantage of being on a tight budget, they can use social media marketing to level the playing field. The key benefit is that it allows you to talk to your customers directly, which can help you create more personalized experiences. That's what people are looking for these days.
For example, even the CEO can hop on a short notice call in a smaller firm, but you can't expect the same from a large organization. Imagine Jeff Bezos getting on a call with Amazon's customer. That type of personalized attention is almost impossible for more prominent brands, whereas small businesses can be more agile and responsive. This means you can piggyback on trending topics faster than bigger ones, who will have to get sign-offs and approvals from various departments before they hit that publish button.
A small business generally has more room to provide customized pricing and offers. With the help of social media, a small business can take this customization and personalized experiences to the next level.
How do small businesses start social media marketing?
Laying out a solid plan is vital; this will dictate your social media success. You can use the following elements to create your social strategy.
Create your buyer persona
I would argue that nailing down on your customer persona is the most critical step in any form of marketing. It's not any different for social media marketing.
It would require a post of its own to cover it well, but here is a post about the importance of getting your buyer persona right and the best way to do it.
Here is a template used by Springs Design for your inspiration.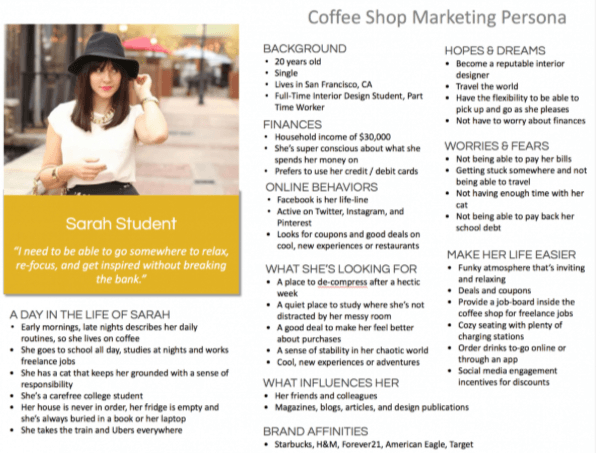 Set social media goals and objectives
Make sure you're clear about what you are trying to achieve with your social media marketing. The next step is to identify KPIs (key performance indicators), which can be used to measure your objective's success. Some primary goals and related KPIs you could use for your social media strategy are mentioned below:
Brand awareness
KPIs
Followers count: Number of people you can you potentially reach
Reach of your social media posts: Number of people your social media posts reach?
Mentions, shares – Number of times your brand was mentioned and your content was shared
Traffic to your website
KPIs:
Social media traffic: Number of people landing on your website because of your social media presence
Share of overall traffic: Share of your total traffic from social media
Clicks on your social media posts – Which posts are resonating with your audience
Lead generation
KPIs
Name or email ids generated: Number of leads generated through social media
Downloads of resource: Number of lead magnet downloads by social media traffic
Participation: Event registrations generated through social media marketing
Grow revenue
KPIs:
Revenue: Amount of revenue generated through social media channels
Revenue from paid traffic: Revenue generated by running ads on social platforms
Brand engagement
KPIs:
Likes, shares, and comments on posts: Engagement per post
Mentions, tags: Number of people mentioning or tagging your brand
Community growth and engagement
KPIs
Group metrics: Number of posts, likes, and comments
Growth: Number of new members, growth rate
Effective social customer service
KPIs:
Response time: response time on social media
Customer Satisfaction: Customer satisfaction rate for the support provided through social media
Public relation
Shares and mentions: PR opportunities generated through social media
Influencers: Relationships or contacts made with journalists or influencers
Research the competition
Once you've set your goals and KPIs, it's essential to understand who your competitors are and what their content strategy is. This will help you know what is working for them and what is not.
Conduct a social media audit, which will help you discover their:
Channels where they have a social media presence
Audience size
Engagement rate
Engagement method
Posting frequency
Advantages
Disadvantages
Use a tool like social blade to analyze your competitors.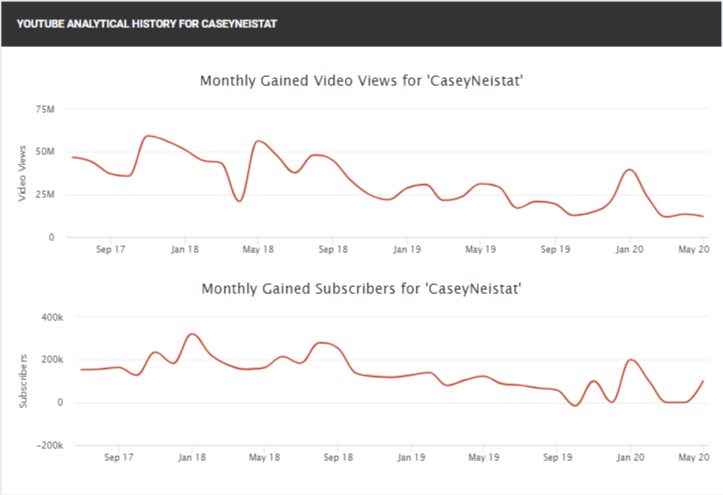 It doesn't just show the number of followers that your competitor has, but you can even compare your growth against your competitor.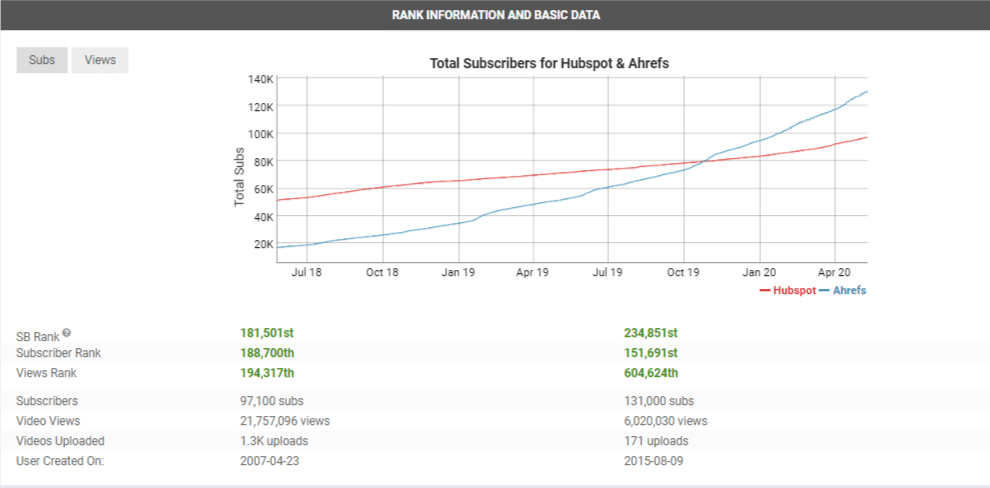 What is the best social media for small business
Once you've figured out your competitors, unearthed their strategy and have an understanding of what resonates with your audience, the next step is to pick the social media platforms that can work for your brand. You don't have to be present on all the social media platforms and be mindful of all the research you did in the previous step.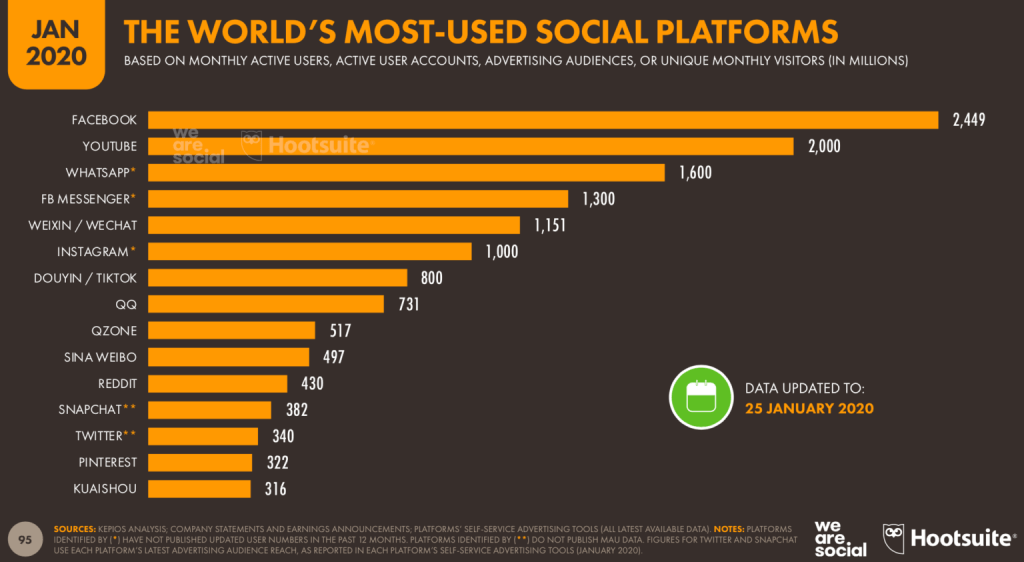 The best approach for a small business is to pick your favorite social media channels from the top ones and stick with it.
Let's have a quick look at the most popular social media platforms and the demographic of their user base.
Although Facebook is not a new social media channel, it's is still the one with the highest number of users.
The digital landscape has transformed a lot in the past couple of years, which ultimately changed Facebook's audience demographic quite a bit. Facebook lost it's status as the most popular online platform among teenagers, according to a Pew Research Center survey.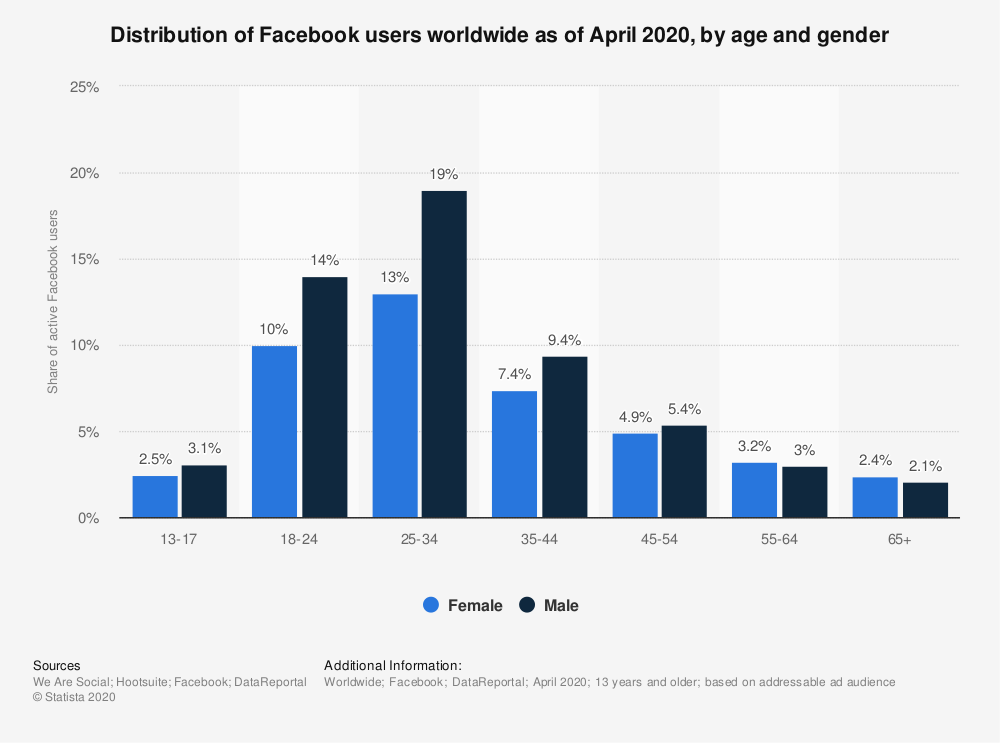 According to a survey in 2018, Youtube, Instagram and Snapchat were the most used online platforms among teenagers. Snapchat's key demographics are 13 to 29-year olds with 69% of 13 to 17-year-olds using the app and 62% of 18 to 29-year-olds using it.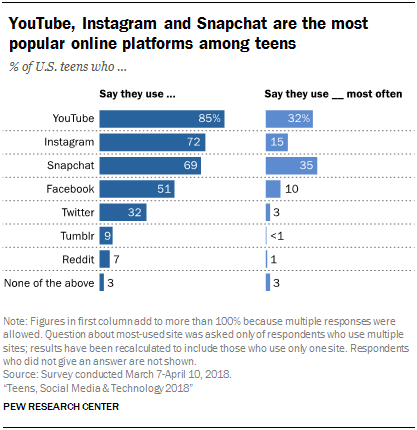 Pinterest and Instagram might be good choices if you have a product or service that can use a lot of visual elements. Instagram is perfect for a small business that promotes self-expression and individuality because the platform and the user base itself identifies with that idea.
Twitter is a platform with a male-majority frequent user base. This is also a social media platform where the audience is very vocal and passionate about their opinions.
LinkedIn marketing has long been the favourite among B2B marketers, but that doesn't mean you can't do LinkedIn marketing if you're in the B2C space. Several B2C brands are crushing it with their LinkedIn marketing.
Starbucks is doing a great job with their LinkedIn marketing. Here is an example of Starbucks announcing their College Achievement Plan, an initiative where they associated with the Arizona university to provide tuition for eligible candidates.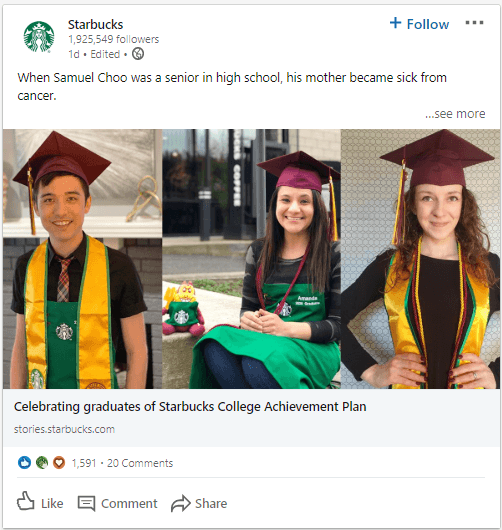 Secret deodorant is always inspiring women through their content.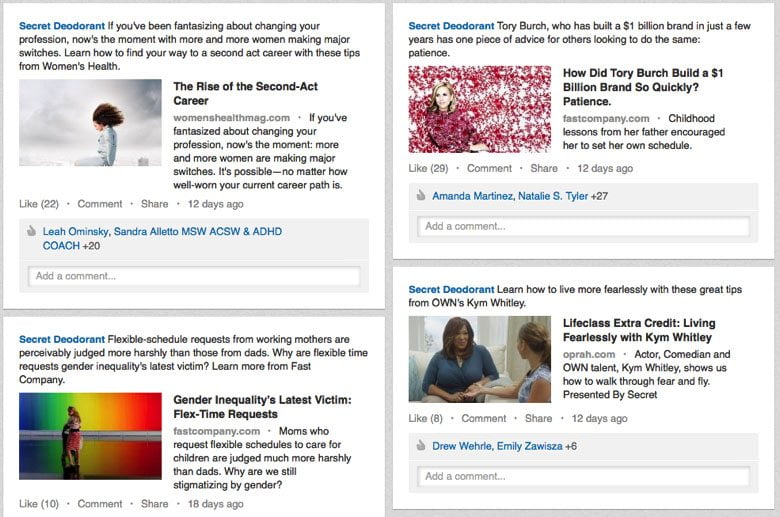 Let's not forget the new kid on the (social media) block: Tiktok.
Tiktok had exponential growth since it's launch in 2016 and has around 800 million active users globally (Datareportal, 2020). But remember how we did the audience research in the previous step? Just because a social media network is popular doesn't mean you should jump on the wagon, you need to figure out whether your target audience is there. On Tiktok, most of the users are young, so it won't make sense for your business to be on that platform if you're not targeting that demographic.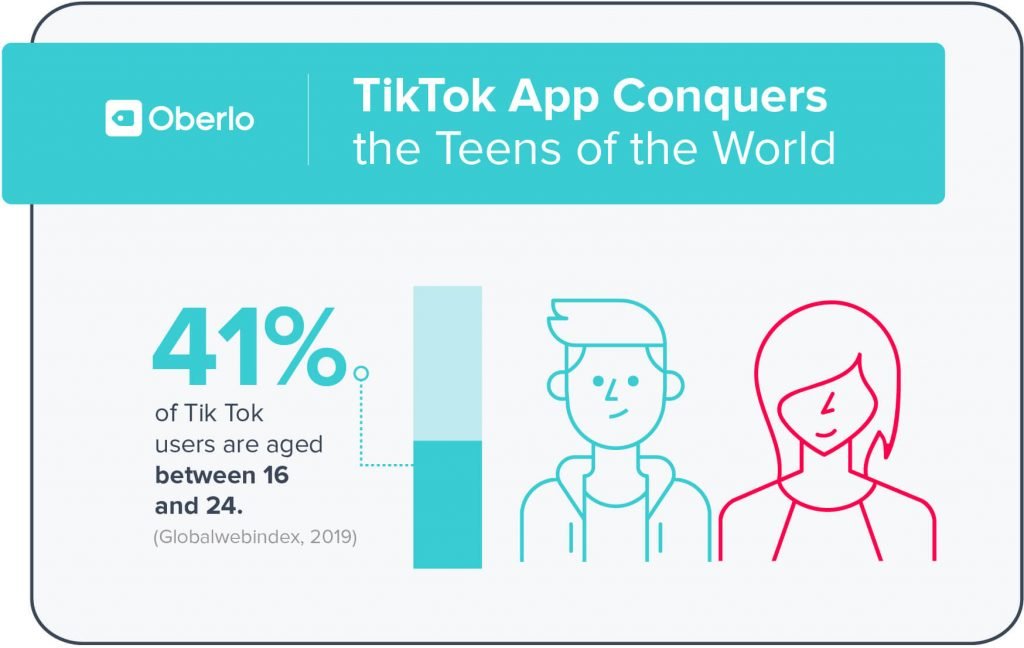 IIf you're thinking, who would advertise on Tiktok, then the answer might surprise you. Even luxury brands like Burberry have put out sponsored hashtag challenges on Tiktok.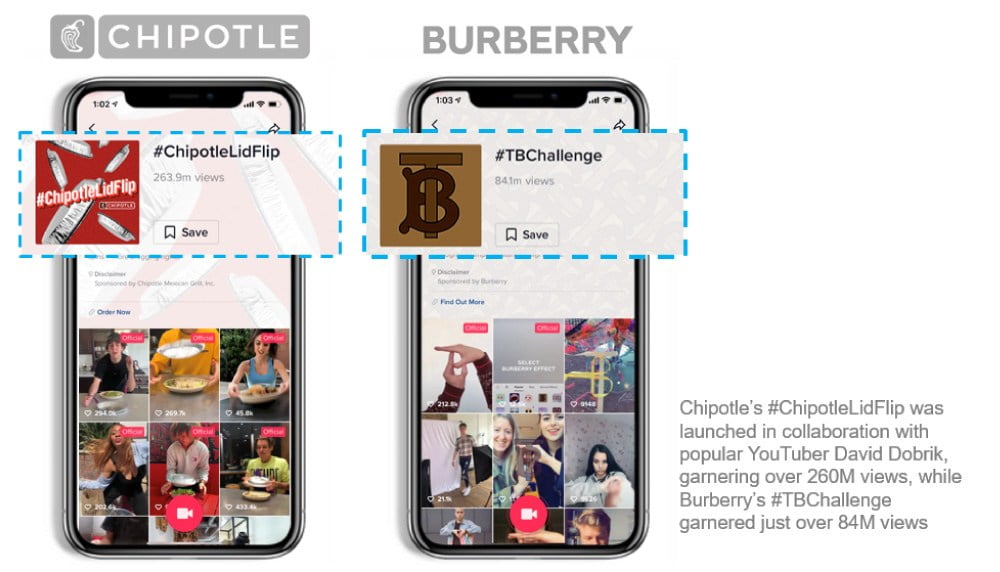 With the #TBChallenge generating over 84 million views, it's not a surprise why brands turn towards Tiktok to create low cost viral campaigns.
Once you get a feel for a social media network's audience, ask your self: is that your target demographic?
If the answer is "yes," then it could be part of your social media strategy.
Create a social media calendar
There are many benefits to having an editorial calendar. It keeps you organized and consistent and ensures there is a streamlined workflow with the proper approval process.
This helps you plan well in advance for upcoming holidays and campaigns. If you're using a social media scheduling tool like Buffer or Sproutsocial, it will have a calendar in most of their plans. Make sure to pick a social media tool with a calendar view, which will make your life so much easier. In a quick glance, you can see all the campaigns and social content scheduled for the upcoming weeks.
If you're on a budget, then you can get started with one of the tools that offer a free plan or even a project management tool like Trello to keep track of things if you're doing it manually.
Build relationships
Creating quality content is needed, but the whole point of using social media is to develop meaningful relationships with your target audience. You need to ensure that you are building meaningful relationships with your customers and other people in the industry.
Humanize your Brand
In order to get the most out of social media marketing for small business, make sure your brand personality shines through when you're engaging with people. Don't sound robotic and emotionless, let the tone reflect what your brand stands for. It's an excellent exercise to visualize your brand as a person.
Using real-life pictures of events, shining the spotlight on your employees and showcasing some of the fun, goofy moments in the office are great ways to display your culture.
Focus on quality over quantity
This is a common mistake many small business owners make. Eager to get things rolling, they pump out as much content as possible.
Don't do that, it could hurt your brand in the long run, so stop creating content to keep your calendar full. Place importance on quality over quantity.
Analyze, strategize and repeat
Take stock of what you did in the past and figure out what is working and what is not. Be agile enough to adjust your social media strategy according to the findings.
Finally, one rule above everything else: use social media as a medium to provide value to your customers and serve them better.
Do you have any ideas on social media marketing for small business? Drop a comment and let me know.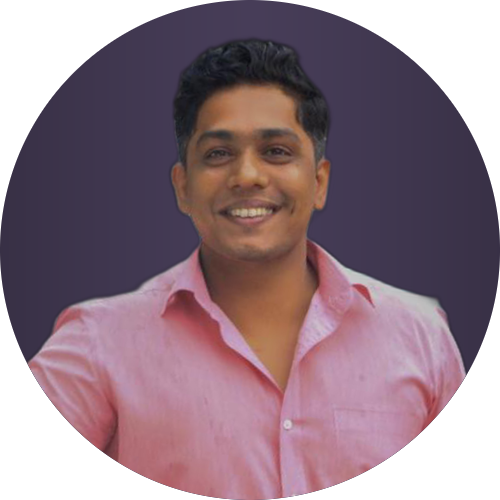 Vivek Mathew
(aka The Mindful Marketer, aka the guy who rocks a pink shirt 😄)
I'm a content consultant who helps small businesses become iconic brands by clarifying their brand message and creating strategic content. I've worked with brands like EY, Natwest, and some early-stage startups like Vivartah.

Click the button below and book a call with me.