Keysearch Review 2020: Is It Worth It?
Affiliate Disclosure: This post may have affiliate links, which means I get a commission if you buy using my link — at no extra cost to you. I never recommend products I haven't tried and found helpful. (You have ChatGPT for that.)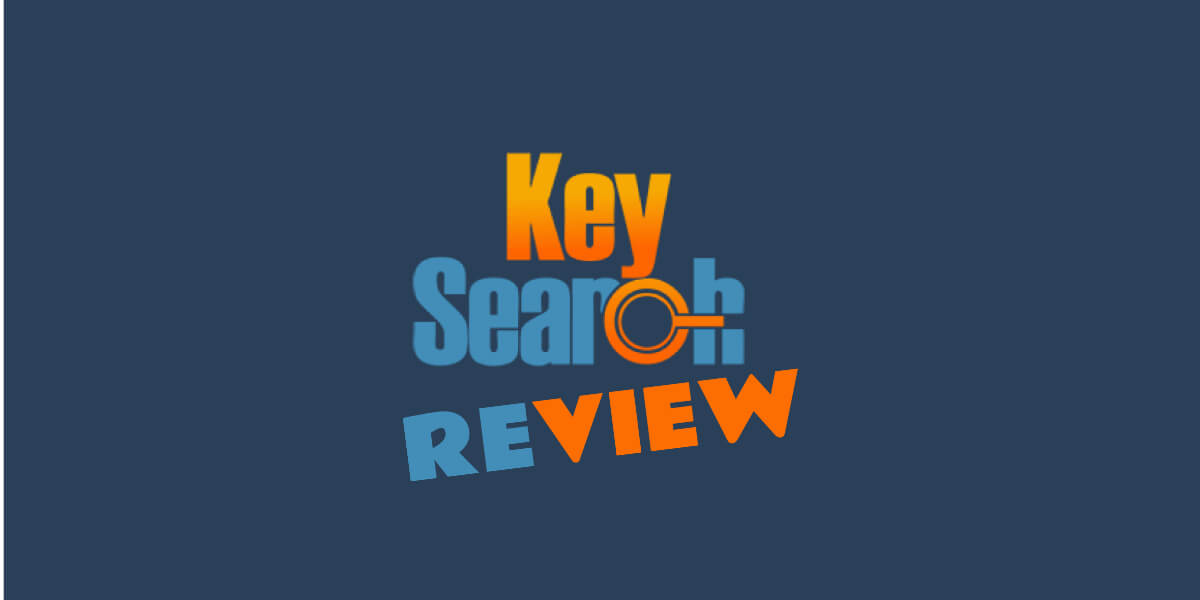 Best KW finder alternative
Keysearch review verdict
Keysearch is the perfect alternative to KW Finder. It cannot be compared to the SEO industry heavyweights like Ahrefs or SEMrush.However, it provides massive value at a very affordable price point, making it accessible to newbies getting started with their content research. With the keyword analysis tool, rank tracking, competitor gap analysis, backlink checker, YouTube research tool, content assistant tool, and SERP analyzer, you get almost everything needed for your content and blogging requirement. In short, it's a bang for your buck.
This Keysearch review will give you an overview of the tool and look at the various features it has to offer. After reading the article, you should be able to make a decision whether it will fit your need.
There are many ways to skin a cat; different people use different approaches for their keyword research. But the common factor in all these approaches is the use of a keyword research tool. 
Most established businesses or agencies go with the industry heavyweights — Ahrefs or SEMrush. The choice is not as simple for a bootstrapped solopreneur or small business owner. It hurts to shell out 100 bucks a month for an SEO tool when you have costs coming in from all sides. Usually, I wouldn't suggest skimping on tools that can bring in money or save your time. But in this case, you have an alternative that can get you almost the same value: Keysearch SEO tool. Throughout this Keysearch review, we'll look at the various functions and options they offer.
Keysearch review (company background):
They have been in the market for almost five years. Keysearch was formed as a niche research tool and evolved into a full-blown SEO tool.
Keysearch aims to offer high-quality, simple-to-use small business SEO tools..
I have to say that they live up to their vision in my experience. You get a lot of value for the amount you pay.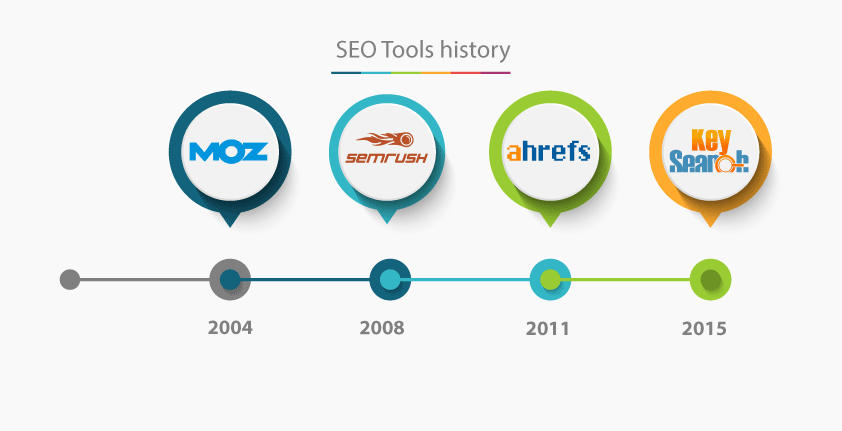 Keyword research tool
The best Keysearch feature is the ease of SEO research. It has a massive database of close to two billion keywords. There are other options to choose from, such as related keywords, Google suggest, Bing, and YouTube suggest, to name a few. Keyword suggestions to the right change based on your source selection in the drop-down. 
You will see volume, CPC, PPC, and a kw difficulty checker tool to the right. You can estimate the required SEO efforts based on this score.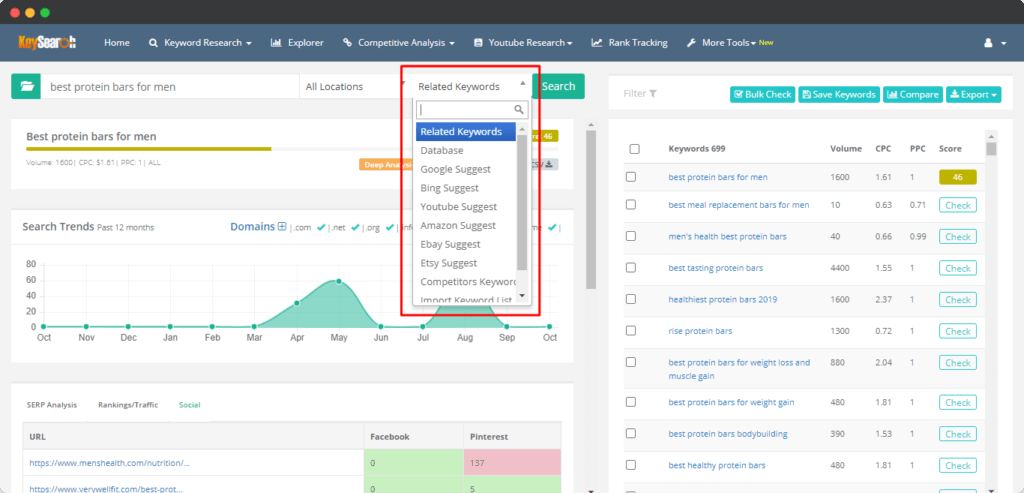 Quick Difficulty:
To assess multiple phrases, enter your terms, and run a bulk check. You can run a keyword difficulty check for 50 keywords in one go, which can be a massive timesaver.
Keyword research filter:
Every keyword research tool should offer an option to narrow down the results, and Keysearch does not disappoint. There are several useful filters to narrow down the results.
It will limit your search results to phrases that include the keyword. For example, if my seed keyword is 'content' and I add 'vs.' in the keyword box, the results will be 'apple vs orange' or 'apple vs mango.'

Fun fact: I did the search for apple and got 'apple vs. Spotify.' Apparently, people care about gadgets more than they care about fruits.
Negative words:
It helps to remove any irrelevant results from your keyword research. For example, you can use Spotify as a negative keyword to remove any search results with the keyword Spotify in it.
You can also use a combination of multiple words using search operators.
The number of words:
You can set the maximum and a minimum number of words your results should have. Setting the minimum number of words to three or four is a handy way to find long-tail keywords.
Volume:
It is pretty much what it suggests. You can filter keywords based on the search volume.
CPC:
You can specify the minimum and the maximum cost per click here. I use this filter to find keywords with buyer intent.
Keyword difficulty score:
You can filter keywords based on the competition score. The higher the number, the harder it will be to rank. Newer sites will have better luck with low competition keywords. The below scores can help you in the keyword research phase:
0-19: Competition is very easy (Light Blue)
20-29: Competition is fairly easy (Light Green)
30-39: Competition is easy-moderate (Green)
40-49: Competition is moderate (Yellow)
50-59: Competition is fairly difficult (Light Red)
60-80: Competition is very difficult (Red)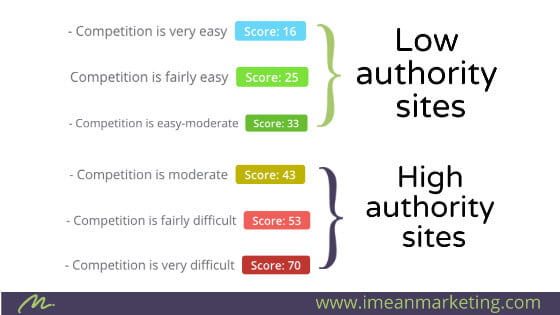 SERP analyzer
SERP analyzer feature gives you the critical data points for the top 10 ranking pages, which can help you understand the chances of ranking for a keyword. If you see many low authority domains and green boxes in your keyword research — indicating the top results are not optimized — then you should be able to crack into the top 10.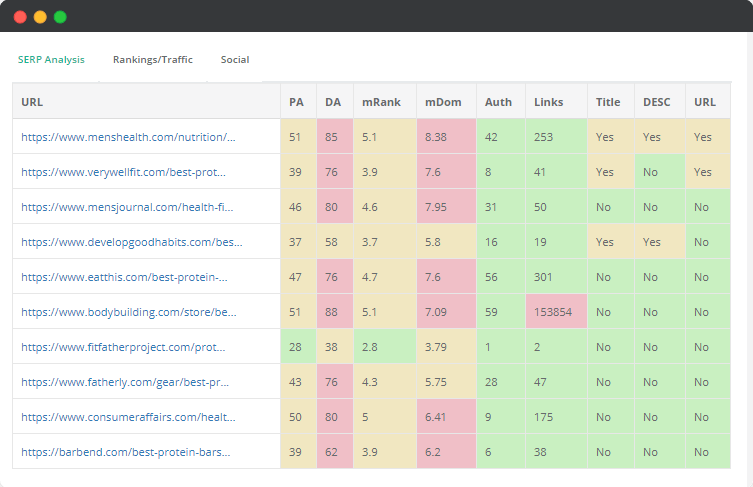 You can take this one step further and run an in-depth analysis, which gives you additional data such as domain age and Alexa ranking. The deep analysis feature shows you the SERP analysis, social shares, and LSI keywords in one pop-up window.
Keyword SERP
The second tab shows you the number of keywords each URL ranks for, estimated monthly traffic to the URL from Google, the number of keywords the domain ranks for, and monthly traffic to the domain from Google.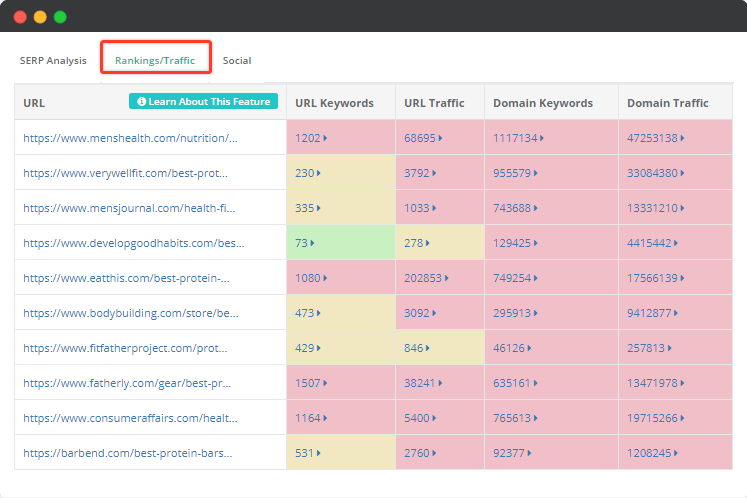 The third tab shows the social shares each article has received. It gives you an idea about which content angle fares well on social.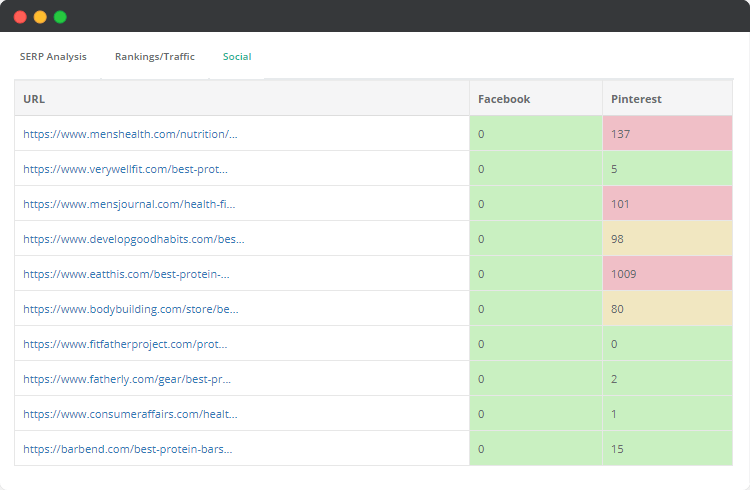 Search Engine Keyword Suggestions
These are semantically related (LSI) keywords, which might be valuable.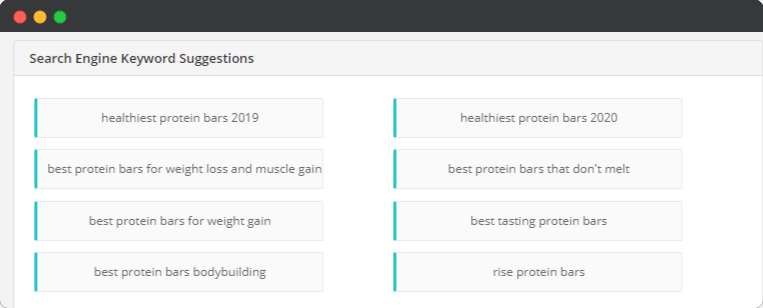 Browser extension
Keysearch has a nifty browser extension that gives you the SERP visualization in your Google search. It's useful in your keyword research to qualify a phrase looking at the competition.
Competitive analysis
Backlink checker
Any SEO tool should have a useful backlink analysis feature. I like how they summarize the anchor text distribution for that URL. You can filter the results by 'do-follow' or 'no-follow' links, the number of links, link source, domain strength, and domain score. You also get an option to limit the results to one result per domain.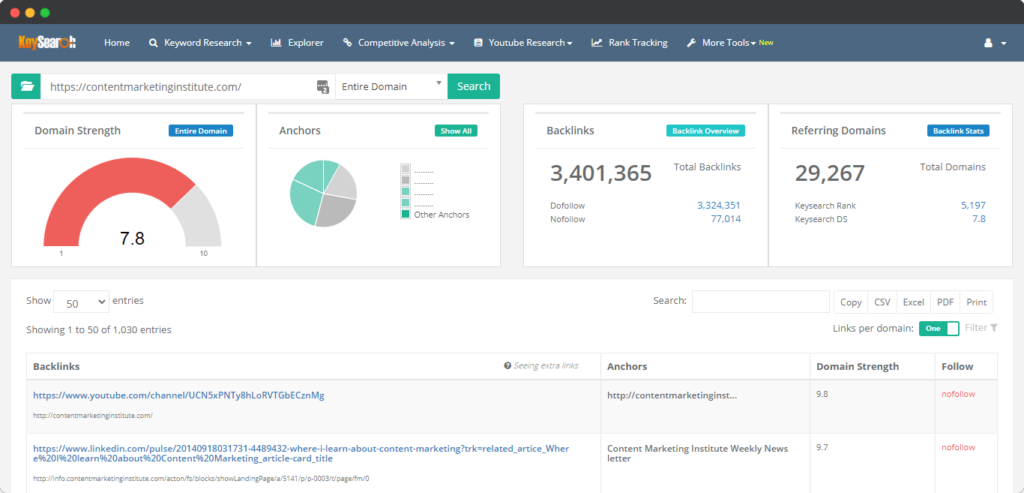 URL metrics
This feature lets you compare the metrics for multiple URLs (up to 20) in one go. It shows the page authority, domain authority, domain strength, links, Alexa ranking, ranking keywords, social share, and much more.
Organic keywords
This feature shows the keyword position, volume, traffic, and CPC of domains (or URLs) ranking in the search engine results.
Competitor Gap Feature
This feature helps figure out the keywords your competitors are ranking for, and you're not. Add up to three of your competitors (domain or specific page) in the left-hand-side search bar and add your domain (or page) in the right-hand sidebar.
Now hit search and Voila!
The result will give you the keyword gap!
Page analyzer
I wasn't too impressed with some parts of the page analyzer. It didn't pick up the correct internal links on my page and had some inaccurate suggestions such as underscores in the URL when there weren't any and a couple of others.
Opportunity finder
This feature is currently in beta. It can support your backlink campaigns. You can search for guest posts, forums, and blogs based on your keyword with an opportunity finder. You can open the results right within the tool.
YouTube Research
The YouTube keyword research has a visual representation that shows you the competition you're up against. It offers you the video views, search volume, channel age, title, and description match. I found discrepancies in the title and description match. Although it's not perfect, it can help you with your YouTube research.
Brainstorm feature
You'll see a list of all the top trending topics on Google. It allows you to search and filter by category.
Content Assistant tool
The content assistant tool is still in beta when writing this article, but I like the way it's shaping out. You get a nice ample writing space on the left-hand side and recommendations on the right-hand side. The content assistant tool has five tabs: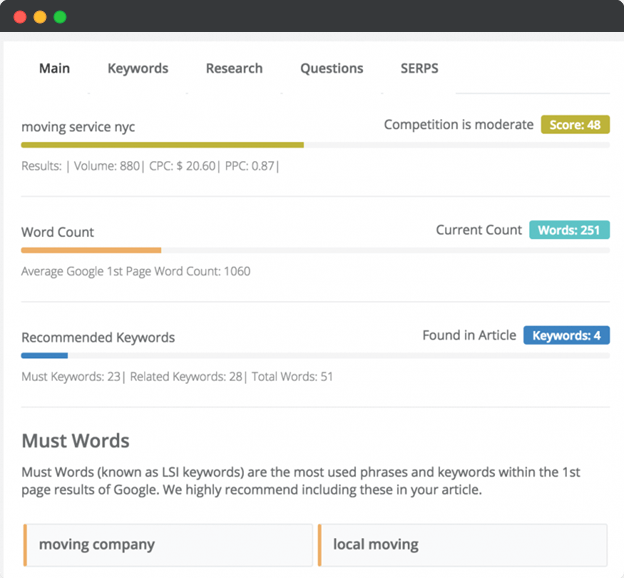 Main tab:
It shows the keyword details (search volume, CPC, and PPC), word count, number of recommended keywords used in your article. It offers a list of primary keywords that occur commonly in the top 10 search engine results, and your content should have. The keyword color turns blue from amber when you've used it the optimum number of times.
Keywords
This tab displays Google-related keywords and top URL keywords.
Research
The research tab is a nifty feature that aids your content creation process. You can see snippets from the top-ranking pages or the database to quickly model your article outline.
Questions
Questions tab highlights commonly asked queries around your topic. Answering these questions can aid in winning the featured snippet.
SERPs
SERPs tab shows you the first page results in search engines. This feature in the content assistant is useful to see the entire webpage without even opening a new tab.
Keysearch Pricing
Keysearch backs up its vision with its pricing model.
They have a limited zero-dollar trial, which lets you play around and get familiar with the tool. At the $17 monthly slab ($169 annually), you get 200 keyword searches daily and 80 keyword tracking. At the $34 monthly slab ($279 annually), you get 500 monthly keyword searches and 200 keyword tracking. The starter plan should be more than enough unless you're a superuser.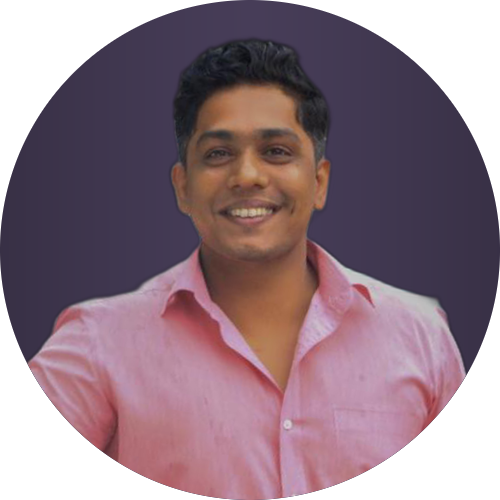 Vivek Mathew
(aka The Mindful Marketer, aka the guy who rocks a pink shirt 😄)
I'm a content consultant who helps small businesses become iconic brands by clarifying their brand message and creating strategic content. I've worked with brands like EY, Natwest, and some early-stage startups like Vivartah.

Click the button below and book a call with me.