AI Lead Generation for the Modern Marketer (Tools + Use Cases)
Affiliate Disclosure: This post may have affiliate links, which means I get a commission if you buy using my link — at no extra cost to you. I never recommend products I haven't tried and found helpful. (You have ChatGPT for that.)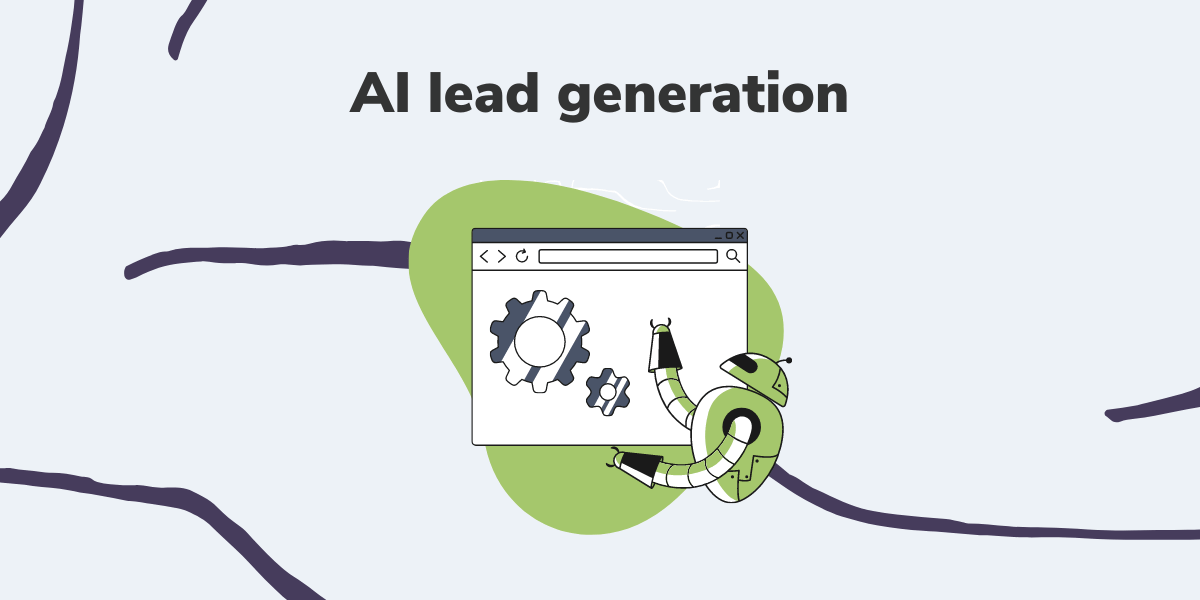 This blog post looks at different AI lead generation tools and real-world use cases for them. By the end of this post, you'll be familiar with AI lead generation and the best AI lead generation software to include in your marketing stack.
I'm going to take a wild guess and say that spending hours manually trying to generate, qualify and nurture leads is not your idea of a good time. That's busywork best left for the pseudo-gurus who preach the reckless model of sleepless grind and hustle.
But you, my dear reader, are a modern marketer.
You know the key to success is working smarter, not harder. So you use AI lead generation tools to automate the grunt work and focus on bigger, more important tasks.
A look at the Lead generation process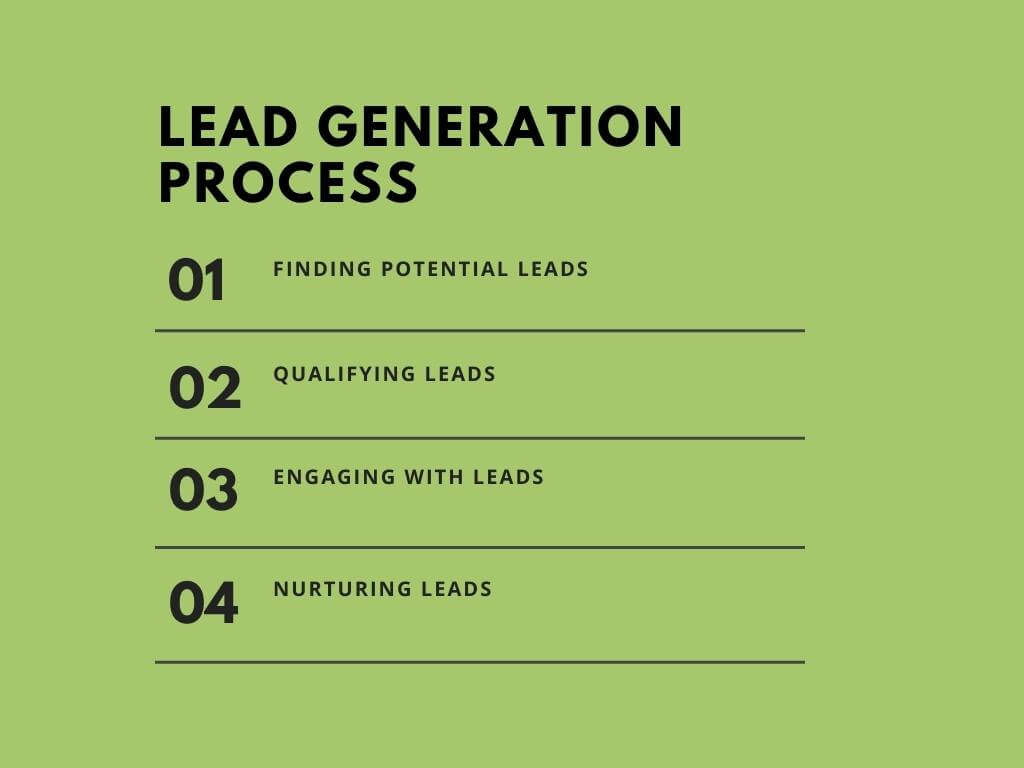 Lead generation means building up a pool of potential customers that match your ideal customer profile. Once you've generated a list of leads, nurture them by sending them helpful information about your product or service. With a bit of care and attention, you'll be able to convert these leads into paying customers.
In general, lead generation can be broken down into four phases:
Finding potential leads
Qualifying leads
Engaging with leads
Nurturing leads
AI lead generation tools can help with all four stages. So let's take a closer look at each one.
What is AI Lead Generation
AI lead generation involves using artificial intelligence to identify, qualify, and generate leads. AI lead generation tools powered by machine learning algorithms make it easier to find potential customers, engage with them, and nurture them through the sales funnel.
How do you use AI for lead generation?
You'll find that AI is used in almost every aspect of lead generation. Email outreach automation, data scraping, predictive lead scoring, intelligent customer segmentation, and auto-generated marketing assets are a few ways AI powers up your lead generation. Lead generation with AI is all about using algorithms to increase your efficiency.
AI-powered tools automate repetitive and time-consuming tasks that are normally done by your sales and marketing team. For example, you can use an AI tool to crawl the internet to find leads who are a good fit for your products or services. Data can be retrieved from multiple sources, such as social media sites, directories, or independent websites. We'll look at more examples and use cases as we go along.
Find new leads and automate email outreach campaigns
B2B marketing relies heavily on cold outreach. Tracking down the contact information for a whole bunch of people is about as much fun as getting your teeth pulled. AI email marketing tools can help you source new sales leads for your outreach campaigns. You can find new leads by searching their professional attributes, like designation, company name, or industry.
You can use an AI-powered email service to grab information from public databases, automatically find potential customers' contact details, and even help craft personalized emails. The personalization feature found in most tools allows you to personalize your email content based on your prospect's website or social profile. Using AI to automate your networking can save you a lot of time. AI can also help you find high-quality leads based on the technology used by your potential customer.
Use case: if you sell caching plugins for WordPress, you can make a list of websites that use WordPress as their content management system. Once you have the list, you can find the contact information and automate the entire outreach, including follow-ups.
AI-powered data scraping and website monitoring
Manually gathering data is a time-consuming and error-prone task. AI-powered tools can monitor websites and gather data automatically. Machine learning algorithms identify fields on web pages and detect changes to web pages.
Use case one: As a business consultant who mentors new SAAS companies, you want to keep a running list of SAAS companies launched in the past month so you can offer them your services. In the past, you'd have had to manually visit different websites, identify new companies, and then add them to your list. But with an AI-enabled data scraping tool, you can train the AI algorithm to do it all for you. The robot will visit websites on preset schedules, identify new companies, and add them to your list. All this without writing a single line of code.
Use case two: You need to find suppliers for your new eCommerce company. There are two ways to find vendors: either spend hours searching the internet or use an automated lead generation software. If you opt for the lead gen tool, simply visit the websites where your suppliers are likely to be listed and train the bot to pull the information you need. The point-and-click interface makes it easy to get started. Once trained, the bot will do the work for you without manual intervention.
Score leads to engage with qualified prospects
Lead scoring is a way to measure how interested your audience is in your product or service. It helps you qualify the interest level of each lead before engaging with them.
Conversational AI Chatbots have played an important role in lead qualification and will only become more important as the technology matures. These bots ask the right questions to qualify leads. Once a lead is qualified, you can seamlessly hand it off to your sales team by integrating your chatbot with your appointment scheduling software.
You're most likely to sell when potential clients browse your site and evaluate your service. So make sure your marketing strategy includes conversational chatbots to engage leads and qualify these visitors. Engaging these visitors with personalized conversation increases your chance of converting them into buyers. This also streamlines your customer service by freeing up your team to deal with more complex queries.
Use case:
Imagine you're a real estate agent. A potential customer visits your website and is prompted to chat with your AI chatbot. The bot asks the website visitor a series of questions based on an intelligent lead scoring mechanism. Then, the bot schedules an appointment with you if the visitor qualifies as a prospective customer.
Bam! You've landed a one-on-one with your dream prospect without lifting a finger.
You no longer have to waste time on people who aren't a good fit for your business. It saves both you and the person enquiring some time.
Predict your prospect's personality
Imagine knowing someone's quirks so you can tailor your conversation to make them more comfortable. AI technology makes this possible today. With the right tools, you can analyze a person's social media profile and predict their personality. This information can be used to tailor your approach and improve your chances of closing a deal.
Use case: You're trying to sell a new CRM system to small businesses. You use CrystalKnows to analyze your prospect's personality. You learn that the potential customer is "analytical." So you focus your pitch on the practical benefits of using the CRM system. On the other hand, if you're selling to a "visionary," you focus on the bigger picture.
Intelligent segmentation and behavior-based email campaigns
Have you ever downloaded an eBook and later received an email from the same publisher inviting you to schedule a call with their salesperson? If the answer was yes, you've received a behavior-based email campaign. These companies are using AI to segment their leads and send behavior-based email campaigns.
Use case: When you download an eBook, the company knows you're interested in their product. So they can segment you into a list of people interested in buying and send you follow-up emails to try and close the sale. This type of lead nurturing wasn't possible a few years ago, but now it's an indispensable part of the sales process.
Use artificial intelligence to create more lead-generating assets
Micro courses serve as great lead generation assets because they're short (5-20 minutes) and focus on a specific topic. These short courses give the learner an immediate win, making it the perfect tool to drive leads. You can use AI to create micro courses. All you have to do is add your topic, and AI-powered course creators can generate the course outline for you.
Use case: You have a high-ticket item course on how to start a business. You use an AI course creator to generate a micro-course on writing a business plan. The idea is to use this micro course as a lead generation asset and give it away for free in exchange for an email address. Once you have the email address, you can start nurturing the lead.
Fuel your lead generation by creating content at scale
Content is the engine that drives lead generation. The more content you have, the more leads you're likely to generate. But creating quality content takes time and effort. That's where AI writing software can help. With the right tools, you can create high-quality content at scale without sacrificing quality.
Let's look at some use cases showing how content translates into leads:
Blogging is a great way to generate leads. By creating quality content, you can attract new visitors to your site and ultimately convert them into leads.
Guest posts are a great way to get exposure to new audiences and generate leads. Writing guest posts for other blogs can increase your brand awareness and help you reach a new audience.
Social media is a great way to generate leads. You can tap into this marketing channel by sharing your content on social media.
Video marketing can help you reach a new audience and generate leads. According to Wyzowl annual State of Video Marketing survey, 92% of the marketers consider video as a key part of their strategy. And it's not hard to see why. Video gives you the opportunity to show off your brand personality, build trust with your audience, and ultimately generate more leads. You can write video scripts, descriptions, and titles quickly and easily with AI.
AI lead generation software
There are a number of AI-powered lead generation tools that can help you fuel your sales process. Some of these tools include:
Lead generation in the future
The future of the lead generation business is bright. With the help of AI, you can create more content, reach a new audience, and generate more leads. We'll also see more companies using AI to create micro courses and other lead generation assets. If you're not using AI to generate leads, now is the time to start; your sales team will thank you.
FAQ
What is automated lead generation?
Automated lead generation is the use of technology for automating processes and acquiring qualified leads. Artificial intelligence (AI) and machine learning (ML) are driving most of the automated lead generation solutions today.
How does AI help in generating quality leads?
Artificial intelligence is great for generating leads because it can easily and quickly qualify people who are a good fit for your product or service without any human intervention. This means that you're not wasting time speaking to people who aren't interested in what you have to offer.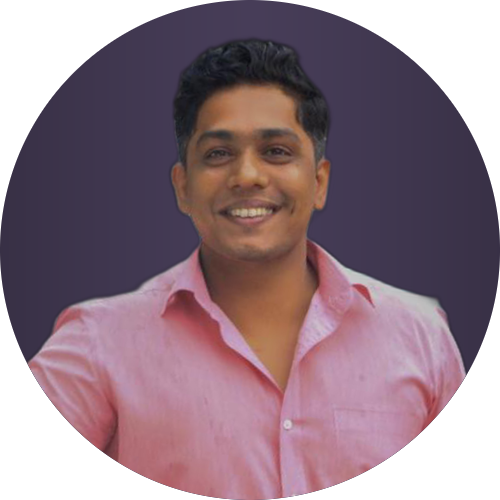 Vivek Mathew
(aka The Mindful Marketer, aka the guy who rocks a pink shirt 😄)
I'm a content consultant who helps small businesses become iconic brands by clarifying their brand message and creating strategic content. I've worked with brands like EY, Natwest, and some early-stage startups like Vivartah.

Click the button below and book a call with me.