AI content creation | 10x your SEO with AI-powered content creation tools
Affiliate Disclosure: This post may have affiliate links, which means I get a commission if you buy using my link — at no extra cost to you. I never recommend products I haven't tried and found helpful. (You have ChatGPT for that.)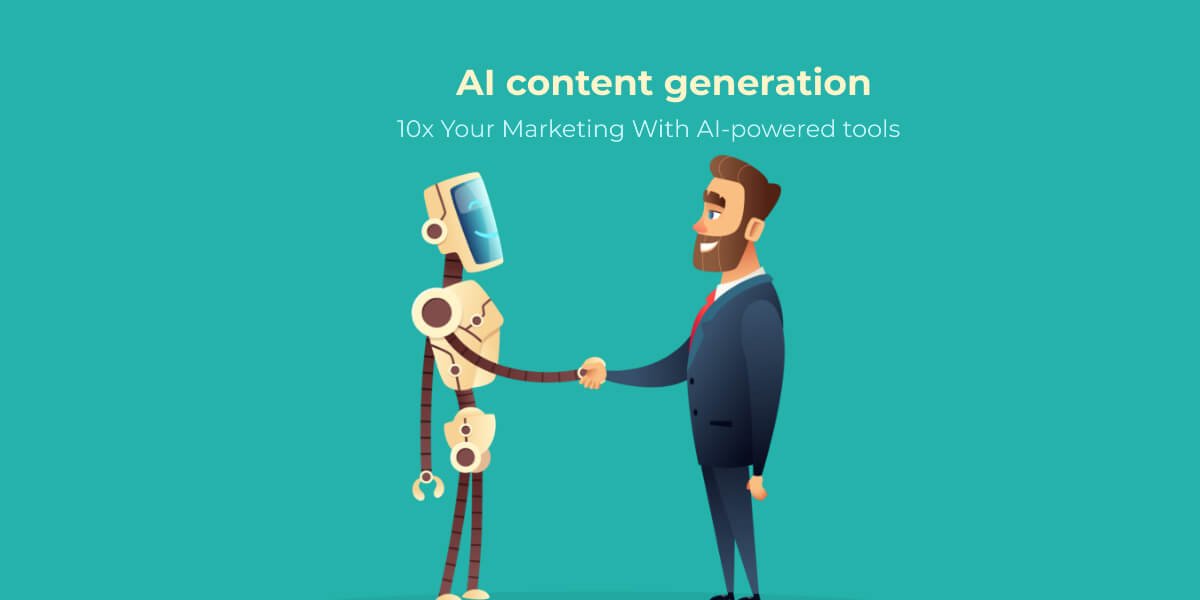 How many hours a day do you spend on content creation?
If you're like most content marketers, the answer might be "too many."
With such high demand for content and such a short time frame to do it, it can be all too tempting to cut corners and rush through your work.  However, the problem with this approach is that Google and other platform algorithms are becoming increasingly intelligent about what it ranks in the search engine results pages (SERP). 
AI content creation offers an opportunity for businesses with limited resources or time constraints to increase their productivity by partially automating the process of creating high-quality content. In this post, I share some of my favorite AI content marketing tools for content strategy, machine learning-based content suggestions, and AI-driven content creation.
If you're a writer worried about AI content generation affecting your job, be sure to check out the article where experts debate whether AI will replace copywriters and content creators.
In a Nutshell
13 popular AI content creation tools to drive your strategy and AI SEO content creation are:
Buzzsumo
Drift chatbot
Sparktoro
Keyword Cupid
WriterZen
Surfer SEO
Adobe Experience Manager
Crayon
What is AI content creation?
AI content creation is the process of having a machine generate content for you. You can use it to create text-based content like blog posts, ad copy, social media posts, marketing copy, and even audio and video content.
AI has been around for years, but only recently has it become affordable and accessible enough to be commercialized. Thanks to new technologies like GPT3, it's safe to say that you can use AI for content creation.
OpenAI, a company co-founded by Elon Musk, developed a technology called GPT-3. This language model was trained on hundreds of billions of words. It uses deep learning to create a wide variety of content — which means it can write essays and poems, summarize and rephrase text, and even write programming code.
Open AI has made the GPT-3 available for developers that pass their application process; this led to the rise of numerous tools powered by artificial intelligence. Some other tools use their proprietary natural language generation (NLG) models to create automated content. With these AI-powered tools, it's easier than ever to use AI for content creation and to scale up top-quality content production at a fraction of the cost. Talk about a marketer's dream come true.
What's special about AI content generation?
You're probably wondering what an AI-driven tool can do that you cannot.
That's understandable.
But the truth is, AI content generation tools aren't meant to replace writers. It's here for our benefit – created to take care of monotonous tasks so we can focus on being creative and strategic. You still need people to craft a content marketing strategy because AI doesn't know your business.
You can use AI content tools for content creation, but they won't work for all kinds of content. You'll still need writers for stronger pieces, like opinion pieces, technical articles, and editorials.
AI content marketing
Content marketers can save time by using AI content marketing tools to research, analyze, and understand their target audience. It's great for finding industry trends and content ideas because it analyzes content faster than humans. Here are a few ways to use AI in content marketing.
AI for content research
Marketing tools like Buzzsumo make it easy to see trends in vast amounts of data. Seeing patterns and analyzing sentiment can help you figure out what content works with your audience, which is crucial to creating a great experience.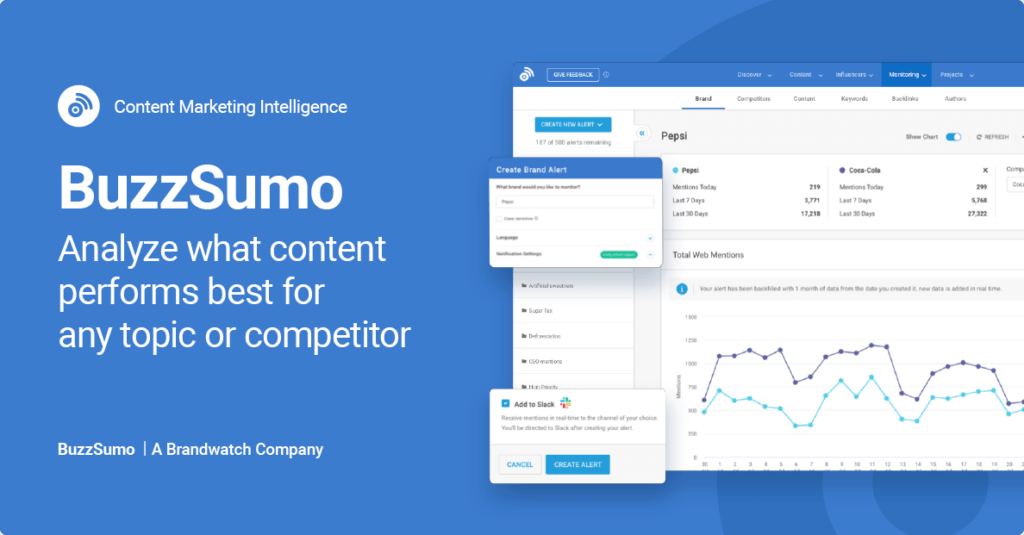 These web crawlers are constantly scouring through social media feeds, blogs, and other websites for content. They allow you to see your competitor's best-performing posts so you can identify what works in your industry and then do it better. You can also figure out what content is performing best in your industry and compare that to past performance data.
AI-driven content creation
Most AI content generators write blog posts using GPT3 technology, an AI model that uses deep learning to generate text. All you have to do is enter your prompt, and the AI will create relevant content for you. In my experience, they're best for generating short-form copy. It can help you with automated content creation, but the content writer would have to control the narrative and provide prompts and direction every couple of sentences. Some AI content generator tools also let you create text with your keywords in it, so it's SEO-friendly right out of the box. You can create different types of content like blog posts, video scripts, emails, and much more for your content marketing efforts.
Unlike traditional content automation tools, which generally rephrase existing text, AI content creation tools ensure original content. The ones that use an SEO layer to guide content generation make SEO-automated content generation a snap.
And the best part? These AI content generators let you pick a tone and voice that matches your brand. That's right; you can now get Jake Peralta or Morgan Freeman to write for you.
Maybe we'll see a day when a content automation tool can create long-form (ready-to-publish) content without a human writer. I'm not sure whether that's scary or exciting for a content creator. 
Use AI for customer service and to inform your content strategy
Let's face it, we all hate wasting time on the phone! You call, get put on hold for hours, then someone picks up, only to ask you a bunch of questions that show how little they know about your account. That could soon be coming to an end, thanks to AI-powered chatbot assistants. These make quicker decisions by analyzing large data sets.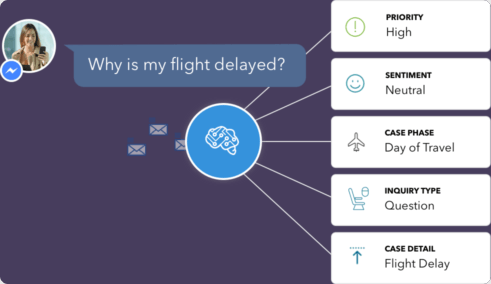 The future of customer service is bright. With AI chatbots at your disposal, there's never been a better time to turbocharge your customer support. Machine learning algorithms make these bots smarter over time as they learn from every interaction they have with your customers. There is a lot of data being collected and stored, and it can be used to provide insightful information to customers.
Some chatbots can recognize the emotions and urgency of their users; this helps prioritize requests and respond with empathy — a quality that many people appreciate in customer service representatives.
AI and machine learning for audience research
You need to know your audience, but it can be difficult and time-consuming. Artificial Intelligence can help you gather data from people and different pieces of content on the internet. It will quickly scan large amounts of information and find patterns that a human would otherwise miss, saving time for your business. As a result, you can discover insights about your audience in mere seconds with this technology- which could lead to improved customer experience!

Read this story about how AI-enhanced audience research and AI content creation helped a new Emmy-winning show find its footing.
AI social media content creation
AI social media tools make it easy to create content for all your social media platforms. Many social media marketing tools can create posts that fit your brand's voice, so you never have to worry about sounding robotic. Many brands are already using AI to spruce up their social media pages. It's a great way to keep people engaged and interested in your brand!
Social media ads are a great way to reach target audiences. However, many people don't have the time or know-how to create and optimize their social media campaigns. Fortunately, AI is now at our fingertips to help us with these tasks. In addition, it helps analyze data more efficiently than before because it makes sense out of what might seem like random data without context. Aggregating and analyzing this data to make recommendations lets marketers make informed decisions instead of guessing based on gut feelings alone.
AI for keyword research
With about 92,019 Google searches in one second, keyword research is crucial for content marketing and SEO. Search engine optimization comes down to optimizing your content for search intent, ensuring you're creating stuff that people need. Unfortunately, analyzing SERP intent for individual keywords can take ages. That's where AI comes in to save the day. AI-driven keyword research is not only easier but also more in-depth and effective than manual research. These AI-backed tools use neural network models to reverse engineer Google search results to group keywords with the same user intent together.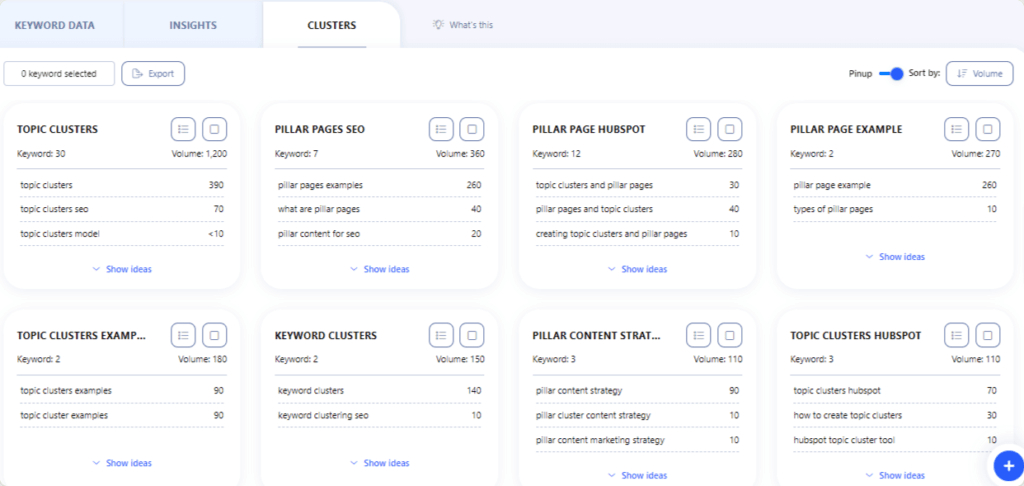 With keyword clustering tools, you can run SERP analysis on every keyword and group closely related keywords.
AI for email marketing
Artificial intelligence is becoming an increasingly helpful tool for email marketers who want to optimize their subject lines, personalize media, suggest the best delivery times, and predict performance.
With the number of spam emails steadily rising, getting your email in the inbox is becoming increasingly difficult, even if you're not a spammer. To balance this, you need to protect your domain's sender reputation. Some email warm-up tools use AI content generation to create personalized emails, which are then sent to your outreach email accounts. These companies use unique algorithms to make the emails appear natural by removing them from spam and promotion folders. As a result, you'll get better delivery rates and stay out of spam folders.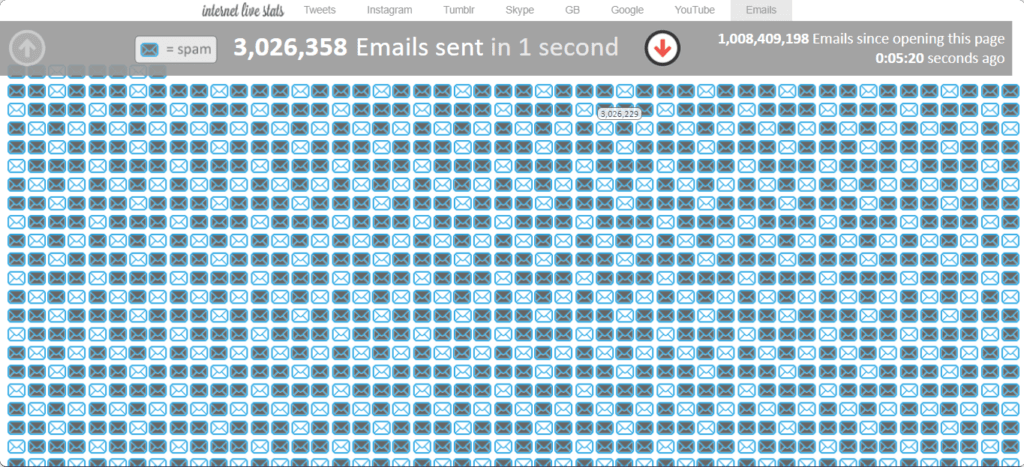 Some AI tools take content curation in newsletters to the next level. For example, users can add their favorite news websites, social feeds, blogs, and RSS feeds into a pool of newsletter content that is then tailored for each subscriber based on what they like best. So each subscriber gets personalized content designed specifically for them.
Content intelligence
Content intelligence is making a big impact on the marketing industry. It's an innovative approach that turns data into insight. It analyzes text, images, infographics, videos, data, and more to uncover insights with artificial intelligence.
Content creation tools like Frase.io use natural language processing (NLP) to create topic models. You can use this insight to guide your content creation process. With Google placing more emphasis on topic coverage, AI-assisted content creation can help your digital content rank higher in search engines. You can read my Frase.ai review here.
MarketMuse is another tool that can provide you with content intelligence at a website level. You can use it to identify topic gaps and opportunities; this saves content marketers several hours of data gathering and manual analysis. Content intelligence platforms help you improve your blog posts and website content. They can also assist in creating a successful content marketing plan.
You can read my MarketMuse review here. Use these marketing tools to process data, so you can focus on brand storytelling and creating content in your brand voice.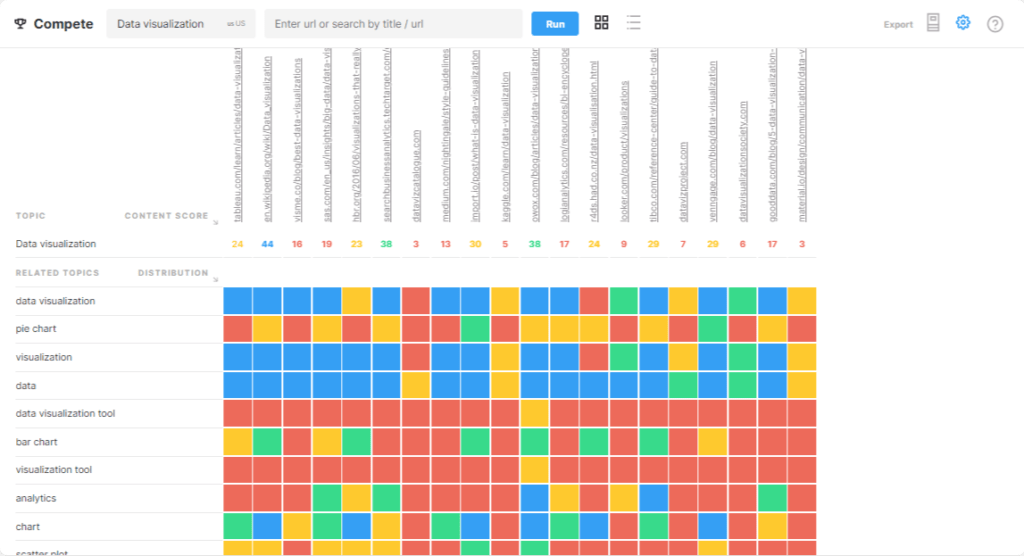 AI-powered tools for Copywriting
There are several AI-driven tools for writing conversion-focused copy. They can write sales-focused copy that appeals to your audience. You can pick one of the copywriting frameworks, and the tool will create copy based on that framework.
You don't have to spend countless hours learning copywriting principles or spend a ton of money hiring someone. These tools aren't going to replace experienced copywriters, but they're a great starting point for beginners.
AI for personalization
You know how when you meet someone you know, they shake your hand and greet you with a big smile? That's how your digital experience should feel like. It should be friendly, trusting, warm… just plain good. To make that happen for everyone who interacts with us online, each person's content will need to reflect their personality and preferences. Therefore, you should aim to create the perfect personalized customer journey from the beginning through the end.
A customer's digital experience will influence their brand perception. To positively impact that feeling or image, you have to ensure every interaction feels the same way for each individual. The best way to do that is by personalizing content for your target audience, whether through text messages, emails, or other channels.
Transitioning from impersonal, outdated digital experiences to a more personalized buyer journey is possible now. Artificial intelligence-powered personalization helps you increase revenue and customer loyalty by adapting to each visitor's unique persona and online behavior.
You can use a digital experience platform like Adobe experience manager to make sure your customers have a personalized experience and meaningful content at every stage of the customer journey.
Predictive analytics
With all the data generated every second, we can use predictive intelligence to make smarter decisions.
In 2020, people created 1.7 MB of data every second.
Humans created 2.5 quintillion data bytes daily in 2020
Predictive intelligence uses data mining, machine learning, and predictive modeling to forecast actions buyers are likely to take based on historical data.
You can use this to make suggestions that are more likely to create a favorable outcome. For example, it can help you create a focused user segment, identify your most valuable customers, and much more based on their interaction with your website. Using predictive analytics will give you the best ROI because it predicts customer reactions, so you don't have to guess.
Conclusion
As a small business marketing consultant, I understand the challenges of creating high-quality content to grow your audience and generate leads. AI-powered content generation tools are becoming more popular in digital marketing, so it's easy for businesses with limited resources or time to automate part of this process.
While there is no way these platforms will replace creativity or strategic thinking anytime soon, AI content generation can augment your workflow. If you need help creating high-quality blog posts or planning an effective content marketing campaign, book your free call today!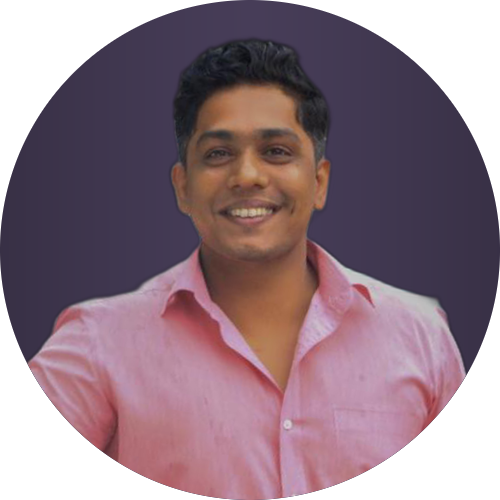 Vivek Mathew
(aka The Mindful Marketer, aka the guy who rocks a pink shirt 😄)
I'm a content consultant who helps small businesses become iconic brands by clarifying their brand message and creating strategic content. I've worked with brands like EY, Natwest, and some early-stage startups like Vivartah.

Click the button below and book a call with me.