Top Performing Content Marketing Types – Media Types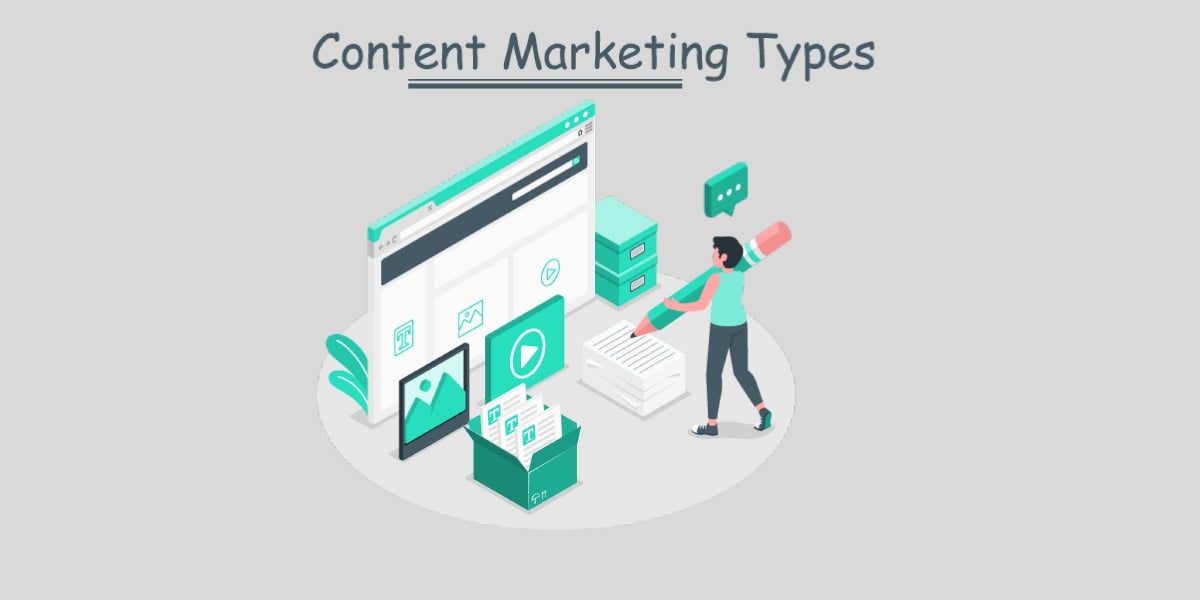 The key to successful content marketing depends on how effectively you solve your customer's problems or help them achieve their goal. The best content marketing type or medium is the one that makes this experience as seamless as possible.
Speed read for the busy folks
Some of the popular content marketing types are:
Blogging, Email, Social media posts, Whitepapers, Case Studies, Infographics, Memes, Video, Audiobooks, Podcasts, Interactive image and video, Ebooks, Resource list, Mini-Courses.
Written content
Blogging
Blogging is without a doubt one of the most popular content marketing types. Some of the biggest names, such as Neil Patel and Brian Dean, started out with blogging as the central piece of their marketing strategy. You can swipe my blogging workflow if you want a starting point.
Websites that include a blog typically have 434% more indexed pages than those that don't.
Source: Forbes
Some popular blog post types are:
List or round-up post
How to blog post
Case study blog post
Research list post
Pillar post
Review blog post
FAQ blog post
Review blog post
Inspirational blog post
Behind the scenes blog post
Interview blog post
Email
No matter how many trendy channels or content formats spring up, I don't see email going anywhere soon. People have, without a doubt, become more conscious about the content they subscribe to, but they still sign up and open emails when you provide value.
Social media posts
We should consider social media posts as microblogging. Each post should fit into your overall content strategy. People come across your actual blog only when they are searching for something in Google, but social media content is a good way to get your brand found on other platforms. Keep in mind that people mainly use social media for entertainment, so they won't enjoy being sold. You don't want to chase them for sales.
Pick the channel where your audience is present, be it Facebook or Tiktok, and stay consistent. You can use the different ad angles as inspiration for your social media posts.
Whitepapers
Whitepapers were initially used to present policy by government agencies. They cover a certain topic in great detail and are perfect for products that require technical explanation.
Whitepapers pay attention to detail and are a key part of the research phase for 71% of buyers, according to the Demand Gen Survey Report.
Case Studies
Case studies explore a topic in-depth and in-detail to prove or disprove a hypothesis. In content marketing, case studies are usually used in the later stages of the marketing funnel, where companies need to establish their expertise. You can use different case study formats:
Explanatory
This type of case study attempts to explain the reason a certain event occurs and is usually backed by a lot of data. Companies that have access to relevant data or original research can use this to establish themselves as a thought leader.
Problem solution
This case study format is exactly what the title says, it shows how your product solved a problem for your customer. Here is an example from AWS showing how their product solved a problem for their customer.
Exploratory
This type of case study usually starts with a question or a problem and investigates it from various angles.
Graphic content
Infographics (or information graphic)
We use this content marketing type when there is a lot of information to be conveyed in very little space. It might seem easy to throw a couple of images and text to whip up an infographic, but it might surprise you how hard it is to create an effective infographic that captures and conveys all the data and not look like a badly arranged jigsaw puzzle. Other publishers will embed your infographic and link back to you citing your site as the source which increases the chances of you being found on google.
An infographic is 30 times more likely to be read than a purely textual article.
Source: Search Engine Journal
Memes
This is a tough nut to crack. Unlike infographics, this one is not difficult because it's resource-intensive, but it requires you to walk a fine line between using humor effectively while being culturally appropriate. It's highly effective in connecting with the new generation, but if you get it wrong and it could blow up in your face.
This is a tough nut to crack. Unlike infographics, this one is not difficult because it's resource-intensive, but it requires you to walk a fine line between using humor effectively while being culturally appropriate. It's highly effective in connecting with the new generation, but if you get it wrong and it could blow up in your face.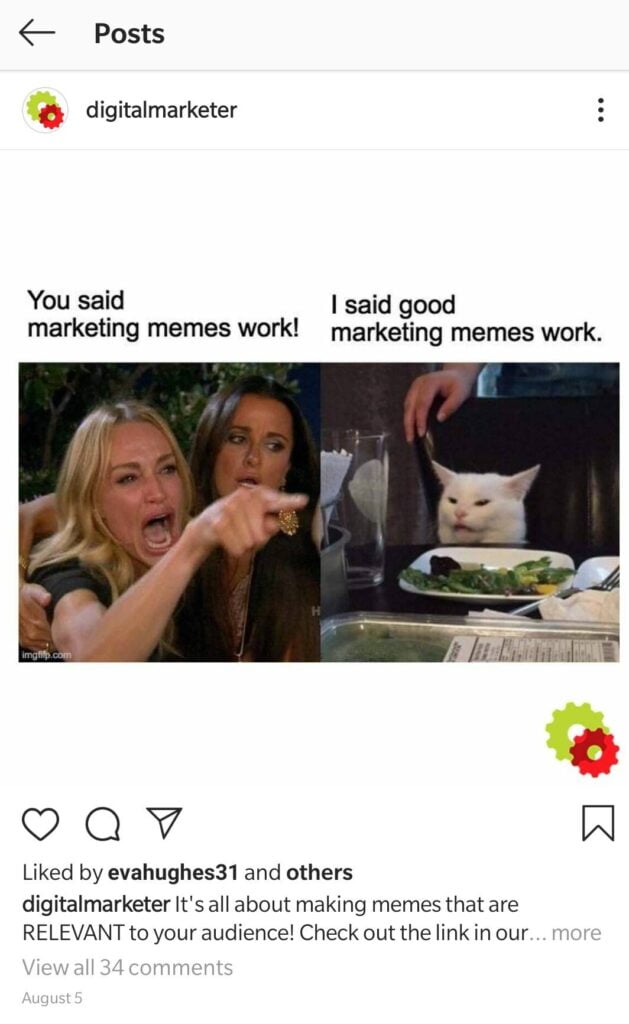 Video
Consumers often watch a video first before purchasing a product. Even post-purchase a robust collection of how-to video tutorials has become a standard expectation.
According to HubSpot research, 54% of audiences want to see videos from brands they support, which is more than any other type of content. (blog.hubspot.com)
Whether it's a review of the items, unboxing, or how-to tutorials, they'll be looking for it online. So having video content is a good way to ensure that you're getting in front of your target customers.
According to Brightcove, brands that use video can expect to see an average increase of 157% in organic traffic from search engines. (lyfemarketing.com)
Behind-the-Scenes/Company Culture
One of the key goals with content marketing is to build a relationship with your prospective customers, so you'll be top of the mind when they make that purchase decision. But here is the thing, people don't connect with brands that have no personality. By nature we're wired to connect with other people, so you need to humanize your brand to connect with people.How do you do that? Simple, show the people behind your brand and showcase your quirky, fun, and lighter side of your business.Your brand is so much more than your color palette, your typeface, or your logo. Your brand is your purpose, your people, and the reason why you do what you do.
Vlog
Vlog or video blogging has become a very popular form of content marketing in recent years. Contrary to brand advertisements with high production value, vlogs are usually live streams with little to no editing. YouTubers like Casey Neisat has racked up millions of subscribers using vlogging.
Gif
Gifs are a series of images shown one after another to create a quick video that plays in a loop. Gifs are widely used in social media and most of the platforms have gif collections built-in. Brands can create their very own branded gifs.
Sales video
Video sales letters play a big part in many sales funnels. Usually, the first fold of sales landing pages has a video where a person explains the benefits of your product. This is effective in quickly building trust compared to having an impersonal stock photo.
Interview/Q&A
This is a relatively easy content format if you have access to the right person. Getting the industry expert is usually more challenging than creating the content if you're just getting started; however, it's much easier to make this work if you're an established player in your niche. These interviews can then be repurposed into smaller bits and shared on social media to drive traffic to your main content.
Webinar
Webinars are a great way to present your knowledge. Usually, free webinars are hosted at the top of the funnel to increase brand awareness among your target audience. You could do a soft pitch at the end of the webinar by sharing a 'webinar attendee only' offer on a landing page made for them.
you could have a countdown timer on the landing page to improve the conversion by adding a little urgency if that works with your overall digital marketing strategy.
Tutorial/How To/Product Reviews
These types of videos are very popular on Youtube and should be part of your strategy if you have the resource.
It is the second largest search engine and a lot of people start their research on Youtube.
There are several other video formats that can be part of your content marketing.
Testimonial
Animation
Live Streaming
Brand Film
Interactive video
360
User-Generated Content
Personalized Video
Audio
Audiobooks
More and more people are moving to audiobooks which are pre-recorded audio versions of published books. Audiobooks make it easy to listen to your favorite book while you're at the gym or going for a run.
AM/FM Radio
This the traditional for audio content marketing, which is still widely popular. People tune into their favorite station when they're going for a drive. Although you cannot choose only your target audience, it is still a good medium for increasing brand awareness.
Podcasts
Podcasts are kind of like the audio-only version of a talk show. Most podcasts take an interview approach where the host interviews several experts in their field in different episodes. Several platforms like stitcher, apple podcasts aggregate different podcasts and categorizes them making it easy for the end-user.
Audio streaming
Streaming audio provides personalized listening experiences based on AI-driven technology and learning. Listeners pay for subscriptions to these services. Access to this audience requires paid advertising.
Interactive content
Interactive image and video
This type of content marketing type can be grouped under videos or images, but I chose to keep it separate because of the interactive nature which is added as a layer on top of the normal videos using tools like spott or thinglink. These are highly effective in improving engagement with your content, but it's not limited to improved engagement. Imagine having an interactive sign-up form halfway through the video, you're sure to increase your sign-ups compared to having just a video and a subscription form somewhere in the comments.
Lead magnets
Ebooks
Ebooks are usually offered as an incentive for people to exchange their contact info. They should be a perfect blend of text and images and not necessarily as data-heavy as case studies or whitepapers. Tools like Canva and Crello are perfect for designing your ebooks.
Beacon is a tool that allows you to import existing blog posts and convert them into ebooks; they have an ebook format called smart pdf which automatically resizes based on the device.
Checklists
Checklists are popular among content marketers who are trying to cater to a time-crunched audience. This type of content format guides the audience towards their goal by giving them a step-by-step process to follow. Checklists usually aim to accomplish tasks that range from an easy to a medium level of complexity. They are perfect for building trust quickly because it gives the audience a sense of accomplishment in a short amount of time.
Resource list
The resource list is a content marketing type that can be used if you're short on resources. You can collect the best content on a topic spread across the internet and bring them all to a single hub — usually on your website. Give proper credits, link out to the original source, and use proper canonical tags.
Mini-Courses
These are usually a small series of video or text content sent to your audience over a short period of time. It's a great way to build a relationship with your client because they hear from you daily and you're providing value every single day.
Conclusion
There are more content marketing types than we can cover in a blog post because you can use any content format and any media type as long as it provides value to your customer and supports your business goal.
What kind of content should I create?
You should create content that solves your ideal customer's problems, answers their questions, and helps them achieve their goals. A successful content marketing strategy aims to do this while supporting your business goal.
What are the different types Of content marketing?
The different types of content marketing are blogging, email, social media posts, whitepapers, case studies, infographics, memes, videos, audiobooks, podcasts, interactive image and video, e-books, resource lists, mini-courses.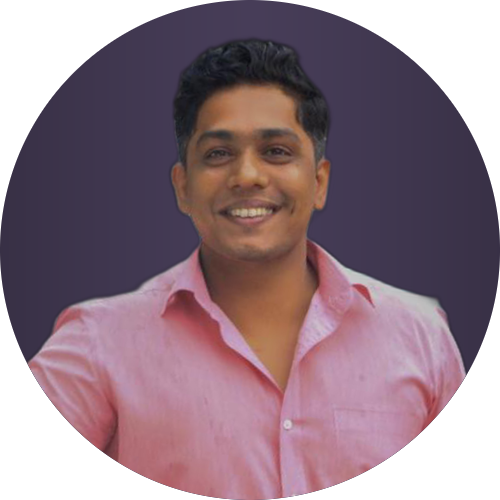 Vivek Mathew
(aka The Mindful Marketer, aka the guy who rocks a pink shirt 😄)
I'm a content consultant who helps small businesses become iconic brands by clarifying their brand message and creating strategic content. I've worked with brands like EY, Natwest, and some early-stage startups like Vivartah.

Click the button below and book a call with me.