Steal the 6-Step Blogging Workflow That Helped Grow My Blog [While Working a Full-Time Job]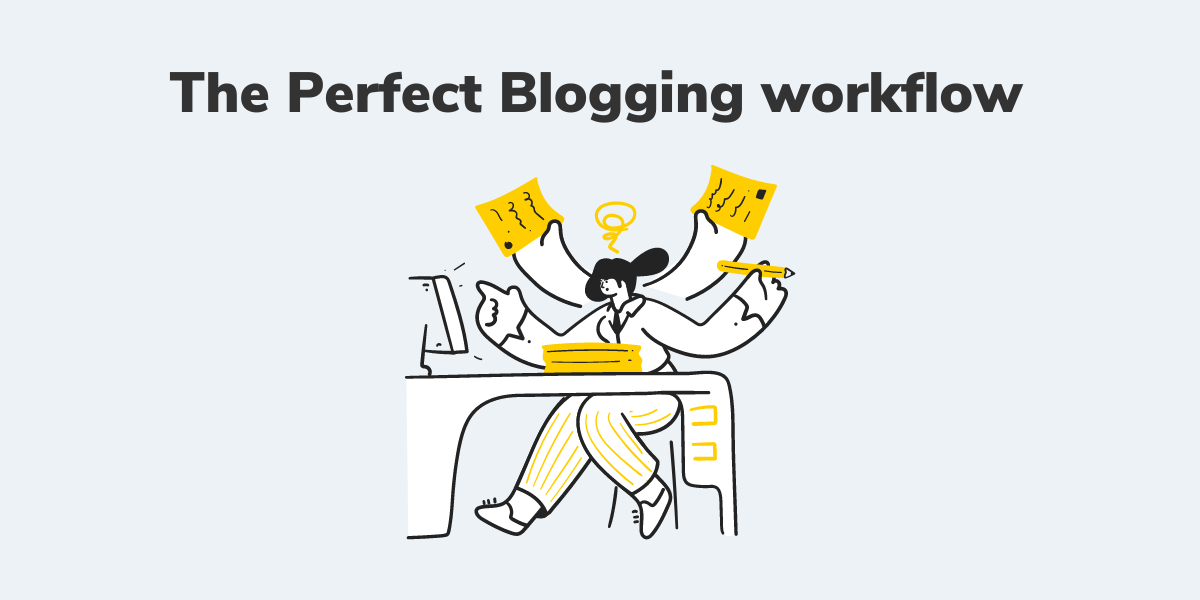 Once you figure out your blogging workflow, it'll run like a well-oiled machine. This article covers the writing workflow that helped me grow my blog while working full-time.
Most people begin their blogging career with the same passion they have for their new year's resolution. But, eventually, much like most resolutions, they fizzle out.
Why?
In most cases, it's down to not having a system.
Spurts of highly productive days followed by long stretches of passiveness will trap you in a cycle of creative anxiety, guilt, and ultimately, failure.
But there is hope.
You can avoid this emotional roller coaster by setting up a blogging workflow. It doesn't have to be fancy or complicated. In fact, the simpler it is, the better.
Here's my blog post workflow that helped me grow my blog while working a full-time job. It'll help you write blog posts faster without feeling stressed or anxious.
What is a blogging workflow?
A blogging workflow is a system you set up to manage your blog content. It includes everything from brainstorming ideas to publishing and promoting your posts.
The benefits of having a blogging workflow
A streamlined blog workflow will help you save time and be more productive by making it easier to track your progress and figure out where you need to improve.
To instill a sense of ownership for tasks
To ensure consistency in content production
To avoid overlap and duplication of effort
To improve communication and collaboration
Easier to track your progress and see where you need
Avoid overwhelm and creative anxiety
How to create a blog workflow
All right, let's break down my blog workflow into the basic steps.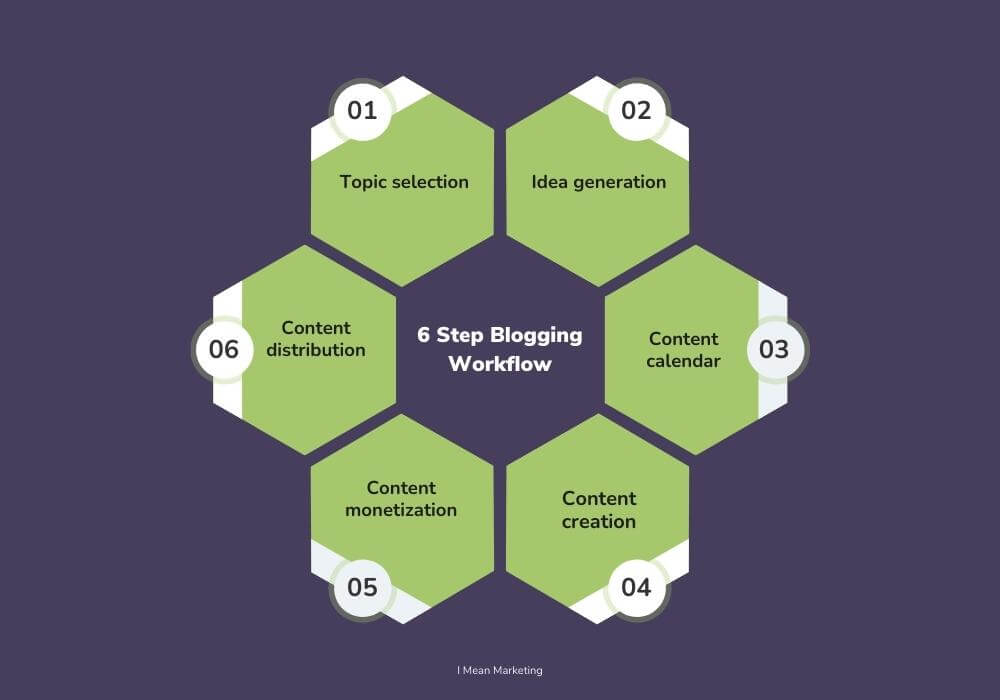 Choosing the right topic
When you're just starting out, it's tempting to chase instant gratification. So most people either vent about topics with no search volume or create content for every low-difficulty keyword they find. Either way, you'll end up with a bunch of disjointed blog posts that won't serve you or your customers well. Resist the urge.
Instead, stick to one topic and cover it in its entirety. It'll be a great user experience for your readers because they don't have to bounce around from website to website to understand the topic. And you position yourself as the go-to expert for that topic, so it makes sense from an SEO or business perspective. Choose topics that haven't been beaten to death yet.
For example, if you're a personal trainer, don't just write about "how to lose weight." A gazillion other people have already written about that. Be original and specific. Write about "how to lose weight without giving up carbs." Or "how to lose workout without equipment or a gym membership."
Brainstorming ideas
Once you've decided on your focus topic, it's time to brainstorm content ideas. There is no single way to do this, but there are a few time-tested strategies.
Customer interviews: Customer interviews are a great way to come up with unique content ideas. Reach out to your target audience and understand their needs, wants, and pain points. These conversations should inspire content ideas that resonate with your ideal customer. If you can't do customer interviews, look at product reviews.
Forums: One way is to look at the questions people are asking about your topic. You can use tools like TopicMojo to find questions people are asking on Quora and Reddit. Gummysearch is a great tool that lets you track topics and conversations happening on Reddit.
Keyword research: You can use tools like Ahrefs or BuzzSumo to find popular content in your space. Most keyword research tools also show you the approximate search volume for each keyword, making it easier to choose topics.
Competitor analysis: Run your competitor's site through a competitor analysis tool like SEMrush to find their most popular content. You can also do a content gap analysis to see what topics they're ranking for that you're not. Add these topics to your content calendar if they make sense for your business.
Your analytics: One of the best and often overlooked ways to develop content ideas is to look at your own data. Check your social media channels and blog comments for frequently asked questions. Set up tracking to monitor what people are searching on your site's search bar. Google Search Console is another great source to come up with content ideas.
Emerging topics: Another way to find content ideas is to look at emerging topics in your industry. Google Trends, Twitter trends, and social conversations are great places to start. Exploding Topics is a freemium tool that specializes in identifying emerging trends.
Creating an editorial calendar
The publishing calendar is going to be your new best friend. You can map out your content strategy months in advance, simplifying content management and ensuring a steady stream of content.
The calendar lays out which blog post is being published, when, where, and by whom. Plus, you can see what's in progress and what needs your approval. It instills a sense of ownership for tasks and avoids overlap and duplication of effort. This will save you a ton of time and energy in the long run.
After the brainstorming session, you'll have heaps of topics you want to write about. So it's time to Marie Kondo your ass. Be ruthless here and keep only the topics that are truly useful for your business.
Once you've whittled down the list, all you have to do is add your ideas to your calendar and set a publishing date. BAM. Just like that, your editorial calendar is done. Now you plan, track and publish your content like a pro.
Your content calendar can be a simple setup with the publishing date, target keyword, and post status. Or you can go all out and break it down by audience persona, campaign name, marketing channel, content format, and even set up automation for repeated tasks. Whatever works for you. The important thing is that you have a publishing calendar.
For the tool, you can use a spreadsheet or an Airtable template. Many people use a full-fledged project management tool like Asana, or Trello, all of which come with pre-built calendars that can be customized. I use a simple setup in Notion for my non-client projects because it's simple and easy to use.
Content creation
Your content engine is coming together nicely. Next comes the most significant part of the puzzle — the actual writing. It turns your ideas into something tangible.
There are two ways to do this:
Do it yourself
If you're on a budget, you can write, edit, proofread, and publish the content yourself. You can always outsource content writing and scale once you start seeing some growth. Producing content yourself will teach you a lot about the writing process, something you'll need later when you outsource the work. You can speed up this stage by using AI writing software.
Outsource it
Hire someone if you prefer not to do everything alone. It's not an all-or-nothing scenario. You don't have to outsource everything – just the parts that you're not good at or that you don't enjoy.
Depending on the size of your operations, you may have to hire a writer, an editor, or both.
Let's carry on, assuming you opted to write the content. I'll probably do another post about outsourcing content at some point. The goal here is quality over quantity; nobody wants to read pointless nonsense written just to hit a publishing goal. Take baby steps. Start small and build momentum as you go along.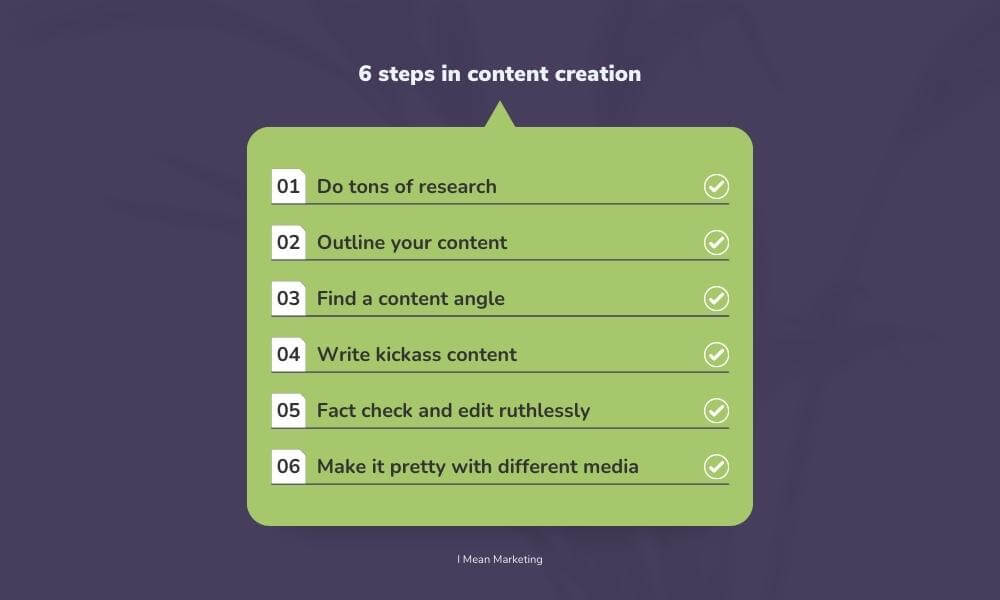 Phase one: caffeine-fuelled research
The first step is to load up on caffeine (or oolong tea if you're on a health kick) and nerd out on your topic. Read scientific journals, news articles, reputable publishers, niche forums, videos, slides, social media – anything you find valuable.
Phase two: blog post outline
Second, outline your article. This is where you'll start putting together all your thoughts. Don't start writing just yet. Simply add your points as bullet points.
Phase three: finding the perfect content angle
Once you know the points to be covered, look for unique angles to present your content. See what the top ranking pages are saying about the topic. You don't want to say the same thing because then you become just another me-too content site. Find a unique angle that makes you stand out from the rest. This is where your research comes in handy. You might have to move your bullet points for a narrative flow that best illustrates your angle.
Phase four: writing Pulitzer-worthy content
Now that you have your angle and your outline, it's time to start writing. Many people get stuck at this stage because they strive for the perfect first draft. Focus on getting your ideas down first; you can always go back and edit your content later. The goal is to get your thoughts on paper (or screen). Read my post on using artificial intelligence to write blogs to automate this partially.
Expand on your bullet points and turn them into complete sentences and paragraphs. Support your ideas with research and data. Always add reference links when citing somebody else's work. Also, add internal links to your other blog posts. This helps with SEO and keeps people on your site for longer.
Your blog title is the first thing people read. So make it count. Take time to write multiple headlines and then use a tool like CoSchedule Headline Analyzer to see which one has the highest score.
Phase five: edit ruthlessly
Once you have the first draft, the next step is to start editing. This is where you'll make sure your grammar and spelling are on point, take out all the fluff, make sure your sentences are clear, and tighten up your writing. Every piece goes through a structure, style, and presentation editing cycle. Optimizing your content for search engines, aka search engine optimization (SEO), should also be a part of your blog post workflow. I've covered my SEO editing flow in detail if you're interested.
Phase six: finding images and videos
Now that your writing process is done, it's time to add supporting media. People are visual creatures and will quickly lose interest if they're just looking at a wall of text. Images and videos will make your blog post visually appealing and help break up the text. So add a featured image, screenshots, gifs, and videos that complement your ideas. Sites like Unsplash, Pexels, and Pixabay have free high-quality images that you can use as long as you give the image credits. Use your own pictures if stock images feel too impersonal to you.
Content monetization
One of the simplest ways to monetize your content is to include affiliate links within your posts. They link your content to a product or service that's useful to your audience. You receive a commission if the reader clicks your affiliate link and purchases the item.
ShareASale, ClickBank, Amazon Associates, and Commission Junction are some of the most popular affiliate networks. These networks offer various products, including physical goods, software, and services. Some programs pay per conversion, while others pay based on impressions, clicks, or page views. Or you can directly sign up with brands like Amazon or eBay, where the commission might be lower, but the conversions will be higher because of their brand awareness.
You can always create your own digital products if you don't like selling other people's products. Ebooks and whitepapers are a great option if you're short on time. And if you have a bit more time, why not create and sell your own courses? For example, maybe you love cooking healthy foods. You could develop a recipe book and sell it on your website. If you're good at graphic design, you could sell a course that helps your readers master design tools like Photoshop and Illustrator.
Another option is to sell advertising space on your content. You can do direct brand deals or use an ad network like AdThrive, Mediavine, or Google Adsense. The amount of money you make depends on the location of your traffic, page views, and the ad network itself. For example, you'll make more money if your visitors are from tier 1 countries like the UK, US, or Canada, and less if they come from lower tier countries.
Alternatively, you can sell the content itself by putting it behind a paywall. For instance, you could create a subscription model where users pay a monthly fee to access your content. You can limit the number of articles that someone can read before they have to subscribe. Newspapers like the Wall street journal and The New York Times use this model effectively.
Link out to your service page or add call-to-actions (CTAs) if you want to make money selling your services. CTAs can be direct, like scheduling a call, or transitional, like taking a quiz.
Content distribution plan
What's the point of writing that booty-kicking article if nobody's going to see it? Hate to burst your bubble, but that whole "create awesome content and they will come" cliche is a sham. You need a content promotion plan. I'll admit I don't promote my articles nearly enough and mostly just ride the SEO wave. Note to self: start promoting more.
The most common method is to use social media. Which is great, but putting out a link to your article on Twitter and calling it a day is not enough. Be strategic about it. Tease interesting bits and unique insights from your blog post. Use social media channels to start a conversation on your topic and drive people to your article. Any time you mention another company or influencer in your blog post, make sure to tag them. When you tag someone, they'll get a notification about it, which means there's a good chance they'll check out your post. And if they like what they see, they might share it with their followers. So don't be afraid to reach out and give a shout-out to the companies and influencers you admire – you never know where it might lead.
Another way to get more eyeballs on your content is to distribute it through your email newsletter. It gets your story in front of an engaged audience who's already interested in what you have to say. But, again, don't just drop a link in there and hit send. Write a short blurb that invokes curiosity to make people click through and read your article.
Guest posting is effective in driving new traffic to your blog. Find blogs in your niche with a good amount of traffic and reach out to the owner, offering to write a guest post. Just make sure to pitch quality content that is relevant to their audience. Most guest posting sites will let you link back to your site — at least in your author bio. This will help drive traffic to your site and increase your SEO ranking.
If you've quoted or mentioned an influencer or company in your latest blog post, don't hesitate to reach out to them and let them know. Chances are they'll be happy to share your content with their followers, which can help to boost your reach and visibility. Send them a quick email or message with the link to your post. Then sit back and watch your post go viral.
You can also consider using paid distribution channels like Outbrain and Taboola to get your content in front of a larger audience. These content marketing platforms can help you reach new readers who may not have otherwise discovered your blog.
Conclusion
There you have it — my complete blogging workflow, to create an epic blog post. Now it's your turn to put these steps into action and see how they work for you. Remember, there is no one-size-fits-all solution. So keep experimenting until you find the blog post workflow that suits you. If you have any questions, feel free to message me on LinkedIn.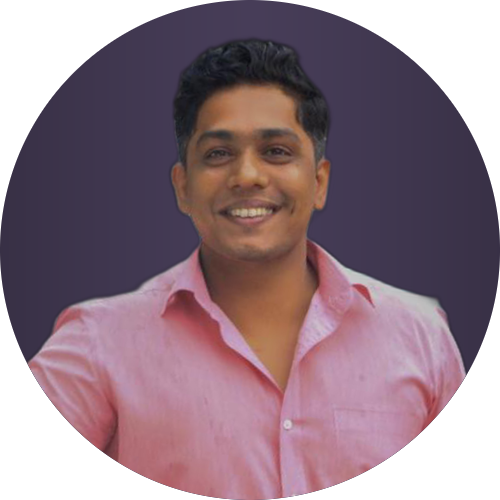 Vivek Mathew
(aka The Mindful Marketer, aka the guy who rocks a pink shirt 😄)
I'm a content consultant who helps small businesses become iconic brands by clarifying their brand message and creating strategic content. I've worked with brands like EY, Natwest, and some early-stage startups like Vivartah.

Click the button below and book a call with me.