6 AI Social Media Tools To Be Omnipresent Without Constant Content Creation
Affiliate Disclosure: This post may have affiliate links, which means I get a commission if you buy using my link — at no extra cost to you. I never recommend products I haven't tried and found helpful. (You have ChatGPT for that.)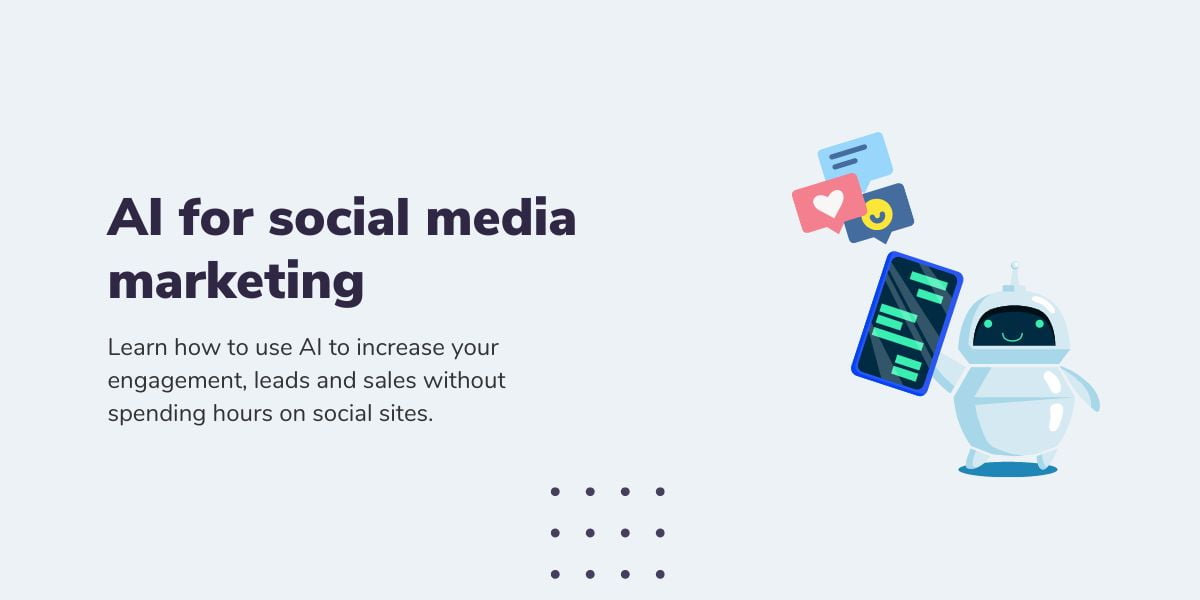 As a budding entrepreneur, you wear a lot of hats. You're the CEO, the CFO, the HR, and sometimes even the janitor (although you probably won't find the last one on the company's Instagram page).
Most of us don't have the time to post updates or monitor our social media channels 24/7 constantly.
And don't even get me started on the fickle algorithm and ever-changing platform interface. It's like a twisted version of Whack-a-Mole, except you're using your precious time instead of a plastic mallet. And instead of building high scores, you're losing money.
That's where AI social media tools come in. These cheat codes can take your social media strategy to the next level.
A word of caution
As helpful as these tools can be, relying too heavily on AI for social media eliminates the social aspect. And you lose touch with your followers and customers.
You know, like those celebrities who complain about things no one can relate to. (Stuff like the new infinity pool color not matching the ocean or the lack of legroom on their private plane… yeah, you get the picture).
So don't let these artificial intelligence tools take over and make your social channels a bot-filled wasteland. Keep it real. Okay, so being mindful of the risks, let's explore some of the best AI-powered tools.
AI social media tools
Jasper AI
Jasper AI is the perfect assistant for social media marketers who need help writing high-quality marketing copy quickly. With tons of pre-trained templates for different use cases, Jasper AI uses natural language generation to generate high-quality social media content that will engage your audience and grow your following. Unfortunately, Jasper doesn't have scheduling features, so you'll need a social media scheduler to publish your posts. You can read my Jasper review to see everything it has to offer. Jasper is focused on text generation (and AI image generation more recently).
Here are the social media templates in Jasper AI:
Personal LinkedIn post
Tweet machine
Personal bio
Engaging questions
Quora answers
TikTok video captions
Pinterest pins and titles
Creative stories
Instagram photo captions
Video Script Outline
Video Script Hook and Introduction
Video Titles
Video Topic Ideas
Video description
Lately
Lately is an excellent option if you're looking for a tool to help you automate your social media content and scheduling. It uses an AI algorithm to identify and curate words that perform well for your brand, so your copy is continually optimized for maximum user engagement. With Lately, you can easily repurpose your video, audio, or text content. Plus, the software is always learning, so you can be confident that your content will continue to be of the highest quality.
Here's a quick video of Lately's repurposing feature.
Copy AI
Copy AI is very similar to Jasper in the features it offers. Copy AI is a content generator that helps you create a wide range of marketing copy, including social media copy. With almost 100 plus pre-trained templates, you can rest assured that Copy AI will have something for most people. Read my Copy AI review for a full analysis.
Below are the social media templates Copy AI offers:
Add Emoji To List
Bullet Points
Carousel Post
Crazy Youtube Ideas
Hashtag Generator
Hook Generator
Instagram Captions
Instagram Product Showcase
Keyword Generator
Launch Your Product
Relatable Experiences
Short Text Hook
TikTok Brainstorm Topics
Video Call To Action
YouTube Description Intro
YouTube Video Title
If you're confused, you can read my Copy AI vs. Jasper AI comparison article to learn more about the differences between the two.
Inksprout
Inksprout is a social media marketing tool that helps you repurpose content efficiently. You can paste a link, and the software will grab different quotes from the article to be shared on social media. The software makes it easy to summarize and re-create content in other formats like video, text, and images. Inksprout also offers social media scheduling functions. The software can also monitor industry trends and generate content around them. While the UI could use some improvement, it's a powerful tool for social media marketers.
Emplifi social media marketing cloud (previously Socialbakers)
Emplifi's purpose is to help businesses empathize and amplify user experiences (hence the name). Amplify is a full-suite social media management tool targeted at medium-level and large companies. It offers advanced social media analytics, in-depth content analysis, influencer discovery, an AI-driven content calendar, scheduling tools, social listening, community features, a social AI chatbot, and more.
The AI-powered recommendation engine can help companies create engaging content that resonates with followers. The real-time customer insights and sentiment analysis, made possible through social listening, enable fast responses to critical conversations and high-impact influencers. The centralized content hub, publishing calendar, and unified inbox make it easy to manage all your social media activity in one place. Finally, AI-powered analytics extracts actionable insights from your data, empowering you to make better decisions for your business. It helps you identify the best content types, track engagement, and measure the success of your social media campaigns across different social networks.
With a price tag of $480 per month, Emplifi might not be a good fit for solo entrepreneurs or smaller businesses. But if you're running a medium-sized or large business, it's definitely a premium solution worth checking out.
Predis.AI
Predis.ai is a content marketing tool that uses artificial intelligence to create, schedule, and analyze social posts for you. It's best suited for e-commerce sites. With just a short description of your site, it can generate custom social posts, product videos, content ideas, and hashtag suggestions.
The competitor analysis feature uses natural language processing (NLP) to group your competition's social media posts into different content buckets, so you can gauge how each topic resonates with their audience (which is usually yours as well). You get content grades and engagement rates for each theme, so you can quickly see which topics get the most engagement. The scheduling function allows you to share your posts directly to your favorite social media platforms.
Applications of AI in social media (marketer's perspective)
Let's look at some examples of how you can use AI for social media.
AI-powered social media analytics to optimize your content strategy
Social media marketers can use artificial intelligence to optimize their content strategy. By analyzing historical data, AI can identify patterns in engagement and create a performance prediction algorithm. Predictions from this AI model can help marketers to understand what content works best and how they can improve their strategy. You can also use AI insights to understand the best time and frequency to post and identify the most effective hashtags and keywords. You can benchmark your performance against competitors and your past results to track your progress.
Sentiment analysis
Sentiment analysis uses natural language processing and machine learning to analyze your content and comments on your social media profiles. It allows you to tackle issues faster and segment your positive and negative content. You can use this data to improve your product or service and gauge how customers feel about your brand. Sentiment analysis can also help you to understand which topics are well received by your audience and how you can better engage with them.
AI social media content creation
You can use artificial intelligence to write social media copy that is engaging and on brand. You can either use an AI tool to generate the copy from scratch or to improve the text you've already written. You can either use social media tool with built-in copywriting capabilities or a standalone all-purpose AI copywriting tool. Dedicated social media tools might have advanced features that train the AI to write copy specific to your brand voice and style. Some even have machine learning algorithms that learn from past performance data to generate copy that is likely to perform well. On the other hand, all-purpose applications of AI copywriting tools go beyond social media copywriting.
Social listening
Social listening involves monitoring and analyzing social media profiles and conversations for mentions of your brand, competitors, products, topics, and keywords related to your business and industry. It's your solution if you want to be alerted when people talk about you. It gives you valuable insights that can protect and improve your brand reputation. You can also track current and viral events to stay ahead of the competition and detect potential risks before they become full-blown crises.
You can use the insights to help you make better decisions about what to offer customers, how to market your products, and how to adjust your strategies in response to public opinion.
Content repurposing
Repurposing content is not a new concept, but with the help of AI, it's easier than ever to tailor your content to specific platforms and audiences. AI can automatically repurpose your content into bite-sized pieces, so a single piece of content is multiplied into different formats that can be used across multiple channels. As a result, you reach a wider audience and maximize engagement. For example, long-form content like a blog post can be repurposed into social media posts, short videos, or audio clips.
Influencer marketing
With the help of AI, you can identify and target social media influencers that are relevant to your brand. You can use AI tools to scan social media platforms for influencers with a large following and high engagement rates. You can also use AI to analyze an influencer's past performances to predict their future success. Once you've identified the right influencers, you can reach out to them for collaboration opportunities.
Optimize and manage paid social media advertising
You can use AI to optimize and manage your paid social media campaigns. AI can help you to identify the right target audience, create personalized ads and track the performance of your digital marketing campaigns. You can also use AI to optimize your ad spend across different social media platforms. When you use AI to manage your social media ads, it automatically finds and scales the best creative, copy, and targeting combinations to get the best results.
AI to come up with content ideas for social media
Constantly coming up with ideas to keep your content calendar full can be a challenge. You can use AI tools to scan social media platforms for trending topics. You can also use AI to analyze your competitor's content to see what's working well for them. Once you've identified suitable topics, you can use AI content generators to come up with ideas for blog posts, social media posts, and videos.
Scheduling and publishing social media content
You can use AI to schedule and publish your social media content. AI tools can help you to find the best time to post on each social media network. These tools can also recommend and publish your content automatically at the best time for maximum reach. So you save time by not having to schedule each social media post manually.
How AI is changing the way social media platforms work (platform perspective)
Marketers aren't the only ones benefiting from AI; social media platforms use it to create better user experiences.
Increased Personalization
One of the ways that AI is changing social media is by increasing the level of personalization that users experience. AI algorithms can analyze users' behavior and offer them more relevant content. For example, if a user frequently likes posts about cats, the algorithm will show them more cat-related content. This level of personalization allows social media platforms to serve users with interesting content, ultimately improving their retention.
Improved Ad Targeting
AI is also helping to improve the targeting of ads on social media platforms. By analyzing user data, AI algorithms can identify which users are more likely to be interested in a particular product or service. This allows businesses to target their ads better and improve the chances of conversion.
Fake News Detection
Fake news is a problem on social media because it can spread quickly and mislead people. AI is being used to help detect fake news on social media platforms. AI algorithms can analyze text and images to determine whether the claims are accurate or fake.
To identify and remove fake accounts and spam
In addition to detecting fake news, AI is used to identify and remove fake accounts and spam from social media platforms. These malicious accounts are often used to spread misinformation and generate revenue through click-baiting. Social media platforms can identify and remove these accounts with AI, improving their quality and integrity.
Advantages of using AI in Social Media
Thanks to advances in machine learning and big data analysis, AI is helping social media marketers, brands, and users build meaningful relationships. Users benefit from personalized recommendations, reliable news, and a more authentic online experience. Marketers benefit from improved ad targeting, better campaign performance tracking, and reduced workloads. Businesses get to reach the right people at the right time, leading to higher conversions and sales. It also reduces the burden of having to manage the accounts and analyze the data manually.
Wrap up
Whether you are a marketer, business owner, or social media user, the benefits of AI in social media are undeniable. Social media platforms are thriving because AI helps them deliver personalized user experiences, generate more engagement, combat fake news, and remove fake accounts. Likewise, marketers can use AI to make their social media marketing more efficient through real-time analytics, optimized ad targeting, and AI-assisted content creation. So consider incorporating AI into your strategy if you aren't already doing it.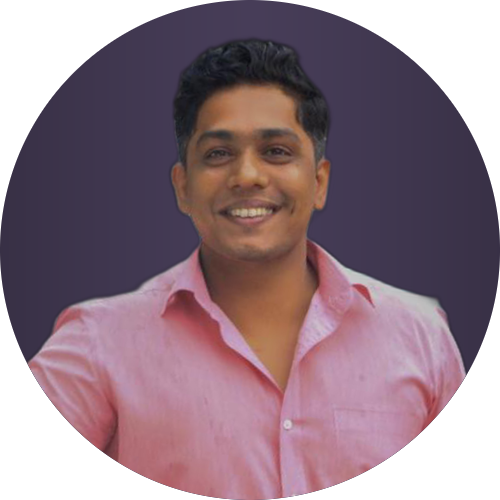 Vivek Mathew
(aka The Mindful Marketer, aka the guy who rocks a pink shirt 😄)
I'm a content consultant who helps small businesses become iconic brands by clarifying their brand message and creating strategic content. I've worked with brands like EY, Natwest, and some early-stage startups like Vivartah.

Click the button below and book a call with me.