SEO Editing: The Secret to Clean, SEO Optimized Content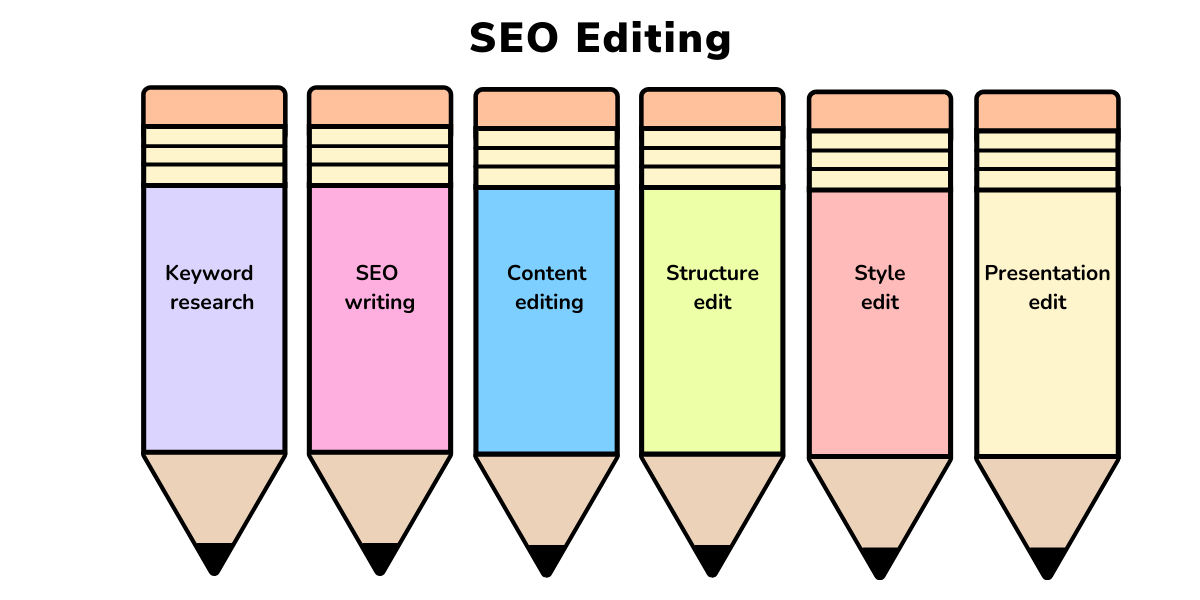 Most people think about copy editing when they hear SEO editing, but it's not the same. SEO content editing involves several additional steps to ensure your web pages rank higher on the search engine results page and are more readable.
In this guide, we'll cover the best practices for ensuring all of your written content is optimized for search engines. Writing blog posts, articles, press releases, or anything else published online requires SEO content editing skills.
What is SEO editing?
SEO editing helps you make your web copy clear, concise, and readable for search engines and humans alike. It's different from traditional copyediting because it involves optimizing the content for search engines.
SEO copywriting process
SEO copywriting is the entire process of creating search engine optimized content from scratch. Editing an existing piece of content using SEO tactics is commonly known as SEO editing. SEO copywriting involves two additional steps over SEO copy-editing: keyword research and content writing.
Related article: learn how you can use tools like Marketmuse, Frase, and Surfer SEO to create blog posts that rank.
SEO content editing is pretty much the same thing as traditional editing, but with an extra layer of SEO principles. Traditional editing is just for humans, but SEO editing accounts for search engines, too. There are two layers of editing for SEO articles. The first layer of editing is for humans, so the content is easy to read, and the second layer is for search engines, so it's easy to rank.
Keyword research
Before writing your content, conduct keyword research. By doing this, you'll understand what people are searching for and which terms they use to find solutions. It is a crucial step in the SEO writing process.
First, you need to identify keywords that are relevant to your business. For example, 'best hiking boots' is not a particularly helpful search query for a SAAS company offering project management solutions.
Don't choose a target keyword solely based on the SEO difficulty score in a keyword tool. Start your process with seed topics and keywords in mind. Seed topics are high-level words that you think would be relevant to your business based on your experience. There are several ways to come up with these seed topics:
Run a topic search in Buzzsumo.
Ask a subject matter expert to manually write down the first ten topics that come to mind.
Use a tool like seedkeyword.com and ask your customer to search as they'd typically search in Google to find a solution to their problem.
Use a tool like Writerzen to find topics.

Run your topics through your keyword tool to get a sense of topic-level competitiveness. You can check the SEO difficulty and search volume of the terms each seed topic generates by using tools such as Ahref and Semrush. Keywords everywhere, SpyFu, KWfinder, Keysearch, and Google Keyword Planner are some cheaper alternatives. At this stage of your search, you're not looking for your target keyword but rather for the best topic.
Narrow down the list to topics that are valuable for your business and less competitive. Then, select one or two topics that are valuable for your business and have low competition. For starters, I recommend focusing on one topic.
Once you choose your main topic, run it through your keyword research tool again. Filter the keywords by difficulty level that makes sense for your website. There is no exact science here, and each keyword research tool uses a different algorithm to gauge the ranking difficulty. For example, Ahrefs uses the number of backlinks to estimate page authority. So if all top-ranking pages have a high number of backlinks, the search term is considered challenging to rank. While this is not always correct, you can use this for direction.
In the next step, group all the keywords with similar search intent so that you can cover them all on one page.
There is more to the keyword research process, but that requires a more detailed post. For now, let's assume you chose a search term, and your content writer covered that topic in good detail. It's fresh out of the content oven and ready for some editing magic.
SEO writing and topic coverage
In the past, search engines ranked web pages based on keyword density. So you could easily rank your page by using the target keyword multiple times on the page to increase the keyword density. As expected, it didn't take long for spammers to use this technique to rank low-quality pages.
To combat this, Google created algorithm updates such as Hummingbird, which favor topic coverage over keyword density.
With more emphasis on topic coverage, you need to make sure your content covers a broad range of related topics. For instance, if you're writing about SEO, you'll have to cover semantically related topics such as SEO tool, search engine optimization, SEO strategy, keyword research, link building, organic traffic, technical SEO, and so on.
Ensuring topic coverage should be part of your SEO editing process. Once you choose your focus keyword, the next step is to ensure the content you're editing has enough topic coverage. An SEO editor typically provides the content creation team with a topic outline or brief before creating the content. It means you don't have to go back and forth to add more topics. An SEO editor is different from a standard content editor in this regard.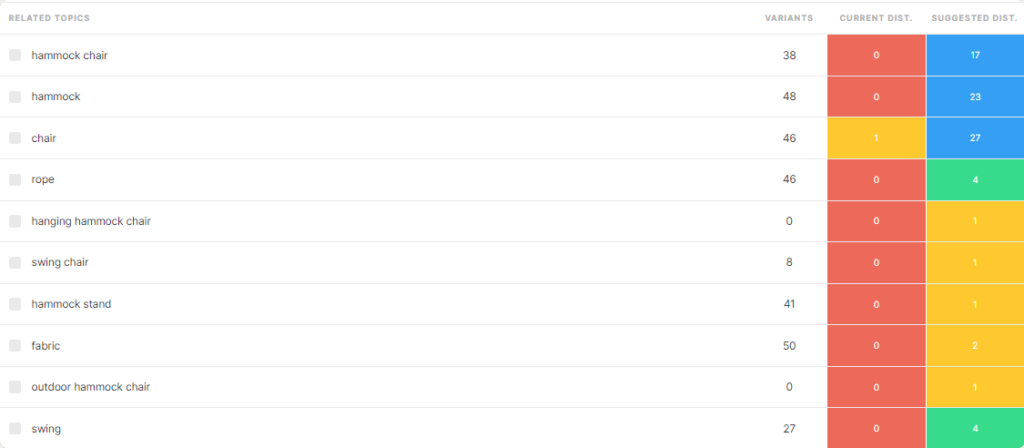 SEO keyword editing
When you've done a comprehensive review of all relevant topics, you need to focus your SEO efforts on placing the focus keyword prominently. The top keyword placements for your articles are:
The SEO title (meta title)
The meta description (helps to increase CTR if you match search intent)
The headline or H1 heading
The first or second paragraph
Images alt text
Subheadings (Use variations of your keyword and related keywords)
Include this as part of your SEO editing workflow.
SEO Content editing
Questions to ask:
Who is the reader?
At what stage of the buying cycle is the reader?
What is the purpose of the piece?
What are the individual points?
In the SEO editing process, the content editing step focuses on making the content as tight and crisp as possible. Always keep your reader and the end goal in mind. What action would you like the reader to take? Are you trying to get the reader to download an e-book or buy your product? Edit accordingly.
Next, ensure all points in your content are unique. Each point deserves a new paragraph. Finally, stay focused and avoid rambling.
The number one goal is always clarity! To achieve that, you need to eliminate ambiguity and make sure your points come across clearly. Good, crisp writing will always beat pompous and fancy content that is tedious to read.
A crucial part of this step is fact-checking. Unfortunately, many writers add in their opinions in the form of facts, which is unwise. If you feel something is off and find yourself second-guessing something, always err on the side of caution and check for proof. Mixing opinions with facts could tarnish your credibility.
Structure edit
Questions to ask:
What is your content angle (This will also determine your LEAD)
What are the key sections in your story
What is the narrative structure (order categories)
Are the points ordered elegantly
Can you link to any other relevant content?
Once you finish the content edit, you'll have each point in a different paragraph. Now go through all the sections and figure out the angle you want to take with your content. Your content angle will also determine your LEAD or the introductory paragraph.
In the structure edit cycle, you will arrange the paragraphs elegantly. The structure edit will also involve linking out to related content within your website and trusted external resources. A website's internal linking structure helps search engines better understand the content of your website. Additionally, it provides readers with detailed information on a particular topic that isn't covered in the current article. Depending on your workflow, internal linking can be handled by the content team or by the SEO editor.
Style edit
Questions to ask:
Does the writing flow well?
Does on point lead to the next flawlessly?
Have you removed all the clutter?
What is the narrative you want to present?
In the style edit, you need to focus on the content narrative.
After the content edit, your paragraphs might have unique points, but they might not be connected. A great way to make paragraphs flow is to use a generic statement that leads to the idea/paragraph. The narrative is the content angle you want to take. The same story can have multiple perspectives.
For example, the story of a new Oneplus device might describe how it broke into a competitive market and established itself as a brand. However, if the editor wants to take a different perspective, it might focus on the brand's early success and declining sales over the past couple of years.
The style edit also aims to eliminate clutter. We did a light version of this in the content edit round. However, this round focuses on tightening the copy even more.
Watch out for unnecessarily wordy phrases, unnecessary capitalization, or anything that seems to stick out, disrupting the flow of the content.
This round also focuses on consistency. One example is to use the same format for title and designation. Another example is to use the Oxford comma in your content if you used it once. The style guide generally covers it.
I believe this segues perfectly into our next point, adhering to the brand guidelines. Generally, established brands require you to follow their brand guidelines, which provide rules to follow in punctuation, date formats, acronyms, quotation style, and designation format.
The inverted pyramid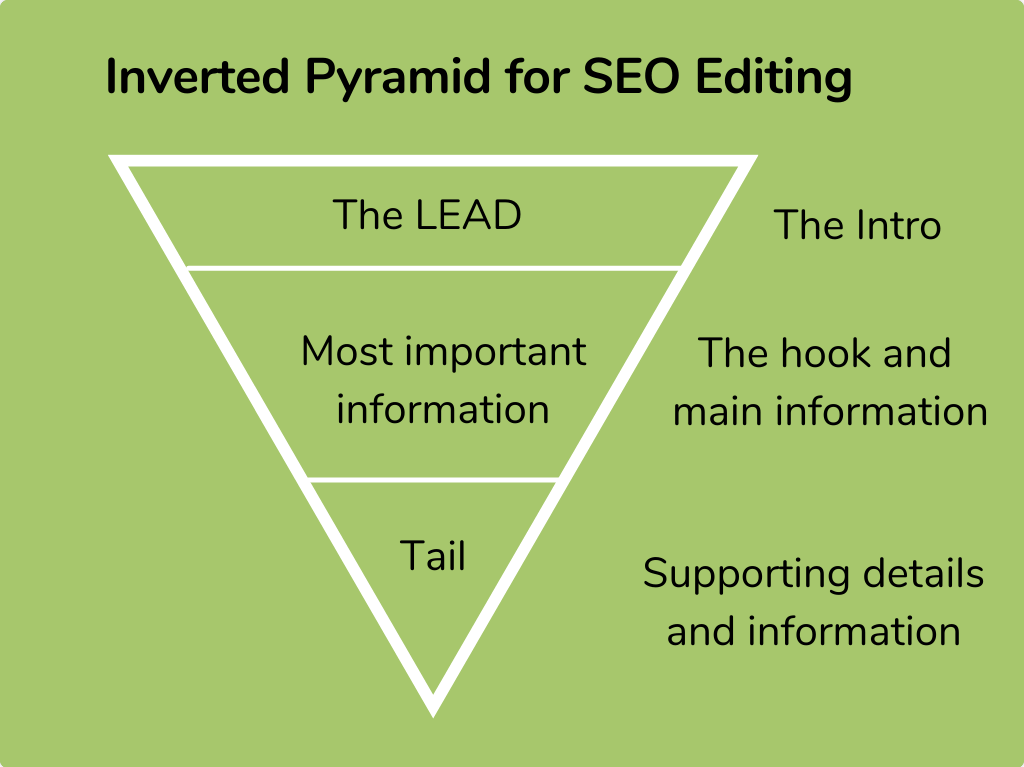 The last stage of the style edit is a strong intro, headline, and finish. Editors generally use the inverted pyramid to provide the reader with the most value as soon as possible. The inverted pyramid structure is a product of old-fashioned technology – the telegraph. Inverted pyramids made sense when news outlets relayed the most important details first to ensure the essential facts of the story could be printed by whoever received it.
The same holds true for modern SEO editing.
We want the reader to get his answer as soon as possible. So cut the fluff and get straight to the point. In a recipe site, for instance, the actual recipe should always be at the beginning, so that the reader can get to the information he is looking for without having to scroll through a long list of ingredients or the chef's background.
Editors are often hesitant to do this because they fear the reader will bounce as soon as they have the information they need. It could be partially true, but if they like the information you provide the first time, they will choose your site over the others in the long run. Soon they will take the time to get to know you and your brand. Start with the five Ws (who, what, when, where, and why), followed by supporting details and background information.
It's a Hook, Line, and Sinker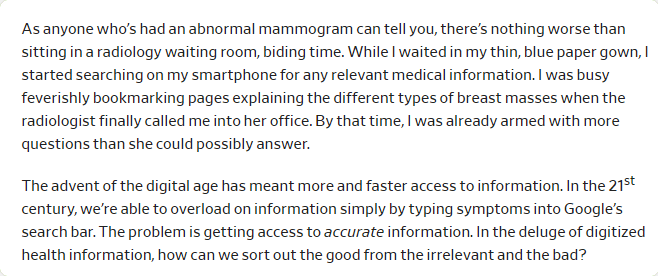 A hook is a way of grabbing the reader's attention from the very beginning. Different types of hooks include questions, quotes, statistics, or anecdotes to captivate your reader and start your story with a bang.
Once you have a good introduction that leads the writer into your content angle, you need a good headline that aligns with the angle and entices the reader to click. An intriguing headline is one of your most important story elements.
The ending drives home your point and invites the reader to take the next step. A strong call-to-action can improve your conversion rate.
Presentation edit
The presentation edit involves proofreading and other cosmetic revisions. You need to align the headline, meta description, and cross-heads with the content angle. Remember to follow your house style rules for measurement units, spelling (US or UK), and more.
Proofreading could be a process on its own, depending on your workflow and resource availability. The proofreader usually specializes in technical grammar, so you won't have to worry about someone pointing out punctuation or grammatical errors.
FAQs
What is an SEO content editor?
An SEO content editor is a subject matter expert and an editor with knowledge of search engine optimization. They help create compelling, informative articles optimized for the web by making them more visible in search engines.
Articles can rank higher by covering a topic in-depth, using keywords appropriately, and getting backlinks from pages that rank high on SERPs (Search Engine Results Pages). An experienced SEO editor knows how to implement these tactics while keeping readers engaged.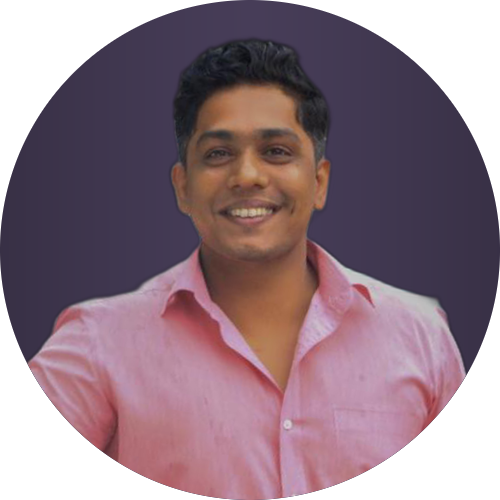 Vivek Mathew
(aka The Mindful Marketer, aka the guy who rocks a pink shirt 😄)
I'm a content consultant who helps small businesses become iconic brands by clarifying their brand message and creating strategic content. I've worked with brands like EY, Natwest, and some early-stage startups like Vivartah.

Click the button below and book a call with me.