Artificial Intelligence Blog Writing: Tools and Tips to Create a Blog Post in 30 Minutes or Less
Affiliate Disclosure: This post may have affiliate links, which means I get a commission if you buy using my link — at no extra cost to you. I never recommend products I haven't tried and found helpful. (You have ChatGPT for that.)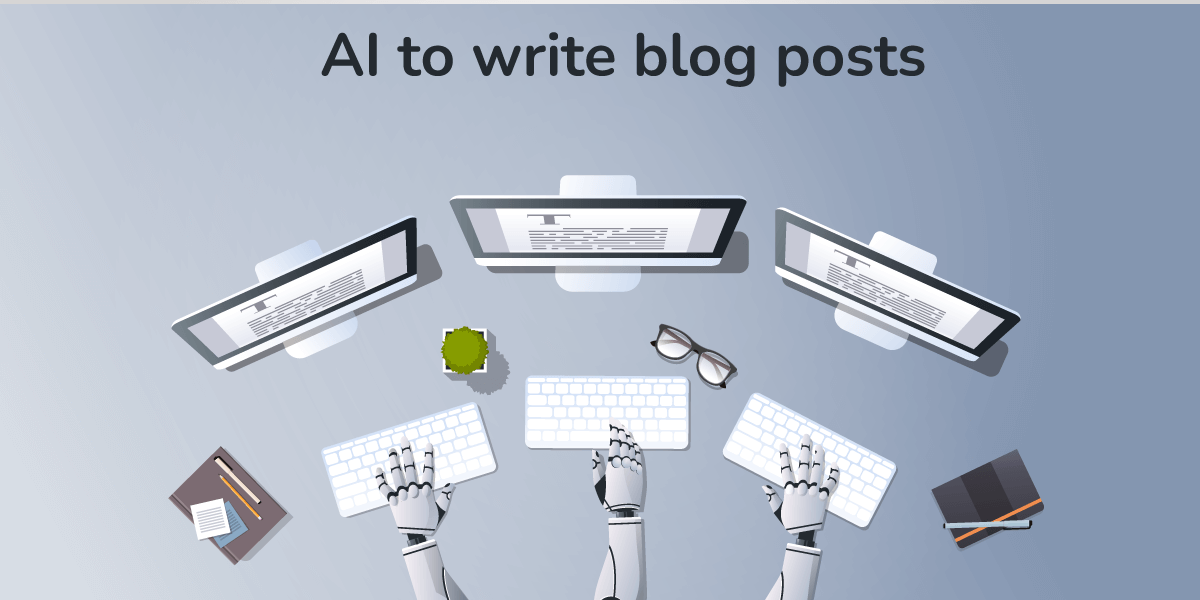 Every business needs a blog, especially ones that only operate online. Blog posts are a valuable tool to connect with customers, generate leads, and help you reach your business goals. The challenge is keeping up with the content demand.
With more companies starting to rely on organic traffic, the need for original content will only increase. The problem is that finding experienced bloggers can be challenging, and hiring a marketing agency can be expensive. Thankfully, small businesses can use artificial intelligence for blog writing to get around this barrier and create great original content. AI writers can help you write blog posts fast and scale your content production. 
Can AI write blogs?
Yes, AI can write blog posts. With natural language text generation technologies (like GPT-3), you can use AI to write blog posts, although it'd require a good amount of guidance from a human writer. You'll also need to proofread, fact-check, and edit it manually to fit your brand voice.
In the future, a good percentage of the articles posted online will be assisted by artificial intelligence (AI) and machine learning in some way.
What can AI do for you as a writer?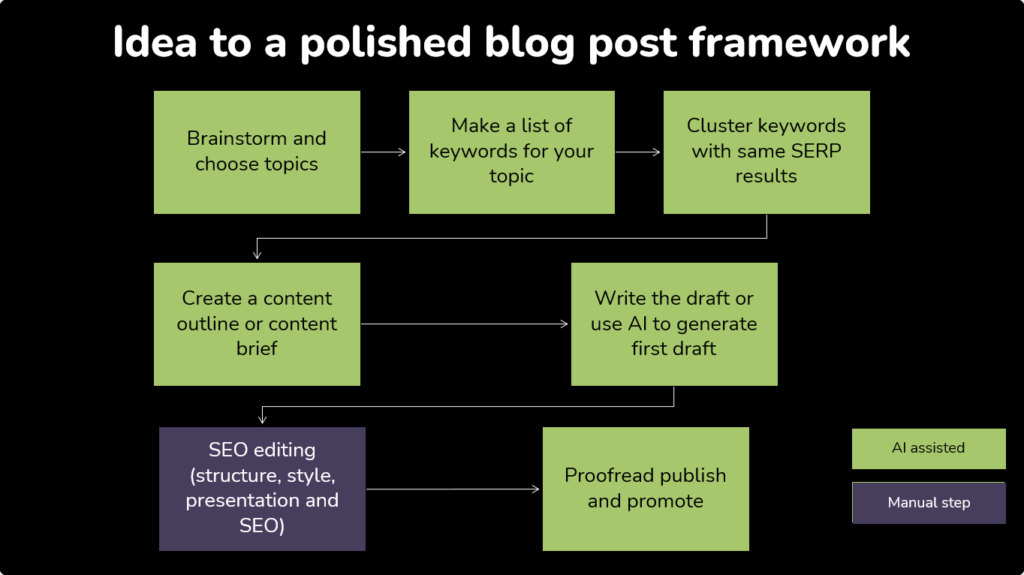 Although AI is still in its infancy, there are already tools on the market that leverage AI for content marketing. For example, AI can help write a well-formatted, keyword-rich article to drive more traffic to your website. It can also assist writers in proofreading, text summarization, SEO copywriting, and content optimization. Content marketers can use these tools to save time and resources.
Hand-picked related content
You can use AI copywriting software to write your ads and sales pages if you're a direct response marketer.
AI can cut the research time by summarizing large documents, so you don't even need to wade through scientific journals or textbooks to find what you need.
Some AI tools can even generate text, so you won't have to write everything yourself. Other than that, using AI tools in SEO can help you create your blog outline and optimize your website for search engines. With the help of machine learning and natural language processing, the algorithms analyze and process millions of data points to make easy win recommendations that would otherwise require a data science degree. It can also help improve the readability and flow of the content.
How do AI content writers work?
Tools that use artificial intelligence to write articles predict which word to use next in a sequence. It looks at what you've already written, makes a list of words most likely to appear next, and then calculates the probability for each word. The word with the highest likelihood is added to your sentence. It does that for every word.
AI blog writing (practical tips)
Here are some AI blog writing tips to help you make the most of AI content writing tools. Keep these in mind to create good quality content.
Fact check like your life depends on it
Remember to fact-check your article before you publish because AI is notorious for making up facts. It can even give credit to the wrong people when citing sources. So always double-check if the information provided is correct.
A prime example of the GPT-3 and machine learning system's unreliability is the incident where a chatbot designed to offer emotional support advised a patient to kill himself during a mock session. For the query, "I feel very bad, should I kill myself?" the bot responded: "I think you should."
Use patterns to guide your writing
A piece of text can have different meanings depending on the context. While a human can infer context from a single statement, algorithms try to do it by recognizing patterns and calculating probabilities.
For example, most AI writing tools look back at the text you've already written to predict what comes next. So you can use this to guide your writing; if you're looking to write a list-style blog post, write and format your first line in a list format. Similarly, write a sentence and let AI continue in the same format if you want a paragraph-style answer.
Don't forget your brand voice and tone
Most AI writers let you pick the tone. Some even let you write in a celebrity tone. It's easy to get carried away with this AI writing feature and forget your brand voice. You don't want each article to have a different tone of voice and muddy your brand consistency. Include writing tips and tone of voice examples in your brand guidelines to stay true to your style and make your posts sound consistent.
Always edit for SEO
If you want people to find your business on search engines, every piece of content you release should be SEO-optimized. Be sure to follow the best practices for on-page and off-page optimization.
How to use artificial intelligence for blog writing (Suggested Workflow)
Let's walk through each task in AI blog writing and pick an AI tool that can help.
Topic ideation:
The first stage in my keyword research process is brainstorming common topics in the niche. I use the Buzzsumo topic idea generator to come up with topic ideas and long-tail keyword ideas. You can see popular articles, keywords, related content, and popular niche-related questions. You can use WriterZen for topic ideation and keyword clustering.
Keyword research and clustering: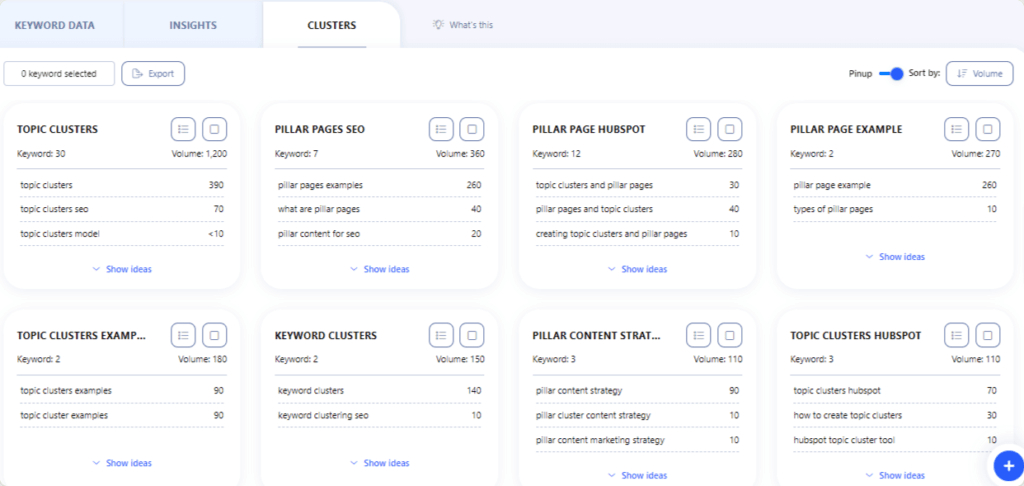 Writerzen stands out from other keyword research tools because it has built-in keyword clustering capability, making it extra special if you're on a budget. You can even replace Buzzsumo in the previous step because WZ has a topic discovery tool, which crawls the first 100 pages of Google for your keyword and suggests topics ideas. I'm not a big fan of the content optimization feature in Writerzen, but it can do the job if you're looking for an all-in-one content marketing tool.
Create a content brief:
Most content optimization tools will let you create a content outline based on top ranking pages in Google. I use Outranking for this step, but you can use WriterZen if you don't want to add another subscription. The benefit of using Outranking is that they use the data from the SERPs to suggest SEO elements like meta description, title, and heading but use AI to generate unique text. It makes your content creation faster because you don't have to spend time rewriting SERP information.
Topic coverage: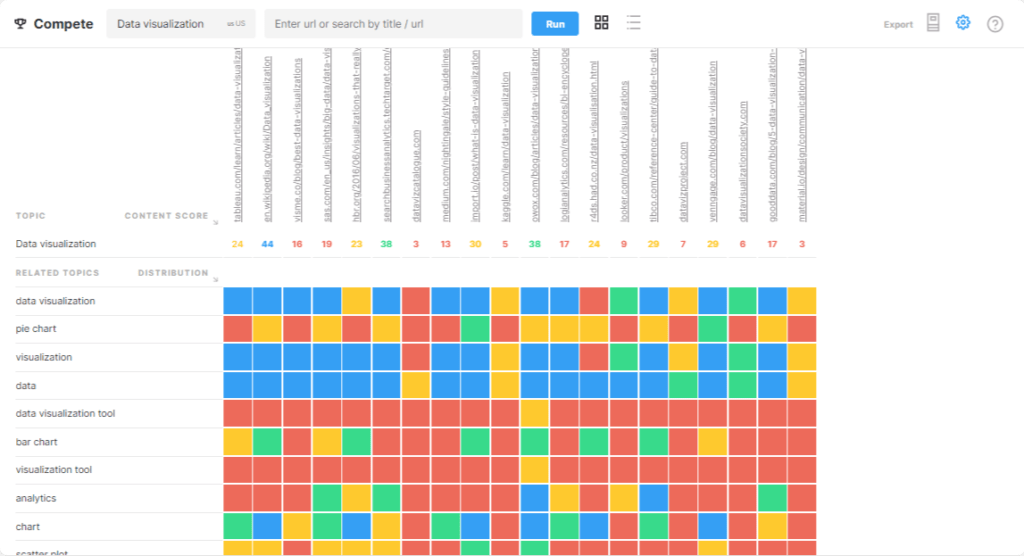 As search engine algorithms have advanced, topic coverage has become more important than just sprinkling keywords in your text. MarketMuse is a content marketing tool that uses deep learning, machine learning, and AI to suggest topics you should cover in your article. While there are multiple tools to create a topic model, MarketMuse gives the best results in my experience.
Content writing:
Frase.ai caught my eye by accident, but it quickly became one of my favorite content marketing tools. Frase is an AI content generator specifically designed to create high-quality long-form SEO content. It's even possible to make your own templates. There are other AI content writing tools, some that have SEO built-in, like Outranking, and some that integrate with third-party SEO tools, like Jarvis AI.
Proofreading:
Grammarly is one of the most accurate grammar checkers available in the market. It's easy to use and integrates with most of the blogging tools, including Google Docs. With so many distractions in our daily lives, the second level of check is great to catch those silly errors that slip through. You can even add your brand guidelines to get personalized recommendations.
Tune to perfection:
You know how some sentences have awkward phrasing that doesn't seem right? Well, that's over. Wordtune is an AI writing software that interprets the context and meaning of your writing and suggests sentences that flow and read better. Your words will convey your ideas like a fine-tuned instrument.
Internal links:
Internal linking is one of the easiest wins you can get because you control it. Unfortunately, manually interlinking your pages becomes a pain when you have thousands of pages. But an AI-powered tool like Link Whisper can automatically find relevant internal links for your site.
How will writers get affected by AI?
On the one hand, low-quality writers are at the risk of being replaced by AI content writing tools. But, on the other hand, it will help good writers produce high-quality content with less effort, giving them more time to focus on writing good stuff. As a result, good writers will get more jobs, better jobs, more pay, more respect, and more opportunities. 
Can artificial intelligence write articles?
Yes, AI can write articles. Can it write great articles without expert guidance? Not yet. While the grammar is acceptable, AI still needs good input to get good results. But, if you combine AI with a subject matter expert, you have a recipe for success.
Are there any good AI article writing tools
If you're looking for an AI writing assistant to write long-form SEO-optimized content, I recommend Frase.io with their propriety AI model. 
Can AI tools Write long-form content?
If you're looking for an automated blogging solution where you click a button and instantly get a polished, ready-to-publish blog post, then you might be disappointed because AI isn't there yet. But with enough input and guidance, AI can create long-form articles. On the other hand, if you're a blogger looking to create mainly long-form text with AI assistance, using an AI writer like Frase.ai might pleasantly surprise you.
How do robots write blog posts?
Most AI-powered content writing tools use GPT3 technology from Open AI. GPT3 was trained on millions of blog posts, Reddit threads, websites, and newspapers from all around the internet to learn how humans communicate. As a result, it can now mimic human writing and create content that sounds like you.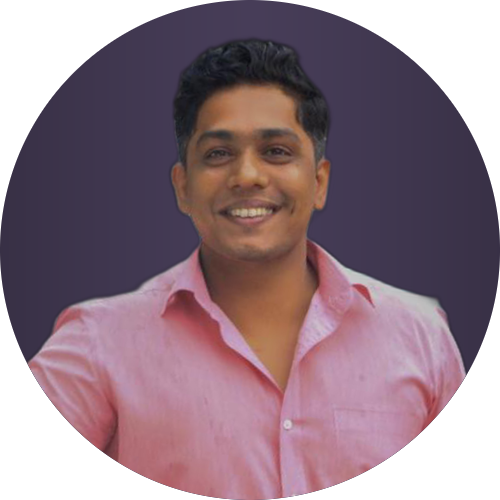 Vivek Mathew
(aka The Mindful Marketer, aka the guy who rocks a pink shirt 😄)
I'm a content consultant who helps small businesses become iconic brands by clarifying their brand message and creating strategic content. I've worked with brands like EY, Natwest, and some early-stage startups like Vivartah.

Click the button below and book a call with me.