Outranking.io Review: A revolutionary software to outrank your competitors without backlinks
Affiliate Disclosure: This post may have affiliate links, which means I get a commission if you buy using my link — at no extra cost to you. I never recommend products I haven't tried and found helpful. (You have ChatGPT for that.)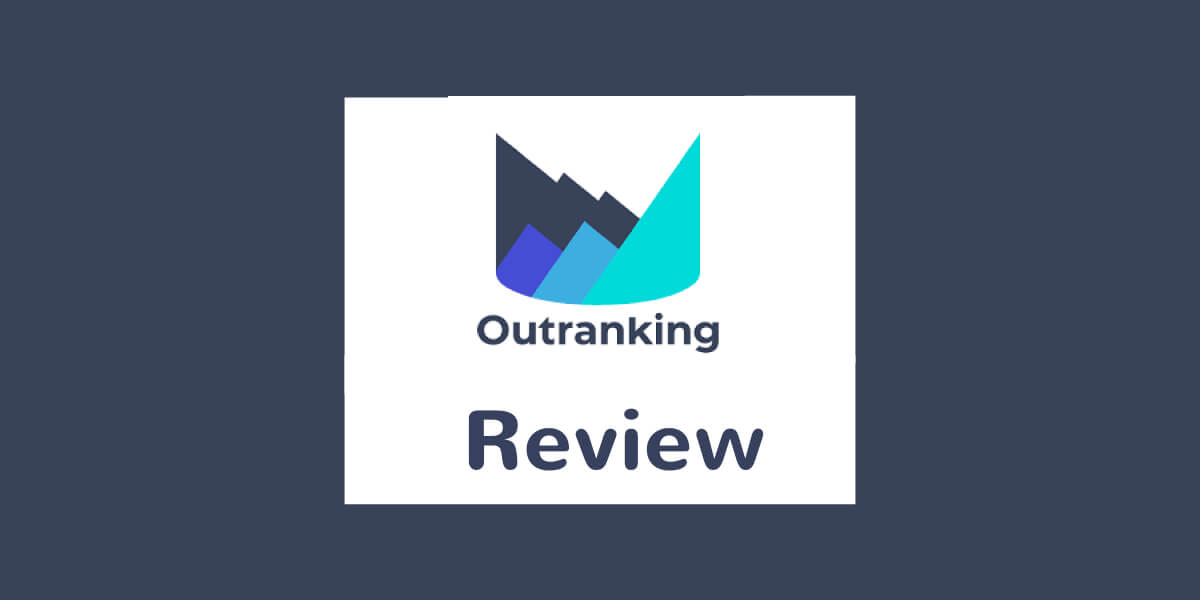 Do you ever feel like your competitors are so high-authority that you have no chance of ranking first on search engines like Google? And not everyone has a massive team or budget to build hundreds of backlinks to rank a page. Outranking.io, an SEO tool, was developed to solve this problem.
A tactical tool to outrank your competitors
My overall Outranking Review rating
It uses AI and machine learning to help you to outrank those competitors by focusing on on-page SEO and content quality rather than depending purely on backlinks. You can research your topic with ease and can create high-quality content fast by leveraging the platform's tools. The team behind it is constantly coming up with innovative features that make it easier to write and optimize content.
I should have written this Outranking review way sooner, considering I had a chance to test it in Beta. Since then, I've seen this evolve and become a fantastic content creation tool.
Who will benefit from Outranking
Outranking is a good fit for content teams and solo content writers specializing in creating long-form SEO content. This tool will be invaluable if organic traffic and content marketing are at the core of your digital marketing strategy.
Who might not benefit from Outranking
I wouldn't recommend it if you're primarily into social media marketing and media buying. You're better off with other AI tools tailored toward those needs.
Stand out features in Outranking and their use case
Let's start with features that separate Outranking from other SEO writing tools.
Content gap:
Keyword gap is usually a feature found in high-end keyword research tools like Ahrefs and Semrush. The idea is to find relevant keywords that your competitors rank for but you don't. You can also filter for the top 20 keywords ranking in search engines so that you can add them to your content optimization workflow.
Use case: This information is invaluable in developing your content strategy.
Go to dashboard and click on Keyword Gap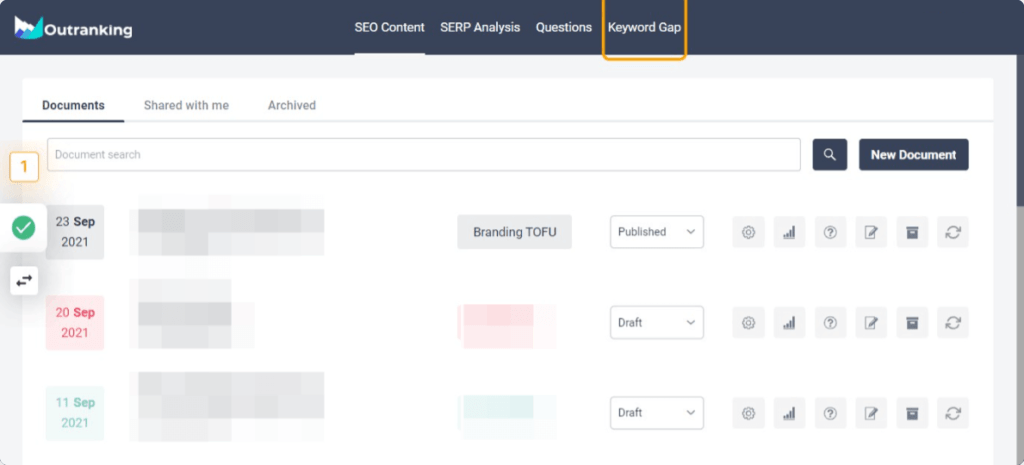 Type in your domain name, your competitor domain name and click on Submit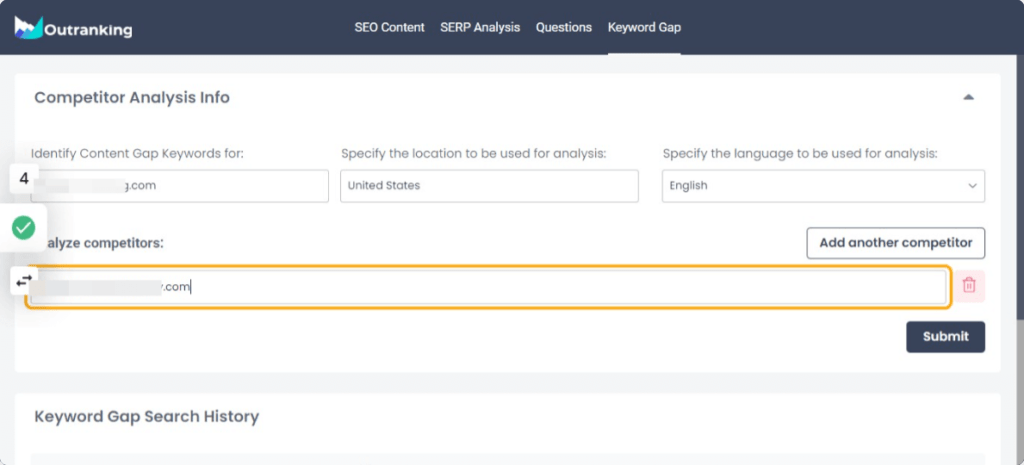 Click on Content Gap Keywords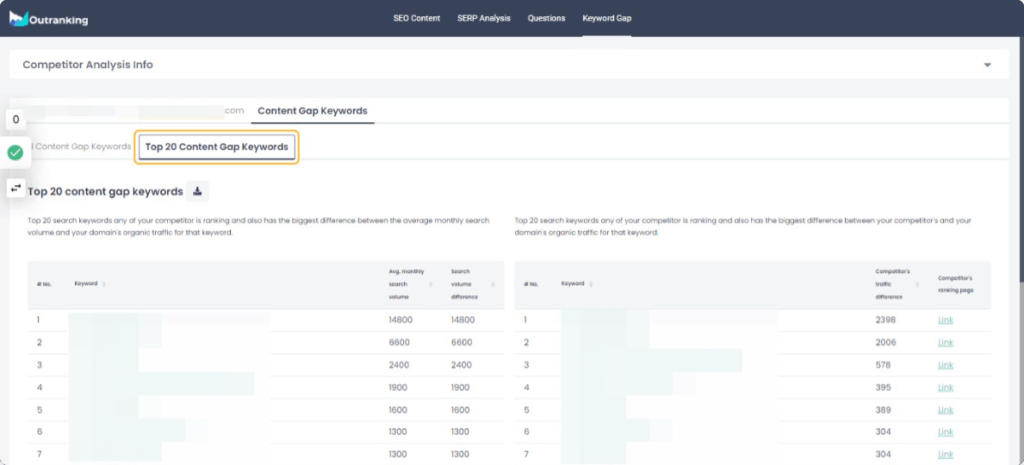 SERP (search engine results page) analysis:
Most SEO content optimization tools do not offer such a comprehensive SERP analysis. The only problem I've noticed is that sometimes it doesn't pull the latest SERPs.
Use case: Gives you an idea of how much effort you need to put into the content, links, and format.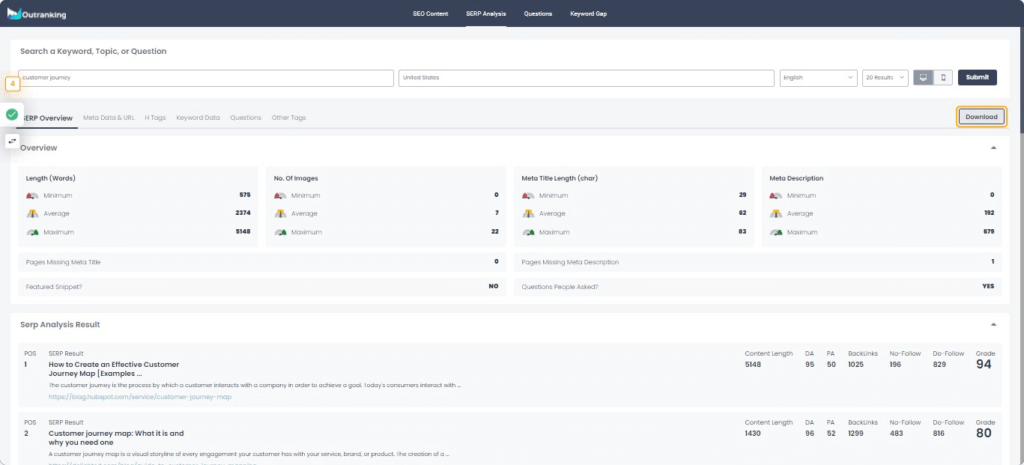 Here you'll find meta titles and descriptions, heading tags, relevant keywords, high-frequency keywords, PAA questions, images, links, ordered and unordered lists.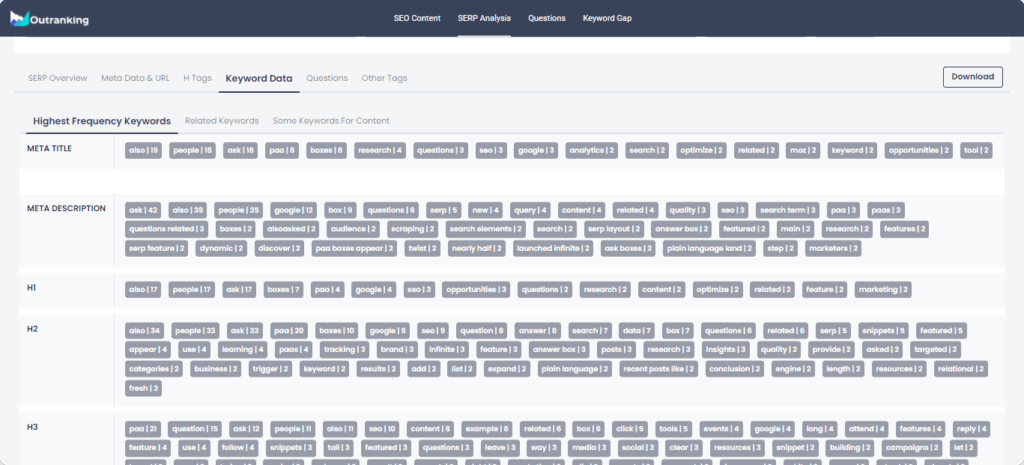 Outranking Concepts aka SERP guided AI writer:
What makes outranking concepts different from the run-of-the-mill GPT3 technology used by most AI content tools is that they use an extra layer of SERP data to guide the GPT3 writer.
Use case: Ensure the AI writer stays on topic, which is a constant struggle with most AI writing tools.
AI writing and Methods:
You can use AI to rewrite, shorten, expand, or run your commands in the editor. In addition, you can use Methods to create your own AI templates, which will speed up the workflow.
Content creation workflow
On the dashboard, click on SEO content. You'll see everything you've written in the past. You can search for documents if there are too many to scroll through. You can also see shared documents and what's been archived.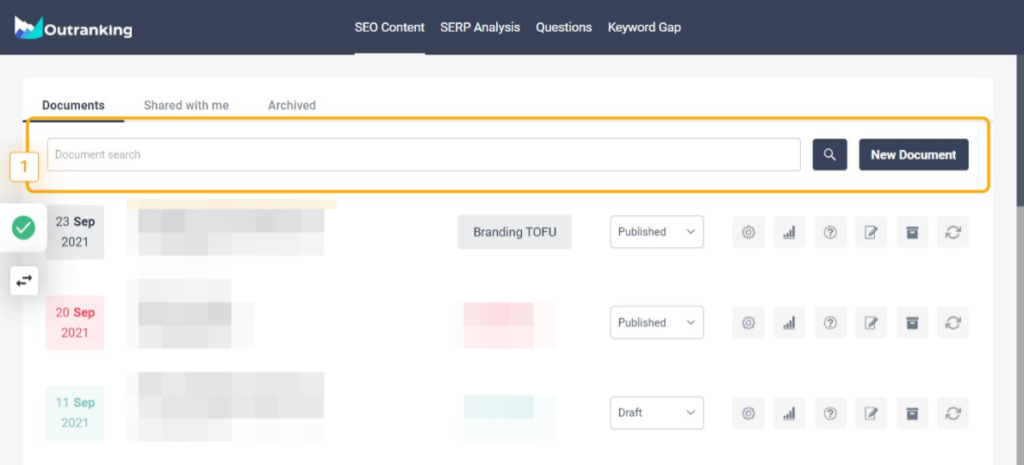 You can create a new document or optimize an existing one. Select the location, language, and target keyword to tailor recommendations. For local SEO, you can drill down to the region level. You can also specify whether the document is in draft, outline, in-review, or published.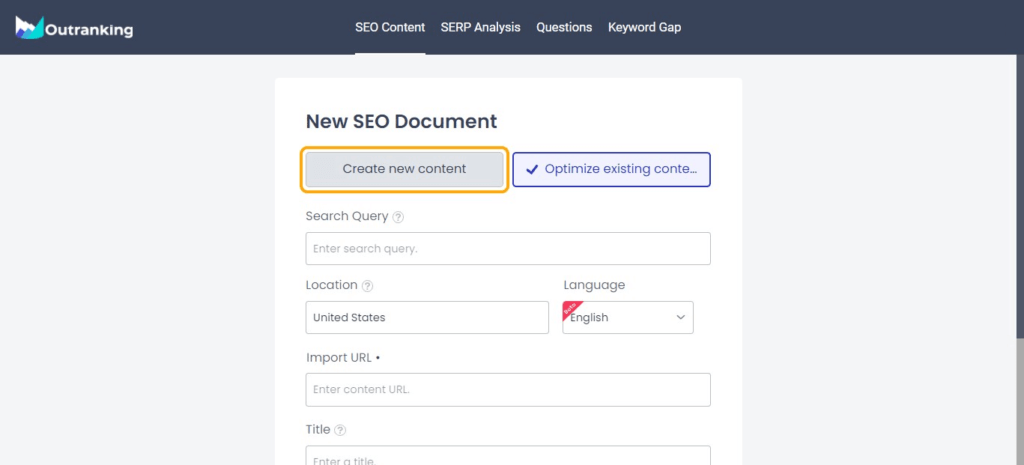 Once you submit your details, you'll be taken through a workflow to automatically generate your meta title, meta description, and blog outline. Of course, you can skip the workflow if you'd rather go straight to the editor.

You can create the outline using 'concepts,' which is basically the GPT3 based AI writer with an extra layer of SERP information to keep it on topic. This means you can create unique titles, meta descriptions, outlines, and text based on what's already in the SERPs. You get SEO-optimized content right out of the box, so there is no need to rewrite anything.
You can also create the blog post outline manually by exiting the guided workflow and going to the manual outline builder.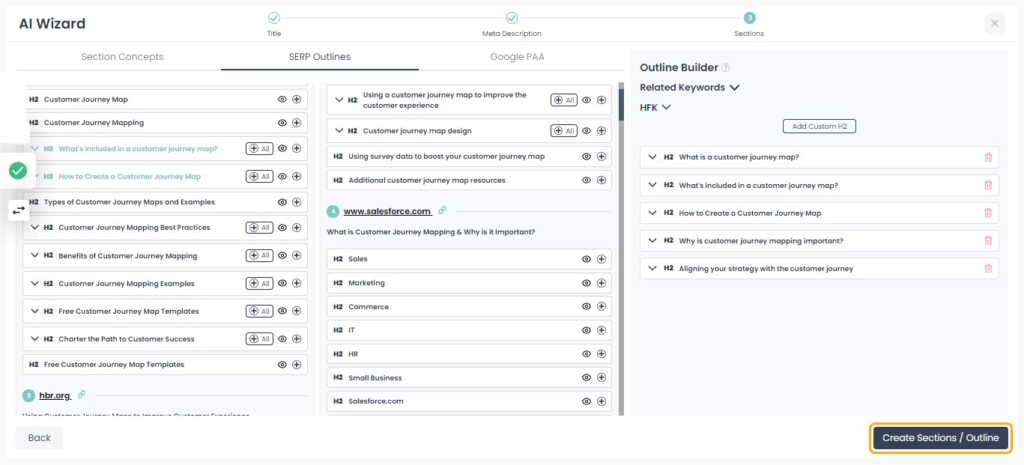 Sidebar:
The sidebar has different sections to guide your writing:
Integrations:
Outranking is certified compatible with several platforms, including WordPress, Google Docs, and Grammarly. With the WordPress Outranking Plugin Integration, you can import and export content from the WordPress editor and see the SEO score in real-time. Outranking works wonderfully inside Google Docs, which is popular with publishing teams because of its ease of collaboration. Finally, the Grammarly compatibility lets you fix your grammatical errors right in the Outranking editor. With all the integrations, you can optimize your content without changing up your entire workflow.
Collaboration:
It comes with several collaboration features. You can give people view or edit access depending on user role. You can add user email and share documents from within the editor.
Content brief
If you're working with external writers, you can create content briefs based on what's currently ranked in search results. You can decide how much information to include in the content brief.
Outranking pricing
There is a free tier with two free SEO optimization. The $49 monthly subscription comes with ten documents, the $99 monthly subscription comes with 30 documents, and the $199 monthly subscription comes with 100 documents. All subscription plans include unlimited access to AI content writing(fair usage).
Try Outranking if you're looking for a writing tool that gives you actionable insights and helps you write content that brings in higher organic traffic.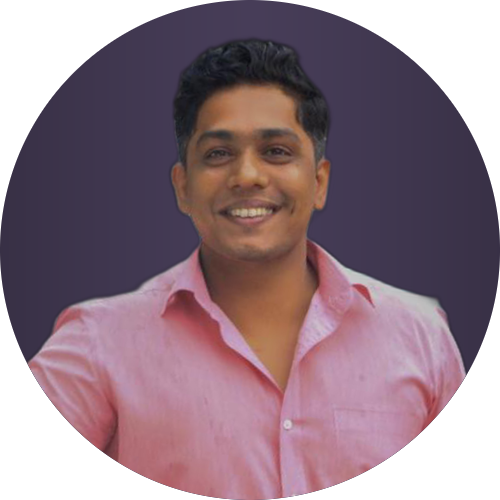 Vivek Mathew
(aka The Mindful Marketer, aka the guy who rocks a pink shirt 😄)
I'm a content consultant who helps small businesses become iconic brands by clarifying their brand message and creating strategic content. I've worked with brands like EY, Natwest, and some early-stage startups like Vivartah.

Click the button below and book a call with me.