AI Social Media Post Generators: A Lifeline for Busy Entrepreneurs Juggling a Million Things and a Half
Affiliate Disclosure: This post may have affiliate links, which means I get a commission if you buy using my link — at no extra cost to you. I never recommend products I haven't tried and found helpful. (You have ChatGPT for that.)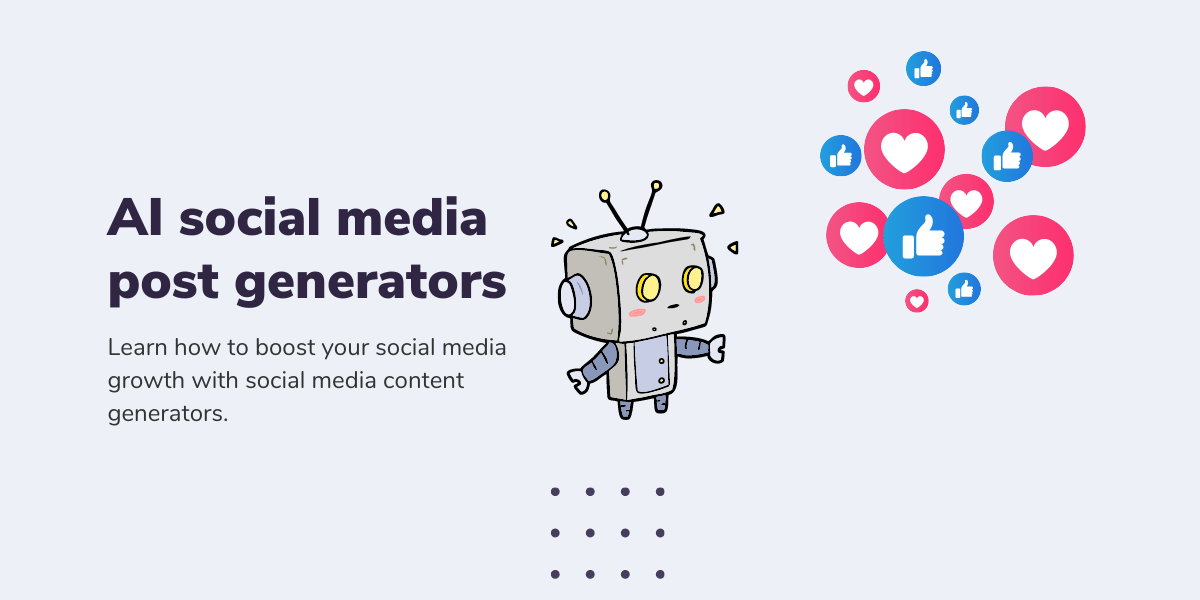 One of the weirdest (and hardest) things about social media marketing is the paradox of feeling exhausted from the pressure of posting content AND being addicted to the dopamine rush of getting likes and comments.
A lot of small business owners shy away from posting on social media for this exact reason.
And I get it. Most of us didn't sign up to deal with this stress.
It's draining to come up with creative content ideas constantly. Plus, you've got to deal with the crippling imposter syndrome. (Hello, voices in my head.)
Thankfully, AI social media post generators exist for people like us who aren't wired to be natural social media influencers. I've compiled a list of these tools to help you build your clout without sacrificing your sleep or sanity.
I know some of you folks already have a social media content scheduler, and some of you need an all-in-one tool.
So I've covered AI social media content generators created exclusively for generating social media content. And I've covered all-in-one tools that will help you create, schedule, and post your content to your favorite social media platforms.
AI social media content generators, aka the purebreds
Jasper AI
Jasper is probably the most versatile AI content generator out of all the tools I've tried. And I've tried a lot.
Like most AI writers available today, Jasper uses GPT-3 technology (a language prediction model developed by OpenAI, an artificial intelligence research lab) to generate text. AI content generators based on this tech can help you break through creative blocks and churn out content up to 10X faster.
Jasper's intuitive user interface, built-in templates, and ability to read and write in 25 languages, including English, Spanish, Japanese, and Portuguese, make this tool extremely easy to use.
Here are the social media templates in Jasper AI:
Personal LinkedIn post
Tweet machine
Personal bio
Engaging questions
Quora answers
TikTok video captions
Pinterest pins and titles
Creative stories
Instagram photo captions
Video Script Outline
Video Script Hook and Introduction
Video Titles
Video Topic Ideas
Video description
One of the main advantages of Jasper is contextual writing. Unlike other AI writing assistants, it considers your previous text, so your generated text will be more cohesive. So whether you want to write shorter social media posts like Tweets or longer posts like LinkedIn posts, Jasper is a great choice. Jasper's Chrome extension accepts freestyle commands, so you get to tap into that flexibility inside any app you use — be it your SEO tools like Frase or writing tools like Google Docs. Jasper also supports AI art using Open AI's Dalle API. You can read more about it in my Jasper AI review post.
Cons
I've seen some people complain about billing issues. Jasper calculates charges per word, so if you exceed the limit, you might be upgraded to the next tier. Be mindful of that, and figure out how the billing works before you go crazy with the AI text generation. Also, Jasper is not the cheapest option available. Jasper doesn't allow you to build DIY AI writing templates using your training data, so if you're looking for very specific results, this tool might not be for you.
Pros
While Jasper's not the cheapest AI writer, I'd argue it's one of the best in the market because of its flexibility and the community behind it. So if you're comfortable with the price tag, Jasper is worth checking out. Jasper has a ton of integrations that make it super easy to use, including Grammarly, a grammar checker; Copyscape, a plagiarism checker; and Surfer SEO, an SEO tool. Another huge plus is the AI art generation feature. You can generate creative visuals to accompany your content using this feature.
Pricing and recommended tier
The lowest plan starts at $24 (annual payment) with five user seats and 20K words, but I strongly recommend the boss mode, which starts at $49 (annual payment) for 50K words. If you're not on the boss mode plan, I'd suggest other tools on the list since you lose a lot of flexibility.
Copy.AI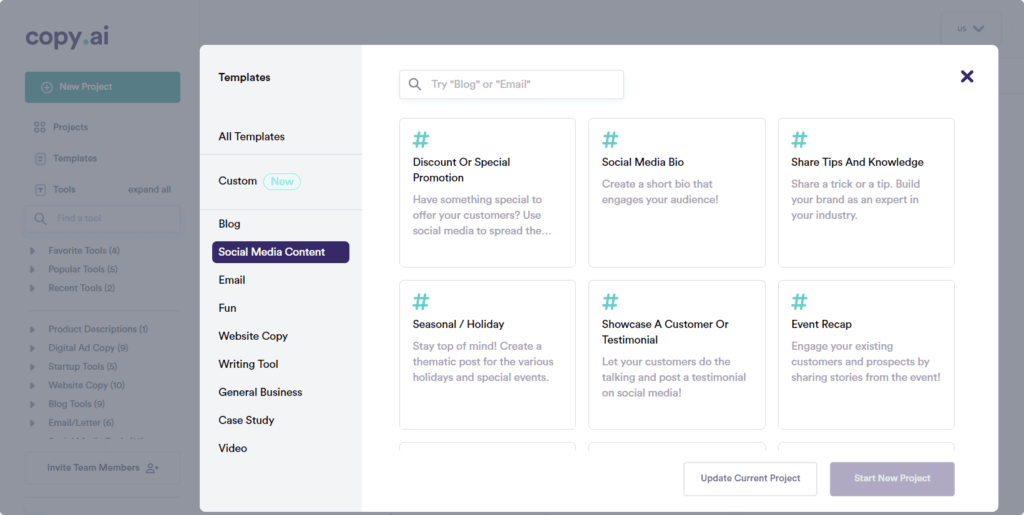 Copy AI is another great AI copywriting software, very similar to Jasper AI. Copy.AI also uses the same NLG technology that Jasper uses to generate content. When I compared the output from Copy AI and Jasper AI, I found them to be very similar. They both generate high-quality content. When I say quality content, I don't mean fire-your-writers-good; I just mean it's great for brainstorming and as a creative companion. AI writers won't replace good writers, in my opinion. Read my Copy AI review for a full analysis.
Here are the social media templates Copy AI offers:
Add Emoji To List
Bullet Points
Carousel Post
Crazy Youtube Ideas
Hashtag Generator
Hook Generator
Instagram Captions
Instagram Product Showcase
Keyword Generator
Launch Your Product
Relatable Experiences
Short Text Hook
TikTok Brainstorm Topics
Video Call To Action
YouTube Description Intro
YouTube Video Title
Cons
Since I called out Jasper's pricing as a con, I guess it's only fair to mention that for Copy.ai because the pricing is very similar. Also, like Jasper, Copy.ai doesn't allow you to train your models with your own training data. Although it might be subjective, Copy AI's interface feels a little wonky compared to Jasper's.
Pros
The strength of Copy AI is in short-form content, which makes it a perfect AI content generator for writing social media content. It does have a free-style template that allows a fair amount of flexibility, but the blog post-writing workflow feels a bit like an afterthought.
Pricing
Copy.ai has a limited free tier with 2000 words per month. While it doesn't give access to the blog wizard and some of the newest features, it works very well if you want to test the tool. After that, it's $36 per month (paid annually) for 40K words. Price increases based on the number of words you want per month.
Peppertype (not recommended due to lack of updates)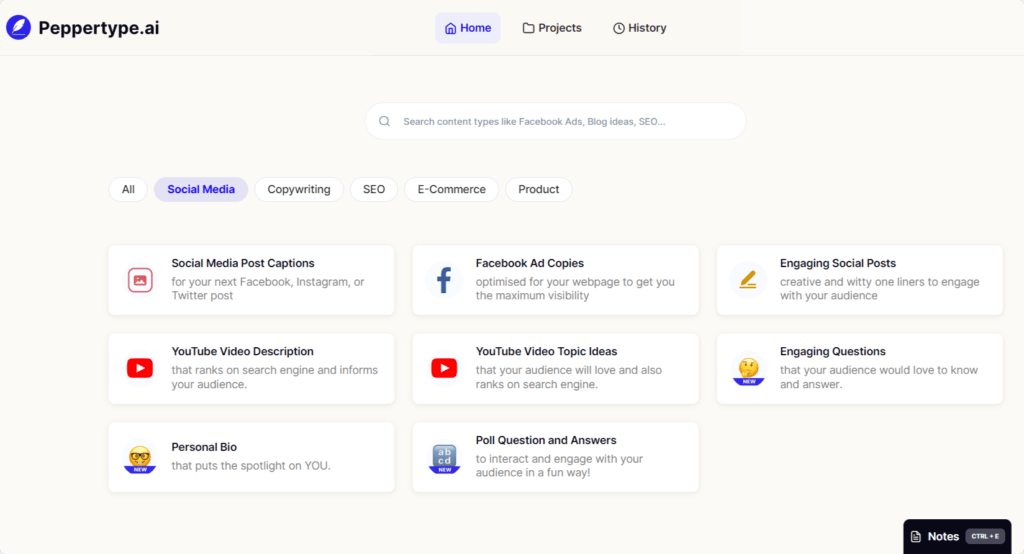 Now, this might be the cheapest tool on this list. Launched by the content writing company Pepper Content, I had high hopes for this tool. Unfortunately, I've seen very little development since it launched, and the product is a bit light on features. With the AI space and competitors like Jasper.ai and Copy.ai developing so rapidly, I'm not sure Peppertype will be able to keep up. A shame, considering the output quality is excellent for the price.
Cons
The main downside of Peppertype is the lack of features and integrations. There's no way to integrate Peppertype with other tools, and the templates are very basic. Don't sign up for Peppertype if you're looking for a lot of flexibility.
Pros
The main advantage of Peppertype is the price and the quality of the output. At $25 per month (paid annually) for 50,000 words and one user seat, it's one of the most affordable AI copywriting tools on this list. For that reason alone, it's worth considering. Although only a few templates are available, the output quality is decent.
Pricing
Peppertype is $25 per month (paid annually) for 50,000 words and one user seat. If you need more users, it's $25 for each additional seat. They also have a team plan that starts at $165 for five user seats and comes with access to collaboration features.
AI content generator + social media manager, aka the crossbreeds
Ocoya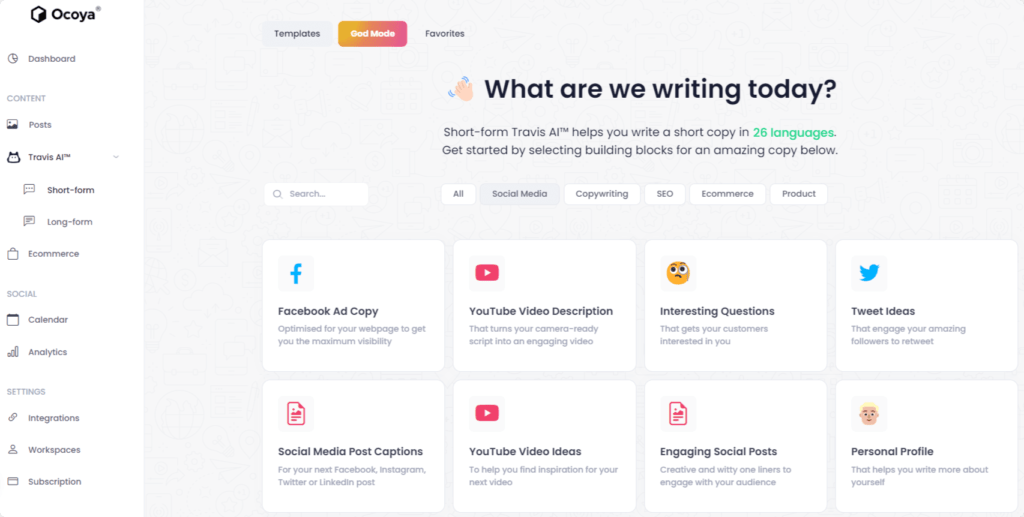 Ocoya is one of those rare all-in-one content marketing tools. You can generate images, captions, and scroll-stopping videos for your social posts. You can use the built-in editor or import images from your Canva account.
Ocoya has a one-click background remover, which works very well for e-commerce companies. You can even import your product list directly from Amazon, eBay, Etsy, Woocommerce, and Shopify to generate posts directly.
It gives you access to their vast royalty-free video library. You can pick a video and add a track from their licensed music library to design short-form videos for your TikTok or Instagram story. Ocoya's AI algorithm analyzes your social post and suggests the best hashtags to get you the maximum eyeballs. It also has a scheduler that analyzes past posts to suggest the best posting time to get maximum reach.
Also, Ocoya offers a shorter link called Jubb.ly, so you can shorten your links and track their performance. Ocoya integrates with Facebook, Instagram, Twitter, Linkedin, Buffer, and Hootsuite, allowing you to manage all your social profiles from one app. It also supports Facebook and TikTok ad campaigns, so you don't have to log in to the business manager to set up your social media ad. You can also track the health and performance of your campaigns in Ocoya.
Travis AI™ in Ocoya uses natural language generation to write short-form copy. The AI writing assistant can produce text in 26 languages. It has pre-built templates for most use cases like social media posts, SEO, copywriting, e-commerce, and product descriptions. Ococya is currently working on a longer-form content writer aimed to help you write blog posts.
Pros
Ocoya has a lot of features. It's great that you can generate, edit, schedule, and analyze posts for all your social media channels from one app. The built-in video editor is convenient, and the ability to add licensed music tracks is a nice touch. The link shortener and social calendar are also useful features. The e-commerce feature is handy for companies that sell products online. Being able to import products from your online stores to generate different content types is a huge time saver.
Cons
Ocoya doesn't offer the same level of flexibility as tools that focus exclusively on AI content generation. But that could change when they release their long-form content generation tools.
Pricing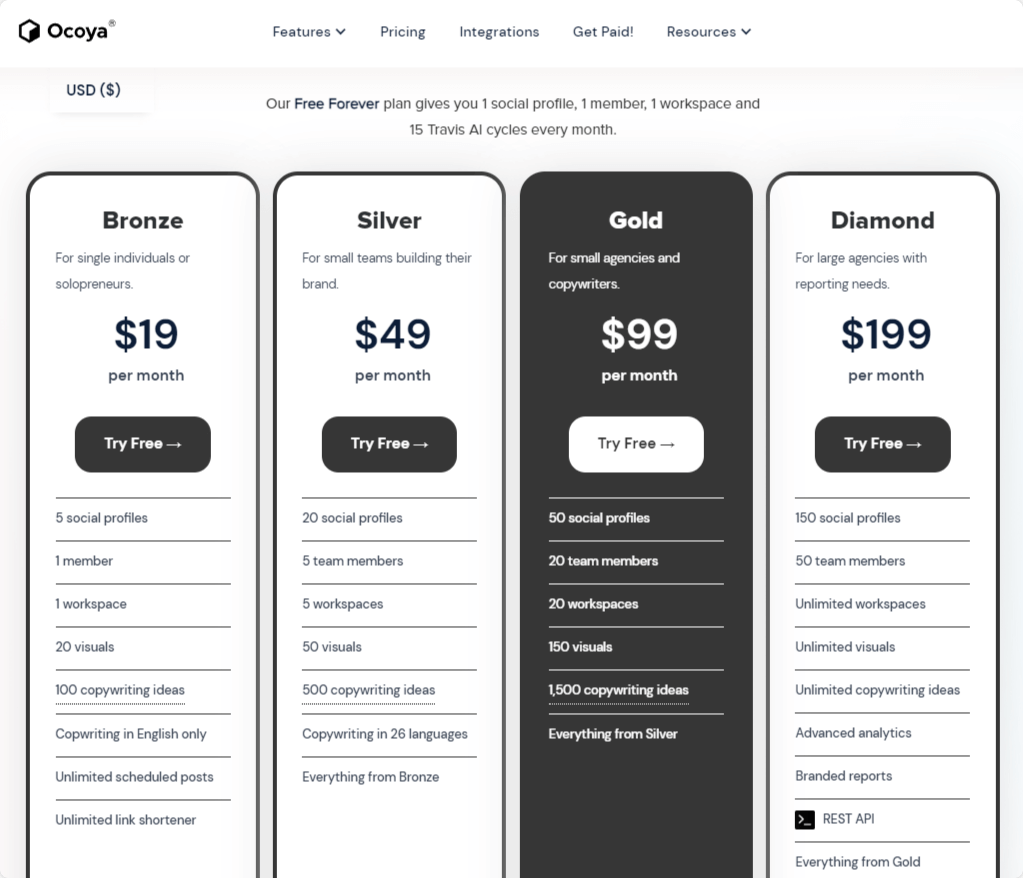 Ocoya has five pricing tiers, including a free forever plan that gives you one social profile and 15 copy generations. The lowest-paid plan, the bronze plan, starts at $19 with five social profiles, one member, 20 visuals, and 100 copy ideas in English. The number of social profiles, visuals, and copy generations increases with each tier. All plans from Silver onwards support copy generation in 26 languages. The top tier (diamond) gives you 150 social profiles, 50 team members, unlimited visuals, and unlimited copy generations, making the ideal plan for large agencies.
FeedHive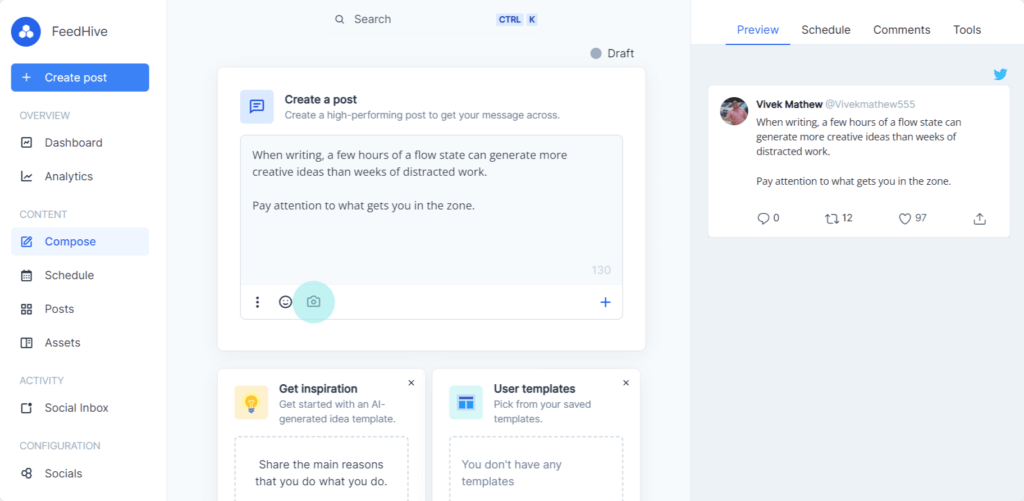 FeedHive is another cross between an AI content generation tool and a social media management tool. It offers a suite of features for managing your social media accounts, including an AI content generator.
FeedHive's AI has over 3,000 post ideas based on some of the best-performing posts on social for you to draw inspiration from. Pick a template, fill in the blanks, and you're ready to post. FeedHive's post-preview feature is super helpful and shows you how exactly the post appears in the feed. For Instagram, FeedHive even shows you the grid preview. The content recycling feature lets you reuse your best content to keep a steady flow of content.
Use FeedHive's powerful AI to generate relevant and trending hashtags for your posts. FeedHive's AI will help you predict the performance of your posts. Use this quality score to determine if your post is ready to be published.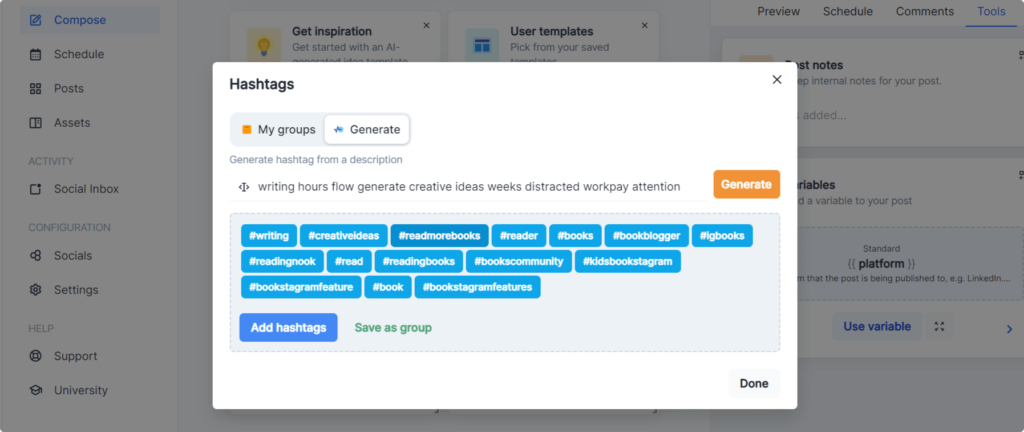 The analytics feature lets you see follower activity and post engagements, giving you a snapshot of useful, actionable data. It helps you understand what works and what doesn't.
The scheduling feature allows you to post content on the most popular platforms. You can even set up rule-based follow-up comments. So if one of your posts goes viral, you can automatically add a comment to channel people to your funnel. You can also auto-retweet and reuse well-performing posts.
FeedHive's AI analyzes your post engagement to recommend the best time for you to post. You also get the channel performance report to identify your best social channels so you can double down on what's working for you.
The collaborative features are good. You get to invite your manager or your client as an approver. You can also create separate workspaces for all your clients to keep their social profiles, calendars, posts, and analytics separate.
Pros
I like the social inbox feature. It's a great way to keep track of all the comments, replies, and mentions across your social channels. I also like that you can reply, like, or retweet directly from FeedHive. The roles and permissions feature is handy for agencies that need to get approval from their clients before posting. FeedHive also has its own link shortener, LinkDrip, that it uses to shorten and track links. LinkDrip is feature-rich with built-in analytics, A/B testing, CTA (Call To Action) overlays, and retargeting features.
Cons
FeedHive's post-inspiration tab suggests posts based on popular social media posts. But it doesn't give much information on how this is curated, which makes me wonder if I'll end up using someone else's social post.
The UI could use some improvement. For example, the hashtag generator seems isolated from the post generator, and you have to scroll through the inspirations tab hoping to find my use case. I'd also like the content and hashtag suggestions to be more data-driven. Right now, the recommendations have no numbers to back them up. One could easily assume they were randomly generated by their 'trust-me-bro' algorithm.
Pricing
FeedHive offers a free trial if you put in your card details. The lowest plan, which starts at $29 per month, doesn't give you access to features like the AI post-performance prediction, post-sharing feature for approvals, AI hashtag generation, variables feature for dynamic text generation, and account syncing. The lowest tier is also limited in other ways by restricted post history, limited access to templates, and so on. Higher plans give you access to most features, with the number of social profiles and posts being the main difference.
FAQs
What is an AI Social Media Post Generator?
A social media post generator is a tool that creates content for social media platforms. It can be used to generate posts, images, or videos. An AI social media post generator is simply a post generator that uses artificial intelligence to create social media posts.
Who benefits from these AI-based content creation tools?
Two types of entrepreneurs might find it helpful.
1) The idea engineers: people who are full of interesting ideas and love to share them with the world but struggle to articulate their thoughts.
2) The busy bigwigs: The bosses who can't find time to write their content, so it falls to the bottom of the to-do list.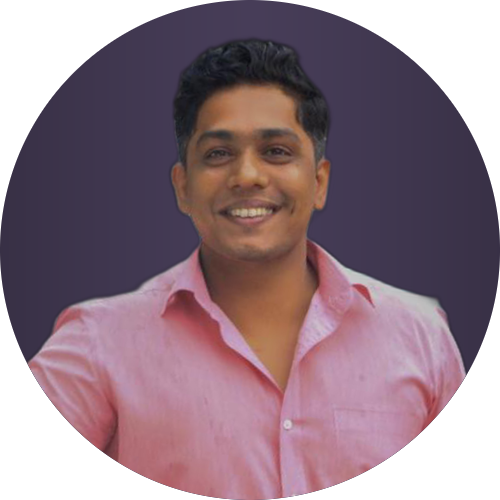 Vivek Mathew
(aka The Mindful Marketer, aka the guy who rocks a pink shirt 😄)
I'm a content consultant who helps small businesses become iconic brands by clarifying their brand message and creating strategic content. I've worked with brands like EY, Natwest, and some early-stage startups like Vivartah.

Click the button below and book a call with me.