Automated Content Generation: Tools, Tips, the Whole Shebang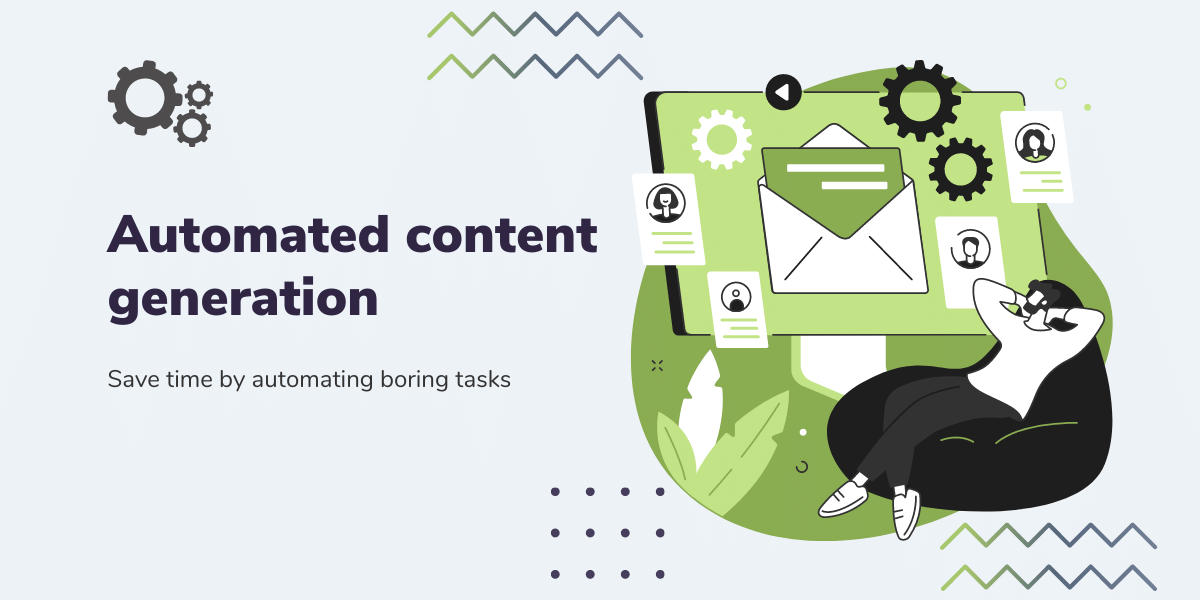 The consensus seems to be that every company should operate like a media company these days. But having a steady stream of content is tough — especially if you don't have a dedicated team of content creators. This post looks at automated content generation as a possible solution to your content marketing woes.
Most content writers neglect their marketing efforts to cater to their clients, proving the adage "the cobbler's children have no shoes."
And most business owners would rather wrestle a reindeer than write a blog post daily.
In most cases, the reluctance and procrastination are due to a lack of time or more pressing priorities. Content marketing automation is one way to get around this.
What is content automation?
Content automation is the process of using technology to generate content automatically. Using technologies like natural language generation (NLG) and natural language processing (NLP), you can rewrite, summarize, or develop new content from scratch. You can programmatically generate text, images, and even videos to automate your content marketing. The obvious risk associated with automated content is an inconsistent brand copy, so make sure you have measures to tackle that.
How to automate content creation
SEO keyword research
Keyword research is the process of finding words and phrases related to your business that people are searching for on Google. Manually pulling keywords to create a content strategy for your website can be a real pain in the caboose. But thankfully, there are AI-powered keyword research tools that can make the process a little easier.
Content curation
Content marketing is altruistic at its core. It's about giving before you get anything back. Curating valuable content is a double whammy because you share helpful information with your audience and build relationships with other thought leaders in your industry. Content curation is a type of content automation where you get articles from different sources and share them with your audience. Curation tools can automate this step and free up some of your time. You can find the best and most relevant content on auto-pilot.
Content Ideation
Having a shortfall of ideas is the worst nightmare for most creatives. Thinking of new ideas for blog posts, social media posts, or email subject lines can be a real headache when you're in a slump. AI copywriting tools can be your creative co-partner in brainstorming ideas for new content. Type in your topic, and the tool will generate a list of ideas for you.
Automated content writing
Automated content generation is a huge time-saver. But it comes with risks and hasn't reached a stage where you get ready-to-publish content without human intervention. But it can help you write the first draft of your content in a fraction of the time it would take you to do it manually. You can then revise and edit as needed. It takes you from topic to first draft with minimal input.
A lot of these automated content writing tools have in-built templates to write website copy, email marketing copy, social media posts, product descriptions, and more. You just have to plug in the information specific to your business and hit the 'generate' button.
AI summarization tools can quickly analyze a document and generate a concise summary. This type of content automation is excellent if you're short on time and need the gist of something.
Content intelligence
With content intelligence, you can get new content ideas and identify assets that bring in the most ROI. You can make data-driven decisions about the content you create, publish and promote. Content intelligence tools use AI to display the right call-to-action (CTA) based on user behavior and interest. These tools can save you the time you'd otherwise spend manually split testing, analyzing spreadsheets, and crunching numbers.
Tools that automate content intelligence is very commonly used in SEO to understand patterns across search engine results page (SERPs) to help strategize content.
Content distribution
Now that you've created all this fantastic content, you need to get it out there. There are several AI-powered email marketing tools that can help you find and connect with the right influencers and even send personalized emails.
You can use AI content distribution tools to target your ideal customers on various marketing channels and find a winning combination of headlines, images, CTAs, and ad copy. The algorithm will also optimize your ad spending to get the most out of your budget.
AI-powered social media automation
You're missing out if you're not using content marketing automation to bolster your social media marketing. For example, AI can learn from engagement data to help you create social media content that is more likely to engage your audience. So this means more likes, comments, and shares. You can also repurpose long-form content into bite-sized snappy content perfect for social media.
The final step in automating your social media content creation is to schedule your content. Once you've written and edited your post, you can automatically publish it to various social media platforms. You don't have to be glued to your phone or computer to ensure your content goes out on time. Just set it and forget it.
Video creation
Anyone who's ever made a video knows it's time-consuming and frustrating. Hundreds of little details go into making a great video. First, you have to come up with an idea. Then you have to film the footage and edit it all together. And if you want your video to look professional, you usually have to hire someone to do it. Video tools with artificial intelligence built into their engine make it a bit easier.
AI-driven video creation tools can automatically generate videos that are both creative and professional looking. Simply type in your script, and the software will create a video based on it. You can also upload images, videos, and audio files, which the software will edit and stitch together using artificial intelligence algorithms into a cohesive video. The possibilities are endless. You can create product demo videos, how-to videos, promotional videos, and more with video content automation. Some video tools can even auto-generate avatars and talking heads, so you don't need to be in the video yourself.
Automated content creation tools
Here are some of my favorite digital marketing tools for automated content creation:
Jasper AI – for marketing copywriting
Jasper AI is a copywriting tool that writes marketing copy for you. All you need to do is input what kind of copy you need, and it will generate it for you. You can also specify the style, tone, and voice. I recommend Jasper as a content automation tool if you need help writing ad copy, email subject lines or website content.
Frase – for automated insight and SEO writing
Frase is an SEO content writing tool that analyzes your topic and writes SEO-friendly content for you. It also gives you insights based on what is already ranking on Google. You can also generate automated content briefs for your team. Frase is an excellent tool if you want to automate on-page SEO optimization.
Topicmojo – for topic ideation
Topicmojo is a content research tool that gets you questions, social media content, Youtube videos, and search engine results related to your topic. No need to manually search through different channels and platforms for content ideas. Topicmojo will curate it for you. It gives you a 360-degree view of the web landscape on your topic. This kind of information is valuable when formulating your content strategy.
Descript – for automatic audio and video generation
Descript is a full-fledged video and audio editing tool with features like transcription, screen recording, and text-to-speech — all bolstered by a powerful AI engine. The text-to-speech feature can mimic your voice or choose one from their library of ultra-realistic stock voices. Descript has features that make podcast creation a snap. You can even create a clone of your voice and add words by simply typing new text.
Lately.ai – for social media automation
Lately is an AI tool for social media management. It lets you automate your social media content. Lately's algorithm curates a selection of words that perform well for your brand. Whenever you use Lately to repurpose your video, audio, or text, Lately automatically includes those high-performing words in your post to maximize engagement. Lately is always learning, so you can be confident that your content is always optimized for maximum engagement.
inPowered for content intelligence – for content distribution and content intelligence
InPowered is a tool that can help with content distribution and content intelligence. You can use it to target the right users on your website with your best content and find cost-effective audiences across paid channels. The content intelligence feature identifies and presents your most relevant content according to your website visitors' preferences for the best outcome.
The content distribution feature picks the winning combination of headlines, photos, audience interests, profile information, and devices to get the best outcome at the lowest cost. InPowered can help you increase the time on site, increase sign-ups, drive engagement, and bring in relevant traffic.
Benefits of automated content generation
AI content creation can help you save time on repetitive tasks.
If you find yourself doing the same thing repeatedly, chances are there's a way to automate that task. For example, writing meta descriptions or product descriptions in bulk is a soul-sucking task you can easily automate. This may seem like a small time saver, but it can add up when you're doing it for dozens or even hundreds of pieces of content.
Automated content creation can help you increase your productivity.
By automating repetitive tasks and freeing up your time for more complex writing tasks, you can be more productive by focusing your energy on strategic tasks.
Automated content creation can help you scale your content production.
If you're running a one-person show, there are only so many hours in the day (and so many blog posts you can write). But if you're using automated content creation tools, you can scale the amount of content because automated content generation tools don't get tired and don't need breaks. All they need is a little input from you to get started.
Save money
Another benefit of automated content generation is that it can help you save money. While you can't replace your writers, semi-automating the process can help you reduce costs and free up your budget for other areas of your business.
Conclusion:
As a busy entrepreneur with a small team, investing in an automated content generation tool can free up your time to focus on other aspects of your business. So do your research to find the right tool for your business needs, and start reaping the benefits of AI content generation.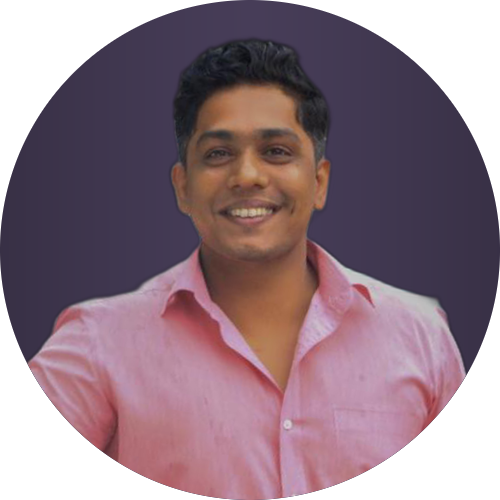 Vivek Mathew
(aka The Mindful Marketer, aka the guy who rocks a pink shirt 😄)
I'm a content consultant who helps small businesses become iconic brands by clarifying their brand message and creating strategic content. I've worked with brands like EY, Natwest, and some early-stage startups like Vivartah.

Click the button below and book a call with me.