Best AI Copywriting Software for Copywriters and Marketers
Affiliate Disclosure: This post may have affiliate links, which means I get a commission if you buy using my link — at no extra cost to you. I never recommend products I haven't tried and found helpful. (You have ChatGPT for that.)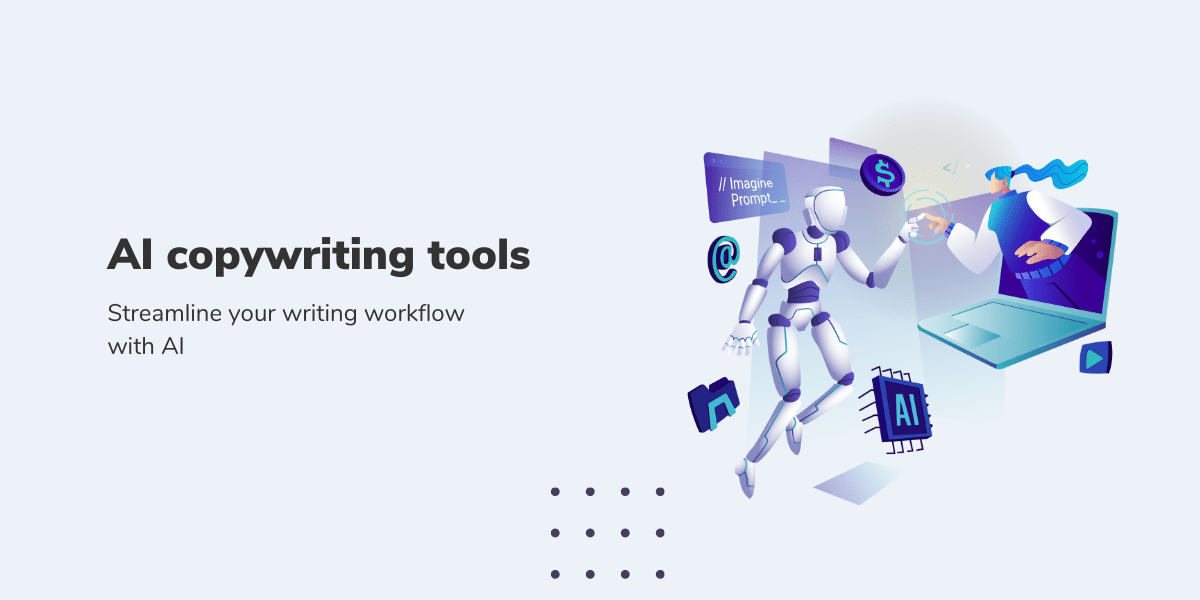 This post is for you if you're looking for the best copywriting software. For the past several months, I've been thoroughly testing several AI-powered copywriting tools available in the market.
It's no secret that the rise of AI has changed the way businesses approach brand copywriting and content marketing. The biggest game-changer is undoubtedly the commercialization of AI copywriting software. It helped agencies and brands replicate the work of professional writers at a fraction of the cost. AI can help you do more with a smaller budget, making it easier to execute your content marketing strategy.
While none of these tools can replace writers, they can help you brainstorm, avoid writer's block, and create content faster.
Best AI copywriting tools
While you can't expect these AI article writers to create an entire article or sales page in one go, it can help speed up your workflow, even if you're a professional copywriter.
The best all-in-one AI writing tool is Jasper AI because of its sheer flexibility in Boss Mode. You can use it for copywriting and long-form content writing.
If you're looking for the best AI copywriter with the most affordable price tag, go with Rytr.
If you're looking for an AI writing assistant with the best copywriting frameworks, go with Copy AI.
For all the e-commerce owners, I'd recommend Copysmith AI because of their Shopify and Google ads integrations.
Best AI copywriting software for local SEO: Zimmwriter
What is AI copywriting?
AI copywriting uses AI technology to generate content automatically based on user inputs. It works best when you use it to create text in small chunks by providing proper context and guidance. AI copy tools can craft all sorts of copy, from news articles to social media captions.
Best AI copywriting software
Here's a comparison table comparing various AI copywriting tools.
| | | | | | | | | |
| --- | --- | --- | --- | --- | --- | --- | --- | --- |
| | | | | | | | | |
| Jarvis AI (Conversion AI) | | | Paid copyscape integration | | | | | |
| | | | | | | | | |
| | | | | | | | | |
| | | | | | | | | |
| | | | | | | | | |
| | | | | GPT-3 + proprietary algorithm | | | | |
| | | | | | | | | |
Since the entry barrier is low, new AI writing tools keep popping up every day. So this isn't an exhaustive list of all AI copywriting software, just a whittled-down list of the best ones.
If you want to boost your SEO efforts using an AI-powered tool, read the articles below.
Jarvis AI copywriting tool (*rebranded to Jasper AI)
Conversion AI, recently rebranded as Jarvis AI (probably to play off on Iron Man's popularity), leads the AI copywriting software market. Shortly AI was the first AI copywriting tool to come out with a long-form editor, but Jarvis AI acquired them to become the best AI copywriting solution out there. I recommend it for content marketers and copywriters who can afford the price and want maximum flexibility to speed up their writing process. Read my Jasper AI analysis for a full analysis.
* Jarvis was rebranded to Jasper AI following a copyright violation notice from Marvel.
Stand-out features: 
Surfer SEO integration – If you're a long-form SEO content writer, you'll love this integration. For the ones getting started with SEO content editing and writing, Surfer is an on-page SEO tool that recommends keywords and topics you need to include in your article to make sure they rank on Google. You will need a paid Surfer SEO account to activate it in your Jarvis AI editor.
Grammarly integration – Jarvis comes with the free version of Grammarly so that you can pick up on the basic grammatical errors and punctuation mistakes.
Plagiarism checker – You have to be mindful of plagiarism with any AI writer because sometimes these tools repeat existing text. Even if it was unintentional, it could jeopardize your credibility if someone calls you out on it. You can use your paid Copyscape credits inside Jasper AI to check if you're writing original content.
Long-form content editor – Jarvis has a fantastic editor, which gives you a lot of flexibility. You can literally type in any command you want and run it in the editor. Most similar AI writing tools restrict you to pre-built templates, which might not suit your needs.
Recipes – A recipe is a series of AI writing commands that run one after another. For example, you can have a set of instructions for writing blog posts and a separate set of instructions for creating social media posts for your article. It's really surprising how few copywriting tools have this feature. It's a huge time saver if you're on a tight schedule. The best part? You can share your recipes with others, so there are many community-generated templates. Unfortunately, the recipe feature is only available in the premium plan.
3000-character look back – When you're in boss mode, you have the advantage of a longer context window. This means everything you write in the editor will be more cohesive, as the model can refer back to what you've previously written in earlier paragraphs. This adds a natural flow to your writing and makes it more coherent, enhancing the overall quality of your content.
The highest number of templates – With over 50 pre-built templates included, the AI copywriter offers one of the largest collections of AI templates.
Limitations:
Restricted topics – Open AI, the company that created GPT3 (the AI model Jarvis uses), restricts certain topics, so you won't get any results if you run the tool on these topics. The same goes for any tool that uses the GPT3 model.
Cost – The tool and output are great, but it's also pretty pricey. Plus, you'll need to upgrade to the top-tier 'Boss mode' to take full advantage of the tool.
No SEO recommendation for short-form copy – Short-form copy, such as product descriptions, is not SEO-guided unless written in the long-form editor.
No free trial – Jarvis offers a money-back guarantee but not a free trial.
Pricing:
Jarvis comes with two pricing tiers. The starter plan, priced at $29, gives you unlimited users and unlimited projects, but you don't get access to the freestyle editor. This plan is perfect for creating copy for emails, Google and Facebook ads, or social media.
The boss mode is best for content writers who want to create long-form content that ranks in Google. The boss mode used to be unlimited, but now both plans are based on how many characters you write per month. Annual plans give you two months free.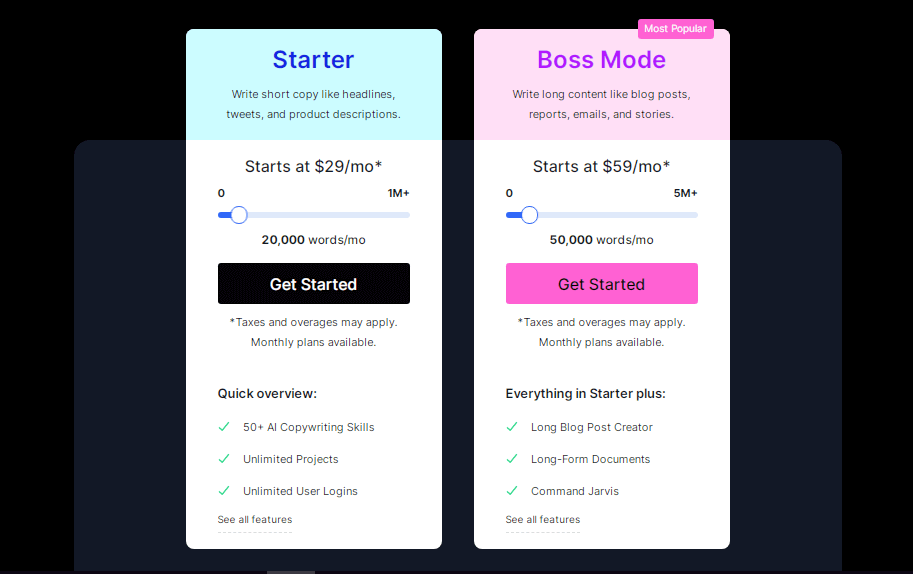 Best use cases: Blog posts, Social media posts, Video marketing, SEO content, marketing copy, Website copy, Facebook, and Google ads.
Content types: There are a ton of templates categorized under frameworks, email, website, blog, ads, eCommerce, social media, SEO, Google, and video.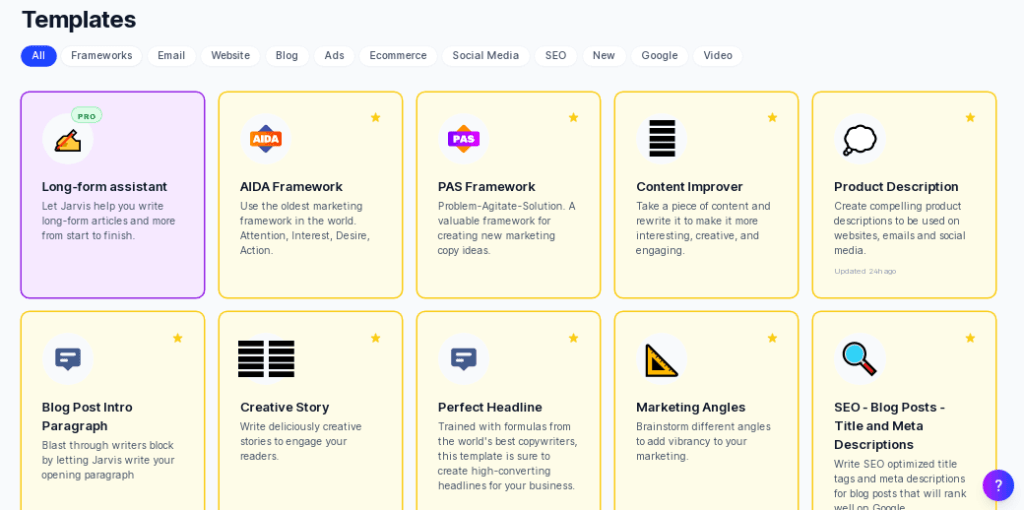 Best fit for content writers, copywriters, social media marketers, entrepreneurs, and marketing teams.
Copysmith AI
Copysmith is another AI software for copywriting that offers some of the best integrations.
Stand-out features:
Frase integration – Frase is an SEO tool that uses natural language processing to suggest topics and keywords for your content. Copysmith has direct integration with Frase. So even short-form copy like product descriptions will be SEO optimized.
Google Ads integration – Copysmith's Google Ads integration is a game-changer for marketers. The ads integration is a fast and easy way to generate ads that will bring in more customers for your business. You can easily create conversion-optimized ad copy in just a few clicks.
Shopify integration – Thanks to the Shopify integration, product descriptions can be updated from your Copysmith workspace in real time. You don't have to copy-paste between the two applications anymore.
Chrome extension – With Copysmith Chrome extensions, you can create content anywhere and anytime. The Chrome extension lets you select text from any website and rewrite it without logging in to your Copysmith account.
Plagiarism checks – Copysmith has a built-in plagiarism checker included in the subscription.
Ali's Expertise – Ali AI is an AI engine trained on certain topics. Copysmith describes it as having a personal proofreader and a subject matter expert. Most GPT3 tools struggle to write about incidents after 2019 because Open AI trained their algorithm using data up to 2019. Using Ali becomes useful here because it's trained on topics like the COVID-19 pandemic, which happened post-2019.
Multiple languages – Copysmith can produce content in 60-plus languages.
Pricing:
Copysmith offers a limited starter plan with only 50 credits, which is practically useless if you have an active content team. The professional plan comes with unlimited credits but lacks team features. The team plan unlocks all the features.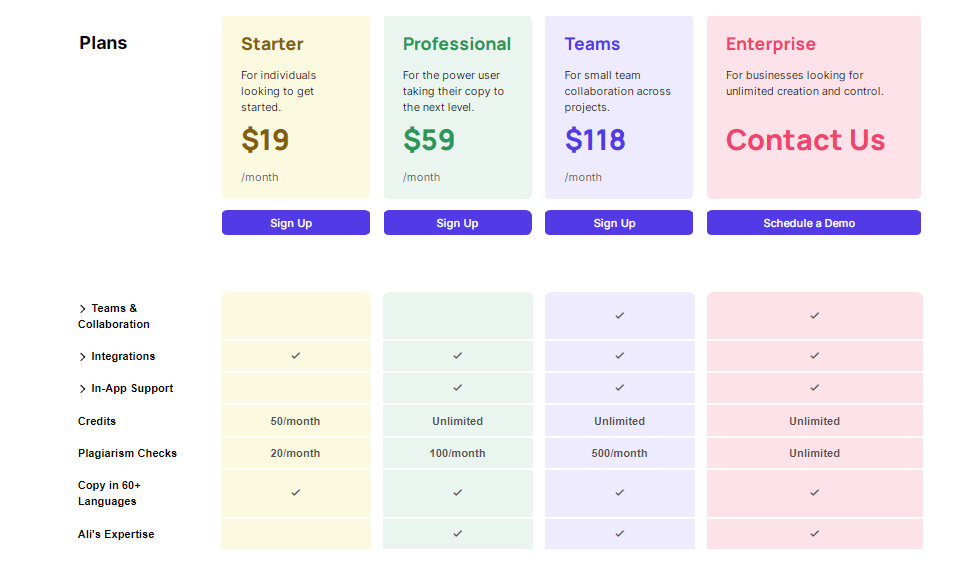 Start your free trial today.
Limitations:
Limited topic coverage – Like Jarvis, Copysmith also runs on GPT3 technology, so the same limitations apply.
Bad long-form content output – Copysmith offers a blog post generator, but the AI writing output is rarely helpful. While you can choose the sections of your blog post, the output is not as cohesive as I'd like. Hopefully, the team will improve this in the future.
No free-form editor – Copysmith has a blog generator, but it doesn't have a freestyle editor like Jarvis AI.
Limited templates – While Copysmith has most of the popular templates and some unique ones related to branding, it has fewer templates than Jarvis AI.
Best use cases: Social media posts, e-commerce, Website copy, Facebook, and Google ads.
Best fit for eCommerce site owners, copywriters, entrepreneurs, and general marketers.
Copy AI
Copy AI is an AI writing software with a strong foundation in copywriting frameworks. They offer various templates to help you quickly create your content. Read my Copy AI analysis for a full analysis.
Standout features:
Multi-languages: – Translate into 25+ languages
Trained on copywriting framework – Copy AI is a tool designed for copywriters, so the pre-built templates were trained on copywriting templates.
Copywriting frameworks – Copy AI has more copywriting frameworks than other tools. QUEST, Problem-Promise-Proof-Proposal, and Feature-Advantage-Benefits are a few of the unique copy frameworks. There are also personal tools, such as a resume writer, a cover letter generator, and a Clubhouse bio generator.
Cost-effective – The pricing is very competitive.
Limitations:
No SEO focus – It doesn't focus too much on the SEO aspect with its templates. For example, most copywriting tools allow you to input a keyword when generating the content, but Copy AI doesn't give you this option.
A limited selection of tone of voice – You can only choose from a pre-built list of tones.
Only short copy – It's not suitable for longer pieces of content such as blogs, eBooks, or white papers.
Pricing:
Copy AI has a solo plan, which gives you unlimited runs and access to all the tools, and a custom plan if you need team and collaboration features.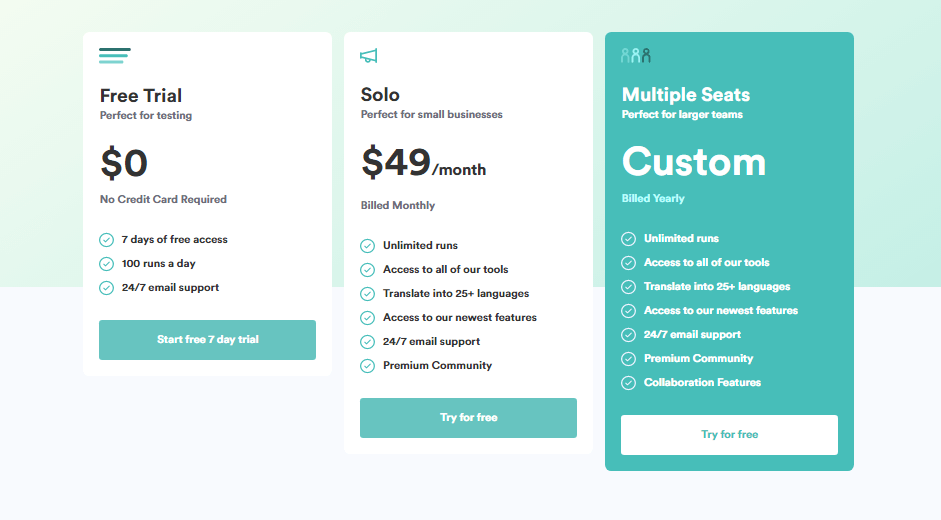 Best use cases: Sales copy, Landing pages, Email series, Social media posts, marketing copy, Website copy, Facebook and Google ad copy.
Content types: Copy AI has one of the largest collections of AI content types.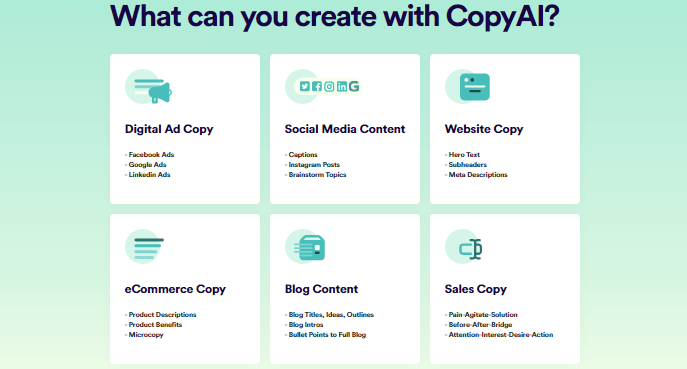 Best fit for copywriters, social media marketers, email marketers, entrepreneurs, and general marketers.
Zimmwriter AI
There are plenty of AI copywriting tools. Yet none of them focus on one crucial part of online marketing: local SEO. Thankfully, Zimmwriter recognized this need and addressed it effectively.
As someone who understands the pain of manually creating location and service pages, especially for large businesses serving a large area, I really appreciate Zimmwriter. It simplifies the process. What used to take weeks can now be done in a matter of clicks — all without sacrificing output quality.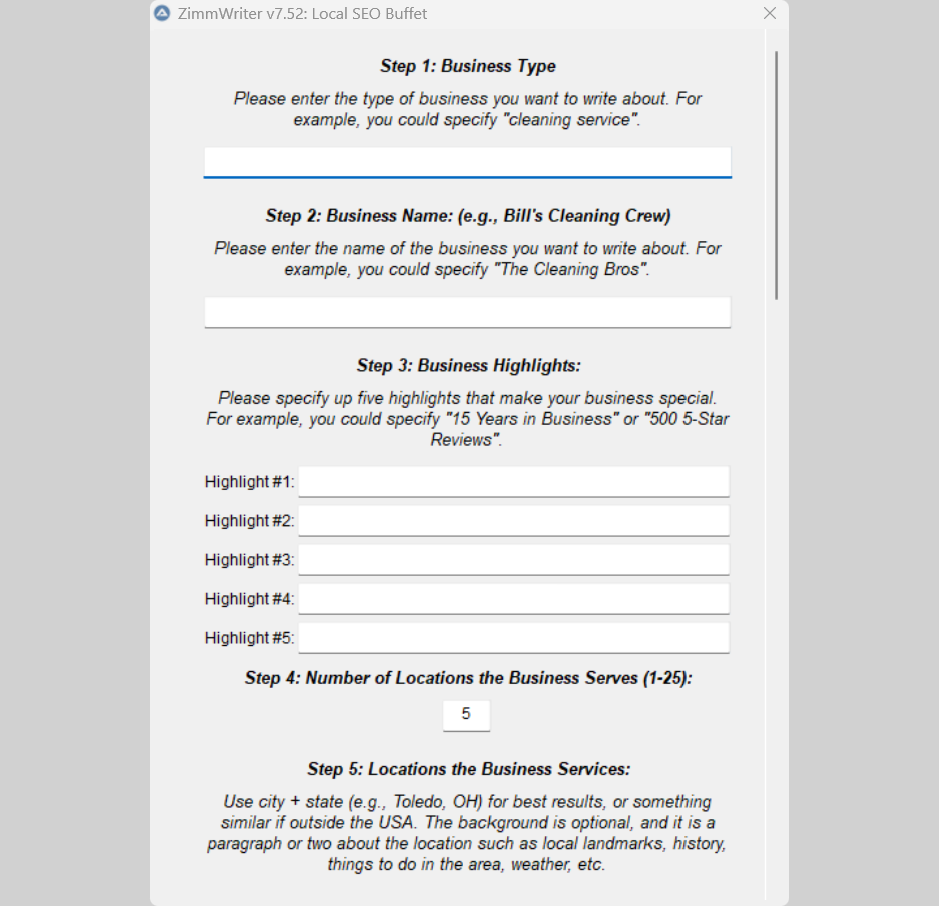 Zimmwriter is not a one-trick pony. I called out the local SEO features because that's my favorite feature. I've covered all the features in my Zimmwriter review article.
I'm not a fan (actually, quite against it) of one-click article generation and bulk blog post generation. But, credit where it's due, Zimmwriter does a pretty good job at it. So if you're planning to write articles in bulk, you might as well do it right. I've also recently thought of some instances where bulk generation might come in handy. A good example is to run SEO tests.
It also offers SEO blog post creation with a lot of flexibility. You can specify things like section length, perspective, tone, your audience type, and even mimic a specific personality. You can even choose whether to use lists, FAQs, literary devices, and more.
Zimmwriter is probably the only desktop AI application out there. This can be a benefit or a downside, depending on your preferences. As a desktop app, it works everywhere, including Notepad, Word, Notion Desktop, and similar apps where browser-based apps fail. Other benefits include the ability to run the application in the background, more privacy, and lower costs.
The downside, however, is that you can't get the same level of integration with other software. And you'll have to manually update the application when a new version comes out. The AI-generated text is stored in your local folder, so you'll have to manually move it to another editor to format it.
Clearly, Matt Zimmerman, Zimmwriter's founder, has put a lot of work into fine-tuning the Open model, which is evident in the output. The content is well-structured and natural. I like that you get the software for life with a one-time payment, unlike other AI writing tools that charge monthly.
Peppertype copywriting AI software (not recommended due to lack of updates)
Among all the AI copywriting tools I tried, Peppertype was the one that consistently gave me quality content. But it has many limitations compared to the other tools. The main drawback is that it is difficult to create sales pages and long-form content unless you're willing to stitch together short paragraphs. It's a good tool if you need help with social media content and short-form content. They offer custom-trained AI and quality checks by human copywriters on their enterprise plan.
Standout features:
Consistent results – While Peppertype doesn't have many integrations, it produces high-quality content consistently.
Unlimited content generation – On the base plan, you get unlimited content generation, but you don't get team collaboration features.
Any tone of voice – You don't have to use pre-defined tones. You can type in any tone you want.
Cons:
No integrations – There aren't many integrations.
No editor – It doesn't have a free-form editor for AI writing. If you need to write blog posts, you have to create several short versions using the sentence expander and then tie it all together.
Short copy – Almost all templates generate short-form copy.
GPT3 limitations – Peppertype uses the same Open AI API as the other tools we've discussed so far, so the same restrictions apply.
Best use cases: Social media posts, Website copy, marketing copy, Facebook and Google ads.
Best fit for social media marketers, small businesses, copywriters, entrepreneurs, and general marketers.
Writesonic
Writesonic is a GPT-3-based AI writer that can create different types of content. Just choose the type of content you want and generate your copy.
Standout features:
4-Step Blog Generator – Writesonic has a 4-step blog generator that helps you write an engaging blog post. The AI article writer takes you through a workflow to generate your headline, introduction, article outline, and final draft.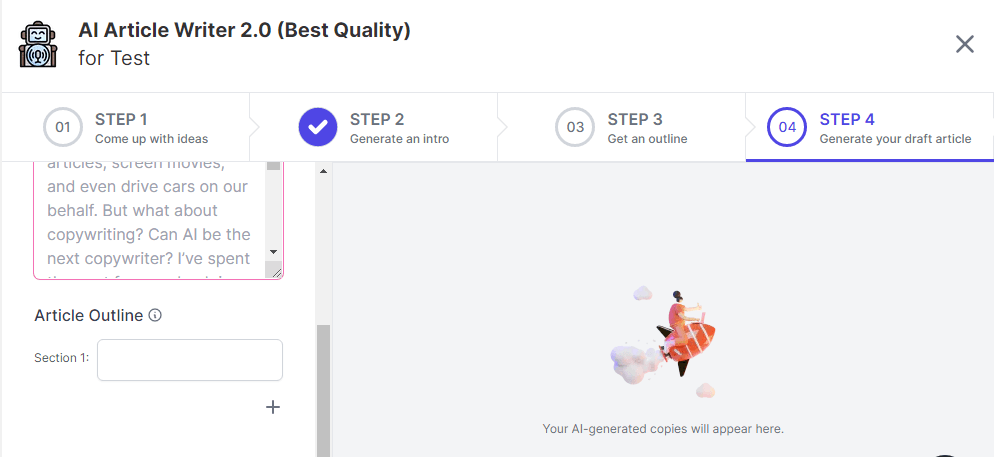 Multi-lingual content creator – 25 languages
Cost-effective – The price is very competitive compared to the others.
Limitations:
Inconsistent quality – Long-form content can be hit or miss, in my experience. While quality fluctuations can occur with any AI copywriting tool, Writersonic's long-form content was more inconsistent than others.
Limited generations – With inconsistent results, you'll burn through credits quickly. Most of the plans are capped, so it might not work for content teams producing high volumes.
Pricing:
Writesonic offers four different plans for $15, $45, $95, and $195. You get unlimited credits from the $45 plan onwards.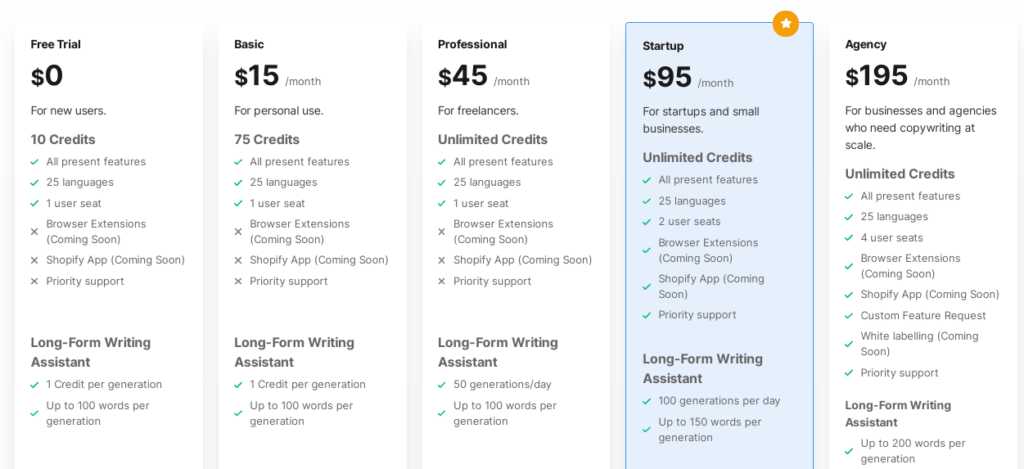 Best use cases: Social media posts, Blog articles, Website copy, Facebook, and Google ads.
Content types: Writesonic has several content types.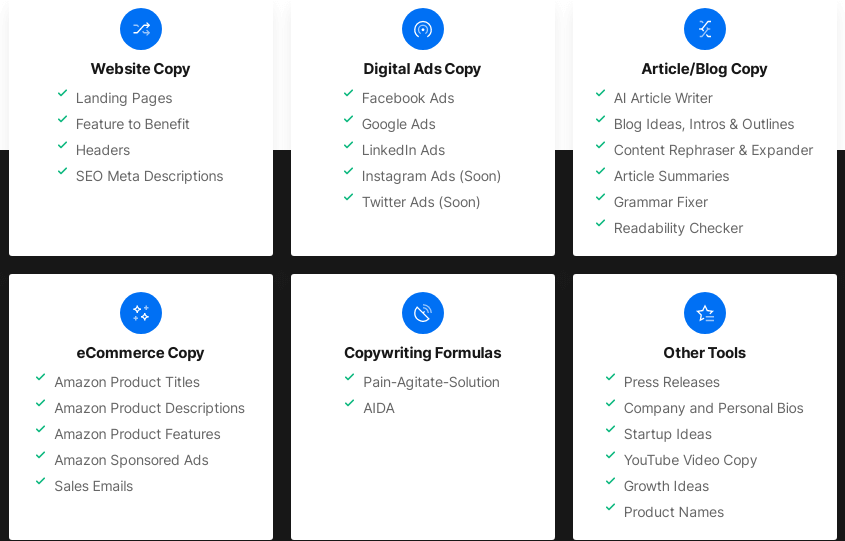 Best fit for social media marketers, copywriters, entrepreneurs, and general marketers.
Rytr
Rytr is an AI writing software that uses a combination of GPT-3 and a proprietary algorithm. It's best suited for content creators who are looking for unlimited content generation at a reasonable rate.
Standout features :
Cost-effective – With unlimited character generation at $29, Rytr has to be one of the most affordable AI writing software out there.
Great editor – Rytr's document editor is great for long-form writing, like blogs, articles, and essays. I love Ryter's UI.
Browser extension – Rytr's Chrome extension allows you to create content for email and social media on the go.
In-built plagiarism checker – Rytr has an inbuilt plagiarism checker that gives you real-time information on the originality of your content. So you don't have to pay for a third-party tool to check if the generated text is unique.
SEO-optimized content – With Rytr, you can create SEO-optimized content right out of the box. It is possible to define keywords even for sections so they appear in the AI-generated content.
AI copywriting software free tier – Rytr has a free plan that lets you create 5,000 characters a month.
Limitations:
Limited tones – You can only choose one of the pre-defined tones when generating your AI copy.
Limited templates – While they cover all the popular templates, it isn't as extensive as some other AI writing tools on this list.
Pricing
Rytr offers unlimited credits for just $29 per month. The annual plan comes with unlimited credits and two months free for $290.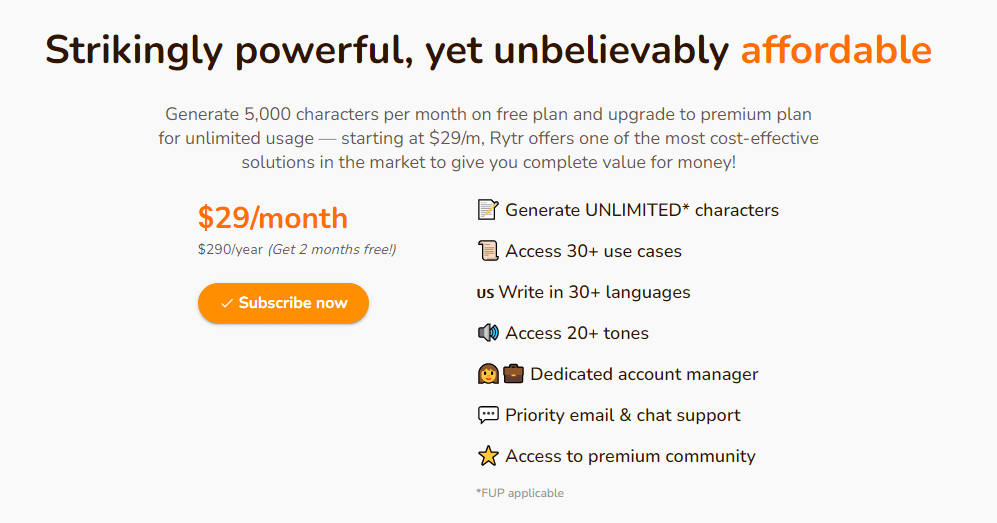 Best use cases: Social media posts, Sales email, Website copy, Blog articles, Marketing copy, Facebook and Google ads.
Best fit for social media marketers, copywriters, entrepreneurs, and general marketers.
Snazzy AI (Smart Copy)
Unbounce acquired Snazzy, an AI copywriting tool, and rebranded it as Smart Copy. It speeds up content creation. 
Stand-out features:
Profiles: Creating a profile lets you save details about your company or product, such as its name, description, and target audience. This way, you don't have to enter them every time. You can then use Smart Copy AI to generate content based on the information saved in your profile. It ensures that the content you generate matches your brand voice and tone.
Chrome extension: Using Snazzy's Smart Copy Chrome Extension, you can highlight text to write your following sentence, rewrite it, or expand it into a paragraph. You can use the extension with your email, Google Docs, or Grammarly.
Writer canvas: The Writer canvas in Smart Copy is a long-form writing tool that offers unlimited characters. With Writer, you can write, edit, and save content directly in the editor.
AI copywriting software with free tier: The AI content generator comes with a free level that allows five generations and one saved profile.
Limitations:
Limited languages – Only six languages (English, Spanish, Portuguese, Dutch, German, and French) are available in Smart Copy AI copywriter, which is low compared to other AI content generators we considered in this list.
Pricing:
Smart Copy has a $49 plan, which gives you unlimited AI content generation and unlimited profiles. Unbounce offers separate plans that combine their AI writing assistant with their landing pages.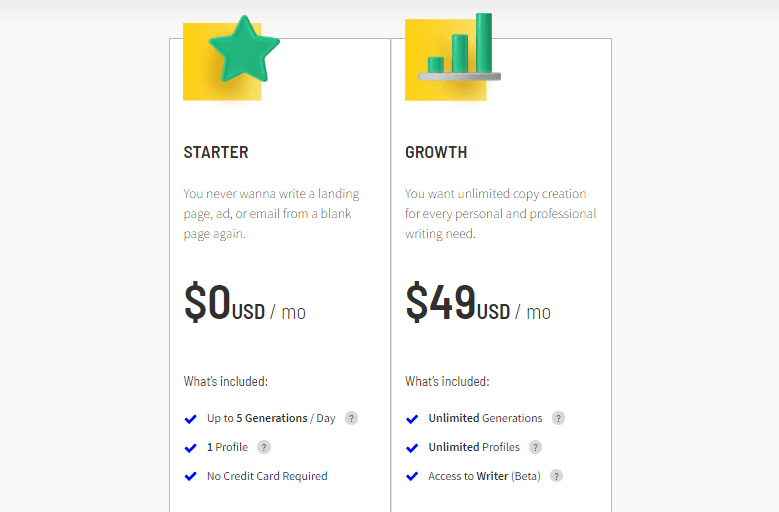 Best use cases: Blog posts, Social media posts, Website copy, Facebook, and Google ads.
Best fit for social media marketers, SEO content writers, copywriters, entrepreneurs, and general marketers.
Closerscopy (not recommended)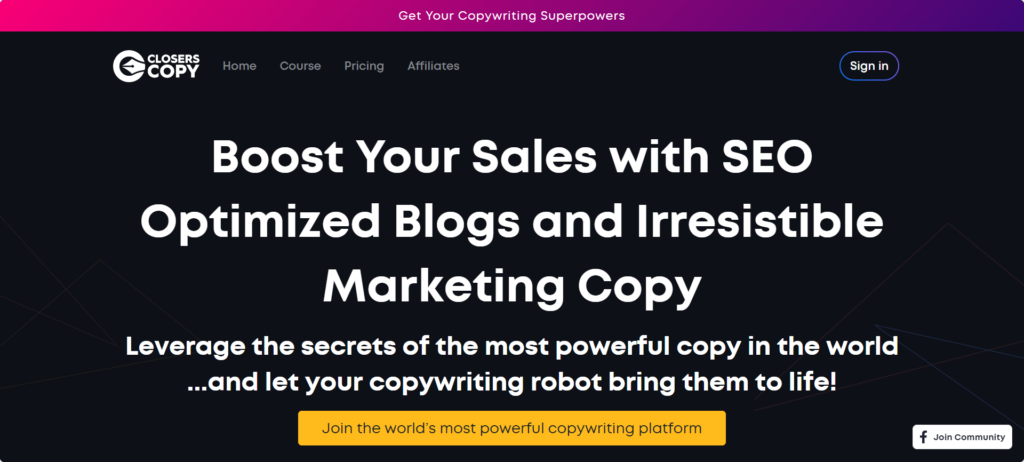 Closerscopy is an AI-driven copywriting tool that helps businesses write SEO-optimized blogs and marketing copy quickly and easily. The intuitive drag-and-drop builder makes it easy to mix and match headlines, create catchy titles, and write content posts in minutes. It has an easy-to-navigate interface and a one-click copy analysis feature that helps improve your content. It's easily adaptable to different niches.
In addition to offering a wide range of templates, the AI tool also has a feature to analyze your content's deliverability, which helps avoid spam filters.
With over 18000 copy examples, you're sure to find inspiration for your next project. These examples show you how to write copy for different niches and goals. So the next time you need to write a blog post, a sales letter, or a professional letter, you can start from one of these 18,000 examples instead of starting from scratch.
Another cool feature is Megatron. You type your search query, and Megatron suggests headings and subheadings based on your keyword. It then expands on the subheadings automatically to give you an entire blog post. The AI-driven content writing tool can help businesses save time writing SEO-optimized blogs. It also comes with a "compose tool," so you can write copy based on trending topics.
Plans and pricing
Closerscopy offers three plans: $49.99/month for 300 Al Runs, 50 SEO Audits, and two seats. $79/month for unlimited AI writing, unlimited SEO audits, unlimited updates, and three seats. $99.99/month with unlimited Al Writing, unlimited SEO Audits, unlimited updates, and five user seats.
Key advantages
It offers a wide variety of pre-built templates
One-click copy analysis feature
Megatron suggests and expands on headings and subheadings
Compose tool writes copy based on trending topics
Cons
Output was hit-or-miss. The results need a lot of editing before it's usable
There are several instances of plagiarism
It's pricey for the quality you get
Content Villain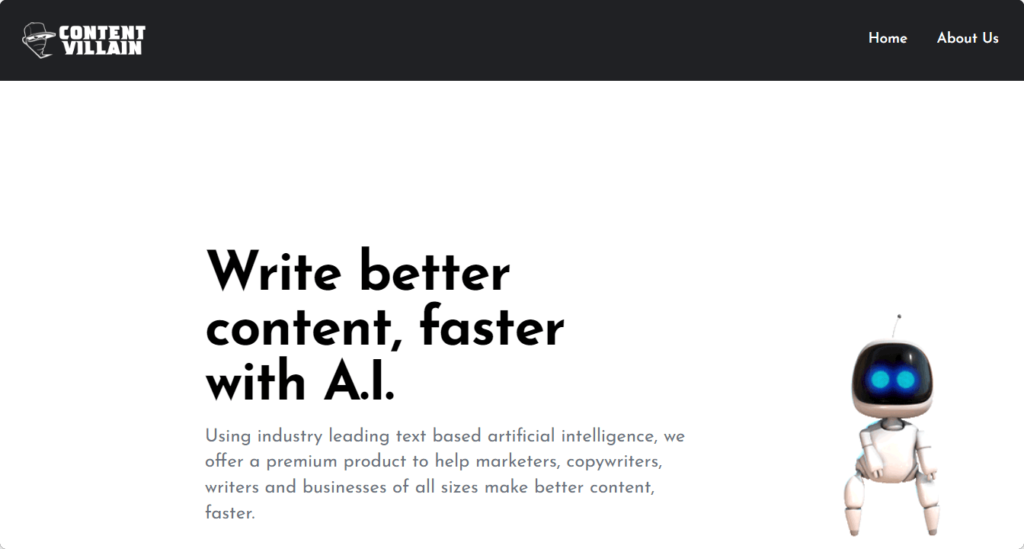 It's an AI tool that uses artificial intelligence to help marketers, copywriters, writers, and entrepreneurs create high-quality content faster. Featuring over 50 AI models, Content Villain is a market leader in innovation and expertise. You can make bespoke solutions without knowing a thing about programming.
It offers a wide variety of rephrasing tools to help with content creation. Three types of rephrasing are available; the longest one can rewrite up to 10,000 characters in one go. With the intermediate model, the character limit is 450, while the final model lets you pick the tone, which is especially useful if you're targeting a particular audience.
Content Villain offers an API, which gives users total control to add this functionality to their systems. Another useful feature is the "Email Detective," which finds email addresses from any URL. You can even pull information from social media accounts such as LinkedIn or Twitter. Credits won't be used when there are no results.
Key advantages
50+ AI models
3 rephrasing models
Email Detective tool
API Access
Zapier and Intergromat integration
Plans and pricing
For $5, Content Villain offers a 5-day trial period with all features. The Warrior plan is $49/month and gives you access to everything. The $79/month Power User plan gives you access to all the Warrior features plus the API.
SmartWriter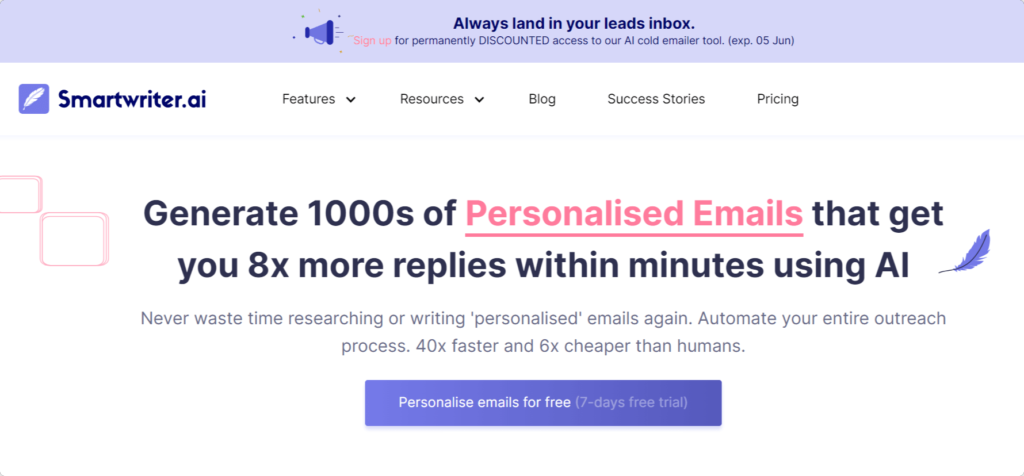 SmartWriter is an AI copywriting tool specializing in personalized outreach using artificial intelligence. It's the ultimate sales tool, as it can generate personalized messages in bulk with just a few clicks of your mouse.
It helps you automate your outreach process, including personalization and icebreaker content. It also offers company-specific personalization and access to LinkedIn lead emails.
It also allows you to send hyper-personalized messages without spending a lot of time researching prospects. You can also use it to generate personalized messages in bulk by uploading a CSV file. Finally, it can help you find verified emails of any decision-makers. It can help you connect with the right person faster.
Key advantages:
Automates your outreach process
Allows you to send hyper-personalized messages
Can generate personalized messages in bulk
Access to LinkedIn lead emails
Company-specific personalization
Cons
It doesn't have a long-form editor
Plans and pricing
All plans give you full access to all the tools and 15 personalized lines per lead. The only difference is the number of leads (credits). With the $49/month package, you get 400 Leads (credits); with the $124/month package, you get 1200 leads; and with the $299/month package, you get 3500 leads.
Wordtune
Wordtune is a revolutionary writing companion created by AI luminaries. It helps you write clear, professional copy. Wordtune rewrites your content to improve clarity, flow, and grammar. It has AI editing features to check for spelling and grammar mistakes.
Here are some of the things Wordtune can assist you with.:
Write with more clarity and impact
Choose the right words for your audience
Edit your content for style, tone, and grammar
Improve the flow and pacing of your writing
Make sure your message is on point
You can use Wordtune either online or as a Chrome extension. It uses advanced artificial intelligence models that understand the context and semantics of written text to improve the way we read and write.
Here are five ways Wordtune can help your writing:
Rephrasing your content with better structure
Rewrite your content in a casual tone
Rewrite your content in a formal tone
Make your content more concise.
Expand your copy
Check grammar
A free plan will be perfect if you don't have a lot to rewrite. The premium plan gives you unlimited access to all software features and priority support.
Standout features:
Online web editor
Chrome extension
Advanced artificial intelligence language models
Grammar checker
Rewriting in casual and formal tones
Best AI copywriting software for rephrasing
Plans and pricing
Wordtune offers both free and paid options. The free tier allows for ten daily rewrites. The Wordtune premium plan allows unlimited rewrites for $9.99/month ($119.88/year). Finally, the team plan includes the same features as the individual plan but with premium support and team billing.
Other AI copywriting tools I tried but omitted from the list: Copy Shark and Niches.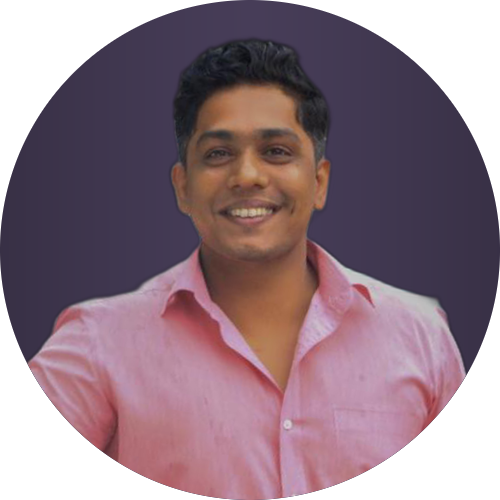 Vivek Mathew
(aka The Mindful Marketer, aka the guy who rocks a pink shirt 😄)
I'm a content consultant who helps small businesses become iconic brands by clarifying their brand message and creating strategic content. I've worked with brands like EY, Natwest, and some early-stage startups like Vivartah.

Click the button below and book a call with me.