Best AI Video Generators: Embrace the Future of Video Marketing Today
Affiliate Disclosure: This post may have affiliate links, which means I get a commission if you buy using my link — at no extra cost to you. I never recommend products I haven't tried and found helpful. (You have ChatGPT for that.)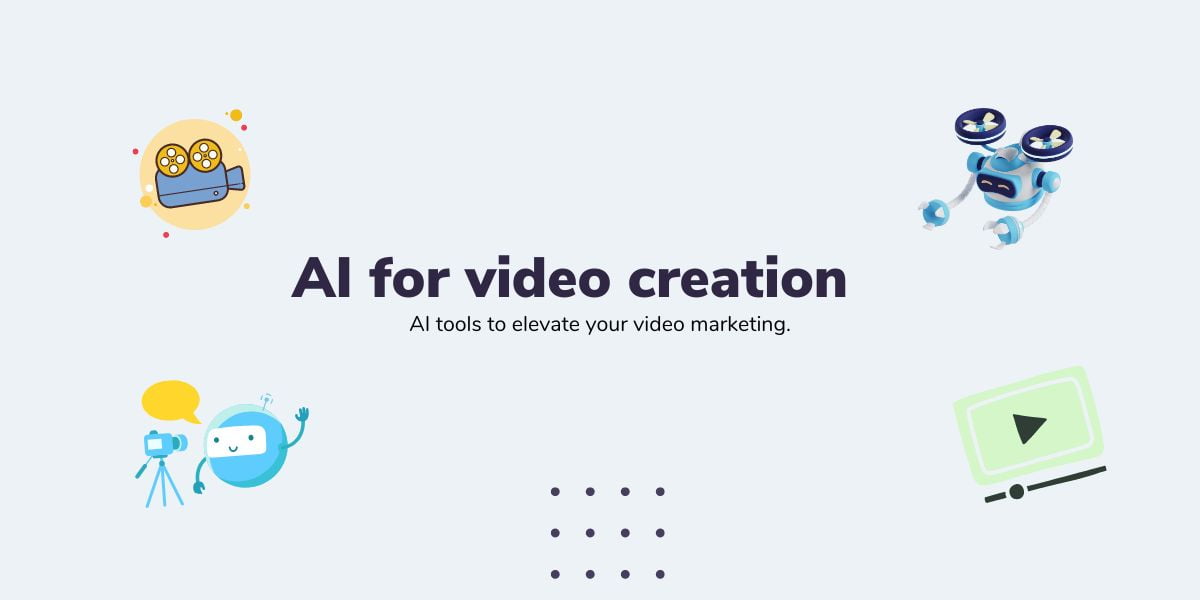 Video is probably one of the hardest nuts to crack in marketing. Mostly because it has so many freakin' moving parts.
Hundreds of micro decisions. What kind of video should you make?
An explainer? A product demo? A cat chasing a laser?
Hundreds of ideas to choose from. Or worse, the utter absence of any.
Once that's sorted, it's time for pre-production details like scripting, storyboarding, lighting, sound quality, and camera angles.
Then there's the fun post-production video editing (he said sarcastically). Sifting through mountains of footage, merging and splitting clips, adding music or voiceovers, and color correction.
And I didn't even mention the mounting pressure of deadlines.
Phew! I hope I didn't overwhelm you too much. Actually, I meant to. So I can give you the good news and save the day. (Yes, I'm petty like that.)
It doesn't have to be all that hard if you use AI for video creation. These AI video tools can do all the heavy lifting for you.
Quick answer: Best AI video generators
How I evaluated different AI video generators
Anything that didn't meet the basic criteria was quickly tossed aside. (Cause you deserve only the best)
The basic criteria:
Easy to use
Intuitive user interface
Ability to generate high-quality videos
Good support and a great team
Once I had narrowed down the list, I took a closer look at each one. I looked at factors such as pricing, features, and user reviews. I also considered the pros and cons of each software. After all that research, I picked the best AI video generator for each use case.
Best AI video generator for marketers
Wave.video
I've been using Wave.video for a while, and it's absolutely brilliant for creating videos. And that's coming from someone who isn't even using all of its features. I mainly use it to create marketing and social media videos; I hardly use the live-streaming studio. The ability to resize videos into 30 popular formats has made my life so much easier. Now I can repurpose the same video content for multiple social media platforms like IG Stories, Reels, YouTube, and TikTok. Wave also offers a rich stock footage library with 10M+ media assets and 1K+ high-quality videos. This makes it easy to find the perfect video footage or image for my videos without searching multiple sites.
Wave goes way beyond the typical AI video editor built for marketers. It's a complete video creation suite. Here are the features Wave offers:
AI video generator to automatically create videos from your video script
AI text-to-speech generator
Video templates
A vast creative asset library
Live streaming capabilities
Video marketing tools
Video hosting services
Screen recording functionality
Audio editing tools
The online meme maker and GIF maker tools are also great for creating catchy and viral memes that help boost engagement on my social media accounts. Explore all the features Wave offers by clicking the button below.
AI tools for video editing
Wisecut
I've tried many AI video editing tools as part of my research, but one that really impressed me was Wisecut. This AI-powered editing tool saves time and effort by automating tasks like removing pauses, generating subtitles, and adding background music.
Uploading videos to Wisecut is a breeze. You can just drop all your files into the video project, and it'll organize them perfectly in the editor. Once your files are in the editor, you can apply AI functions like automatic punch-ins, silence cuts, and background music. You don't need to hire a professional video editor to do this for you.
Wisecut automatically removes awkward pauses and silences to make your video more polished and professional. However, it can result in a jump cut—an editing technique often used in videos where two shots of the same subject are joined together with a noticeable break or jump in continuity. When executed skillfully, these cuts can make your video more engaging. But if done poorly, they can be jarring for the viewer. Wisecut's auto punch-in and out feature scales up some shots automatically and then scales back down to the original dimensions for wider angle shots, making jump cuts seamless while creating smooth transitions between scenes.
Wisecut's auto audio ducking is a great feature for those who want to create professional-looking videos without spending hours tweaking their audio. It automatically lowers the volume of your background music whenever someone speaks, so you don't have to manually adjust the audio levels every time your subject speaks. It's like having a personal sound engineer built right into your computer.
The smart background music feature is pretty cool; it tailors the music to fit your project automatically. After Wisecut does all the AI magic, it tells you how many awkward silences it removed, how many jump cuts it made, and how many subtitle lines it generated. Nothing revolutionary, but it's nice to know you saved some time.
The storyboard shows you the entire script highlighted word by word, along with your video. This allows you to find specific segments easily without manually scrolling through the video. You can even search using keywords. Once you're done editing, you can download the subtitles separately for platforms like YouTube.
Overall, it saves me a lot of time and streamlines the video editing process.
Descript video editing tool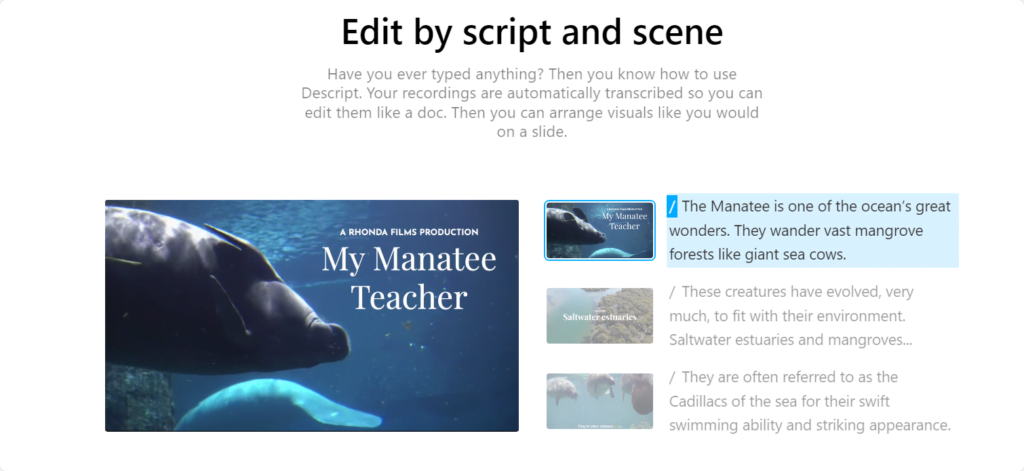 I remember when they first launched, Descript made quite the splash. They came out with a feature that didn't exist at the time. At least, no one did it as well as they did. Their innovative platform made it possible to edit videos by simply editing the script in a Google Doc-style editor. To delete a scene, you just had to delete the sentence in the transcript. The AI-powered video editor truly transformed the way content creators work.
Recently, there have been new players in the market offering similar technology; however, Descript has consistently stayed ahead of the innovation curve by introducing unique features that set it apart.
Overdubbing is one such unique feature. With Descript's Overdub, you can clone your voice or select an ultra-realistic voice from their library to replace your audio. The distinguishing feature of Overdub is that it can alter recorded audio in the middle of a sentence by tonal matching, resulting in a seamless audio experience. It saves so much time and effort compared to having to re-record everything from scratch.
Descript uses Lyrebird AI, a voice synthesis technology that produces fantastic results. You can create multiple voices to suit various performance styles or settings. Everyone with a Descript account can use the free version of Overdub. However, Pro accounts have the bonus of unlimited vocabulary.
To top it all off, Descript offers seamless collaboration with teammates through cloud-based features. Descript has a ton of advanced features I haven't talked about. You can check them out by clicking the button below.
Adobe Premiere Pro
Premiere Pro is probably the most popular video editing software, used by everyone from new YouTubers to professional video editors and everything in between. With its new AI-powered editing, it becomes even better. With the power of Adobe Sensei, an artificial intelligence and machine learning technology developed by Adobe Systems, Premiere Pro has added new video editing features that enable creatives to work faster.
Here are some of those exciting features:
Morph cut: When working with interviews or talking head videos, you might encounter numerous jump cuts to eliminate awkward pauses. These cuts can make the video appear disjointed and unnatural. Fear not! The Morph Cut transition, found under Video Transitions in the Effects panel, adds visual continuity for a smoother result. This feature combines advanced face tracking and optical flow interpolation for a polished video that appears as one fluid take.
Automatic audio ducking: Enhance your video's dynamic experience by blending music and dialogue naturally. This feature lowers background music volume during dialogue sequences, ensuring your audience can enjoy both the music and follow the conversation.
Color match Achieve consistency across different shots in your sequence using Color Match. This feature instantly matches colors between two clips, eliminating any discrepancies in color grading. Select your clip and reference clip, then open the Lumetri Color panel. If people are present in your clips, enable Face Detection for precise skin tone matching. After applying the match, feel free to fine-tune the automatic adjustments as needed.
Auto reframe Converting horizontal 16:9 footage into taller formats like 9:16 can be time-consuming if you're manually adjusting keyframes to keep subjects visible. This feature uses AI to analyze frames and identify key elements, such as faces, and adjust the framing accordingly. Auto Reframe maintains focal points of action when changing the video size — a game-changer when repurposing wide videos for social media platforms like TikTok or Instagram.
Scene edit detection: This feature uses AI to automatically identify different scenes within video footage — making it easier for editors to find and mark specific segments of their longer videos. The AI can make the cuts for you and even create a separate folder with the shorter clips it created.
I'm sure Adobe will continue to add more AI-powered features to Premiere Pro to make video editing more accessible.
AI video editors for productivity
Gling AI
I recently tried this fantastic tool called Gling, and I was amazed at how much time and effort it saved me during my video editing process. Unlike other AI video editors that only remove fillers and silences, Gling goes the extra mile by intelligently cutting out bad takes. That's something most AI video editors often miss.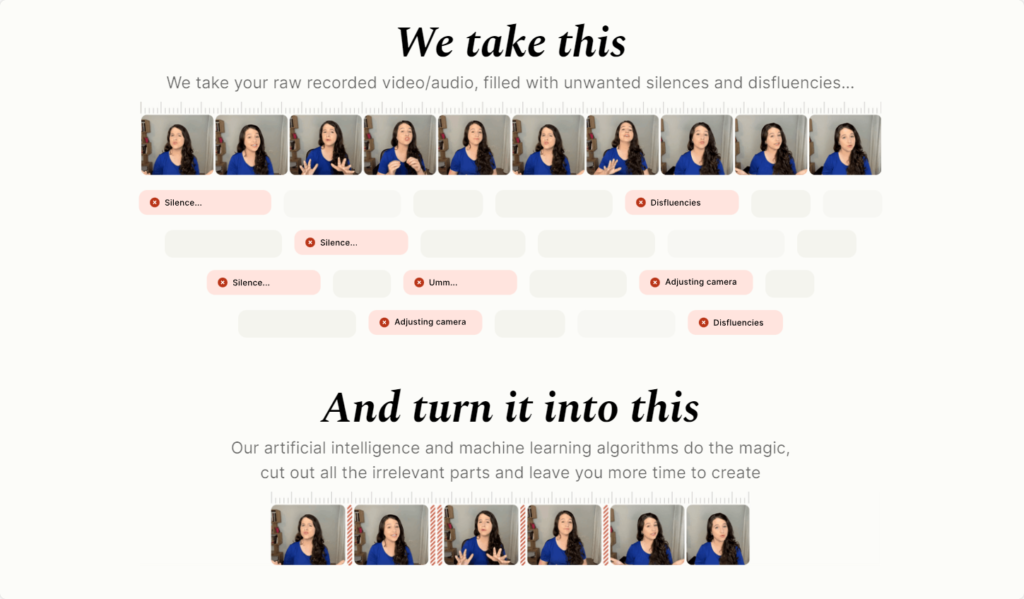 Here's what happens behind the scenes after you upload your raw recorded audio and video files.
AI transcription converts your video files into text.
Artificial intelligence and machine learning algorithms then analyze the text to make accurate cuts and edits.
Once the edits are done, you can manually review and edit the video. You can remove unwanted text or clips from the timeline with just one click.
I was really surprised to see how well the algorithm understood repeated lines and removed them seamlessly.
Finally, the exporting options; Gling is compatible with most video editing tools. So whether you're using Final Cut Pro, DaVinci Resolve, or Adobe Premiere, you can easily integrate this into your workflow. It also supports exporting media files in MP4 and MP3 formats and captions in SRT.
I genuinely feel that Gling boosted my productivity like never before. It takes away tedious bits of video editing and makes it enjoyable. I highly recommend giving it a try.
Pricing:
The best part is that you can try the tool without signing up for a subscription. They charge a flat $5 per video. You can use multiple clips and still pay only $5, as long as you're exporting just one video.
Opus Clips:
As part of the research for this post, I tried Opus Clip — an AI-driven video tool that transforms long-form content into multiple shorter engaging videos. The idea is to amplify your video content and increase your reach.
First off, the AI does a fantastic job of analyzing your video, finding interesting hooks, and creating multiple short videos in minutes. It even calculates a virality score for each clip based on data from thousands of viral videos. And get this — it can detect moving faces and keep them centered in the frame. It can generate and highlight keywords in captions.
The AI resizes videos to a 9:16 ratio, centers the speakers with motion tracking, adds relevant emojis, and ensures smooth visual and audio transitions. It even removes filler words so everything sounds crisp and clean. You can then export these videos in 1080p resolution for the best video quality. Perfect for Youtube shorts or Instagram reels.
It works best for conversation-driven videos longer than 15 minutes, like podcasts, educational content, commentaries, product reviews, or motivational speeches. So don't expect great results with vlogs or music videos.
I'd recommend giving Opus Clip a try if you want to up your game with top-quality reels (or shorts) that'll reel in more views and fans. (I'm feeling quite pleased with that wordplay. Reel-y proud, you could say.)
Best AI avatar video generators
Synthesia:
I've gotta admit I've never been a big fan of robots presenting information instead of humans. There's something about human warmth and personal connection that makes the experience more engaging for me. But I understand there's definitely a time and place for them. Take, for example, corporate training videos. Sometimes it's not feasible or practical to have a human presenter for every topic, especially when catering to a global audience. Digital avatars can effortlessly deliver the same video content in multiple languages, making it more accessible to a broader audience. That's where a tool like Synthesia comes in.
It's a revolutionary video creation platform that harnesses the power of AI to generate digital avatars and presenters. The benefit of Synthesia is that you can create professional-looking videos without the need for a presenter, camera equipment, or advanced editing skills. Key features include automatic lip-syncing, customizable avatars, and numerous languages and accents, allowing you to create explainer videos and presentations with ease.
Sure, some of the avatars may feel a bit robotic and probably won't pass for a human. But the idea is not to replace real people; the AI text-to-video generator aims to make video creation more accessible. They can be very useful for creating promotional videos, instructional videos, and educational videos. I've even seen faceless YouTube channels running entirely on AI-generated youtube videos.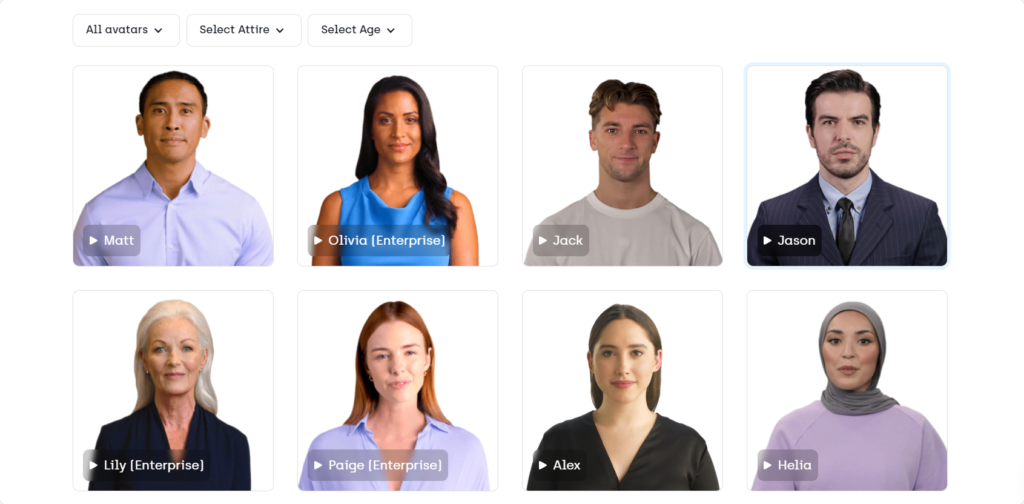 Synthesia's intuitive interface streamlines the video creation process so you can focus on crafting your message. With extensive customization options, seamless integration of text-to-speech technology, and lightning-fast rendering time, Synthesia empowers businesses and individuals to produce engaging videos — leaving more time for creativity and strategizing. Explore the power of AI-powered video production by clicking the button below.
Creative Reality Studio (D-ID):
D-ID is revolutionizing the way people interact with digital avatars using artificial intelligence. The company provides two innovative offerings: Chat.D-ID and Creative Reality™ Studio.
Chat.D-ID introduces an application that facilitates face-to-face conversations with ChatGPT, allowing users to engage in real-time discussions with computer-generated digital humans. By combining D-ID's cutting-edge facial animation technology and the popular LLL (large language model) ChatGPT, users can experience a more human-like conversation through speech and video rather than just text.
Creative Reality™ Studio by D-ID delivers an extensive suite of generative AI tools for producing captivating videos featuring talking avatars. D-ID's self-service platform combines cutting-edge technologies like deep-learning face animation, GPT text generation, and Stable Diffusion's text-to-image, making it an invaluable resource for crafting captivating videos.
With Creative Reality™ Studio, users can breathe life into their AI portraits within seconds. It allows avatar customization by choosing from a selection of photorealistic or illustrated faces or uploading personal images. Alternatively, you can use Stable Diffusion to generate any portrait you want. The platform offers three methods for making avatars speak:
Employing GPT text generation for scriptwriting.
Uploading audio recordings from various sources.
Typing any desired text using multiple languages, accents, voices, and styles.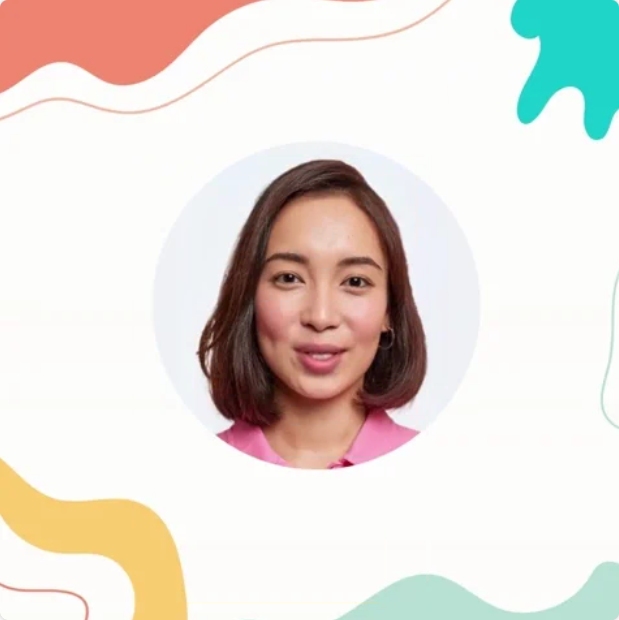 Once the avatar has been designed, just click the 'Generate' button to create an MP4 file that can be downloaded or shared directly from the platform. These talking avatars can be used in various applications such as films, collectibles, video games, presentations, or chatbots.
Creative Reality™ Studio also integrates seamlessly with Canva's intuitive interface. This fusion of AI-driven technology and user-friendly design tools enables the creation of visually appealing and interactive content viewers will remember. Check out Creative Reality™ Studio by clicking the below button.
Best AI video generators for creatives
Artflow ai:
Artflow is an innovative AI-based video creation tool that helps creatives tell visually appealing stories without having to learn video editing. It enables you to effortlessly create characters, construct your narrative scene by scene, and add AI-generated voices to your dialogue. You have the option to use preset characters or generate your own images using advanced text-to-image AI technology. You can enhance your story experience with transitions and effects to give it depth and dimension.
Artflow is very different from Wave in its use case. It's not like Wave, where the tool does the bulk of the work with a few inputs from you. Compared to something like Wave, it takes more effort to create something impressive in Artflow. Now don't get me wrong, it's by no means overwhelming. It gives you more control, which naturally warrants more effort. It's perfect to create creative
Here's a very bad version I made after playing around with it for 15 minutes.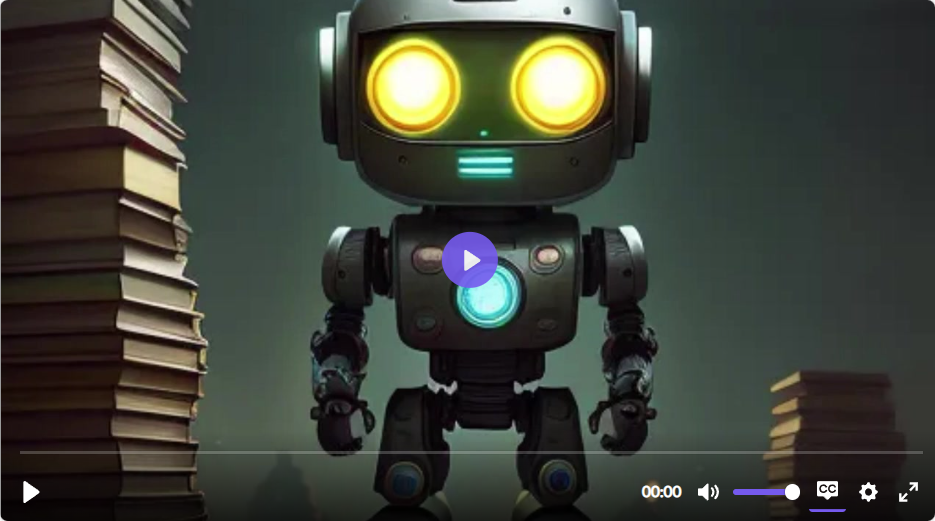 Here's the rough workflow in ArtFlow:
Character Creation: Choose from preset characters or generate your own unique images using advanced text-to-image AI.
Scene Building: Construct your story scene by scene, adding depth and complexity with ease.
AI-Generated Voice: Give life to your dialogue through natural-sounding, AI-powered voiceovers.
Transitions & Effects: Enhance the storytelling experience by incorporating dynamic transitions and captivating effects.Video Rendering: Once you are satisfied with the structure and individual scenes, render the video for a polished final output.
Check out Artflow by clicking the below button.
Genmo AI:
Imagine having a creative sidekick to help you bring your visions to life – that's Genmo for you. The team believes that everyone has great ideas but may lack the skills to materialize them and aim to bridge that gap by helping users create desired content with AI assistance. Genmo builds upon the remarkable abilities of generative models in synthesizing content across various formats like text, images, and videos.
As a versatile creative assistant, Genmo offers numerous tools such as text-to-image conversion, image editing and enhancement, video generation, and much more. By using natural language instructions, users can command Genmo to perform tasks like generating new images from descriptions or crafting looping videos.
Here's an animated image that I created with Genmo AI.
The company's flagship product, Genmo Chat, which is currently in alpha, is gradually being rolled out to those on their waitlist. This tool marks the beginning of a new era of Creative General Intelligence (CGI), where humans and generative models work together seamlessly. From creating images, videos, and 3D models, collaboration with Genmo Chat produces more inventive and valuable outcomes than any standalone AI.
With Genmo Chat, you can animate parts of an uploaded image or create your own movie from scratch. Throughout the process, users maintain control over direction while Genmo takes care of specific details.
Besides movie-making or image editing, it also assists in designing presentations with app icons. Genmo can generate different variations of an icon and even combine them into a slide deck for easy sharing.
Check out Genmo AI by clicking the below button.
Gen-2 by Runway
The folks at Runway Research have been on an incredible quest to develop multi-modal AI systems that pave the way for innovative creativity tools. Just a short while back, Runway came out with Gen 1 — a video-to-video model enabling users to generate fresh content using words and images.
Gen-1 has shown remarkable improvement in terms of speed, accuracy, and overall results. However, the team did not stop there and continued to innovate. As more people got their hands on Gen 1, new use cases and creative applications emerged, which prompted the team to build the second version. Their latest brainchild, Gen 2, is a groundbreaking multi-modal AI system capable of conjuring up unique videos from text, images, or video clips. Simply put – you can generate videos using nothing but words.
And now, they've taken it up a notch with the introduction of Gen 2's text-to-video AI model.
Gen 2 marks another significant research milestone and pushes the boundaries of generative AI even further. With this tech in your toolkit, anyone anywhere can bring entire worlds, stories, animations, or whatever they imagine to life.
Generating realistic and consistent new videos is a breeze with Gen 2. You can either use an image or text prompt for video-to-video synthesis or create videos from scratch solely based on text prompts (text-to-video). It's like shooting brand-new footage without ever touching a camera!
Here's how Gen-2 opens up an array of possibilities by transforming images, video clips, or text prompts into captivating films:
Text to Video: Craft videos in any style imaginable using just a text prompt.
Text + Image to Video: Combine an image with a text prompt to generate a video.
Image to Video: Create variations of videos driven by just an image.
Stylization: Apply the style of any image or prompt throughout your entire video.
Storyboard: Turn your mockups into fully animated and stylized renders.
Mask: Isolate subjects in your videos and manipulate them with simple text prompts.
Render: Give untextured renders a realistic touch by applying an input image or prompt.
Customization: For even more impressive results, make full use of Gen-2's customization capabilities.
Embrace the future of AI-powered video generation with Runway Research's incredible Gen 2.
Check out Runway Research by clicking the below button.
Frequently asked quirkeries
What is an AI Video Generator?
AI video generators are software that uses artificial intelligence to streamline video production. The specific application of AI depends on the tool you use; some assist with the editing stage, while others generate entire videos based on your text input. 
What is AI editing software?
AI editing software is a type of program that uses artificial intelligence and machine learning to improve and automate different parts of the editing process. These tools can help with generating images, animating text, enhancing audio, and a lot more to achieve better results faster compared to traditional editing tools.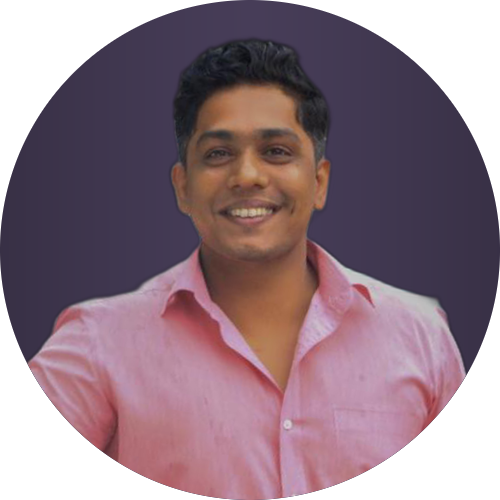 Vivek Mathew
(aka The Mindful Marketer, aka the guy who rocks a pink shirt 😄)
I'm a content consultant who helps small businesses become iconic brands by clarifying their brand message and creating strategic content. I've worked with brands like EY, Natwest, and some early-stage startups like Vivartah.

Click the button below and book a call with me.