The Best AI Tools for Affiliate Marketing: How To Automate Your Processes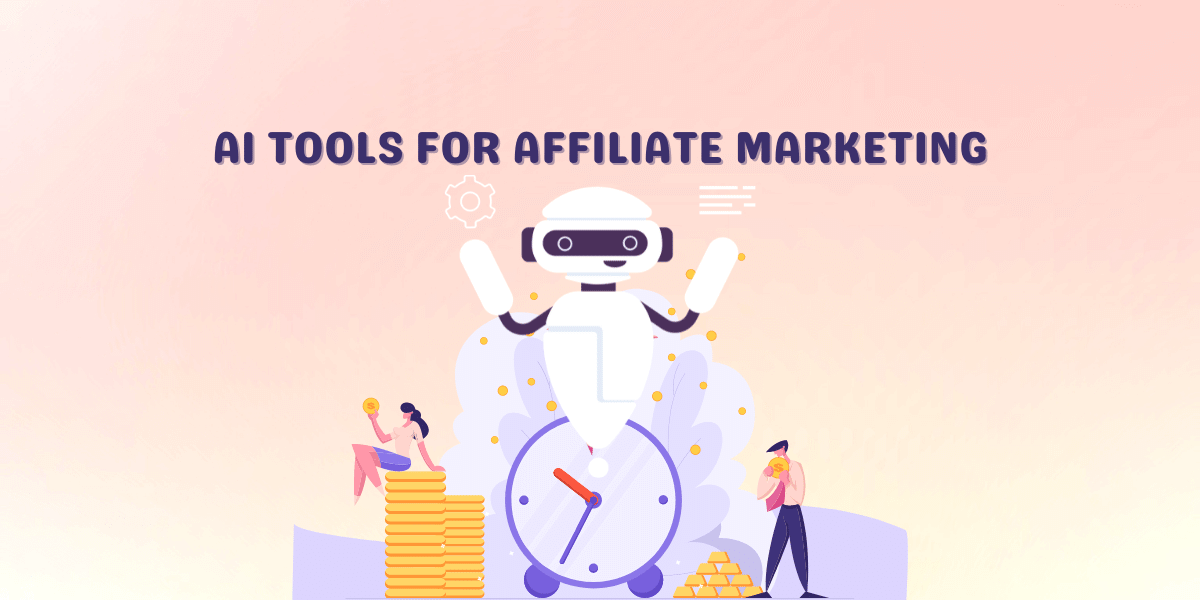 Affiliate marketing is a great way to make money online.
But it takes a lot of work to set up a profitable affiliate campaign. Even seasoned affiliate marketers find it hard to stay on top of everything.
Thankfully, there are affiliate marketing tools that can automate a lot of these tasks. We'll talk about some of the best AI tools for affiliate marketing and how they can help you streamline your affiliate marketing campaign.
What is affiliate marketing, and why use AI tools for it?
Affiliate marketing is a performance-based marketing model that rewards affiliates for bringing potential customers to a company through their marketing efforts. In other words, you earn commissions when you refer new customers or visitors to a business.
What is the role of artificial intelligence in affiliate marketing?
There are several reasons to automate your affiliate marketing program using AI tools. For starters, AI can help you save time by automating repetitive tasks. AI can also help you optimize your digital marketing strategy and scale your business by helping you reach more potential customers, manage more affiliates, and run more affiliate campaigns.
How to use AI tools to automate your affiliate marketing processes
Now that you know more about AI tools for affiliate marketing, let's see how you can use them to automate your processes.
AI tools can be helpful in affiliate marketing campaigns because they save time and improve results. By automating repetitive tasks, you can free up your time to focus on strategic areas of your business.
For example, if you're manually adding new internal links, a tool like LinkWhisper can help automate that process.
Another great way to use AI tools is to create personalized messages. Tools like Smartwriter and Postaga are great for creating personalized emails. You can use AI copywriters to write social media posts, landing pages, and sales pages tailored for your audience.
SEO AI tools tools like Frase use AI to optimize your website and content for better search engine ranking.
Data analysis and pattern recognition are two other areas where AI tools can be helpful. For example, you can automatically develop buyer personas and optimize your ad campaigns for different segments.
There is a wide range of AI tools on the market, so choosing the right one for your business is crucial.
How to choose the best AI tool for your business
When choosing an AI tool for your affiliate marketing business, it's important to consider your needs and objectives.
First take a step back to reflect on the tasks you repeatedly do and would like to automate. Next, identify tasks that are time-consuming and require minimal human input and strategic thinking. These are the tasks that would be well-suited for an AI tool.
Once you've done that, start looking at different AI tools on the market and see which ones would be a good fit for your business. Now narrow it down and choose the best AI tool for your business.
The best AI tools for affiliate marketing
There are a number of AI marketing tools that can help with affiliate marketing. Let's take a look at some of the best ones.
Jasper AI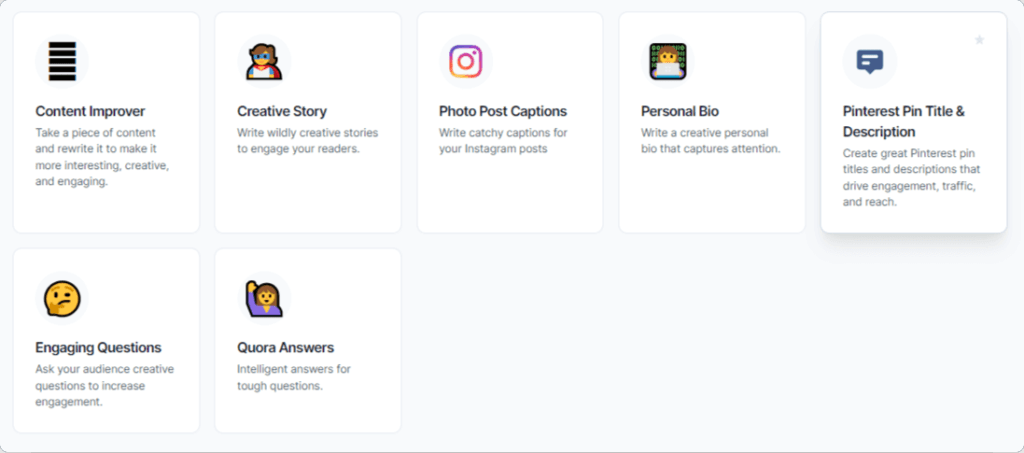 Content Creation plays a huge role in SEO and a successful affiliate marketing strategy, but creating high-quality blog posts can be time-consuming. Jasper AI is an AI marketing tool that helps you automate your content creation. It's an AI-powered copywriting tool that can help you create high-quality content for your website, Youtube channel script, email subject lines, blog, social media content or great ad copy.
It has a bunch of content templates pre-trained for the best results. The boss mode has a free-form content editor, so you can literally type in any command, and the software will create content for you. You can choose the tone of voice for the content. With this AI writing software, you can crank out content faster than ever.
You can read my full Jasper AI review here.
WriterZen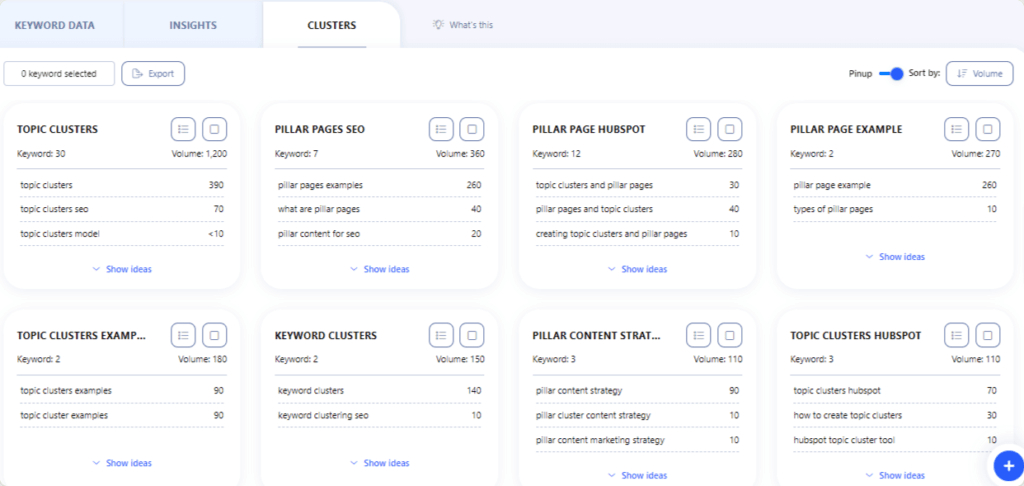 If your affiliate marketing plan is based on organic SEO traffic, proper keyword research is critical for your success. The challenge, however, for most content creators is that manual keyword research eats up too much time. Writerzen is one of the best AI tools for affiliate marketing. You can easily find the best keywords for your affiliate marketing campaign with a click of a button. It's an all-in-one SEO-optimized content writing tool, but where it really shines is its keyword and topic research features.
Simply enter a seed keyword, and the software will generate a list of related keywords and topics that you can use. It analyzes thousands of keywords related to your niche using machine learning algorithms. It then presents the results in an easy-to-understand format, along with a competitive analysis, search volume, and more.
It also comes with a keyword clustering feature which helps you group similar keywords. This is a huge time-saver as it allows you to create content for multiple keywords at once.
Link Whisper
Internal linking is a big part of SEO. With internal links, you are helping Google understand the structure of your website and helping your readers navigate it. The problem is that it's a pain to do it manually.
You'll have to go through all your content to find related articles. I'm sure there are better ways to spend your weekend — like watching the next season of Stranger Things.
The good news is that, with the right tools, automating the process is quite simple.
Link Whisper is a WordPress plugin that helps automate your internal linking using artificial intelligence. It uses a pre-programmed algorithm to analyze your website content and suggests related articles. Simply install the plugin, run an analysis, and it'll start recommending relevant links automatically. You don't even have to go into individual pieces to insert the link; Link Whisper will do that for you. You can even add internal links in bulk.
Postaga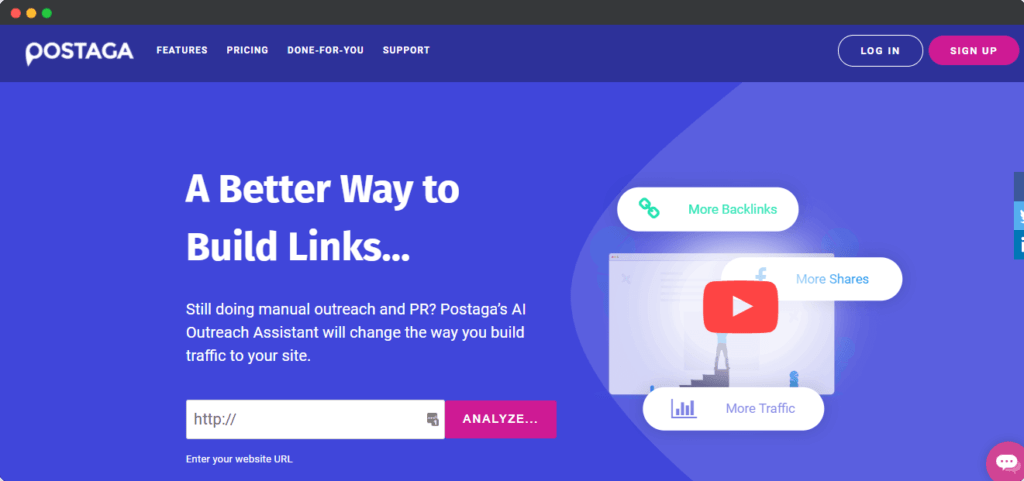 Finding the right partnerships and building relationships are key to successful affiliate marketing.
Postaga is an AI-powered email marketing tool that helps you automate your outreach process. It automates the process of finding opportunities, contact details of prospective partners, and emailing them. It also personalizes your emails and tracks your open and click-through rates.
So you can spend your time building relationships with your partners, not chasing prospects and emailing them.
The tool uses artificial intelligence to scan your content and suggest campaign types that are most likely to get you the best results. The intelligent outreach tool helps you find advice from influencers that'll help you personalize your emails and get a higher response rate.
Postaga makes email marketing simple, efficient and effective.
Wave video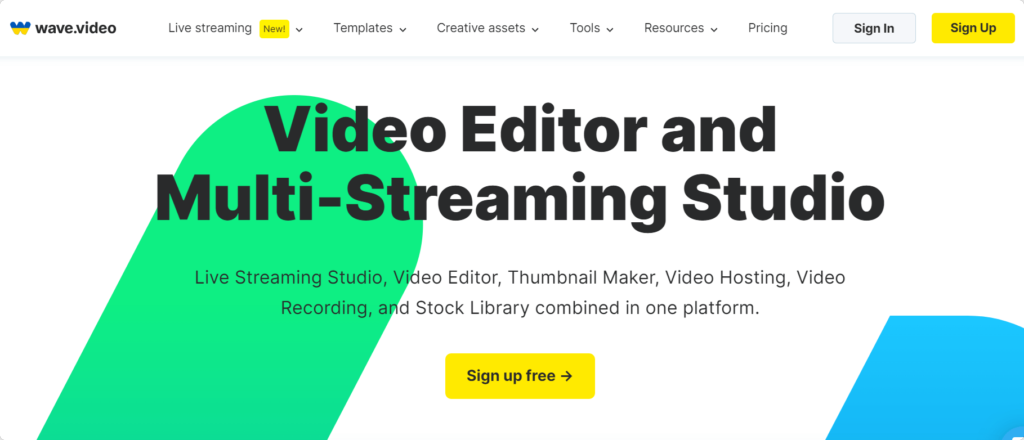 Majority of marketers agree that videos have a positive impact on sales and conversions. But creating videos can be a time-consuming and expensive process for small businesses and affiliate marketers. That's why so many companies don't use videos in their digital marketing.
Wave.video is an AI video creation platform that allows you to create videos in minutes without prior video production experience. It has a simple drag-and-drop user interface that makes video creation simple and fun. The platform comes with a library of over a million stock photos and videos, which you can use to create your videos. You can also upload your own photos and videos. With Wave, you can directly share the videos to your favorite social media platforms or embed them on your website.
With the AI-powered video tool, you can create a video from any text in minutes. Simply copy and paste the URL of your article, choose your desired length, and let Wave.video do the rest. You can also customize the automatically generated video to suit your needs.
Live streaming is a great way to engage with your audience in real-time. Wave.video lets you create fully-customized live streams without coding. With the live stream, you can broadcast live or pre-recorded videos to multiple channels simultaneously, easily invite guests, and create unforgettable branded broadcasts.
Frase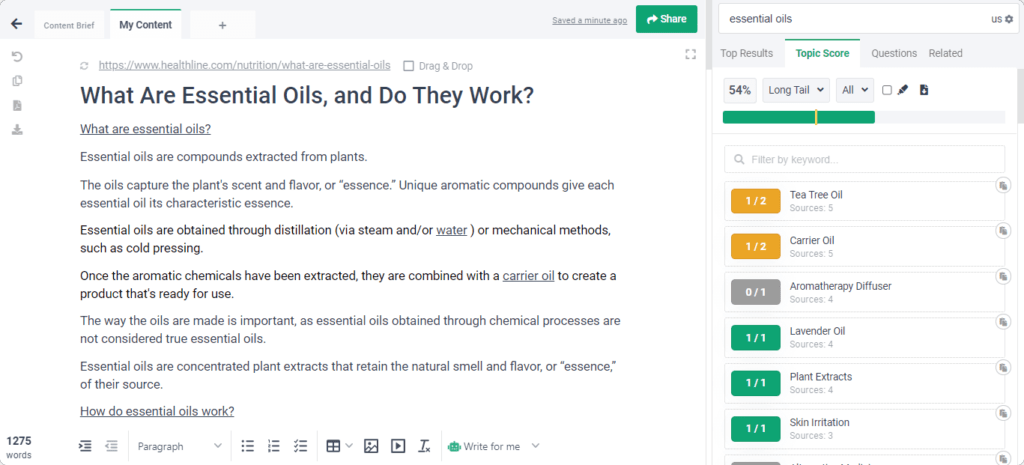 If you're looking to create informative and SEO-friendly content, a tool like Frase may be just what you need. It's a content marketing tool that uses artificial intelligence to help you write better content.
Frase analyzes your topic and provides you with related topics, keywords, and questions that you can include in your content to make it more comprehensive and SEO-friendly. With Google Search Console integration, you'll gain actionable insights to find quick content marketing success.
It has excellent collaboration features if you have a marketing team. You can create content briefs, set task status, and share content briefs with your writers, making it easier to produce high-quality content more efficiently.
Frase also has an AI chatbot that you can add to your website. The chatbot scans your website and delivers accurate content to your visitors. It's a terrific way to increase engagement and conversions on your website.
You can read my full Frase review to learn more.
Adscook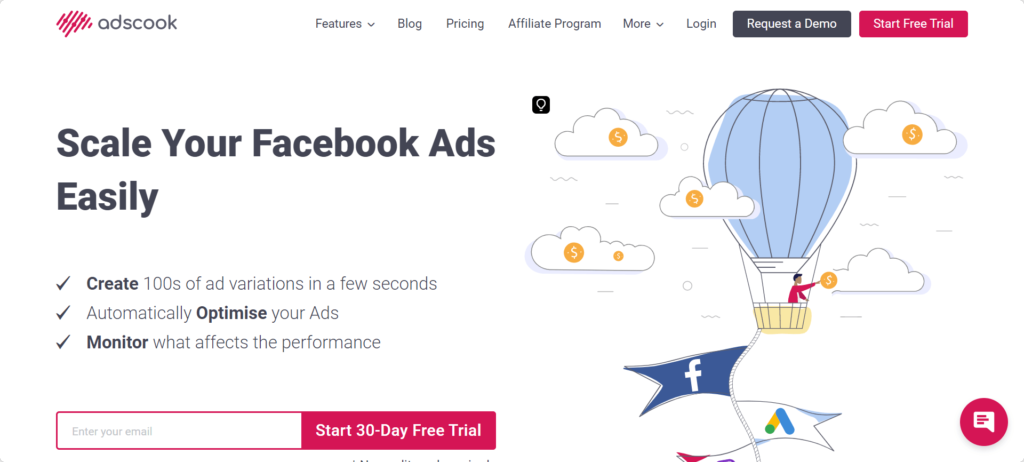 Facebook ads are a great way to drive traffic to your affiliate offers and generate sales. The challenge, however, is figuring out which ad images, copy, and targeting brings the most ROI. You could spend hours and a crap-ton of money creating ads that do nothing but lose money.
Adscook makes it easy to create profitable Facebook ads quickly and easily. The AI model will test different combinations of the audiences, ad images, copies, and devices, to find the most profitable ad. You get actionable insights into how each combination performs, so you can optimize your campaigns and conversion rates.
Delve.AI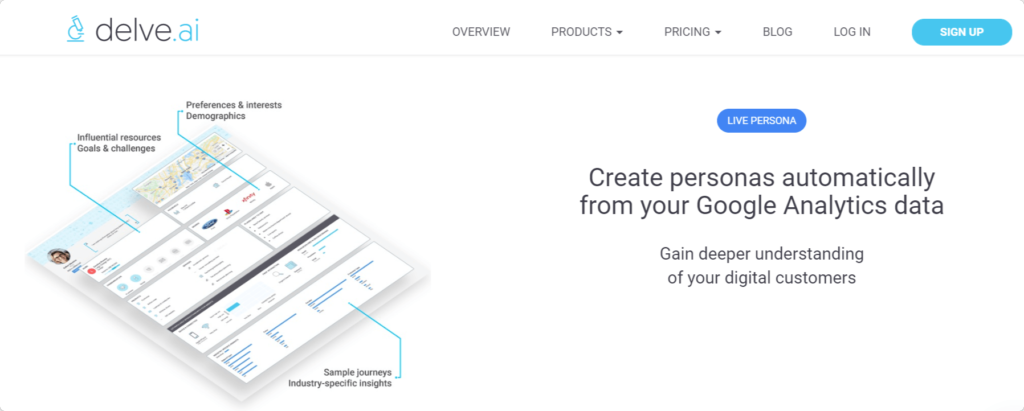 An AI-powered tool like Delve.AI can help nail your buyer persona research. Delve.AI is a predictive intelligence platform that analyzes your data and provides insights into your customers, products, and competitors. It uses machine learning to identify patterns and trends in your data.
All you have to do is connect your Google Analytics account, and Delve.AI will do the rest. The tool uses Google Analytics data to segment your audience and create buyer personas. You can even build competitor personas to see what's working for them and adapt those strategies for your business.
Hubspot
Hubspot has a suite of tools designed to help you automate your affiliate marketing campaigns.
It's an all-in-one marketing automation tool that can help you with several marketing tasks, including affiliate marketing. It offers a wide range of features such as email marketing, social media management, lead capture forms, and a CRM with advanced features like lead scoring and nurturing. It has ad tracking and integration with a range of platforms like Facebook and Google.
Hubspot is an excellent tool for affiliate marketing because it allows you to automate many tasks. For example, you can set up automatic email campaigns to follow up with your affiliate leads. You can also automate your social media posts and create landing pages and lead capture forms to help you capture more leads.
The downside of Hubspot is that it's a bit pricey. But if you're serious about affiliate marketing, and the pricing is within your budget, it's well worth the investment.
Smartwriter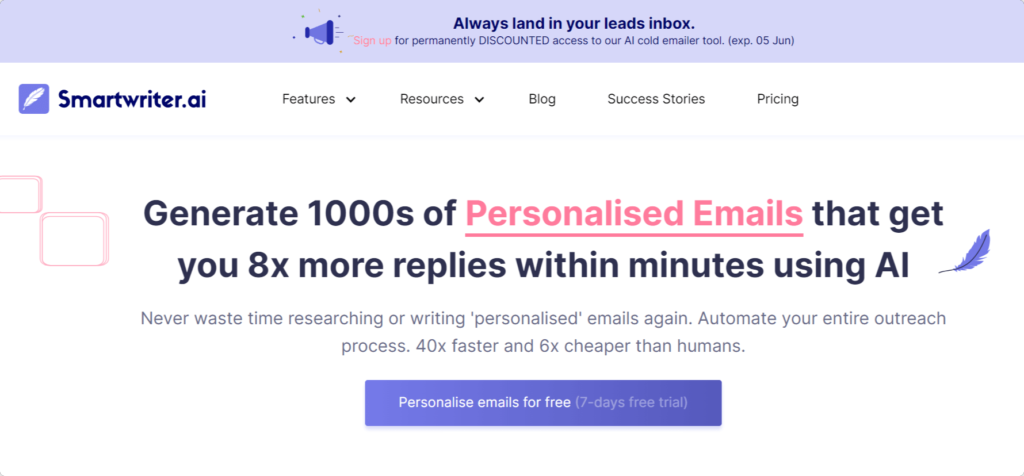 Smartwriter is the all-purpose AI software with a strong focus on cold outreach email. With Smartwriter, you can write emails quickly and easily find your prospects and generate personalized messages. Plus, it can analyze websites, LinkedIn profiles, and company profiles to generate hyper-personalized messages. You can also upload a CSV file to create bulk personalized messages. This AI-powered email marketing software is perfect for businesses that want to save time and get better results from their outreach campaigns. Whether it's for influencer marketing or customer acquisition, this tool can help you reach the right people for your affiliate program.
Final thoughts on AI tools for affiliate marketing
AI tools can be a great addition to your affiliate marketing business. They can help you automate repetitive tasks, find new opportunities, and improve your content.
When choosing an AI tool, it's important to consider your needs and objectives. Once you've done that, you can choose the best AI tool for your business.
The future of AI affiliate marketing is exciting. As AI tools become more advanced, they will continue to help marketers automate their processes and find new opportunities. We will see more AI tools that specialize in specific tasks, such as link building and content creation.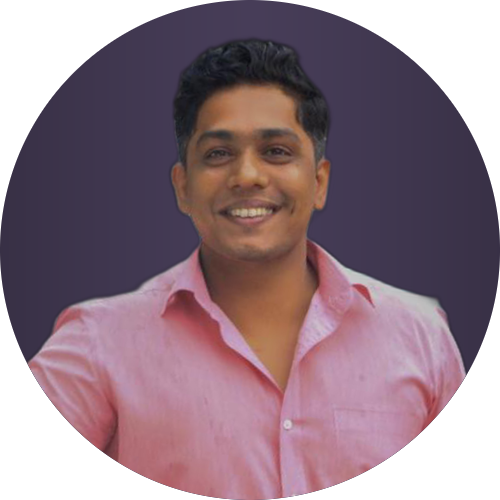 Vivek Mathew
(aka The Mindful Marketer, aka the guy who rocks a pink shirt 😄)
I'm a content consultant who helps small businesses become iconic brands by clarifying their brand message and creating strategic content. I've worked with brands like EY, Natwest, and some early-stage startups like Vivartah.

Click the button below and book a call with me.