Content Marketing For Small Business: 5 Crucial Steps To Get It Right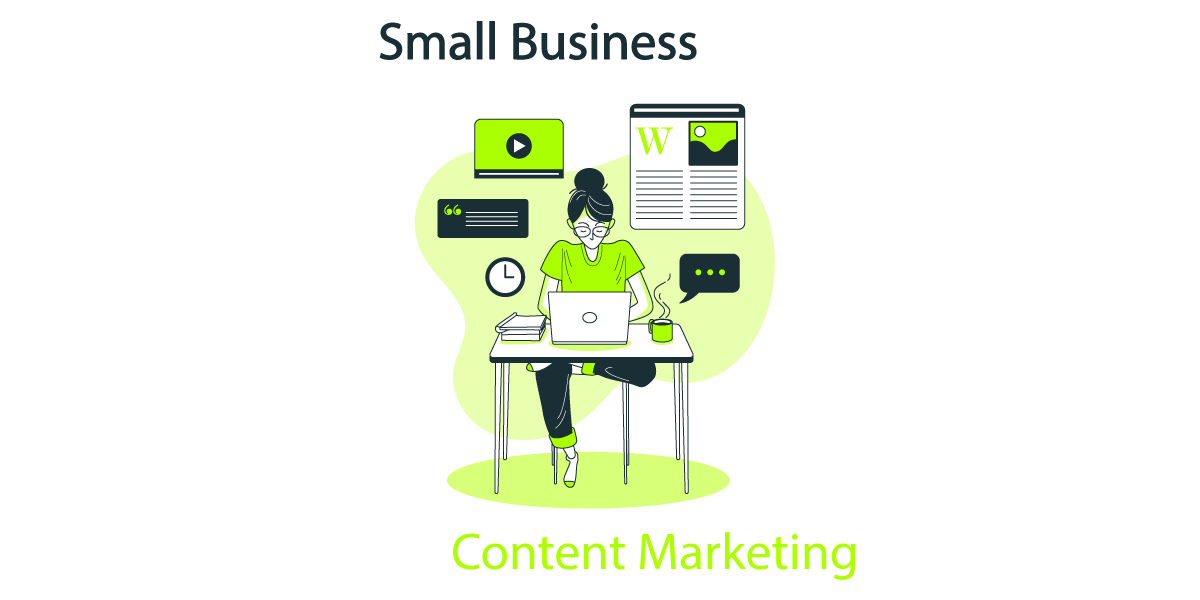 Would you rather buy a product from a salesman or from your friend who you know is an expert in that field.
I'm sure 95% of you would have chosen a friend, and the remaining 5 percent are salesmen (I was one too!).
I may have pulled that number out of thin air, but my point is we feel comfortable doing business with the people we trust.
That's why you should be focusing on content marketing in 2020.
2019 Edelman Trust Barometer report, established that majority of the people buy only from brands they can trust and a breach of trust is a deal breaker. You can read the full report here.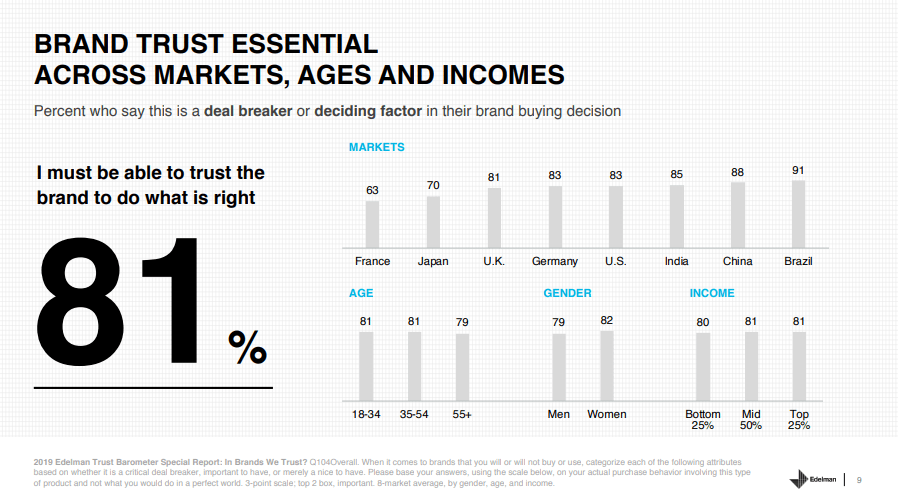 It's not just about getting some sales, consumers stay loyal to the brands they trust and become super fans.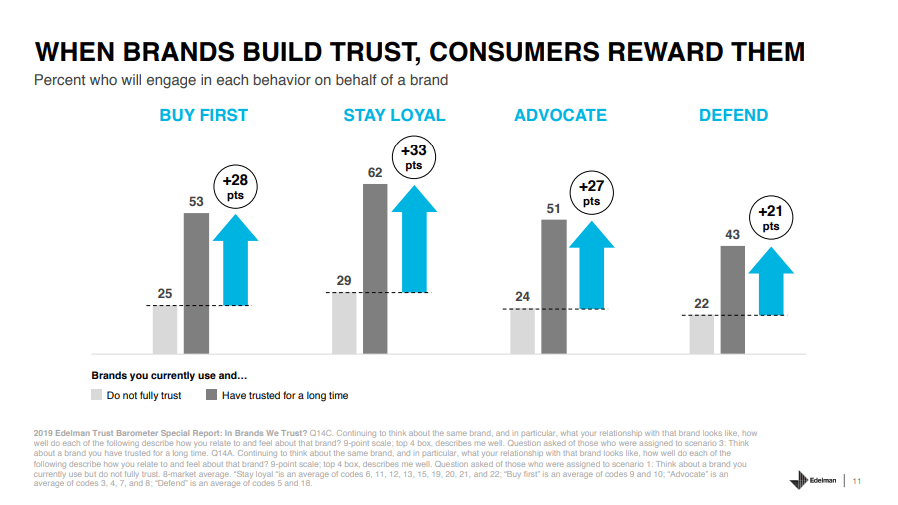 Business owners need to accept the fact that the age of setting up a landing page and running traffic to it is over. Most consumers avoid advertising and some even go to the extreme of installing ad blockers to avoid interruption.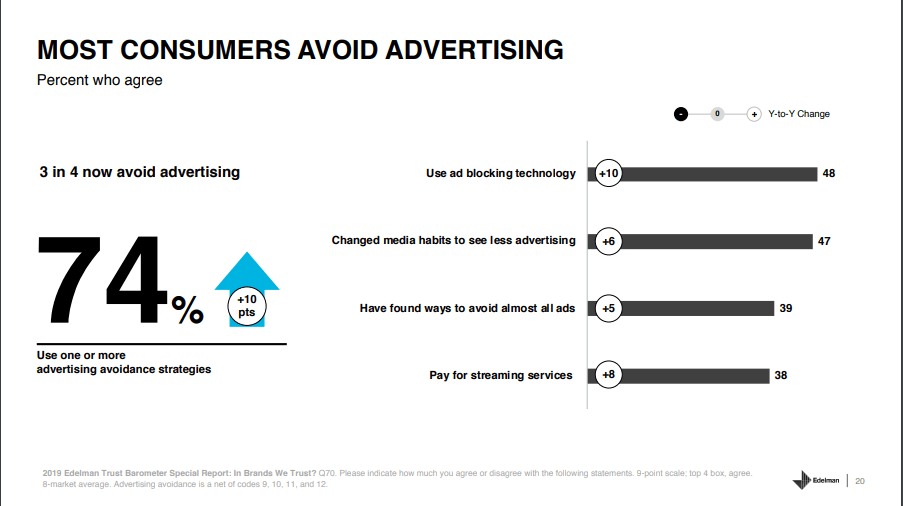 The phase of 'interruption marketing' is over. Consumers are smarter, so you, as a business owner, also need to level up. Don't insult their intelligence by bombarding them with irrelevant ads that don't help them. I'm not saying ads are bad. In fact, it will always be a powerful weapon in a marketers arsenal — if used correctly.
That begs the question…
How do you reach customers then?
That's where content marketing comes in.
What is content marketing?
Content marketing Institute defines it as the marketing and business process for creating and distributing relevant and valuable content to attract, acquire, and engage a clearly defined and understood target audience with the objective of driving profitable customer action.
In simple words, help your customers using your content.
To do that, you need to be clear about your target audience. You should know their pain points, motivations and goals.
Next step is as simple as creating content that will help them solve these problems and achieve their goals.
Steps to create your content marketing strategy
Define your guiding theme or purpose
Your content marketing should always have a bigger purpose, and every piece of content you put out should align with this purpose.
"People don't buy what you do. They buy why you do it." Simon Sinek
Few examples of brands with purpose:
EY has a purpose of building a better working world. Every decision or content strategy is guided by that purpose.
How do they do it?
By providing insights and quality services which help to build trust and confidence in the capital markets and in economies the world over.
EY develops outstanding leaders who team to deliver on their promises to all of their stakeholders.
By delivering the above commitments, EY plays a critical role in building a better working world — for EY people, for EY clients and the community.
The Body Shop's motto is "Enrich, Not Exploit." It is committed to enriching its people, products, and planet.
How do they do it?
Community trade
Forever against animal testing
A new force for good in beauty
Your purpose should govern your content creation and marketing strategy, along with everything else. You should avoid anything that doesn't align with your purpose, even if it helps you win a quick buck.
Understand your target audience
Use secondary and primary research to understand your customer persona.
Lost prospective customer
Current customers
Salespeople and customer service representatives
Google analytics
Facebook insights
Quora
Social media
Thi step could make or break your entire content marketing strategy. Read a detailed post about buyer persona and various research methods that can help you understand your target market.
Define your content marketing goals and your key performance indicators
Your content marketing goals should tie back to your company's overall marketing strategy and goals.
Be involved in creating the overall marketing plan or at least sit down with your stakeholders and chalk out the major business goals you want to achieve in each quarter and agree on the key performance indicators. The marketing plan might not have content goals, it's up to the content marketer to translate the company goals into content marketing goals.
Increased sales, which could translate to lead generation. Generate X amount of leads for this quarter or increasing conversion rate by A/B testing your middle of the funnel content.
Increased brand awareness, which could translate to more visibility. Get X amount of unique visitors or page views this quarter.
Show up in Google search, which could translate to focusing more on search engine optimization or creating content that helps build links.  .
Make sure to align your content strategy with your company's overall marketing strategy and goals.
Develop a content creation plan
Choose the channels where you will create your macro content. This could be YouTube, blog posts, podcasts depending on the medium you're comfortable with — don't feel forced to do everything.
Choose your micro content channels. These will be the social media channels where your potential customer base is present.
Break up your macro content into byte-sized content and drip it out using your micro content channels.
Here are some content types you can start using in your content marketing: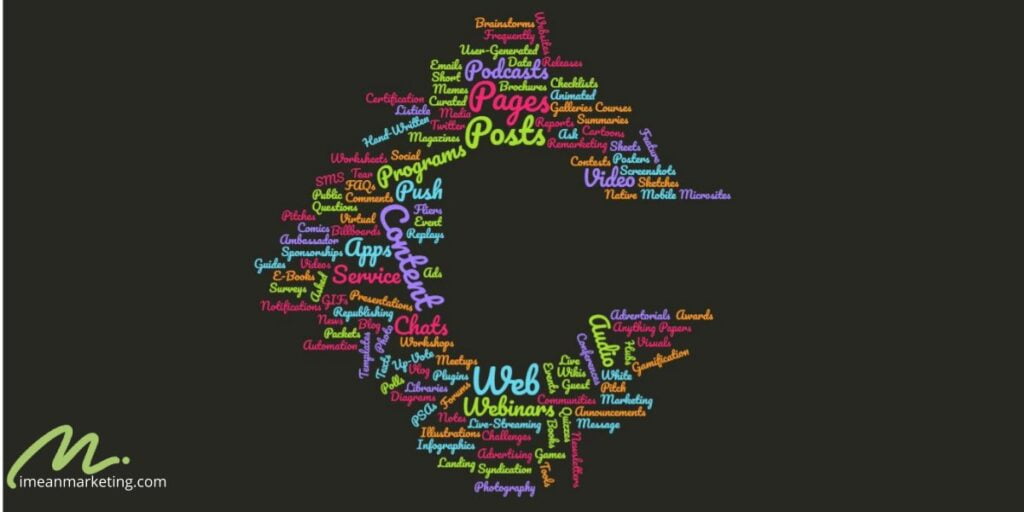 You can make use of your social media channels to distribute these content formats. Try different content formats and see which ones your customers respond to the best by looking at your analytics.
Here are some angles you can take to create impactful content.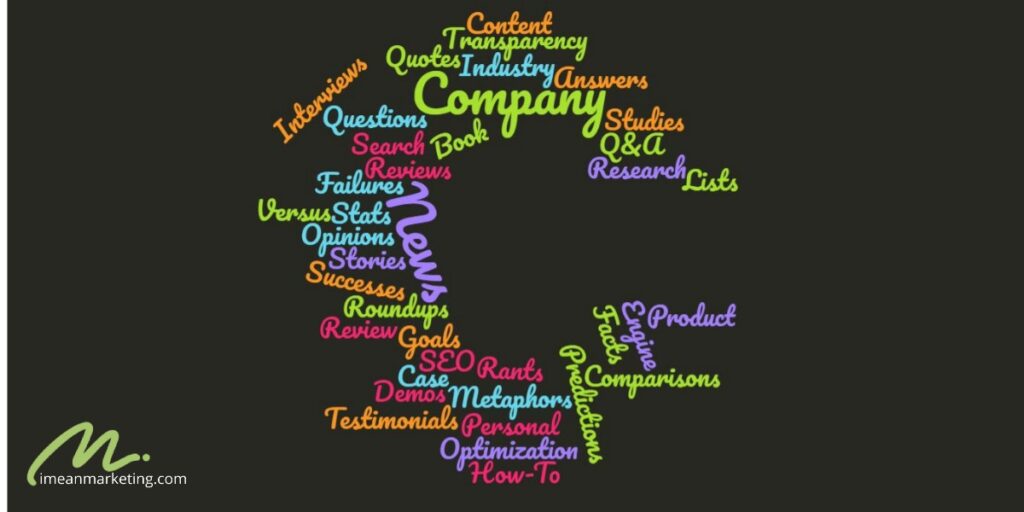 Do an audit of your existing content if you have any. Repurpose your existing content to other forms.
Develop a content distribution plan
Now you have your brand purpose, target audience, goals and content creation strategy in place. Next thing you need is a content distribution plan. This would require you to brush up on your project management skills.
The distribution part of your content marketing is where you should be smart and automate parts of it to make your life easier. There are several social media scheduling tools, which lets you schedule your social media for months in advance and marketing automation tools which trigger actions based on consumer behaviour. Make use of these tools so you can focus on building relationships.
Also ensure you have an editorial calendar in place. Do your research and select a tool that fits your budget and needs.
Don't put all your eggs in the same basket. Your content efforts should include a mix of social media marketing, search engine optimization, email marketing to name a few.
As with the channel selection in the creation plan, you don't have to do everything. Play to your strength and focus on the channels you're comfortable with. If you selected blogging as your primary medium in the previous step, then you might be more comfortable with email marketing or social media marketing as a medium to distribute your content. You can always outsource the rest.
Promote your content
Contrary to what many people think, content marketing and paid promotion are not mutually exclusive. In fact, you get the best result when you combine the two. Running paid ads on Facebook, Google or LinkedIn or running paid influencer campaigns can get more eyeballs on your content and fast track your results.
Measurement framework and feedback loop
Make sure you have a measurement framework in place. Your measurement framework will largely be influenced by the content goals you set. In this stage, also ensure you can track the data you want. This could mean ensuring tracking codes such as Google analytics, Google tag manager, Adobe Analytics, Facebook pixel are in place. Make sure you're listening to your customers and have some kind of feedback loop in place. It could be as simple as monitoring your comments section or having survey on your site, but it's a vital part of any successful content marketing strategy.
Now that you have all the key elements in place, make sure you stick with the plan and produce content regularly. But be agile enough to tweak your plan based on the results you see.
Repeat the cycle.
Publish, Promote, Track and Tweak Your Content based on results.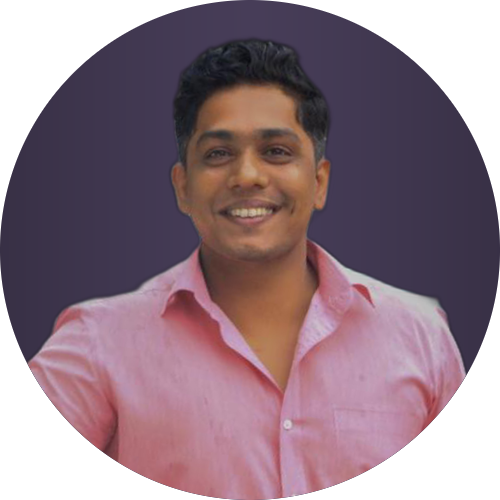 Vivek Mathew
(aka The Mindful Marketer, aka the guy who rocks a pink shirt 😄)
I'm a content consultant who helps small businesses become iconic brands by clarifying their brand message and creating strategic content. I've worked with brands like EY, Natwest, and some early-stage startups like Vivartah.

Click the button below and book a call with me.