How to Get Warm Leads Without Cold Calling and Cold Emailing.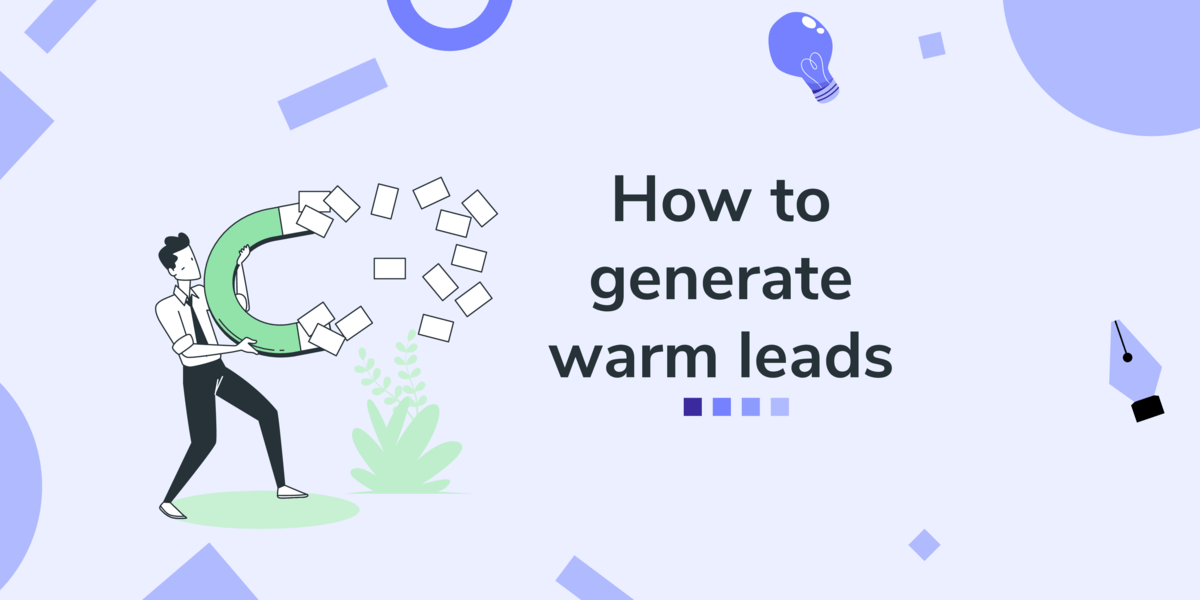 Many small businesses struggle with generating warm leads. One of the main reasons for the lack of leads is not having a solid lead generation strategy. The good news is that there are tried and tested ways to generate more quality leads, so you don't have to rely on cold calling or cold mailing. Read on to learn more about these techniques.
The Difference Between Cold, and Warm Leads
Before we dive into how to get warm leads, let's talk about the differences between cold leads and warm leads.
Cold leads
Cold lead generation is the process of generating a list of potential customers who don't know about your company. They'll meet all the requirements to be a customer. However, you'll have to give them a lot of information and earn their trust to win them over. They're called "cold leads" because you have to educate them about how your product can solve their problems. You'll have to get past their initial resistance to convert them into customers.
Warm leads
A warm lead is someone who knows about your brand and offering. They might be interested in you, but they're not ready to pull the trigger because they're still evaluating other options in the market. If you educate them about your offering, demonstrate how you can solve their problem, and show how you stack up against the competition, they'll buy from you. Your content will need to guide them through various stages of the buying journey.
1. How do you find the right people?
The first step in generating quality sales lead is understanding your ideal customer profile. The second thing you need to do is understand their interests better.
Are you customers in the unware, problem aware, solution aware, or most aware stage of the buyer's journey?
What kind of companies appeal to these people?
What prompted them to look for a specific solution?
What is the core problem they're trying to solve?
What are their personal and work-life motivations?
What are their frustrations?
How do they search for solutions?
Once you know this information, you'll be able to create content that helps your prospect and put yourself where they are present.
2. Put yourself in the path of your ideal customer
After identifying your target audience, show up in places where your ideal customer hangs out. 
For example, if you sell software, you could choose to advertise on sites related to IT. This way, you will reach tech-savvy individuals who are likely to purchase your product. Or, if you sell financial planning tools, you could place adverts on forums dedicated to personal finances. If you run a law firm, you could try advertising on online directories for lawyers. You get the idea.
3. How to generate warm leads?
Email outreach to generate warm leads.
To clarify, we're not talking about a cold lead generation strategy. We're focusing on reaching out and to people who have interacted with your brand in some way. Cold leads can prove more difficult to convert because they don't you and they don't know your brand, and there is minimal trust. That's not to say it won't work. Several people have scaled their business primarily using cold emails.
Some people might not appreciate strangers reaching out to them pitching for business. Imagine having 20 random pitches in your inbox, adding to your workload. If not done right, you can lose the customer forever. But it's different when you send valuable information mixed with marketing messages to qualified leads who already know you. Here are the steps to generate warm leads through outreach:
Step 1: Identify your prospective buyers 
Do you have a database of contacts from previous sales calls? Get it from your sales team and add it to your outreach list.
Tools like Leadfeeder can show you the email address, contact person, and companies that have visited your website.
Get in touch with people who have downloaded your lead magnets.
Get a list of qualified contacts from your marketing team.
Step 2: Find your buyer's problems
Now that you've found your prospect, ask yourself, "what pain does your target audience experience?" Then think about solutions. Is there something that solves their problem? Your sales rep can give you insight into this because they're in direct contact with your potential customer. Don't reach out with a sales pitch. Always take a value-first approach.
Step 3: Write a compelling message
Don't send generic templated emails that have been beaten to death by hundreds of marketers before you! Instead, be creative and write personalized messages. Use an attention-grabbing subject line to make sure your email gets opened. The last part of your message should contain a direct call to action, like a personal demo. You can also include a transitional call-to-action like a link back to your product sales page. 
Step 4: Send the email 
Keep all the deliverability guidelines in mind when you contact your prospect, so your emails don't get caught in spam filters. Always proofread before hitting "send." Nothing kills your chances like a typo-riddled message. Use an outreach tool to streamline the process and make things easier for your marketing teams.
Step 5: Measure results
Keep track of the important KPIs. Here are some questions that can indicate whether your approach was successful or not.
How many emails landed in the inbox?
What are your open and reply rates?
Were they interested enough to click on the CTA?
Were the responses positive?
Step 6: Tweak and repeat
Keep experimenting with different messages and subject lines. When done correctly, this technique can generate warm leads for your business.
Ask your existing clients for Referrals to generate warm leads
Current customers have first-hand experience with your company's product or service. They can attest that it worked for them. Asking existing customers for referrals is another way of asking for a review, which most people will be happy to provide considering they had a good experience with you. Referrals are a great way to generate warm and even hot leads because there is a high level of trust. It only takes one or two referrals to build a good list of clients and double your business. If you're not looking into this yet, chances are some of your competitors are! Invest in your customers, and they'll be your best advocates.
Use paid advertising to generate leads
Advertising campaigns are effective in generating warm leads. It includes different forms of media buying, like display advertising and sponsored content. Paid ads usually allow you to target specific audiences based on demographics and interests. Besides, this strategy helps businesses reach prospects who are actively looking to buy. Place your ads on websites that cater specifically to your audience.
For example, if your website sells books, you won't get much traction by posting ads on music blogs. In contrast, if you were selling computer programs, you could generate interest by advertising on popular programming forums.

Paid advertising allows companies to advertise directly to consumers via different platforms, like search engines, social networks, and mobile apps. The goal here is to drive traffic to websites or landing pages optimized for sales conversion. Test various advertising and marketing angles to find one that works with your audience.
Paid ads generate quick results if you know what you're doing. However, keep in mind that paid advertising requires money upfront and consistent cash flow to maintain results. That's why many small businesses rely on organic strategies instead.
How to generate warm leads Using SEO and Content Marketing
Content marketing and SEO are powerful marketing tools businesses use across all industries to create inbound leads and turn them into paying customers. Inbound marketing strategy focuses on attracting visitors to your website by creating helpful content and converting those visitors into paying customers.
The key to effective content marketing lies in creating valuable information in the form of blog articles, videos, and other types of content. These can be categorized into different content buckets for social media and buyer's journey. Content marketing takes time, but it's one of the most reliable sources of lead generation. Moreover, it produces compounding and consistent results. AI-driven content creation helps to get you faster results. Read my post on SEO editing if you want to learn the process that I follow to create content that ranks.
Here are 5 tips to help you create high-quality content campaigns:
Tip 1: Know Your Audience
Understanding your audience and what they care about is critical to the success of any content marketing campaign. Understand what information your buyer needs in each stage of the buying journey and create content around that. Knowing your audience gives you insight into what kind of information they want and how they prefer to consume it.
Tip 2: Be Unique
Don't create, me-too type of content; come up with something original. Being original doesn't mean reinventing the wheel and starting a new school of thought. It can be as simple as adding your spin and voice to everything you create. Use your internal data, personal stories, and experiences to stand out. If you have no idea what to write about, start small. You'll learn along the way. First, create an outline of your topic. Then, research and expand each point in the outline.
Tip 3: Focus On Quality Over Quantity
If you're writing a blog post, focus on providing insights rather than just regurgitating facts. Everyone reading your content should be able to do one of these three things:
Learn something
Feel something
Do something
Tip 4: Use Visual Media To Enhance Reading Experience
People love visuals. So add more visual elements to your content to convey your ideas. But include images or videos in your content to complement the text instead of distracting from it. Also, don't forget to optimize your visual assets for search engines. For example, include alt tags, keywords and use performance-optimized media assets to make sure you show up in searches.
Tip 5: Build an email list
An email list is not just for future promotions; it's also a great way to nurture your leads. When people subscribe to your emails, you can send them relevant messages based on their interests. Running an email drip campaign is a fantastic strategy to nurture and transform warm leads to hot leads, and ultimately hot leads into sales.
Tip 6: Use social media networks to increase your reach
Social Media Marketing can be a great way to promote your business. Start with the social channels where your customers are most active. Don't just push out sales messages. Aim to engage, educate and entertain your audience. Use micro-content and conversations to lead people back to your website and sales pages.
Tip 7: Create A Call-To-Action In Every Post
Have a call-to-action (CTA) in every piece of content to encourage the desired action. Although the CTA will change depending on the goal of the content, they should tell your reader exactly what to do next. For example, "Book a call," tells your reader to schedule a call, while "Buy Now!" encourages them to buy right away.
Use Influencers/affiliates to generate warm leads for your business.
There are several programs that allow companies to reach out directly to influential people within their target market. These influencers can be bloggers, vloggers, YouTube video creators, Instagrammers, or TikTokers. One of the best things about influencer marketing is that the influencers already have a following, so you don't have to do much.
All you need to do is find the right influencer for your company. When it comes to influencer marketing, it's not about the size of the audience; it's about audience relevancy. As long as the influencer has followers interested in your category, you're good to go. And sometimes, micro-influencers are better than large influencers because they have a focused and more loyal following.
If you don't want to individually find people to promote your product, you can use affiliate networks like Amazon Associates, Commission Junction, and ShareASale. These networks have many affiliates willing to review and promote your product in exchange for a commission. Once you identify the type of influencer you'd like to partner with, here are some steps to follow:
Step 1: Find influencers via Facebook, Youtube, Google, Pinterest, Instagram, Snapchat, and other social media sites. The engagement rate is a good indicator of whether users interact with the influencer's posts.
Step 2: Send emails or direct messages to influencers to see if they're interested in partnering up. Make sure you send personalized messages to influencers explaining why you chose to collaborate with them.
Step 3: Negotiate terms and conditions before agreeing to any partnership. Terms and conditions vary depending on your goal. Either way, negotiate compensation based on how much time and effort you expect them to put into promoting your campaign.
Step 5: Monitor results from your campaign. Calculate the ROI from your partnership and continue nurturing relationships with them if you see measurable success. You could consider creating additional campaigns to reach new audiences.
Use Trade Shows/Events to generate warm leads for your business
Trade shows and events are excellent ways to get exposure for your business. They provide you with an opportunity to meet potential customers face-to-face. If done correctly, trade show attendees can become loyal fans of your brand. In addition to that, attending trade shows can give you valuable insight into what works and doesn't work when it comes to generating sales. This knowledge can help you improve your future efforts.
Here are the steps to effectively use trade shows for lead generation:
Step 1: Identify which trade shows would benefit your business. For example, if you run an online store that sells clothing, you should be attending fashion shows and flea markets instead of home improvement expos. Because these shows attract buyers looking for trendy clothes.
Step 2: Check where these trade shows are held. Event venues are usually shared well in advance. Figure out which location best fits your need.
Step 3: Register early. Most trade shows require early registration. The earlier you register, the better your chance of getting a booth space for a discounted price. Likewise, registering too late could mean paying extra and missing out on meaningful networking opportunities.
Step 4: Prepare yourself. Before going to a trade show, make sure you're prepared with promotional materials and samples of your product. Also, bring someone with industry knowledge to help answer questions during the event.
Step 5: Network and follow up with leads. Attendees typically leave trade shows feeling motivated to buy products, but it will fizzle out if you don't follow up with them. So, follow up with them later via email or phone call.
Step 6: Evaluate the experience. Did you find enough value in attending? Were you able to network successfully? Was the quality of the exhibitors' booths good? How did the overall atmosphere feel? Did you bring in any sales?
Conclusion
Creating a successful content strategy is a crucial part of any successful business. The right content can help you generate leads, gain speaking opportunities, and increase your exposure.
Now that you know how to generate warm leads for your business go and do it! If you need help getting started with this process, I would love to chat with you about creating a content strategy for your business.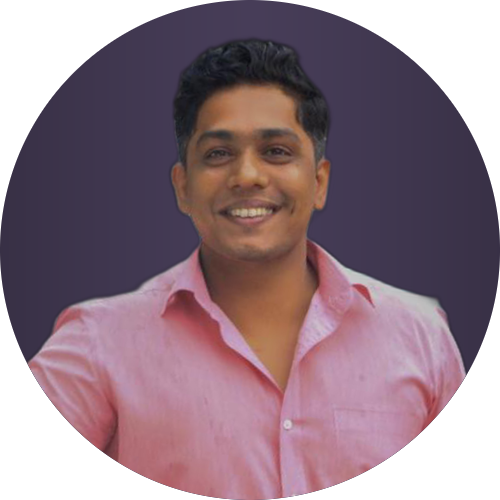 Vivek Mathew
(aka The Mindful Marketer, aka the guy who rocks a pink shirt 😄)
I'm a content consultant who helps small businesses become iconic brands by clarifying their brand message and creating strategic content. I've worked with brands like EY, Natwest, and some early-stage startups like Vivartah.

Click the button below and book a call with me.