9 Jasper AI Alternatives: Unbiased List From an Independent Reviewer
Affiliate Disclosure: This post may have affiliate links, which means I get a commission if you buy using my link — at no extra cost to you. I never recommend products I haven't tried and found helpful. (You have ChatGPT for that.)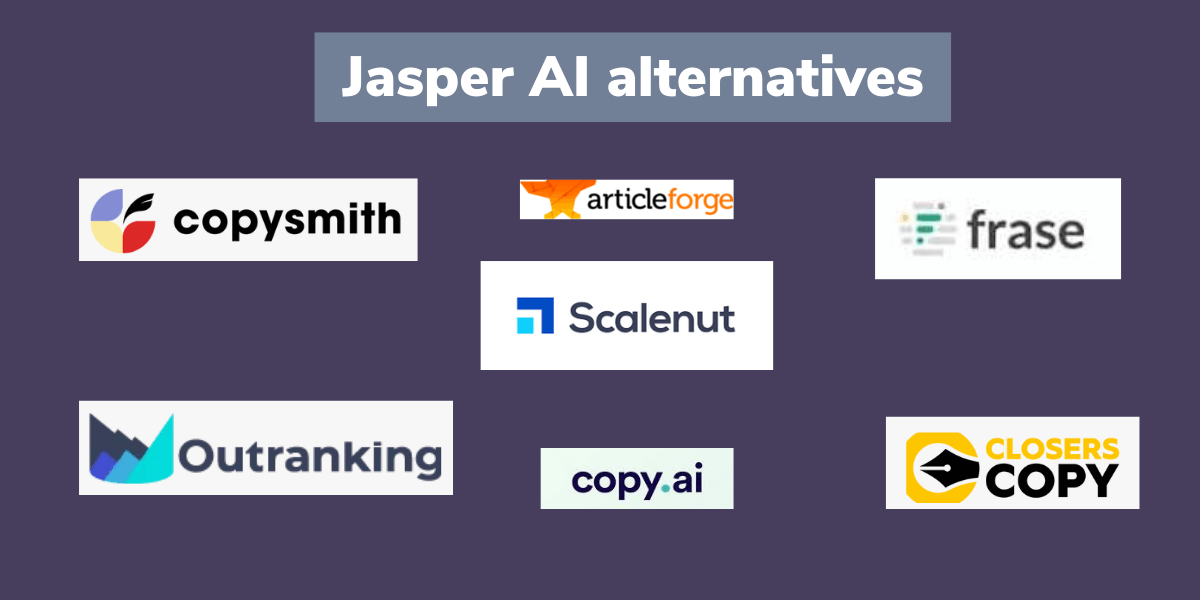 There are several Jasper AI alternatives on the market, each with its strengths. In this blog post, we'll compare Jasper AI to some of the best options out there right now. So whether you're looking for an affordable platform or something with more features, hopefully, you'll find one that's right for your business.
While I use and recommend Jasper AI (previously Jarvis AI), I understand it won't be a good fit for everyone. Maybe you're looking for a different price point or a different set of features. Or perhaps you simply don't like the name. After all, they're known for changing names (from Conversion AI to Jarvis AI to Jasper AI). Whatever the reason, it's wise to explore your options before settling on a tool. Check out my Jasper AI review if you're interested in reading my take on it.
Suggested Jasper AI alternatives
Best Jasper AI Alternatives
Here are my favorite Jasper AI alternatives:
Frase AI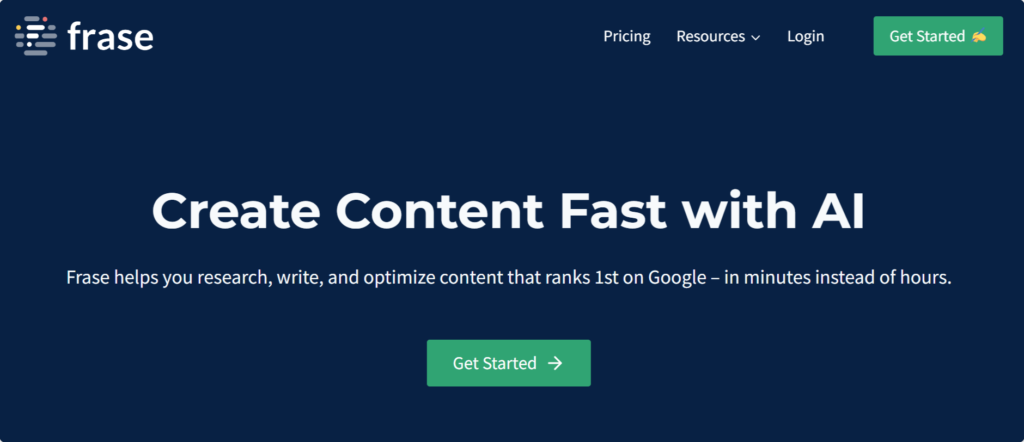 Frase = Jasper AI + Surfer SEO built into one tool
Frase AI is worth considering if you're looking for an SEO-friendly content optimization tool to rank your blog content higher in search engines. The built-in SEO data combined with the AI writer can save you time and money compared to signing up for an AI writing tool and an SEO tool separately. The collaborative features make it easy to share content briefs with your writers.
The Google Search Console integration and content analytics feature are great additions that can help with content ideation. Overall, Frase AI is a good choice if you're looking for an AI writing tool that can help with SEO.
Frase does not use Open AI's GPT3 model, so there is no restriction on the topics you can write about.
Overall, Frase is an excellent tool for those looking for an easy way to create and optimize content. If you're looking for an all-in-one solution for SEO-optimized content, Frase AI is the best option. You can read my Frase.io review for a detailed walkthrough.
Features
Frase is a single tool that combines features from Jasper AI and Surfer SEO.
Frase AI is an SEO-first AI content writing tool perfect for long-form content.
The benefit of Frase compared to Jasper AI is the built-in SEO data along with the AI writer.
You can build your AI writing templates in Frase.io, allowing more control compared to Jasper AI.
The price is much lower because you don't have to sign up for an AI writing tool and an SEO tool separately.
Frase has Google Search console integration and content analytics which is helpful for content ideation.
Frase has collaborative features making it easy to share content briefs with your writers.
Brilliant UI
Proprietary AI model
Unique features compared to Jasper AI
Google Search Console integration
Content analytics
SEO features built-in
Collaborative features Better suited for content teams
No topic restriction, including sexual health
Ability to create your own templates
The SEO addon is essentially an unlimited plan for the AI writer
Cons
It's mainly meant for long-form content writing
You'll have to build your own templates for short-form content like social and emails
Pricing
The basic plan is perfect if you're a solo freelancer or content marketer writing 30 articles per month. The team plan gives you three user seats ($25/month per additional seat) and unlimited document credits. Frase also offers a bespoke enterprise plan for larger teams. You can purchase the SEO-On for $35 per month, which gives you advanced features such as keyword search volumes, SERP data, and backlink data.
Wordtune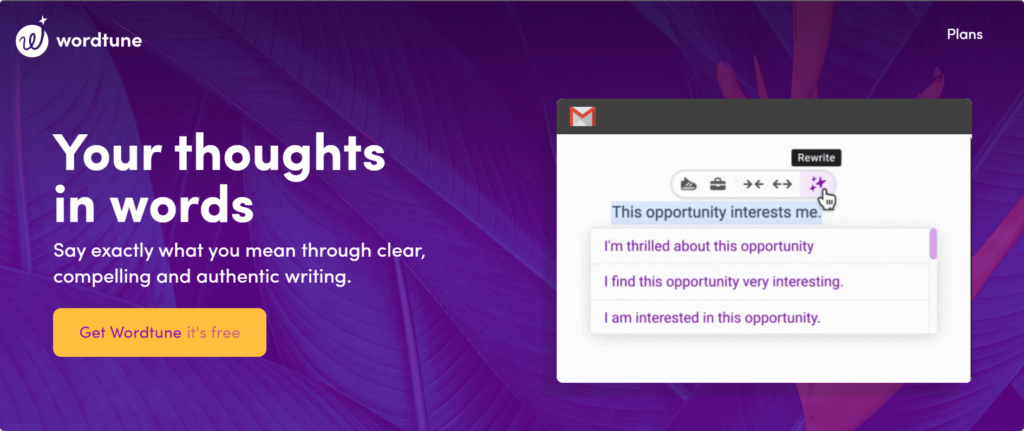 Wordtune is an AI-powered copywriting tool that helps you improve your writing. With Wordtune, you can easily rewrite your sentences and paragraphs to make them clear, concise, and engaging. While many AI writers have the rewrite feature, nothing comes close to Wordtune at understanding the context and finding the right words, tone, and style.
Features
Wordtune is hands-down the best rewriter, whether you're looking for the perfect word or a complete rewrite. The accuracy and control you get are unparalleled.
You can use it to rewrite individual sentences or whole paragraphs.
You can choose between a casual or formal tone when rewriting.
You can change the sentence length without changing the overall meaning. It's super helpful when writing microcopy or using premade design templates.
My favorite feature in Wordtune is the spices, which are just pre-trained actions. My favorite spice is the "Add a stat" feature, which finds a statistic to back up my claim. Normally it's risky to use AI writers to write statistics because they're notorious for making up bogus facts and figures. But Wordtune is reliable because it gives me the source and citation.
Wordtune also offers unlimited document credits, so you don't have to worry about running out of credits.
Wordtune Chrome extension works well inside most of your favorite third-party tools (like Grammarly, Frase, Gmail, and so on).
Unique features compared to Jasper AI
Wordtune has an MS Word add-in that allows you to access the AI rewriter directly from the MS Word interface. This is immensely helpful because you don't have to switch back and forth between two different applications. It's convenient and practical.
The spices add a ton of value to the output without having to spend hours manually crafting your writing.
Wortune can give statistics along with sources and citations.
You can upload up to three long-form documents or PDFs and have the AI summarize the content.
Cons
The AI content templates, like blog posts and social media posts, don't offer an option to give instructions or context.
Wordtune doesn't have a built-in plagiarism checker or SEO features. You'll still need an SEO tool like Frase if your primary aim is to write long-form SEO content.
The Chrome extension only allows rewrites in third-party tools. You won't get the spices feature unless you're in the Wordtune editor.
To get unlimited summaries, you must subscribe to Wordtune Read, a standalone product. AI tools like Jasper and Frase have integrated summarization features.
Pricing plans
Wordtune offers a free plan with ten daily rewrites and a paid plan for $9.99 a month. There's a team plan for which you'll need to contact their sales team to get a quote.
Outranking.io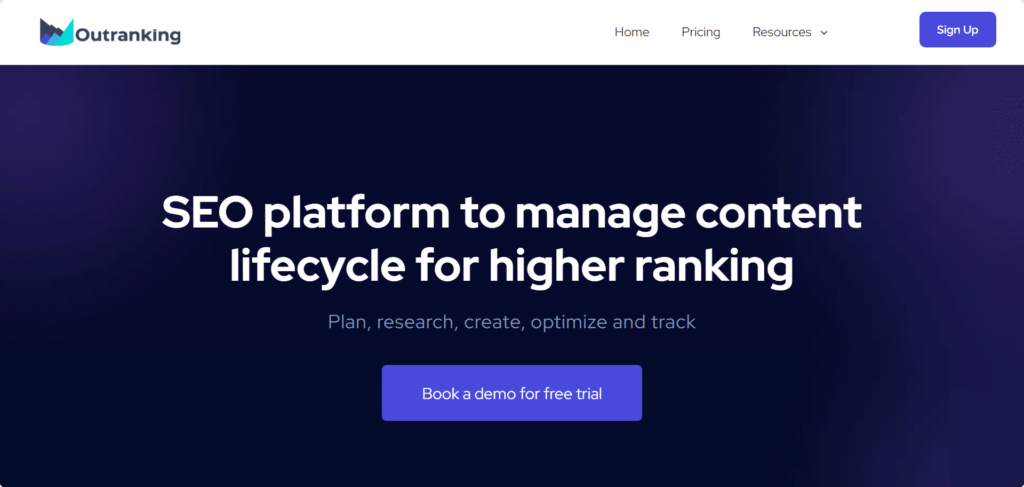 Outranking is another option that combines AI writing with SEO. The AI platform is designed to help you create content that not only ranks well in Google with minimal SEO knowledge.
The AI writer is guided by SERP content, making it easier to stay on topic. The premium draft feature makes it easy to go from keyword to the first draft in minutes, and the internal link suggestions can also save time. Additionally, the concept extraction feature can help create different content types, like FAQs and step-by-step instructions. The pre-built templates called methods are great for getting better outputs. Overall, this is a great tool for those who want to improve their content and SEO. You can read my review of Outranking.io for a deeper dive into the product.
Features
The AI writer is guided by SERP content, so keeping it on-topic is easier.
The premium draft feature makes it easy to go from keyword to the first draft in mere minutes if you prefer hands-off publishing.
The internal link suggestion is a great time saver.
Concepts feature to extract and transform key information into different formats like step-by-step instructions, bullet points, pros and cons, FAQs, and more.
Pre-built templates to get better outputs.
Unique features compared to Jasper AI
Google Search Console integration
SEO features built-in
Collaborative features Better suited for content teams
Cons
It's mainly meant for long-form SEO writing
Not suited for short-form content, and you can't build your own templates
The unlimited plan is only available on the enterprise tier
It has topic restriction because it depends on GPT3
Pricing
Outranking offers four plans:
Solo: $129
Pro: $229
Company: $429
Enterprise: $999
The solo plan gives you 20 documents and 250K words, the pro plan gets you 50 documents and 500K words, and the company plan comes with 100 documents and 1M words. The top-tier plan comes with unlimited writing and 200 documents at a whopping $1K.
Copysmith AI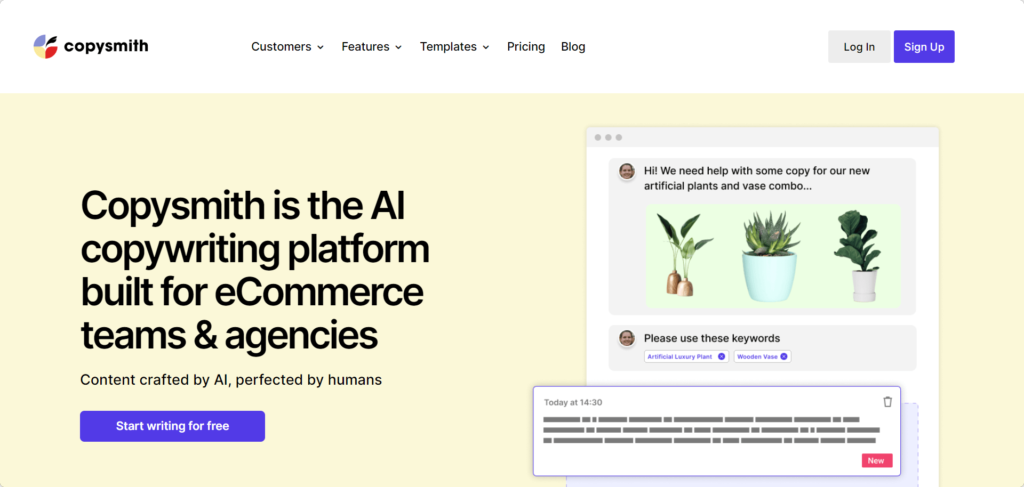 Copysmith is an AI copywriting tool best suited for eCommerce teams. It's the fastest and easiest way to create thousands of product descriptions in one go. To increase the efficiency of your workflow, it integrates with powerful tools like Google Ads, Shopify, Frase, and WooCommerce.
Copysmith comes with a campaign builder to create all your marketing materials in one go, including your product description, landing page copy, meta tags, social media content, and even blog posts.
Features
AI copywriting platform built for eCommerce teams & agencies
Bulk product description generator
Campaign builder
Team collaboration features
Pre-built copywriting templates
Unique features compared to Jasper AI
Chrome extension that increases your productivity
Integration with Google Ads
Integration with eCommerce platforms like Shopify and WooCommerce
Direct integration with Frase to write SEO-optimized product descriptions
AI engine specifically trained for various sectors
Cons
Focused on e-commerce more than anything else
Output from long-form isn't very impressive
There is no free-form text editor that provides the same degree of freedom as Jasper AI
Pricing
The starter plan comes with 50 credits, which lets you generate up to 33K words. It also gives you 20 plagiarism checks per month without having to pay extra. If you're looking for a more robust and scalable option, the professional plan offers 400 credits, which is roughly 260K words. The professional plan also comes with 100 plagiarism checks monthly. Copysmith also has an enterprise plan with lot more features like unlimited credits, a dedicated account manager, custom templates, and more.
Scalenut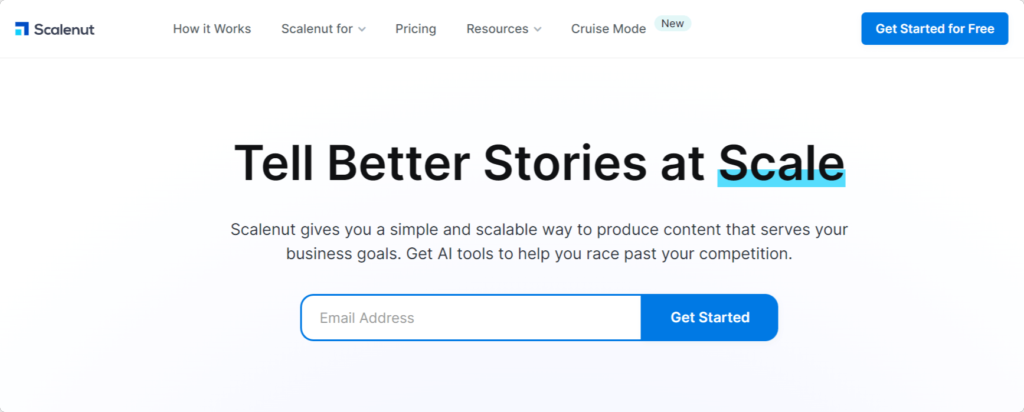 Scalenut is an AI assistant that generates unlimited content ideas for blogs, product descriptions, ad copies, emails, blog intros, and more at the click of a button. Powered by the industry-best NLP, Scalenut creates content briefs that help you create SEO-friendly content on any topic in minutes. With the cruise mode, you get a guided workflow enabling you to create an entire blog post in minutes. There's a separate section for AI tools if you want to generate some marketing copy quickly without getting bogged down with all the complicated SEO features. This is perfect for content marketers who need to whip up some email subject lines or social media captions quickly..
Simple user interface
Built-in SEO features
Cruise mode for easy blog writing
Pre-built copywriting templates
Unique features compared to Jasper AI
SEO features built-in
Access to human writers through their own marketplace
Chrome extension
Free 7-day free trial
Cons
Focused on SEO writing
No plagiarism checker
Lacks SEO features compared to Frase and Outranking on this list
Pricing
Starting at $29 per month, the lowest plan is aimed at solo creators and consultants, which gets you 100, 000 AI words, five SEO reports, and 40 plus AI writing tools. Next is the growth plan, which offers unlimited AI words, 30 SEO reports, cruise mode, settings for more control over the AI writer, and collaboration tools. The premium plan gives you unlimited SEO reports, a dedicated customer success manager, and user seats.
Copy AI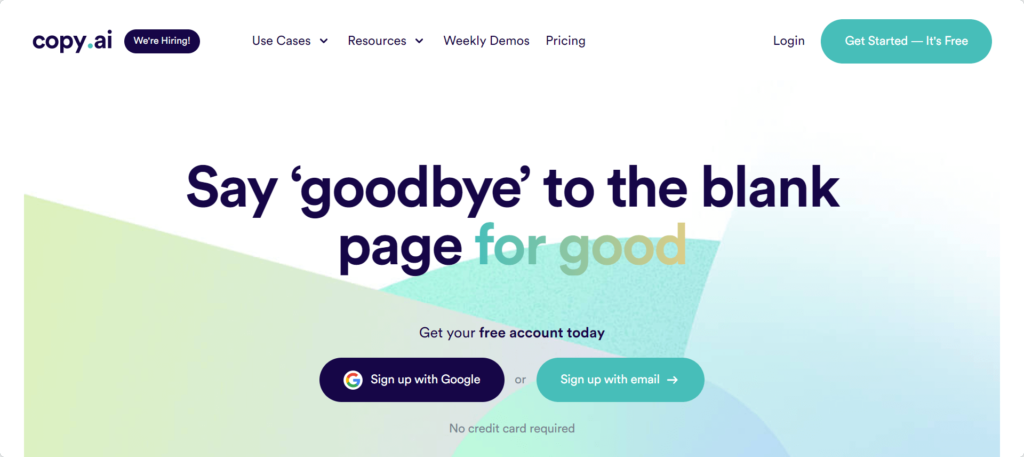 Copy AI is probably the best Jasper AI alternative because, like Jasper, it's more focused on AI copywriting than SEO content writing. So if you're looking for an AI writing tool to mainly help with writing marketing copy, this is a close match. Copy AI offers a wide range of copywriting templates, possibly the highest number after Jasper AI. Plus, the interface is very user-friendly.
While Copy AI doesn't offer free-form writing like Jasper AI boss mode, it still has a blog writing workflow that can help you write your blog post quickly.
Copy AI is one of the most affordable options out there.
Key features
Pre-built copywriting templates
Large collection of templates
High-quality content
User-friendly interface
Unique features compared to Jasper AI
Affordable pricing
Wide range of pre-built templates
Includes a free plan that requires no credit card information
Cons
No SEO features
No long-form editor that allows freestyle writing
Limited tones compared to Jasper
Pricing
Copy.ai has a pretty simple pricing model with a free tier giving you 10 credits each month and a pro plan with unlimited credits and priority support.
Rytr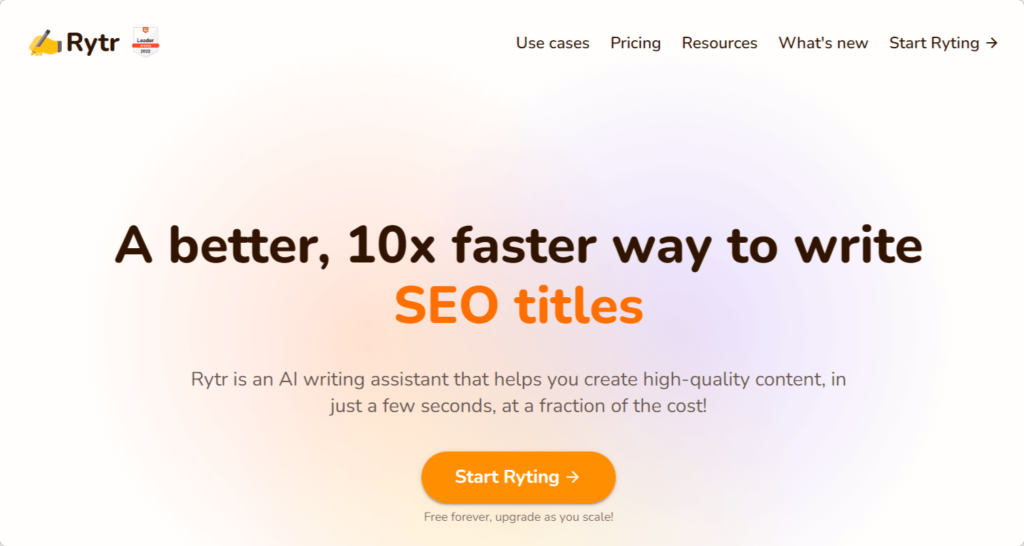 Rytr is the most affordable option on this list. The starter plan is just $9 per month. You can use the content creation platform to write blog posts, social media posts, and product descriptions, among other things. While it doesn't have all the bells and whistles that Jasper has, it's still a great tool if you're on a budget. Rytr integrates with the SEO tool Semrush, which is a plus if you're targeting SEO traffic.
Features
Pre-trained copywriting templates
Easy to use
Continuous writing for blog posts
Readability scoring
Integrate with Semrush
25 plus languages
Pros compared to Jasper
Low price point
Many tones of voice
Generous free plan
API to integrate AI writing into your workflows and tools
Cons
The output quality is not the same as Jasper or Copy Ai
Copywriting templates are not as diverse as Jasper or Copy AI
Pricing
Rytr offers three plans: the free plan offers 5K characters per month, the $9 saver plan gives you 50K characters per month, and the $29 unlimited plan gives you unlimited characters per month.
Smartcopy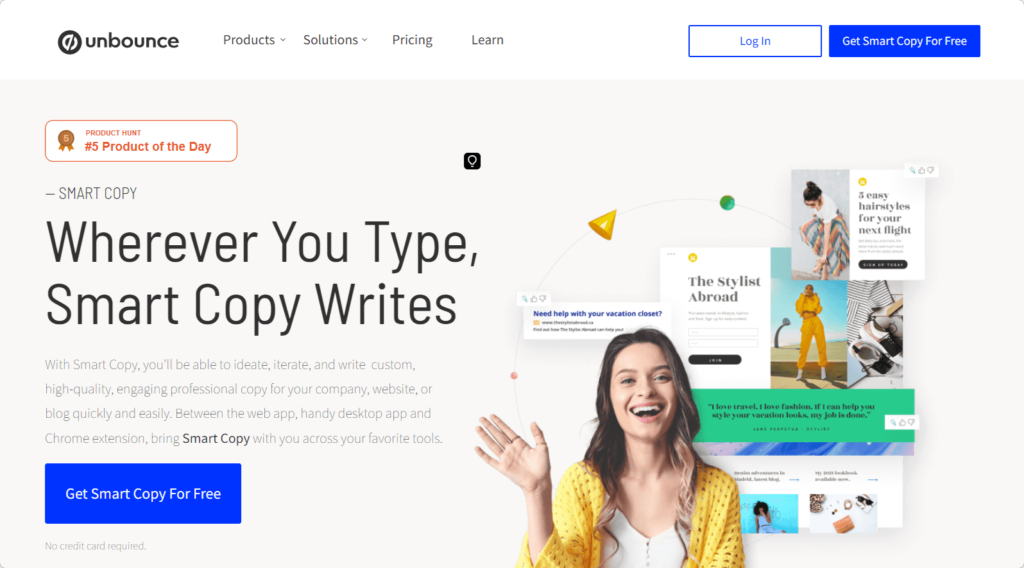 Previously known as Snazzy AI before being acquired by Unbounce, Smartcopy writes high-converting copy with minimal information. With over 45 plus templates to choose from, you'll most likely find one for your need. Smartcopy also has a "writer" tool that essentially allows you to write freestyle. Considering Unbounce is a conversion-optimized landing page builder, I'd imagine some of those conversion principles would carry over to Smartcopy.
Features
45+ templates
Smartcopy chrome extension
Offers a desktop app
Unlimited generations for $49
Freestyle editor for continuous writing
Pros compared to Jasper
Conversion optimized copywriting
Smartcopy chrome extension
Desktop app for distraction-free writing
Pricing
Smartcopy keeps things simple with a two-tiered pricing model. The free version gives you five free credits every day, but you can't access the long-form content writer. At $25 per month, you get access to the growth plan, which gives you unlimited writing.
Article forge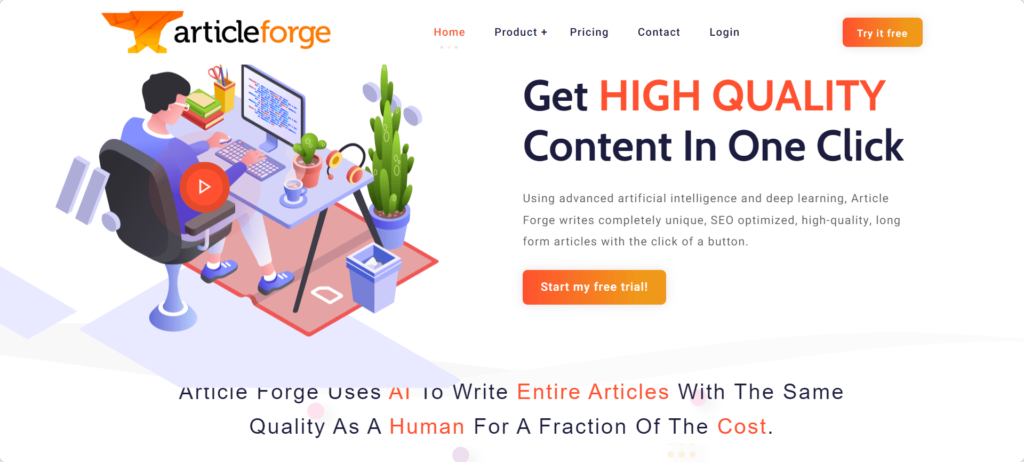 Article Forge is the tool for you if you're looking for a push-button solution to create long-form, SEO-optimized articles. Using advanced artificial intelligence and deep learning, Article Forge writes unique, high-quality articles for your website or blog. Just enter a keyword, and in a matter of seconds, you'll have a 1500-plus-word article waiting for you.
While that sounds like a dream come true for lazy site owners, the truth is that the generated content is often fluffy, unreadable, and riddled with grammatical errors. And using entirely AI-generated content without proofreading it or editing is a race to the bottom if you ask me.
Features
One-click article generation
Comes with API access
Content that passes Copyscape (plagiarism) checks
Could work for test sites or PBNs
Cons
It takes a fair amount of editing to make the output useful
Grammatical errors and typos
Pricing
Articleforge offers three levels of pricing: basic, standard, and unlimited, with the only difference being the number of AI-generated words. At $27 per month, the basic plan gives you 25K words; at $57 per month, the standard plan gives you 250K words, and at 117$ per month, you get unlimited words.
Closerscopy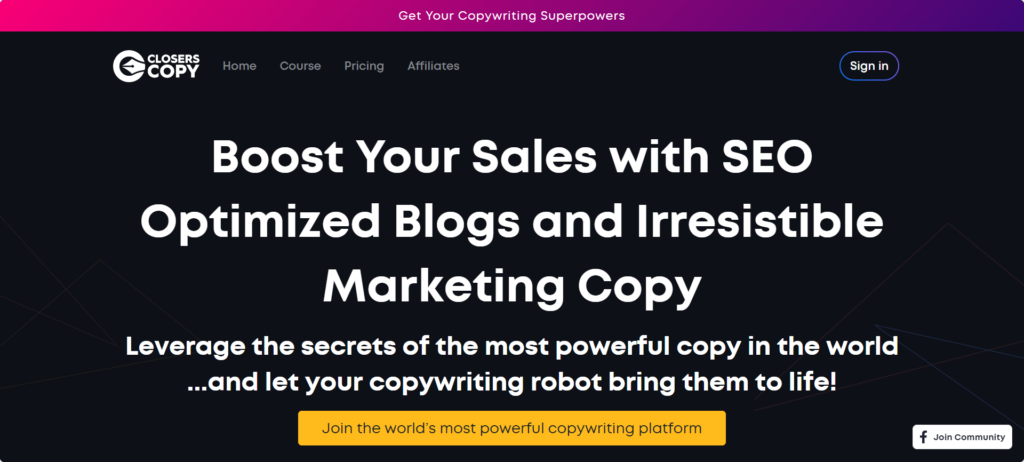 You can't use GPT-3 language models if you write about sensitive topics like sexual wellness. Every tool on this list except Frase uses GPT-3. Closerscopy is another unicorn that doesn't use GPT models. So If you need content for a site in a sensitive niche, Closerscopy is a tool that can help.
With the drag-and-drop interface, Closerscopy gives you a Lego-like experience as you piece sentences together. With an easy-to-use interface and a one-click sentiment analysis feature, Closerscopy helps you improve your content as you go. There are over 18000 copy examples to choose from, so you're sure to find creative inspiration for your next Google ad or Facebook ad. You can use the Megatron feature to create headings and subheadings and expand on them to create a whole blog post.
Features
18000+ copy examples
One-click sentiment analysis
Megatron feature to create full blog posts
Ability to write about sensitive topics because it uses a proprietary model
Cons
Inconsistent output quality
No free trial
Wrap up
There are many Jasper AI alternatives and the perfect one really depends on your needs. Some people prefer to be hands-off, while others want to be more involved in content creation. Similarly, some people write SEO content, while others need marketing copy without all the SEO wizardry. That's why I've included both kinds of Jasper AI alternatives here.
If you're looking for a tool to help with your SEO traffic, Frase is an excellent option. For hands-off content generation, Article Forge is worth a try. If you need help with conversion-optimized copy, Smartcopy is your best bet. And if you're working in a sensitive niche, Closerscopy or Frase can help you write about topics that are considered taboo in most tools.
If your focus is short-form marketing copy like Google Ads or Facebook Ads, Copy.ai or Rytr is worth trying.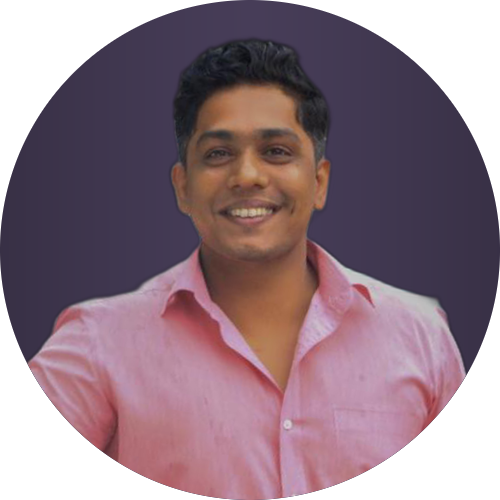 Vivek Mathew
(aka The Mindful Marketer, aka the guy who rocks a pink shirt 😄)
I'm a content consultant who helps small businesses become iconic brands by clarifying their brand message and creating strategic content. I've worked with brands like EY, Natwest, and some early-stage startups like Vivartah.

Click the button below and book a call with me.