Frase Review: Stay A Cut Above Your Competition
Affiliate Disclosure: This post may include affiliate links — when you use my link to make a purchase, I make a commission at no additional charge to you. I never recommend products or services that I haven't tried and found useful.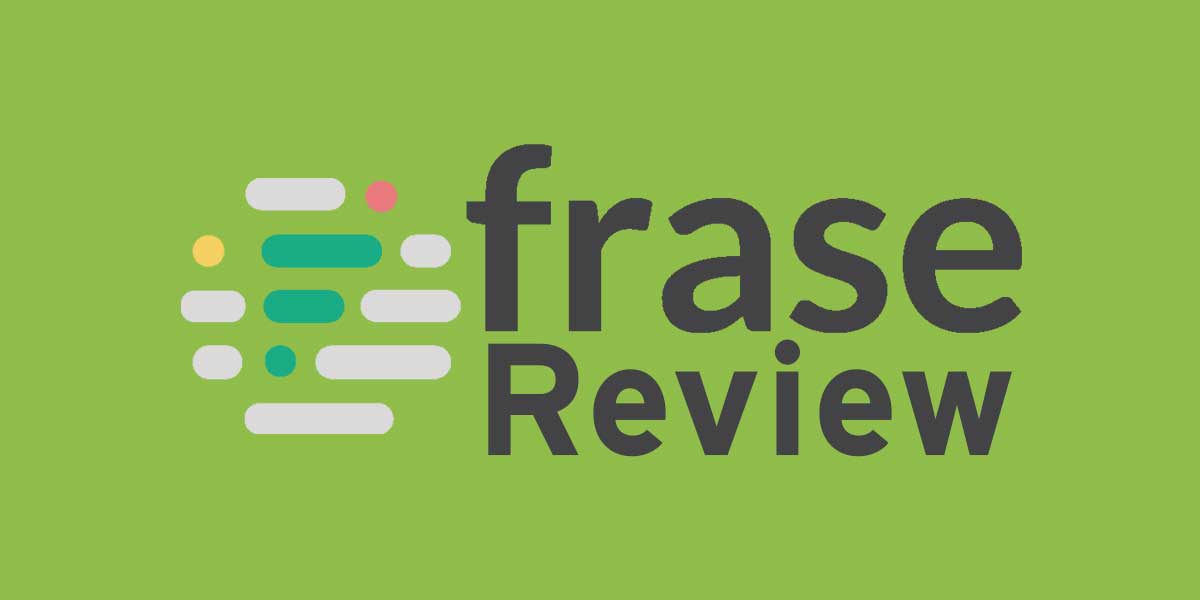 I wrote this Frase review after using it for several months. I'll be covering how I came across the tool, what I didn't like about it, and how the tool evolved and became my all-time favorite.
Frase: my favorite content optimization tool
An AI powered content tool to level up your marketing
The content creation and optimization features are top-notch and can save you hours worth of work. The content editor and UI could use some improvement. The answer engine is a great tool to understand what your customers want. You can analyze the queries and create content to address them. I think this is the future and the crux of value-based marketing. I find this to be an invaluable tool that will remain at the core of my content marketing strategy.
I came across this tool for the time in Appsumo, and right off the bat, I could see the value in their offering. Like a little kid with his newfound toy, I started playing around with Frase.
But I felt one major lacking…
It analyzes all the top 20 results, and there was no way to choose the sources. It just didn't make sense to me. There would be a lot of scenarios where I would want to exclude an option. For example, including a coupon site that ranks because of many blackhat backlinks in the analysis would give me inaccurate suggestions.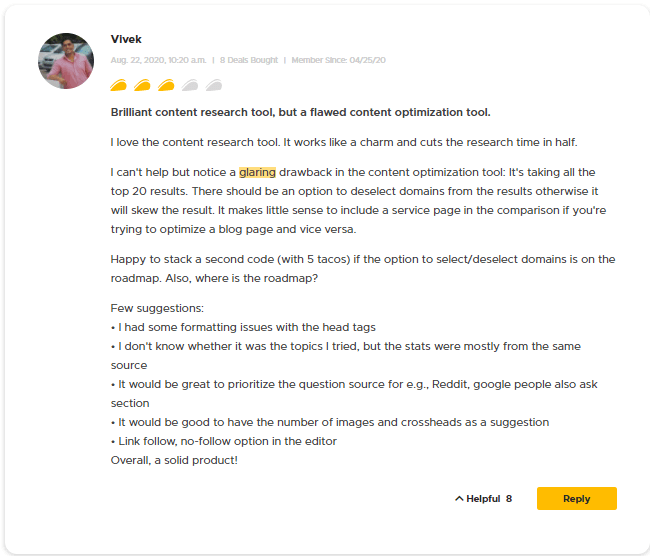 Few other instances where I needed the filtering option:
Intent mismatch (e-commerce sites ranking among blog posts)
Outliers, pages that are very different from the other ranking pages
Pages ranking because of their authority, e.g., Wikipedia or Amazon
Online directories
There was no way to filter these out from the analysis. I shared my thoughts in the review, as well. But I still went ahead and bought the tool because it showed potential, and more importantly, the team behind it seemed responsive and open to suggestions.
One of my better decisions. The tool evolved and became everything I'd hoped it would, and much more.
What is Frase.io?
Frase.io is an Artificial Intelligence-powered content optimization tool that helps you create high-quality search engine optimized content. It also has an answer bot that creates briefs from your website content to deliver answers your users ask on your site.
Topic Idea generator
Question Ideas
Frase places a lot of importance on creating content for users, so it's only natural they have a questions section. Plugin your keyword and hit enter; it collects frequently asked questions from the below sources:
People Also Ask
Search Autocomplete
Quora
Reddit
Related Searches
You can create a document from a query or save them to a list and add them to your document later. This feature is useful for adding an FAQ section in your blog post. Frase recently introduced keyword volume; it helps to choose high volume phrases.
Frase's Concept Map
The concept map gives you a visual representation of Wikipedia's Knowledge Graph. The concept map feature is handy to create a pillar-cluster model. You can then click on a particular topic to pull up the Wikipedia brief. You can either read the wiki or create a new document from the keyword.
Content Research, Creation, and optimization feature
Once you have identified the topic or keyword from the list of ideas, you can move to the editor. Frase has a research assistant, which gives you a birds-eye of the Google SERP results. I was able to shave off several hours in my workflow using this feature.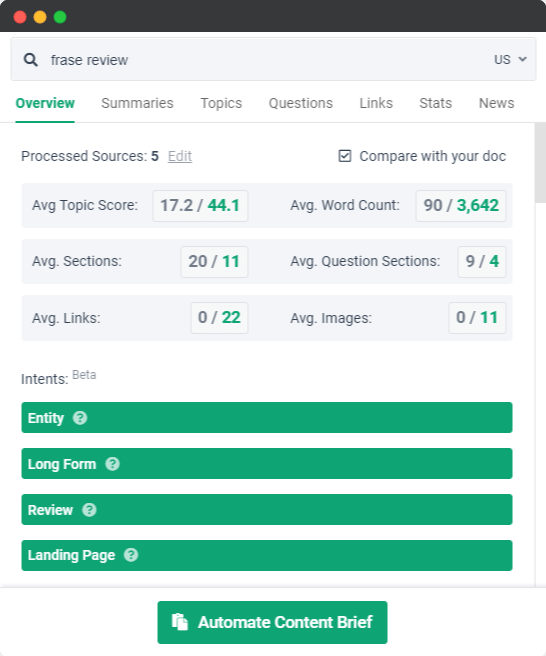 The overview section gives you a competitor analysis of results ranking in the search engines:
Average word count
Avg topic score, which is their propriety algorithm
Select sources
Avg sections
Avg links
Avg images
Search intent still in Beta
Topics
Questions
Sections
Statistics
By checking a box, you can compare your content against the top-ranking pages.
You can also switch to different tabs:
Summaries tab showing topics and crossheads for individual results in the SERP
Topics tab shows the number of times a phrase should be used in your content and assigns you a content score based on your topic coverage. The topic card turns green at optimum keyword usage and red if you use it 1.8 times more than the average or less than 1 percent density. The content score updates real-time as you edit your content.
SERP (search engine results page) mentions and Co occurrence
Clicking into topic cards will you how the phrase is used in paragraphs.
It also shows you the topics used together in the same sentence and related topics (semantically related topics from Wikipedia knowledge graph).

Questions tab gives you all the queries in the SERP
Links tab gives you all the links mentioned in the top-ranking pages in the search engine results
Stats tab scrapes all the data mentioned in the top results. It does pick up some random information because a number or % is mentioned in the content, but it does do a pretty decent job of filtering these out.
The news tab gives you all the news related to your latest content. The results are arranged from newest to oldest, so you have the latest news at the top. I find this a brilliant feature. You can piggyback on the latest news to promote your content on social media.
There is an option to create an automated content brief; it gives you a tidy little page with all the overview section options. It's perfect for people who outsource content and need to give them an outline of precisely what is expected.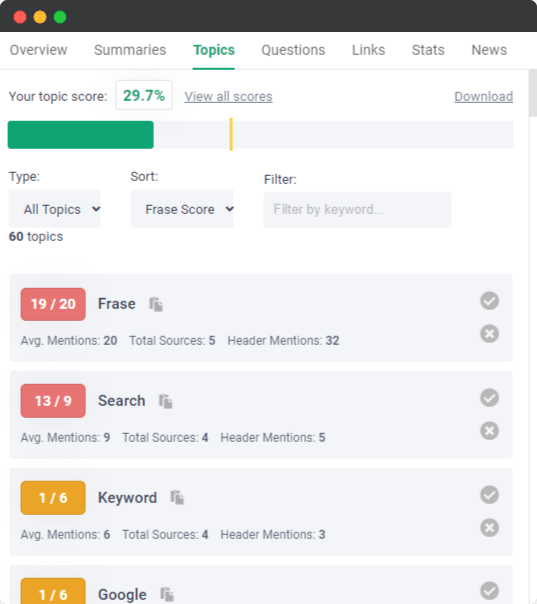 Frase's FAQ Schema feature
This gives you the ability to mark up your HTML with FAQ Schema automatically. FAQ rich results are where Google shows some of the frequently asked questions as accordions. Answering these will increase your visibility in the SERP. If you need more information on FAQ schema, you can read this resource by Google.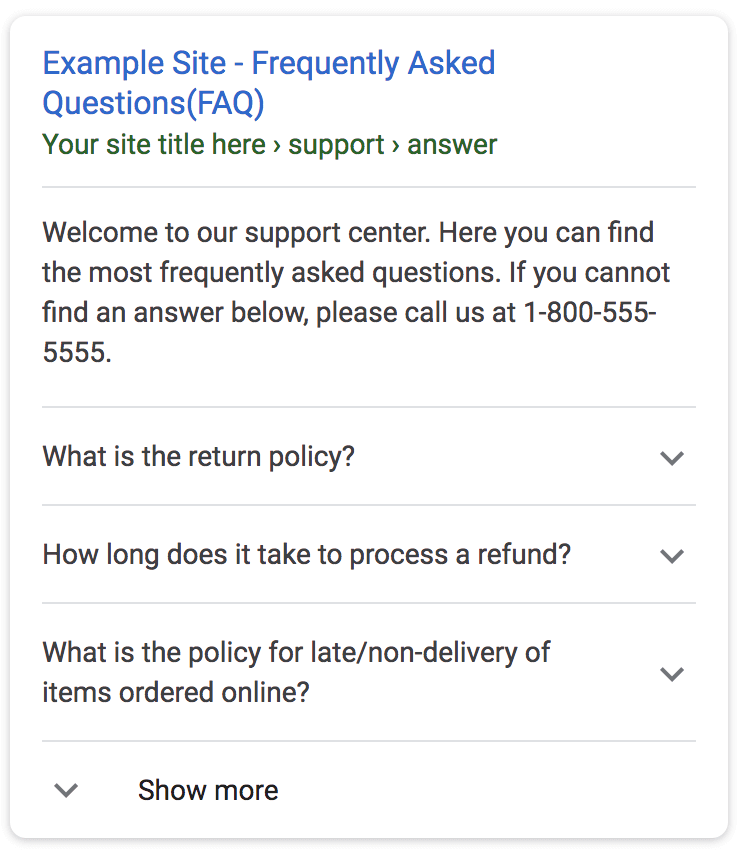 Search intent feature
Search intent shows you the type of articles that are currently ranking, so you know what Google or rather the user is looking expecting. The search intent is not the traditional commercial, informational, comparison, navigation, and branding model. They have a few more options:
Long-form: in-depth articles
Listicle: articles using an explicit list format
How to: step by step guide
Products: product pages
News: recent/fresh articles
Branded: company homepages
Local: focused on a specific location
Visual: short text with many images
Video: short text with video
Entity: content that discussed a knowledge graph type article
Landing page: Company landing/pillar page and content hubs
Frase's Answer Engine
Frase's answer engine creates answers for your customer by using content on your website. The best part is you don't have to write any crazy, complicated code or algorithms. It's a set it and forget it set up, although it requires some training (like any other AI-based system). The training is not very complicated; it will take about 10-15 minutes unless you start scrolling through your Spotify playlist to find the perfect bot training song. Once you have set it up, it will be live on your website 24/7, fielding all your customers' questions. It also has an option to fall back on the live chat option, so visitors can connect with real people if the answer engine fails. Yes, even on a Sunday. You get reports that will help you identify the content gap.
Frase Integrations
The most important integration is with your Google Search Console. This is required for the answer engine to perform correctly. Frase integrates seamlessly with several other marketing platforms such as Mailchimp, Hubspot, Google drive, to name a few. They have a WordPress integration, but that is temporarily parked to iron out some minor issues.
Support
Customer support is a big one for me when choosing my tools. Frase comes out on top here. They have built a loyal community and following by listening to their customers and by providing stellar support.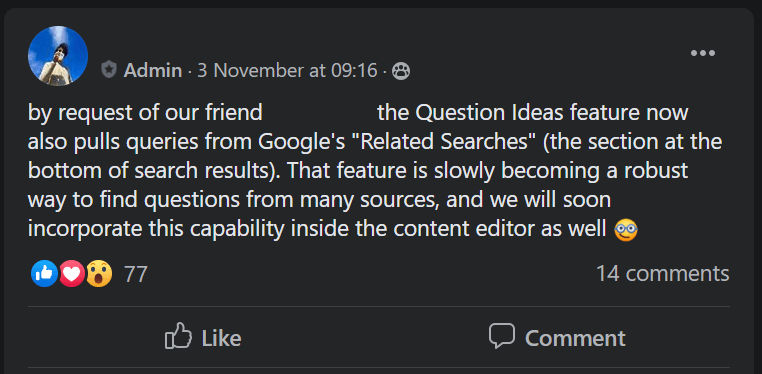 Here is another one.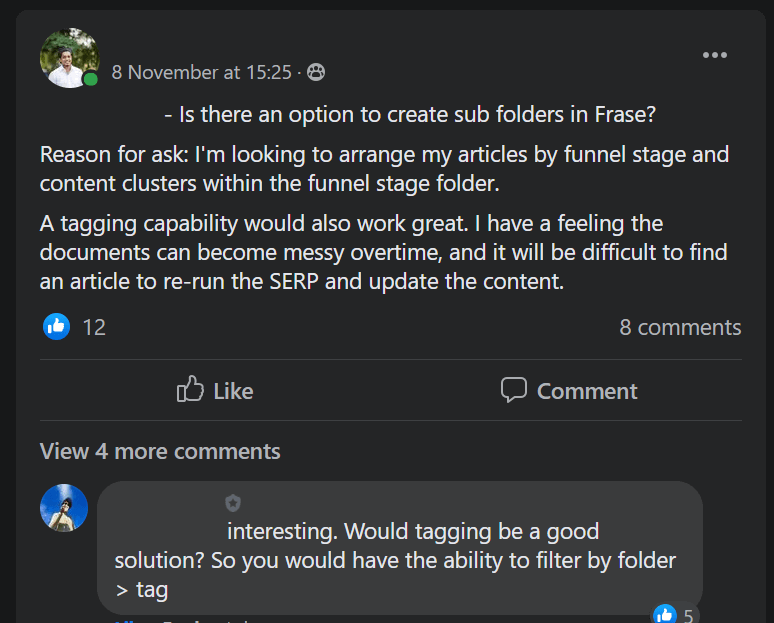 All issues are addressed quickly in my experience. I've seen the team respond to issues in their Facebook group even on a Sunday.
Pricing
They have a free trial, which is enough to test the waters. The free trial comes with unlimited Question Research, five documents, one search Google search console crawl, and one answer engine thirty-day test. Pricing might have changed from the time of writing this post, so please verify the current pricing on their website.
The basic package is $39.99 billed annually or $44.99 monthly, which gives you one user and 30 documents (content briefs and optimization) per month.
They offer a growth plan for $99.99 billed annually and $114.99 monthly, which gives you three users and unlimited documents (content briefs and optimization) per month.
The Answer Engine package comes at $199.99 per month billed annually and allows three users (with $15 per additional user), unlimited documents, and 500 answers/mo per Answer Engine ($50 per additional 100 answers).
Alternatives available in the market
There are several other tools in this segment. MarketMuse, a content intelligence platform, is the leader in this segment in terms of functionality and market share. MarketMuse is more of an enterprise tool being priced at $500 per month, but it offers personalized recommendations, access to content strategists, and done-for-you briefs. Clearscope is another enterprise-grade tool starting at $170 per month. Clearscope analyzes the top 30 results and suggests topics and subtopics you should cover.
Frase vs. Marketmuse
Frase is often compared to MarketMuse because both tools have overlapping functionalities.
Differences between Frase and MarketMuse
Both Frase and MarketMuse use different data set for their topic modeling. Frase uses the top 20 ranking pages for their topic modeling, while MarketMuse analyzes thousands of pages to create their suggestions. Frase's approach can help you rank in the top results because Google is already ranking similar pages. Market muse's system goes a step further and enables you to create authoritative content that your competitors haven't covered.
Apart from the content optimization workflow, Frase has an answer bot that scrapes existing content on your website and delivers it to your website visitor. This can reduce your site's bounce rate.
Frase allows you to share editable links with your external writer to give them access to your content brief.
MarketMuse has a research application that runs on an advanced algorithm. This application can help you identify closely related topics that you can use to create a topic cluster.
The connect application available in MarketMuse will make internal linking recommendations by identifying the best pages on your site for each topic you cover.
The compete application in MarketMuse gives you a head-to-head comparison with other pages ranking in the SERPs (search engine results page). This application can help you quickly identify the missing topics you can cover to stand out from the rest and become a thought leader.
I don't think you should be thinking Frase vs. MarketMuse; it should be Frase and MarketMuse. Both tools can complement each other very well.
Market Muse is currently running a promotion on Appsumo, which is unexpected because they're an enterprise-level tool. So make use of their promotion (to avoid their otherwise crazy expensive monthly plans) and get on their lifetime deal before it runs out.
Here is my affiliate link for MarketMuse.
At no extra cost to you, I will earn a commission if you sign up for the tool using my link. You can search for the Appsumo website and look for the MarketMuse deal if you prefer not to use my link.
Conclusion
This tool will only keep getting better with time, and you should give it some serious consideration if you are looking to create high-quality content at scale. It can help to level up your content marketing game.
FAQs
How to use Frase.io to research and automatically summarize content (AI Tool)
Enter your query to create a new document. A new document editor will open up with a suggestions panel to the right. The 'automate content brief' option gives you an autogenerated brief with topics, FAQs, links, and stats that you can pass on to your writer.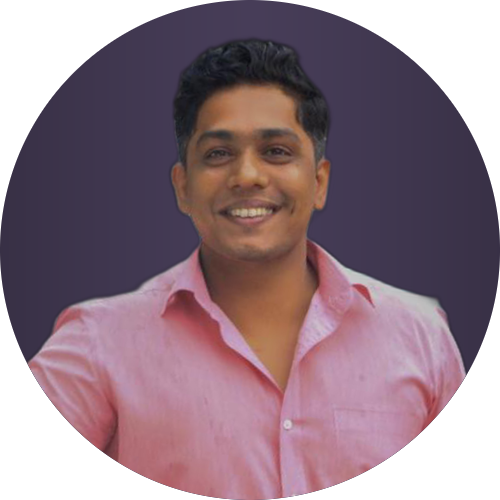 Vivek Mathew
(aka The Mindful Marketer, aka the guy who rocks a pink shirt)
I help purpose-driven small businesses turn into stellar brands by clarifying their brand message and creating strategic content.
I've worked with brands like EY, British Council, and some early-stage startups like Vivartah. Book a free discovery call with me to see how we can elevate your brand.