What is organic marketing? [8 Organic Marketing Strategies For 2022]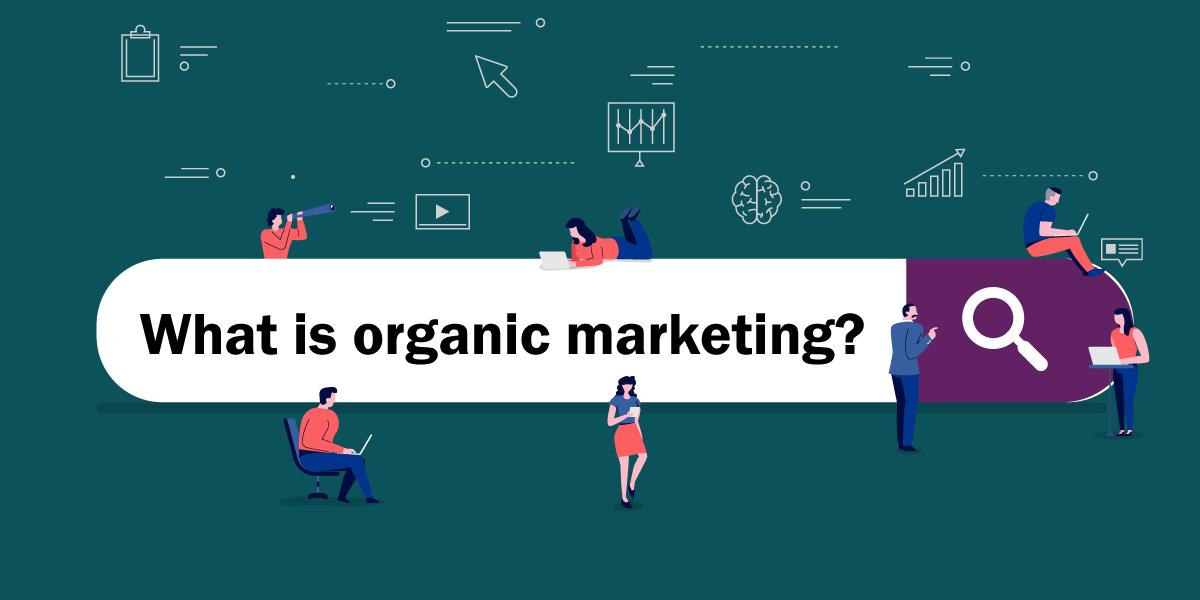 With organic marketing, the objective is to reach people with the right message at the right time without making it seem forced. Organic marketing is essentially about giving value first. The end result is a message that sounds more natural and gets you more warm leads and sales.
What is organic marketing?
Organic marketing means driving traffic (online visitors) without paid media coverage or advertising, the opposite of "organic traffic" is "paid traffic." Organic marketing strategy is all about generating traffic to your website, blog, or social media pages without paying for it directly. You can market organically on platforms like Facebook, Twitter, Instagram, or your website. Make use of different types of content like blog posts, social media posts, videos, and images to create engaging content. By offering useful and entertaining content, you will attract people to your business.
Why is organic marketing important?
Organic marketing is important for companies because it's a long-term solution to revenue generation. In this digital marketing era, organic marketing has increased, and companies are relying more on organic marketing than paid advertising. Organic marketing builds trust by providing value upfront. When someone comes to your website and reads a blog post you've written, they have no idea who you are. They don't know what your brand is about; they don't know if you're trustworthy or if your product is right for them. But, organic marketing gives you the ability to build trust by helping them with their problems and answering their questions. Sure, paid advertising can help you get more exposure and drive more traffic to your site, but it doesn't build trust.
Organic marketing helps you reach a group of users who are searching for a solution to their problem. You solve their problem and build trust before offering your product. Organic marketing is free, and it's all about building that credibility. Create the type of content that will position you as an authority in your industry. The more confidence you build with your customers, the more likely they are to buy from you.
What are the major differences between paid marketing and organic marketing
When you're developing an online marketing strategy, you have two options: paid marketing or organic marketing. Paid marketing involves buying ads, and organic marketing involves creating valuable content and sharing it online through different channels. Let's take a look at the main differences between paid and organic marketing so you can decide which best fits your needs.
| | |
| --- | --- |
| Paid channel | Organic channels |
| Immediate results | Gradual results |
| Geo-targeted ads | Little control over targeting |
| Traffic drop when you stop paying | Compound results |
| Short-term results | Long-term results |
| More intrusive | Less obstructive |
| Lower CTR due to ad blindness | Higher CTR than Google ads |
| Harder to build trust | Easier to build trust with the value first approach |
Organic marketing efforts vs. Paid marketing campaigns
There are two main differences between paid and organic marketing strategies: immediate results and cost.
Organic marketing methods, unlike paid advertising, don't require you to fork out cash for every click on your website. Organic marketing involves giving users excellent content for free, ensuring they return to your site. An organic marketing plan works well for small businesses because it doesn't require a large marketing budget once you get the momentum. Although organic marketing requires time and consistency before it pays off, AI-based SEO tools and AI content creation make it easier.
On the other hand, paid advertising gives you the flexibility to choose your audience as you don't need everyone to see your message. Paid ads allow you to reach customers straight away with an immediate result. Your customers will see your ads directly instead of finding you through searches or social media. The downside is the traffic drops to zero when you stop running your ads.
Ideally, you should plan for both paid ads and organic traffic in your digital marketing strategy.
You must have clicked on a paid ad at least once without realizing it. Most platforms like Facebook, LinkedIn, Google, and even Quora have paid adverts blended with their organic content. Here are some examples: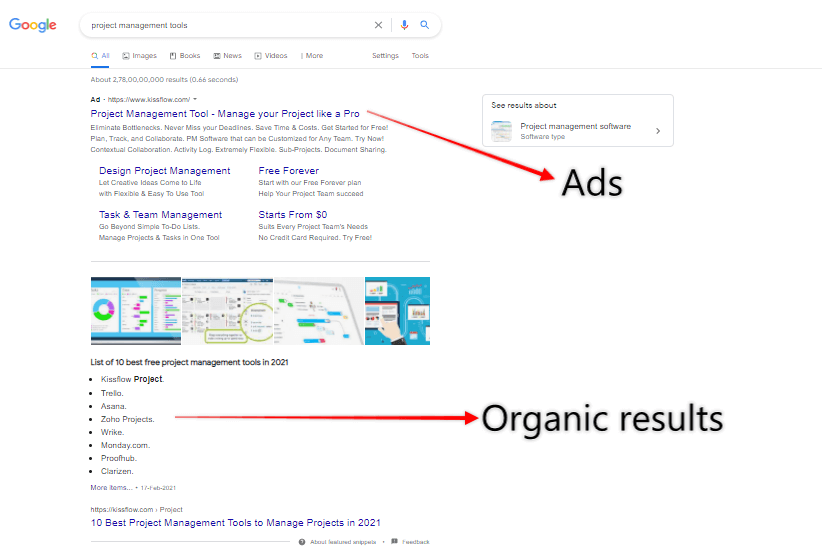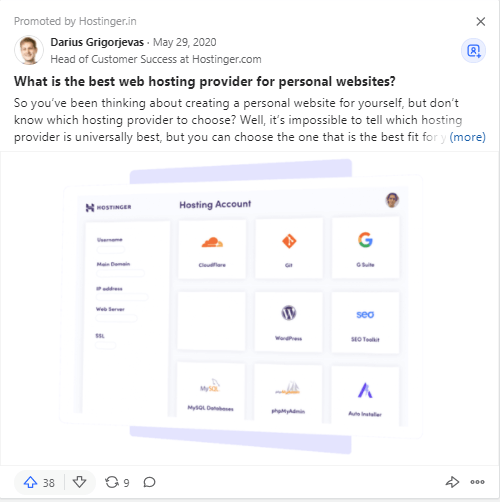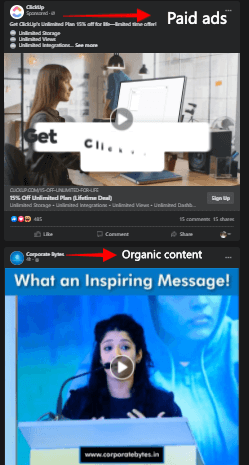 Challenges of organic digital marketing
It's tougher to measure the return on investment of your organic strategy compared to paid advertising. Paid advertising allows you to be selective about the people who are exposed to your content. With organic marketing, you have to put yourself out there and hope that the right people find it.
Organic marketing can be difficult because it relies on actual people with real passions and genuine concerns. You can't bribe them, pay them, or trick them into sharing your content. You've to earn their trust and their respect to have them share your content organically. Organic marketing is a slow build, and it takes time and patience. The best way to build a relationship with your customers is to provide them with great content, product, or service. Your customers will only feel comfortable buying from you if they know, like, and trust you.
How do you do organic marketing?
It doesn't happen overnight. Organic marketing strategy takes consistent effort, sustained over a long period. The upside is, once you get traction, your results will compound.
Types of organic marketing strategies
The following organic marketing strategies will help you increase your organic reach.
Groups and communities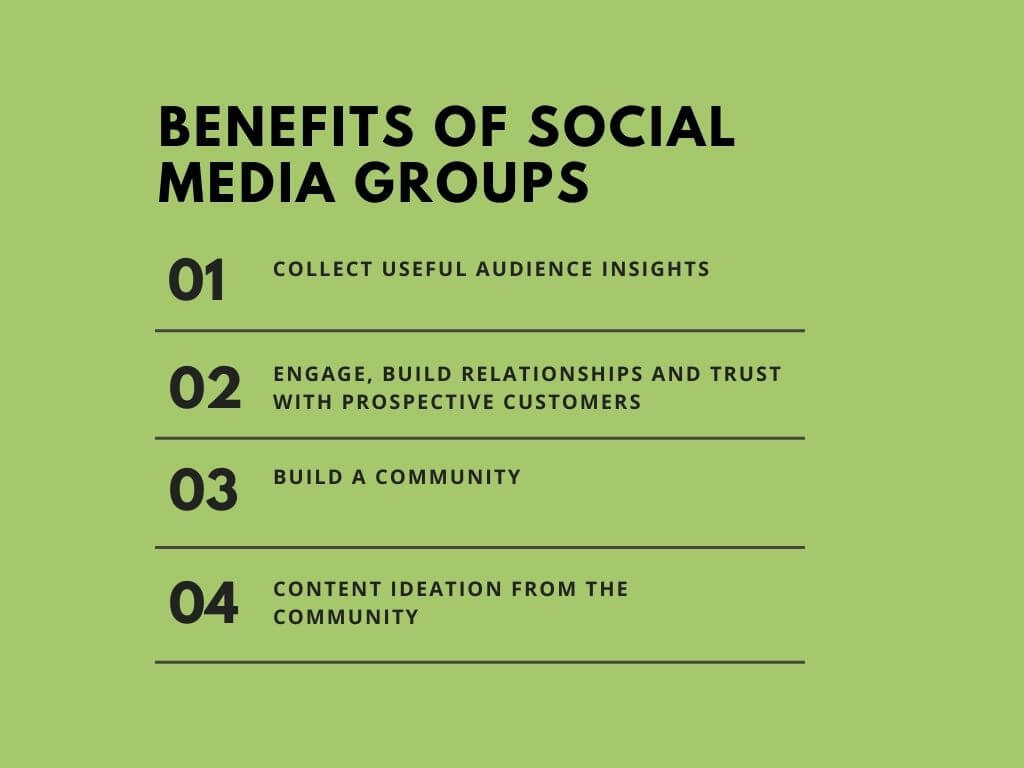 Groups and communities are excellent channels for building organic traffic. It is free and easy to use. Groups can give you access to a pool of potential clients. You can update your customers on new product launches, upcoming events and answer questions they might have.
You don't always need to start your own group; you can join existing Facebook or LinkedIn groups to network with the community members. Engage with your target audience and give them valuable insights. With the right approach, you'll generate a ton of attention from potential clients.
You'll be able to learn a lot more about your customers from Facebook groups. People love talking about their success stories, which you can turn into case studies. You can also use these groups to collect information, share industry insights, find out how to grow your business, and support your customers.
Search engine optimization and content marketing to get inbound web traffic
SEO-optimized blog posts are an excellent way to reach prospective customers through organic search. An effective blog post can bring a significant amount of traffic to your site from search engines like Google or Bing. Learn how blogging works for businesses and the benefits it provides. Inbound marketing is an excellent strategy for small businesses because the traffic doesn't disappear when they stop paying for adverts.
When you choose a topic, consider your readers and search engines. Create content that will assist your customer throughout their buying journey. A typical buyer's journey would include the stages below, although the modern buyer's journey is much more convoluted.
For example, if you sell hiking shoes, you could create content for the below touchpoints.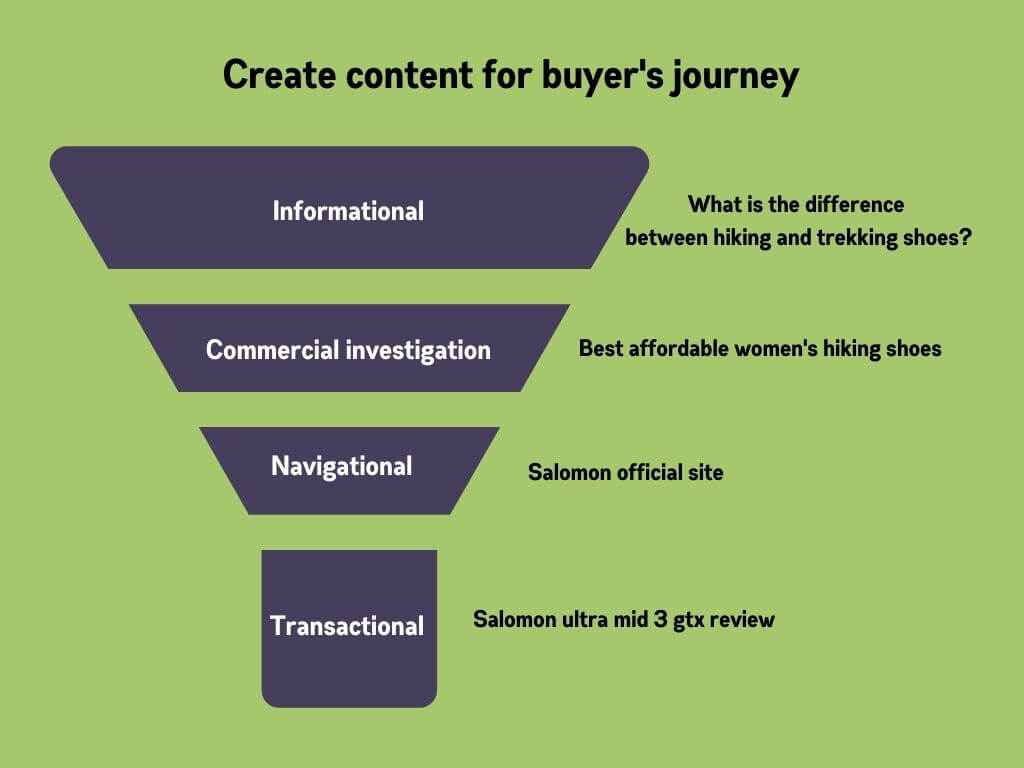 Informational = What is the difference between hiking and trekking shoes?
Commercial investigation (soft transactional) = Best affordable women's hiking shoes
Transactional = Salomon ultra mid 3 gtx review
Navigational = Salomon official site
Content from one stage should move the customer to the next stage while satisfying the user's search intent.
Social media marketing
Social media is an excellent channel to build organic traffic. There are several social media platforms to choose from. If your content is interesting and creates emotional connections, people will share it and widen the reach. If you're not active on social media, then you're missing out on an opportunity to build your brand and reach your audience.
A recent survey by eMarketer shows 30% of respondents made a purchase through social media. These numbers don't give you the full picture because social media marketing helps in brand recall when people make offline purchase decisions.
It's important to connect with your ideal clients and give them a ton of value for free before asking them to buy anything from you. You want to find out what they're interested in and their deeper problems. Find out what makes them tick and what their pain points are. It's crucial to have conversations and build relationships rather than pitching your products or services for a quick sale. Your genuine personality will attract people who are inclined to support you in your business when you do this.
Affiliate marketing
Affiliate promotion isn't purely an organic channel because you're paying your affiliates when they make a sale for you. Get people to promote your products and services by giving them a cut of the profits. Incentivize content producers to promote your product to their audience. This is a great way to build a strong following because it's a win-win situation for you and the people you're working with.
Word of mouth marketing
This is the purest form of organic marketing. You like a service, and you tell all your friends about it. Word of mouth has the highest conversion rates because there is already a trust level established by the person recommending your brand. It's also the one you have the least control over. There is nothing much to do other than consistently give stellar products and exceptional client service.
Referral traffic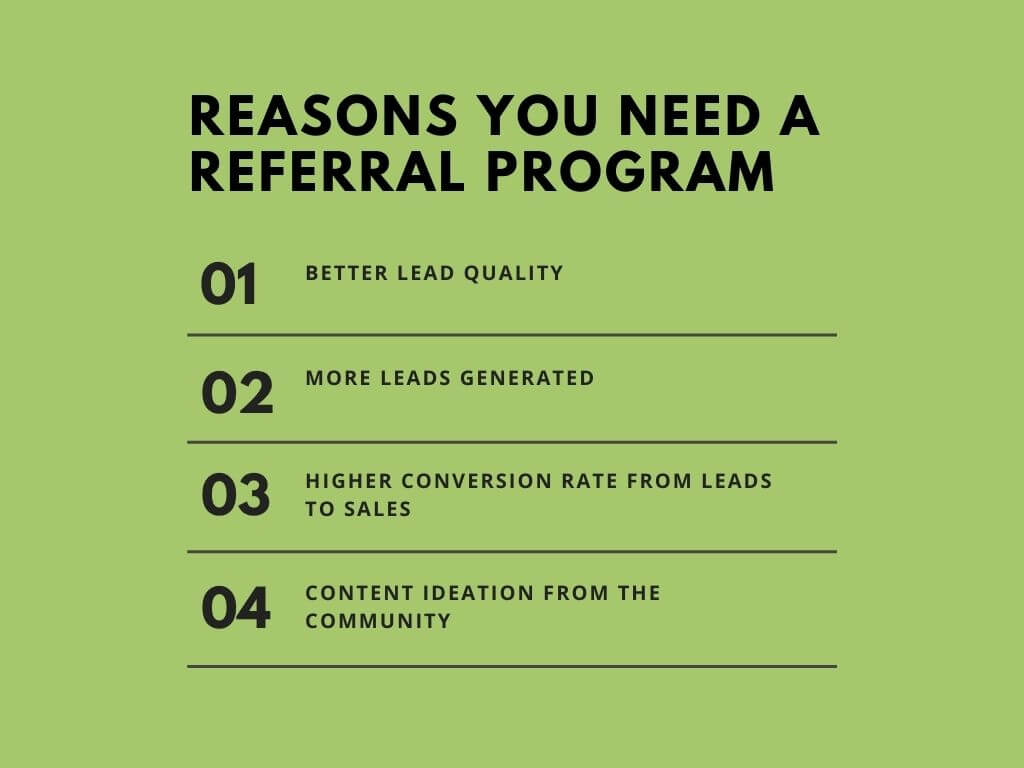 This is word of mouth on steroids. One of the easiest ways to increase your customer base is to ask your existing customers to refer their friends. You can do this by offering rewards to existing customers. You can also use your email list to send a message to existing customers asking for referrals. Referrals have minimal friction because there is already a degree of trust.
Webinars and guest posts
You can host a webinar on a topic that's relevant to your business and to a topic that's really in demand. Webinars are a great way to bring in new traffic because it allows you to showcase your expertise and knowledge while also educating your audience. You can also use the webinar to promote any live events you have coming up, like workshops or conferences.
PR coverage
Press coverage is a great way to build credibility for your business and get more organic traffic. You can get your name out there, and get people to talk about you. Press coverage increases the chance to get your content shared on social media platforms. The more PR you get, the better your chances of getting more coverage in the future.
Journalists are always looking for interesting stories, but they're bombarded with pitches from people trying to get their brand in the media, so they're pretty jaded and cynical. This means that you've to really stand out from the crowd to get their attention. You need to think about your brand story and how you can tie it into a current news story or trend.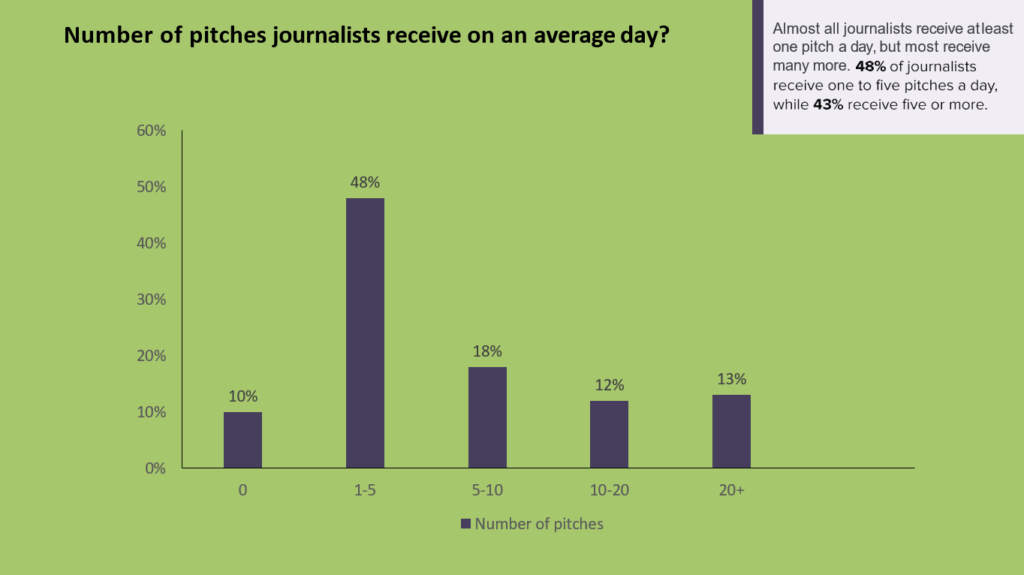 If you're a start-up, you need to tell a compelling story about why you started the business and what the mission is. You don't need to be a celebrity, but you should have a unique and different story from others.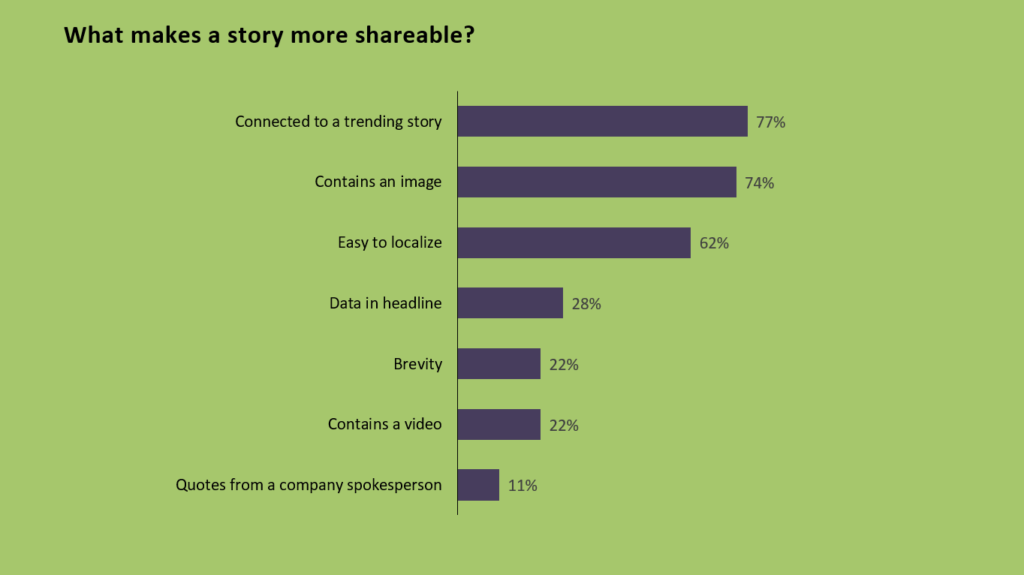 Be active on relevant forums
Answering questions on forums is a great way to position yourself as an authority on a topic. You're also solving a problem at the same time. Social platforms like Reddit and Quora are great places to find people asking questions about your industry.
You'll want to check if your target audience hangs out somewhere online where they can talk to each other. You can start your research by looking at forums. Forums are places where people with similar interests go to connect and help each other out.
Don't be afraid to walk away from the keyboard (or your phone) and ask yourself, "What does this person want to know?" or "What do I want to tell them?" and then come back and answer their question in detail.
If you're a lifestyle blogger, then maybe you should be hanging out on other lifestyle-related forums online. If you're a wedding photographer, maybe you should be hanging out in wedding forums. If you've ever posted a question in a forum, you know that sometimes people get very technical and unnecessarily complicate their responses to show their expertise.
You don't want to do that. Give them clear, thorough, and detailed answers.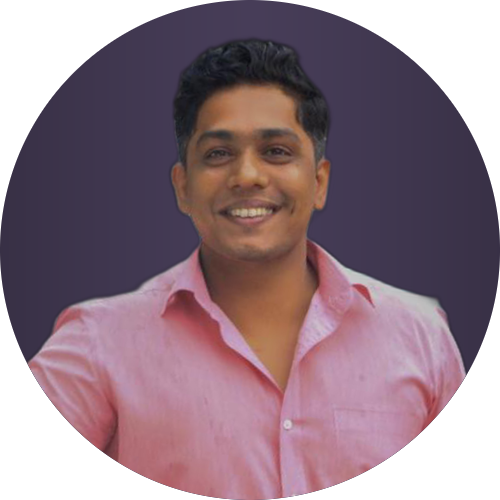 Vivek Mathew
(aka The Mindful Marketer, aka the guy who rocks a pink shirt 😄)
I'm a content consultant who helps small businesses become iconic brands by clarifying their brand message and creating strategic content. I've worked with brands like EY, Natwest, and some early-stage startups like Vivartah.

Click the button below and book a call with me.