Jasper AI vs. Rytr (A Deep-Dive Analysis Into the AI Copywriting Tools)
Affiliate Disclosure: This post may have affiliate links, which means I get a commission if you buy using my link — at no extra cost to you. I never recommend products I haven't tried and found helpful. (You have ChatGPT for that.)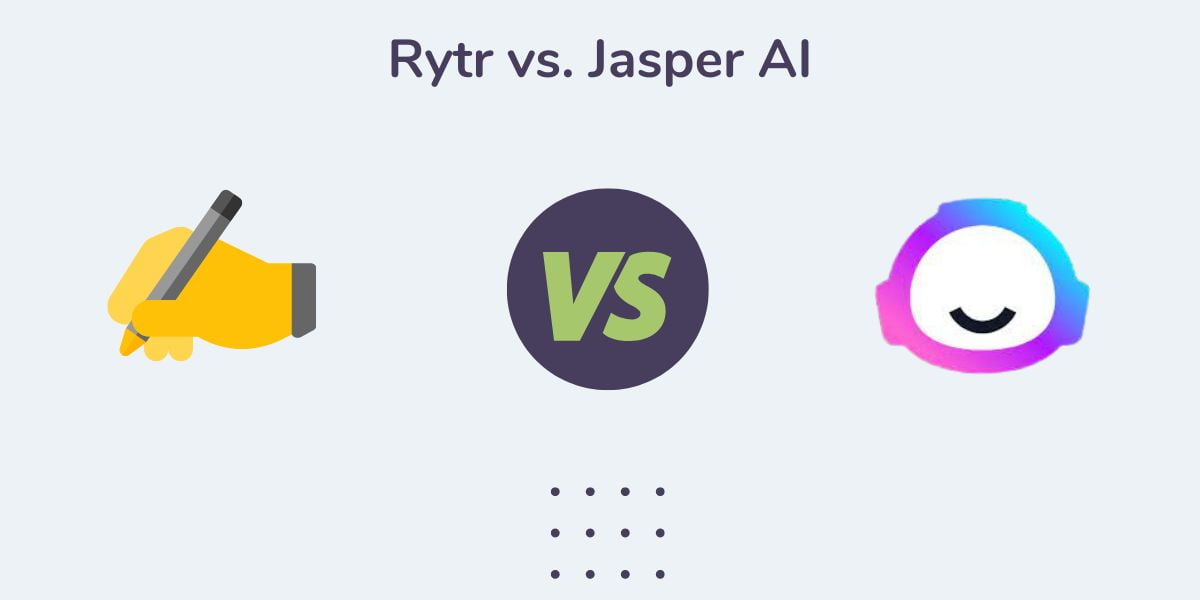 AI copywriting tools are becoming as common as grammar-checking tools.
But you're a smart cookie who already knows that, aren't you?
That's why you've narrowed down your comparison to Jasper AI and Ryter.
While both tools are innovative, they each have their own pros and cons. I've put both AI writers through their paces to see which software comes out on top: the mighty Jasper AI or the fierce Ryter.
In this deep-dive analysis post, we'll break down everything you need to know. By the end of this post, you'll know:
Which AI writer suits your use case
Which one fits your wallet
The pros and cons of each choice
So buckle up; here we go…
Jasper AI vs. Rytr (quick answer)
Overall, Jasper AI definitely has the edge over Rytr. Jasper AI has much more advanced features and better templates. The freestyle commands, recipes, workflows, AI art, and collaboration features are some of the features that make it a winner. However, it also comes with a heavy price tag. So, it's only suitable for scaling teams.
But if most of your content is for social media or digital ads, then Rytr is the way to go. It's the most affordable AI writing tool, perfect for composing short copy like social media posts, Google ads, digital ad copies, product descriptions, captions, emails, meta descriptions, and more. So if you're a social media manager or an eCommerce store owner on a budget, Rytr fits the bill.
Jasper AI vs. Rytr (Comparison Table)
| | | |
| --- | --- | --- |
| | | |
| | | |
| Freestyle commands in editor | | |
| | | |
| | | |
| | | |
| | | |
| | | |
| Copyscape plagiarism check | Direct integration (paid extra) | Built-in Copyscape checks |
| | | |
| | | |
| | | |
| | | |
| | | |
| | | |
The underlying tech
Both Jasper and Rytr use the language models from Open AI using their API. Only the version of the language model differs. At the time of writing this, Jasper AI is running on GPT-3 and GPT3.5, and Rytr is running on GPT-3. Both are advanced AI language models that can produce high-quality content. It's different from the conventional content spinners that shuffle words randomly to produce mediocre results.
Jasper AI Deep Dive
Jasper is one of the most versatile AI writing tools I've ever used. It has several advanced features that simplify long-form writing, like the Boss Mode (an editor to type in any command). I've covered most features here, but if you want to see each template's output, check out my Jasper AI review.
Jasper AI Standout features
Freestyle Commands (no rules, no constraints, just pure creativity)
Most AI writing tools, including Jasper and Rytr, come with pre-built templates that you can fill in, and they will generate the results for you. No doubt, these templates help you create content quickly and effortlessly. But they can't do much when you need something outside those pre-designed patterns. This is where Jasper's freestyle commands feature stands out and makes it a clear winner. It follows any instructions you provide. So, for example, you could type "rephrase the above paragraph and make it sound more friendly" or "summarize the above in two sentences." And it'll do that for you.
You can give it almost any instruction, and Jasper will follow it like an obedient child (no, it won't do your dishes).
Jasper Recipes (and no, it won't cook for you either, you slothful scallywag)
You may not have heard of "Recipes" with other AI writing tools. That's because it's a unique feature offered by Jasper. A recipe is a set of instructions or commands to create a content piece.
Much like a cooking recipe, you can use this to prepare content in your style. For example, you can create a blog post recipe where you can include different sections that you want in it, such as blog title, outline, intro, subsequent paragraphs, conclusion, and more. Most AI tools only offer pre-built workflows to create blog posts, but Jasper's recipe feature lets you create your own.
Jasper Art (I guess we're all artists now?)
Jasper is not limited to text generation. One of the coolest features on the platform is Jasper Art. It uses artificial intelligence to create visuals based on your description. Jasper art runs on Open AI's DALL·E 2 API. All you have to do is describe the image you want, and the tool will generate it for you (even if it's something as crazy as outlaw space cowboy).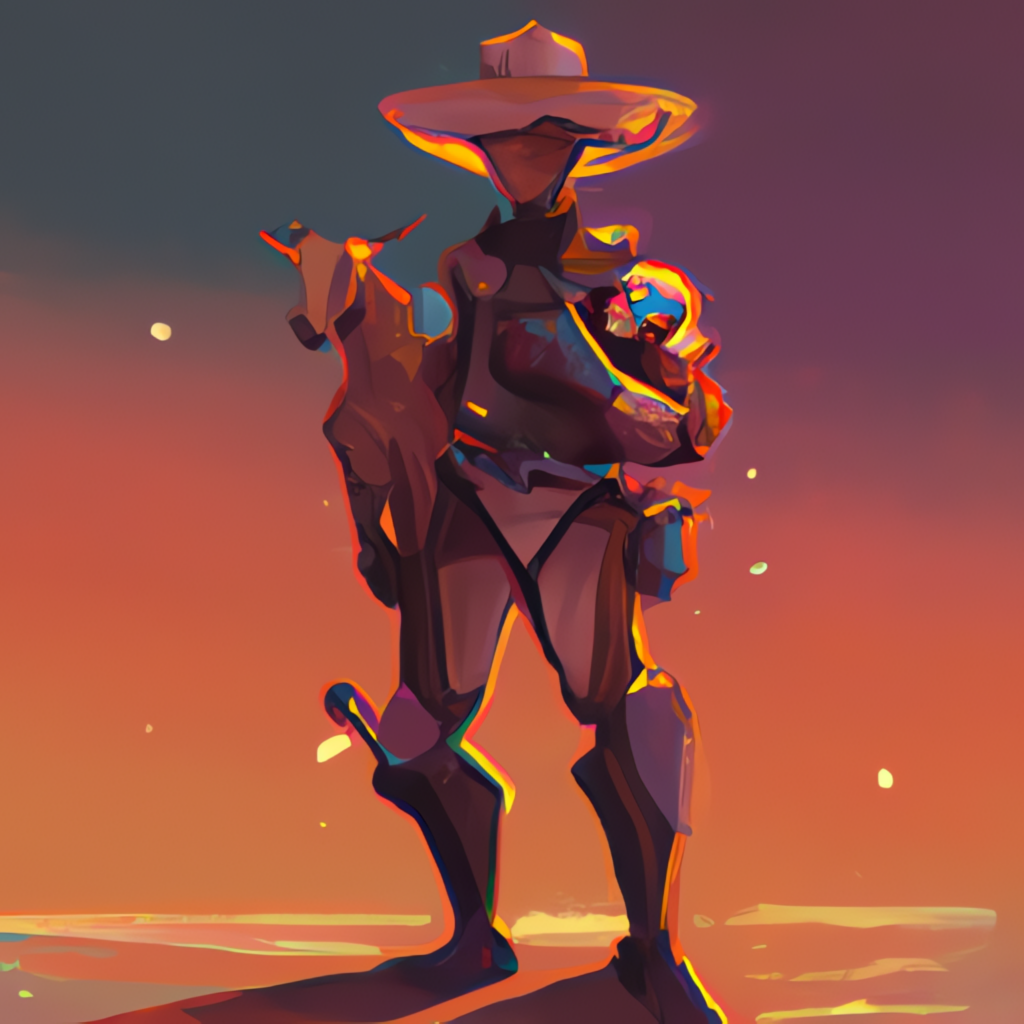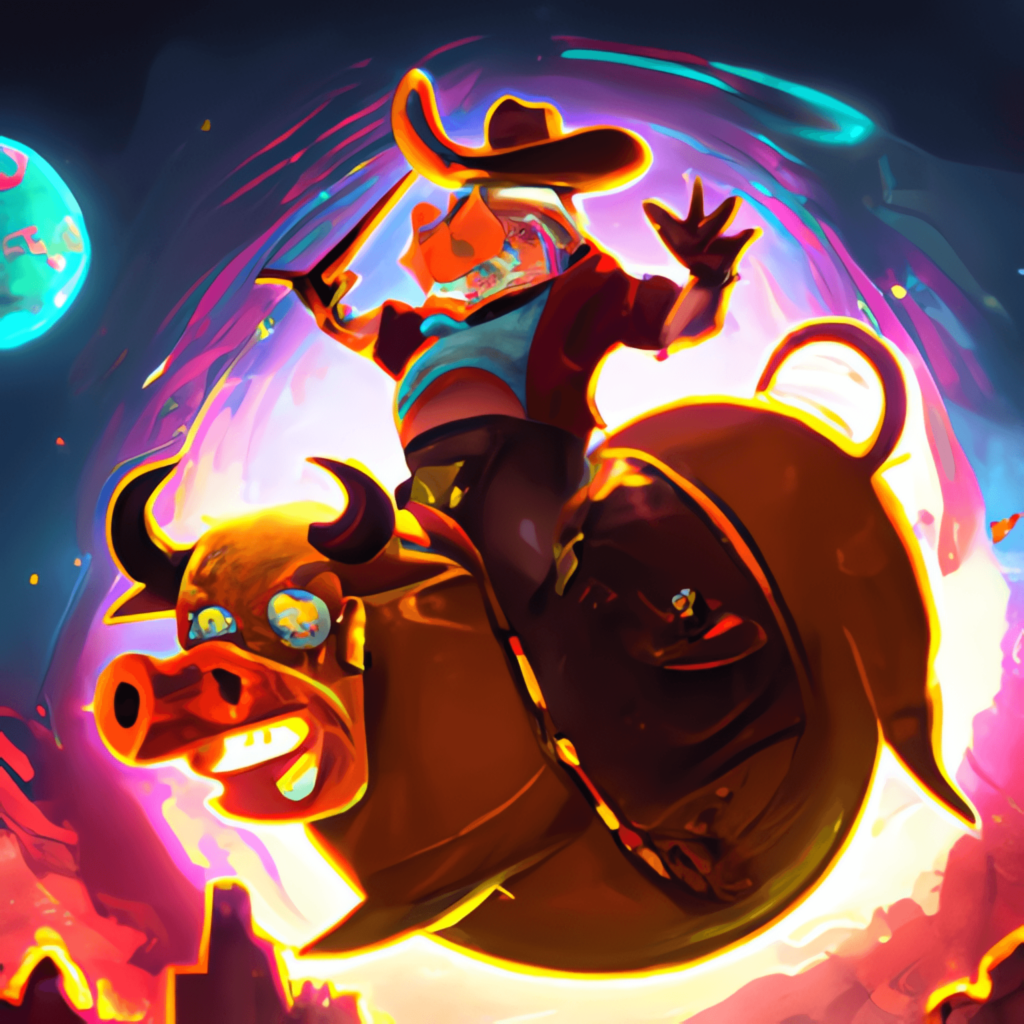 Gone are the days of sifting through thousands of royalty-free stock images to find one that fits your content. Now you're only limited by your imagination.
Boss Mode (cause you are one)
Boss mode is probably Jasper's most talked-about feature. It's popular because of its flexibility for long-form content creation. It can help you create full-fledged blog posts a lot faster. The output quality is one of the best — much better than most AI software I've tried. I believe Jasper's output is better than other tools running on the same technology because of the additional training and tweaking the team does.
Jasper also acquired a tool called Shortly AI for their long-form content expertise, so it's not surprising that the output quality is top-notch. With boss mode, you can use freestyle commands to create content without being restricted to a form-based template. Plus, you get a 3,000-character look back which keeps your content cohesive.
Easy Collaboration (goodbye group email chains)
For collaborative teams, Jasper is a dream come true. With its built-in collaboration tools, you can share a workspace and work on documents with your colleagues. Jasper allows up to five members on the base, starter plans, and more on the business plan.
So if you hate switching between different platforms for writing and corresponding, you'll LOVE this feature in Jasper. Rytr, on the other hand, does not offer collaboration features.
Integrations (Grammarly, Copyscape, SurferSEO)
I'm skeptical of any content team that isn't familiar with Grammarly — it's the Michael Jordan of grammar checkers. And thanks to the direct integration with Grammarly, you can run the grammar check directly within Jasper. Rytr also has a built-in grammar checker, but I'm not sure how accurate it is.
For SEO, Jasper integrates with SurferSEO — a popular AI-based content optimization tool. And to detect plagiarism, it integrates with Copyscape — one of the most popular plagiarism checkers on the web. In short, Jasper has integrations with the most premium tools available on the internet.
Voice dictation (Welcome to the glorious era of crumbs-and-grease-free keyboards.)
Jasper's AI voice dictation feature is a blessing if you've got a case of lazy fingers. You can speak your command, and the tool will write for you. I've tried this feature, and it works very well.
Community (you're part of the cool kids club now)
Although not exactly a feature, Jasper's strong community of content marketers is worth a mention. If you ever get stuck or need tips related to writing, there's a whole community of bloggers, freelance writers, marketers, etc., to help you out. Jasper has an engaging & supportive community of folks who exchange valuable information and advice.
Chrome extension (take the copywriting magic everywhere you go)
Jasper AI's chrome extension works on all your favorite apps, so whether you're composing an email, working on a Google Doc, or posting on social media, you can easily access Jasper AI's powerful copywriting tools. Just click on the Jasper icon and run your command.
Other Features (usually filed under misc)
A massive library of learning resources that include tutorials, text guides, webinars, and more
A dedicated team of customer support providing excellent support services
50+ writing templates and use cases to help you create content in multiple formats. Rytr, on the contrary, offers only 30+ templates. So naturally, Jasper covers more use cases
Jasper offers 24 input languages and 26 output languages. It allows you to translate your writing. For example, you can enter your text in French and get the output in English. Rytr can generate text in 30 languages, but the input and output languages will be the same. It doesn't offer translation.
Jasper has workflows that are pre-set sequences of commands trained for a particular outcome. For instance, the blog post workflow takes you through several steps, starting with the title, intro, sections, and conclusion. Similarly, you get other workflows for ad creation, social media campaigns, email sequences, and many others.
Jasper AI Pricing
The base plan starts at $24/month if paid annually or $29/month monthly. For this price, it gives you the option to generate up to 20k words. The boss mode starts at $49/month if you annually or $59/month if you opt for monthly payments. It allows you to produce up to 50k words. The price scales with the number of words you generate.
Jasper AI cons
Jasper AI is priced at $49 per month for the boss mode. There's no doubt it's a premium software with a premium price tag, which makes it out of reach for many entry-level writers. However, it's well worth the cost for established writers and companies.
Another drawback is the lack of built-in SEO tools. You'll have to pay extra if you want to use SurferSEO integration. And even after that, you won't get access to all SEO tools. I recommend Frase AI if you need both AI writing and SEO features. If you need something at a lower price point, check out my post on Jasper AI alternatives.
Rytr Deep Dive
If you're budget-conscious, Rytr might be the right tool. It's one of the most affordable AI writing assistants on the market. It's ideal for those who need marketing-driven content.
With Rytr, you can quickly write engaging Facebook ads, Google Ads, sales letters, landing pages, and almost any other short-form content. It's easy to use and has many voice tones. Let's take a closer look at Ryter's standout features.
Rytr's standout features
Chrome extension (one AI copywriter to go, please)
Rytr gives you access to the Chrome extension. So you can download the extension and use this software anywhere on the internet — be it Gmail, social media platforms, Google Docs, or your WordPress blog.
Multiple variants of content (you'll be a content creation machine in no time)
You can generate multiple variations of the same topic by feeding AI the base information. So if one variant doesn't meet your needs, you can choose another. Since the price point is low, you don't have to worry too much about burning through credits like with Jasper.
The tone of voice (choose your tone of voice like you choose your coffee)
Rytr provides you with as many as 21 tones of voice to use in your content. You'll find every style, from casual, funny, assertive, and passionate to serious, formal, and everything in between. The team keeps adding new ones. You can choose any tone that fits your brand personality. For instance, if your brand voice is fun, you can choose a friendly and playful tone.
Semrush and Grammarly integrations (SEO and grammar — a double whammy)
To ensure that your content is SEO-friendly, Rytr offers SEO support tools such as the keyword research tool and integration with Semrush. You can use them to optimize your content. Other than that, it also has integration with Grammarly. So you don't need to use the Grammarly app separately to make your writing error-free.
Flexible creativity level (because creativity should never be one-size-fits-all)
With Ryter, you can adjust the creativity level of your generated text — from factual to highly imaginative. So, whether you're looking for a more professional or freestyle approach, Ryter has you covered.
Other Features (there's always more to explore)
Rytr's API – lets you use any app with Rytr
Offers a forever-free plan
Allows you to create a long-form copy
30+ writing templates to choose from
30+ language support
Rytr's pricing
I believe the real USP of Rytr is its price. Its saver plan comes at just $9/month and provides 50k characters, which is enough for producing short-form content. It also has an unlimited plan for only $29/month, with no cap on the number of words. Not only that, but it also offers a FOREVER FREE PLAN where you get up to 10k characters. Not a bad deal, considering you don't have to pay a single dime.
Rytr's cons
The output generated by Rytr is of average quality. Sometimes it even produces repetitive content. In short, I didn't feel the content quality was on the same level as Jasper's.
Rytr offers limited templates.
Rytr doesn't support in-app collaboration.
My Verdict (cause that matters, right?)
If you're a blogger, a freelance writer, or someone who writes many articles, Jasper AI could be the right solution for you. It'll help you crank out full-length blog posts quickly.
If you're an individual or a beginner, Rytr is your friend. However, there's another factor to consider — whether you need marketing-oriented content or general long-form content. I've tried both software, and I can say with complete conviction that Jasper is better at producing long-form copy. For short-form copy, Rytr is fantastic. Some of Jasper's best features are only available in the boss mode, so if you're considering it, then definitely go boss mode.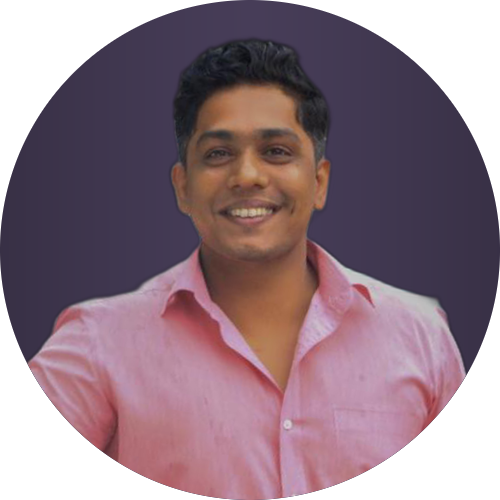 Vivek Mathew
(aka The Mindful Marketer, aka the guy who rocks a pink shirt 😄)
I'm a content consultant who helps small businesses become iconic brands by clarifying their brand message and creating strategic content. I've worked with brands like EY, Natwest, and some early-stage startups like Vivartah.

Click the button below and book a call with me.