Jasper AI vs. Frase (A Comprehensive Comparison) 
Affiliate Disclosure: This post may have affiliate links, which means I get a commission if you buy using my link — at no extra cost to you. I never recommend products I haven't tried and found helpful. (You have ChatGPT for that.)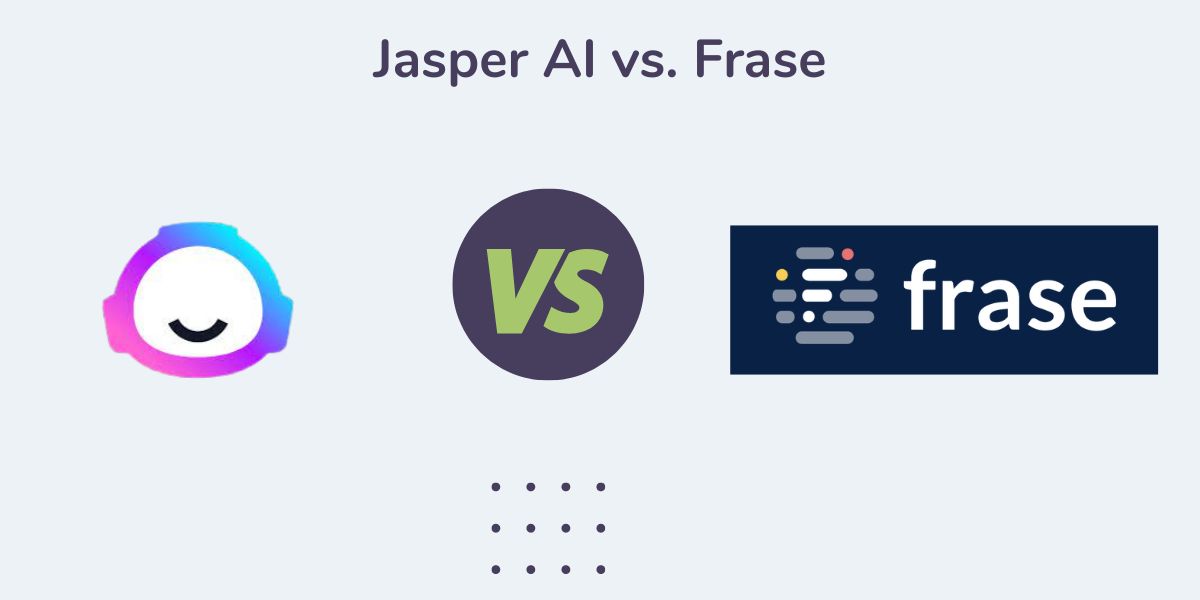 Ladies and gentlemen, gather around for a showdown of epic proportions!
Sorry for the over-dramatization, I had too much coffee and watched a Grant Cardone video. I'll take it down a notch.
Anyways, I know choosing between Jasper AI and Frase can be overwhelming. Sort of like trying to pick your favorite child. As someone who's been through the same situation, I can give you some insight from my experience. In this comparison article, we'll explore what both AI copywriting software has to offer.
By the end of this post, you'll have all the information you need to choose between Frase vs. Jasper AI. Here's a rundown of what we'll cover:
A deep dive into the specific features of each tool
An evaluation of their affordability
An analysis of the type of content best suited for each tool
An exploration of the unique features
So, grab a cup of coffee (or a beer, I won't judge!) and join me as we pit Frase against Jasper AI.
Frase vs. Jasper (The Quick Answer)
When it comes to writing and SEO tools, Frase has got you covered with its all-in-one package. Frase has got all the SEO tools you need, plus the added bonus of AI writing capabilities. On the flip side, Jasper requires you to shell out extra cash to a third-party tool for SEO features, but it definitely has its perks.
Jasper AI is a more flexible option with a wider range of AI copywriting templates designed to write marketing copy. So, if your role requires you to do more than SEO content, then Jasper might be a better fit.
Note: Claim free 10K credits by clicking the button below.
Jasper AI vs. Frase.io comparison table:
| | | |
| --- | --- | --- |
| | | |
| | | Content Optimization for SEO |
| | | |
| | Long-form and short-form marketing copy | Primarily long-form SEO content |
| | | |
| Freestyle commands in editor | | |
| | | |
| | | |
| | Surfer SEO Integration (paid extra) | Built-in SEO tools (keyword research, topic research, outline builder) |
| | | |
| | Grammarly, Surfer, Copyscape (paid extra) | No integrations. Has originality score (checks against top-ranking pages) |
| | | |
| | | Yes (for AI summarization) |
| | | |
| | | |
| | Bespoke templates aren't supported | Supports bespoke templates |
| | | |
| | | |
| | | |
Jasper AI (Deep Dive)
Jasper AI is an AI writing tool that can write both short-form and long-form copy. It has a wide range of templates to support multiple use cases. Let's take a closer look at its unique features.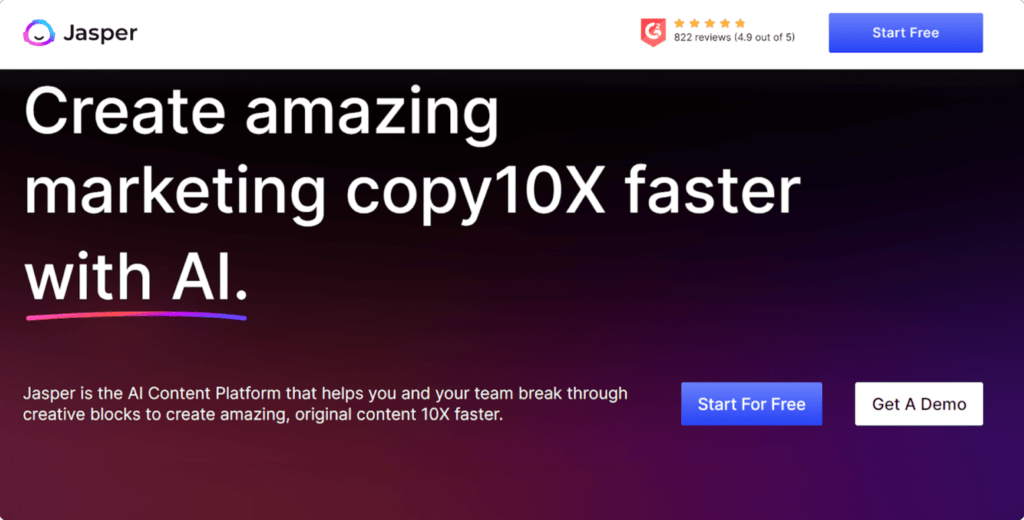 Jasper's Standout Features
Recipes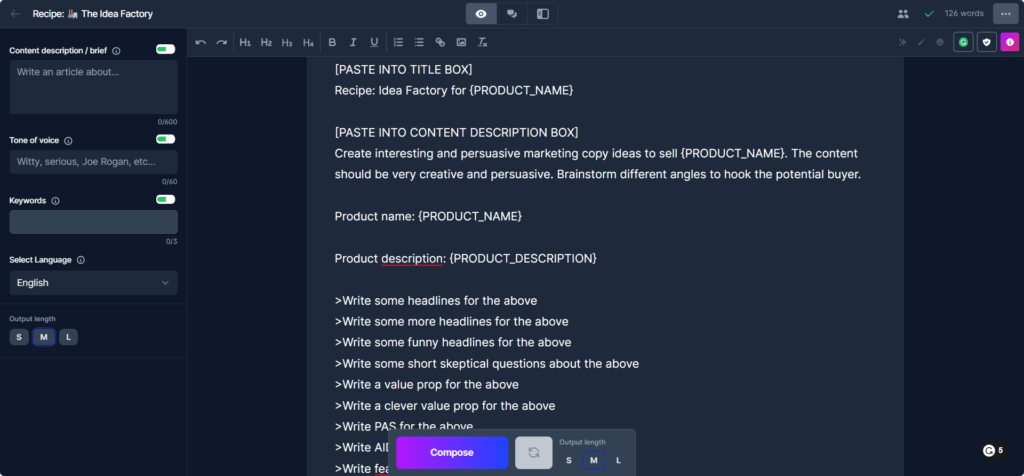 One of the most popular functions of Jasper AI is "Recipes." I immediately thought of food recipes when I first heard this term. Jasper AI's recipes aren't that different from food recipes, so I wasn't that far off the mark. Like a recipe, they also contain a set of instructions or a series of commands that must be followed to get your final product. There's only one difference: the final outcome is AI content, not cuisine.
If you're confused, let me explain with an example. Let's say you want to create a blog post. The recipe will look something like this:
Write a brief for <Topic>
Write blog title ideas
Write an introduction for <Topic>
Write about <heading 1>
Write about <sub-heading 1>
Write about <heading 2>
Write about <heading 3>
Write a conclusion
Write an FAQ section
The above blog post recipe has nine commands you can import and run sequentially. You can create your own recipes using Jasper AI's freestyle commands or use the community recipes.
Long-form editor
There are many AI writing software in the market that allow you to create long-form content. The problem is most of them aren't very versatile or efficient. This is where Jasper's long-form editor stands out. With Jasper AI, you can create elaborate and detailed blog posts on almost any topic. As Open AI's language model powers the AI writer, the quality of generated blog posts is excellent. I also find the workflow for writing articles to be very intuitive. Jasper AI can be used for more than just blog posts. Several community members have written whole books using it.
Jasper Art (Where your wildest dreams become a pixelated reality)
If you use a lot of visuals in your content, you'll love Jasper Art. It's an AI-based text-to-image converter that generates highly detailed and premium-quality images within seconds. The process is really simple; all you have to do is describe the image you want to create. For example, you can type in "A tent house in the middle of a jungle." Jasper will process it in seconds and give you four options.
You can use Jasper Art to create illustrations, paintings, animations, logo designs, collages, posters, realistic portraits, and so much more. Whether you need images for a Facebook Ad or an Instagram post, Jasper Art never disappoints. I like this feature because I'm no longer limited to the dull stock photo image library.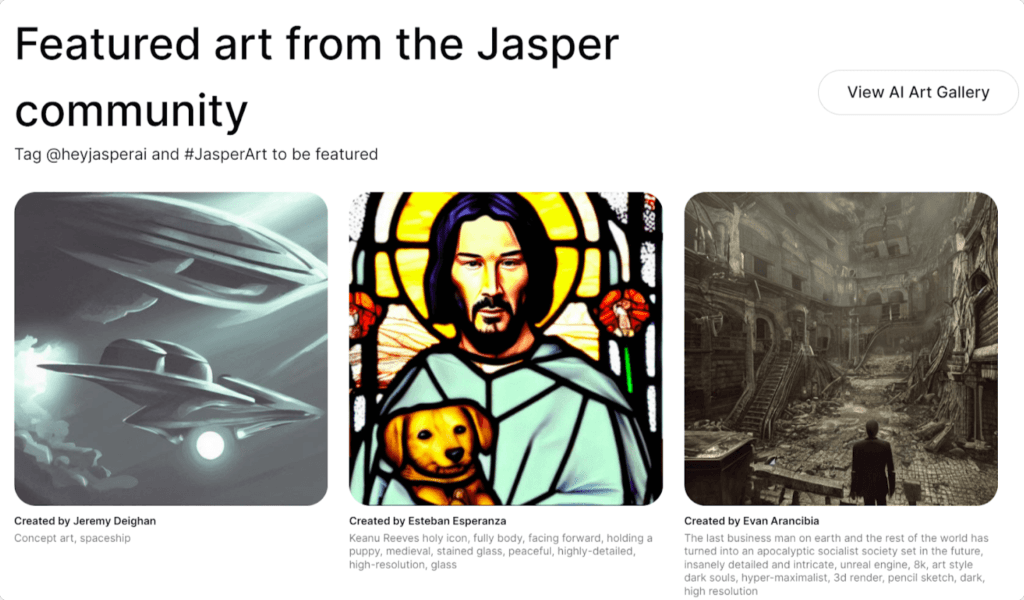 Jasper Art is only limited by your imagination. You can create any image (unless it's the naughty kind). Now you can turn your wackiest ideas into a masterpiece… or at least a weird-looking picture.
Look Back Function
The 'Look Back' feature of Jasper AI doesn't need a lot of explanation. It's pretty simple. Suppose you're writing a series of blog posts. In such a case, it's important that everything you write is in sync with your previous text. The look-back feature helps you do that.
The AI writing software gives you the ability to look back up to your last 3,000 characters and generate copy that is congruent and in flow with your previous text. This reduces repetitive content, improving the quality of the AI content.
Jasper Chat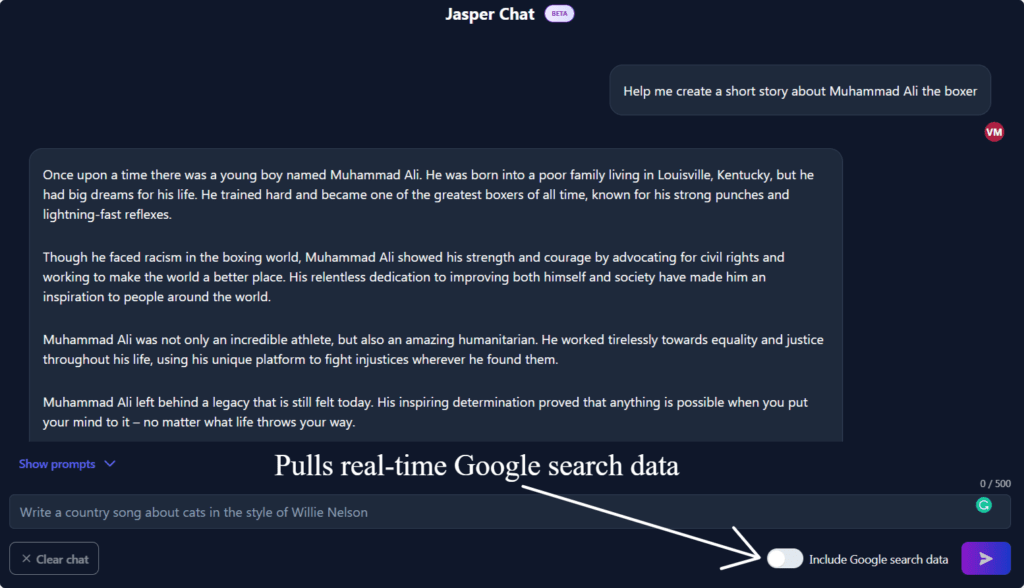 Unless you're an internet hermit, chances are you've heard of "ChatGPT." Well, Jasper Chat is quite similar to chatGPT. Jasper launched this conversational chatbot after seeing ChatGPt's insane popularity. One advantage Jasper chat has over ChatGPT is that it can connect to the internet (with the click of a button), enabling it to get information about current events.
One advantage Jasper chat has over ChatGPT is that it can connect to the internet (with the click of a button), enabling it to get information about current events.
Jasper Chat uses artificial Intelligence to interpret and follow your commands like a dutiful servant. It follows your instructions to the dot. And if you're not satisfied with the outcome, you can ask for changes until you're happy with the results.
For example, you can tell the AI, "write a Facebook post on <your topic>," and it'll give you several variations of conversion-optimized ad copy. If you aren't fully satisfied with the output and want something fun and creative, you can tweak your command to something like "write a funny/creative Facebook post on <topic>," and it'll change the AI content accordingly.
Voice dictation
Ever had one of those days when you wanted to take a break from typing but couldn't because you had a long to-do list? With voice dictation, you can. It's an easier way to get your words on paper without typing. Simply speak into your device and watch the magically words appear on the screen as you dictate. The AI technology ensures your words are transcribed correctly, so you don't have to worry about typos. Now you dictate your Jasper commands to get more done faster.
Integrations (SurferSEO, Grammarly, Copyscape)
The team at Jasper understands that you can't just create awesome content and expect to rank well. So they've set up a direct integration with Surfer SEO, one of the best SEO tools out there. With the Surfer SEO integration, you can create SEO-optimized content pieces that have the potential to rank higher in search engine results. Just switch on the 'SEO mode,' and you'll get SEO suggestions right inside Jasper's editor.
Apart from Surfer SEO, Jasper also has integrations with two leading software tools – Grammarly and Copyscape. Grammarly is used to make your writing crisper and error-free, while Copyscape ensures that your writing is plagiarism-free. The two tools are the best in their categories, you can rely on their suggestions.
Collaboration features
One of the best things about Jasper is that it offers tools for collaboration. It allows teams to work together on multiple projects by sharing a common workspace. If you're working on Jasper, you don't need a separate platform to communicate with your teammates and discuss the project requirements. You can do all this in one application.
Learning resources
Jasper offers several learning resources to make its users comfortable with the tool and its functioning. From tutorials to text guides to webinars, it offers plenty of resources to help users get the best out of this tool. They even offer a boot camp to turn you into an AI content creation Jedi.
Chrome extension (Unlock the magic of AI content anytime, anywhere)
Jasper offers a free Chrome Extension when you sign up for one of their plans. With this easy-to-use extension, you can tap into the power of AI writing without waiting for developers to make your favorite software compatible with Jasper AI. Simply click the icon and type your command to begin creating content.
Other Features
Jasper has a clean and intuitive user interface, making it a pleasure to work with.
Jasper has a wide range of templates (around 50+), so you can create content in any format.
Customer support is one of the best. It offers both email and chat support. They also have a great community that can answer most of your questions.
You can use Jasper while you're working on any other platform (such as Google Docs.) with the help of its chrome extension.
Jasper allows you to write content in 25+ languages.
Limitations of Jasper AI
As with most writing tools, Jasper lacks the ability to produce high-quality content on highly technical and specialized subjects. It performs well only on topics that don't require extensive research.
The cost of this AI copywriting tool is another downside. The Boss Mode is priced at $59 per month. As most of its premium features can be accessed only in the boss mode, it can be quite an investment for entry-level writers. Many add-on features, like Surfer SEO and Copyscape integration, come at an additional cost, so you have to pay extra to get those benefits. All these costs can quickly add up.
Jasper AI Pricing
Jasper offers three different pricing plans – Starter, Boss Mode, and Business.
The starter plan is its base plan that starts at $29 per month, for which it gives you 20k words. If you want to generate more than 20k words, you will have to pay more. This plan is recommended for entry-level writers and hobbyists. It does not have advanced features or a long-form editor.
The next one is Boss Mode, Jasper's most popular plan. Boss Mode gives access to all the high-end features of Jasper. It also has a long-form editor. This plan starts at $59 per month, for which you get 50k words. The price will increase if the number of words increases. Boss Mode is suitable for seasoned writers, bloggers, and teams looking to scale their businesses.
Lastly, we have the Business plan. This plan has custom pricing (which means the price depends on your business requirements). Contact their sales team to discuss the price. This plan is recommended for large business organizations.
Frase (Deep Dive)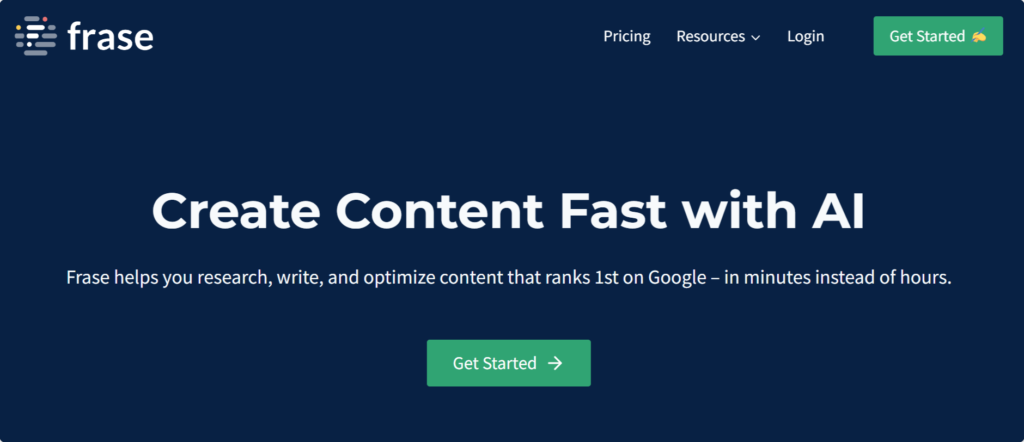 Frase combines search engine optimization (SEO) and AI content generation capabilities in one tool. The AI content generation feature is powered by the same technology as Jasper — Open AI's engine. In the past, Frase created AI content using its own in-house AI technology but recently switched to Open AI's language model because it was progressing faster.
Frase AI specializes in SEO-driven content creation. For this purpose, it offers various SEO tools (more than most AI writing tools). The best thing is you don't have to pay extra for it, unlike Jasper, where you have to buy a Surfer SEO subscription to avail of its benefits.
Let's read in detail about Frase's standout features.
Frase's Standout Features
Topic Research and SERP Overview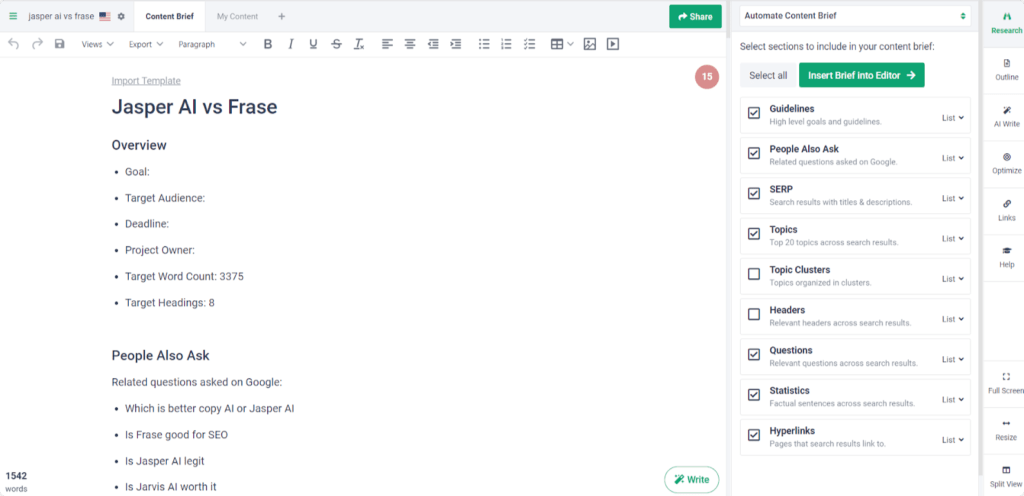 Any practical content marketer knows that high search engine rankings take more than just great writing. Of course, Crafting well-written content is an essential part of SEO, but there's more to it than that.
SEO is a game of relative performance. Everything is in flux; search engines are constantly comparing your content against other pages on the web. To get better rankings, you have to be better than your competitors.
Manually researching your competitors takes forever. Even with all the legwork, you still won't have the same in-depth insights that an SEO tool like Frase can provide in seconds. Frase makes content research easy by streamlining the competitor research phase in your blog writing workflow. Frase AI analyses the top 20 SERPs and gives you a breakdown of several metrics, such as:
Average word count for that topic
Avg. headings/sections
Avg. images used
Avg. external links
Avg. topic score
Backlinks
Domain rating
Statistics
Questions
News and related sources
Wikipedia topics
You can switch between tabs to explore different data types. For instance, if you click on 'News And Related Sources,' you'll get all the latest news related to your topic, sorted from newest to oldest.
Questions Research
Probably the easiest way to create valuable content is to answer your customer's questions. Frase simplifies this process. In seconds, it can find frequently asked questions related to your topic or keyword. All you have to do is add these questions in your posts as subheadings or FAQs.
If you were to do this manually, you'd have to search forums like Quora and Reddit for related questions, then scrape them. Not exactly a fun thing to do (unless you're really into mind-numbing work that drains your soul).
Frase compiles this data from multiple sources, such as:
People Also Ask
Search Autocomplete
Quora
Reddit
Related Searches
One of the things I like about this feature is that along with the questions, it also mentions their source (where the data is collected from) and their search volume. You can then select the ones that are most suitable for you and add them to your document. There's also an option to export the questions to Excel.
Content Briefs
Just like a captain needs a compass to steer a ship, content creators need a content brief to navigate their content in the right direction. But it can be a pain to create a new content brief from scratch every single time.
Frase offers two solutions to make your life easier.
You can create a custom brief template and reuse it for future projects.
The "Automate Content Brief" feature, which will automatically create a comprehensive brief for you.
The AI-automated content brief analyzes the top 20 results for your keyword and generates an outline. The generated brief covers:
Overview
People Also Ask section
SERP
Topic Clusters
Top 20 topics
Headers
Questions
Statistics
External Links
You can include or exclude any or all of these sections in your AI-generated content brief. Here's an example content brief that I generated for the topic "Jasper AI vs Frase."

This feature can be an enormous time-saver if you're creating content at scale.
Content Optimization
You can create new SEO-friendly articles and optimize existing ones with Frase. Creating a new document with SEO recommendations is as simple as entering your focus keywords and waiting for Frase to work its magic.
The content optimization workflow is also seamless. All you have to do is enter the URL of the published article, and Frase will directly import the text into your editor. You can then optimize the blog post by adding the recommended topics, keywords, and questions.
Frase has a content optimization score that acts as a benchmark for how well your content covers a topic compared to other top-ranking articles. The optimization score is calculated by comparing your blog post against the top 20 Google search results for your keyword.
Frase uses their topic modeling algorithm to identify key topics you should be including in your blog post. You'll also get the recommended word count, number of images, links, and average content score. Your content optimization score keeps improving as you make the suggested changes.
I tried the optimization feature on an article I found on the web, the main keyword was "10 Best Chia Seeds in India". I imported the entire article into my Frase editor using the content optimization workflow. Here's what I got: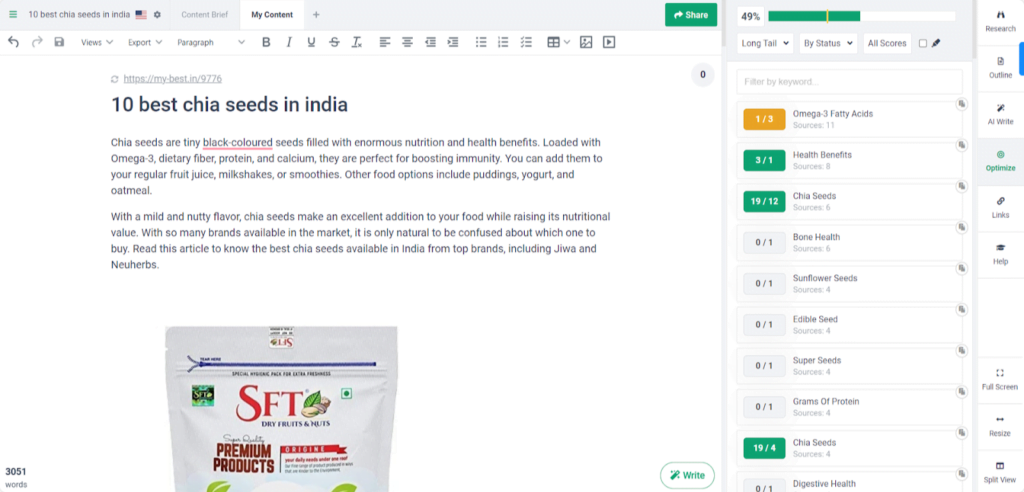 The imported article scored 49%. The average score across top competitors was around 30.9%. You can also see the suggested long-tail keywords and topics commonly used by top-performing web pages. It even shows the suggested distribution for each keyword.
For instance, I have a score of 1/3 for the keyword 'omega-3 fatty acids', meaning it's underused in my document. Underused keywords appear in yellow, keywords with ideal distribution are shown in green, and no color indicates a keyword gap. As you continue editing your content for SEO by filling these gaps, you will see an increase in your SEO score. Frase also has AI content generation features that help you write blog posts faster by creating fresh content or rewriting competitor content.
Frase Answer Engine
Another feature that differentiates Frase from other AI marketing tools is the Answer Engine. Frase's answer engine is an AI-based chatbot that can be set up on your website to answer visitors' questions. Once you train the bot on your website content, it builds a knowledge base that it uses to answer questions from visitors. By keeping users on your website longer, you'll improve SEO, and you'll drive more conversions by promptly answering customer questions.
By the way, setting up the Frase Answer Assistant on your website is pretty simple. You don't have to worry about coding or reading endless installation guides. A few steps are all it takes.
Once you set up the answer bot, it crawls your website every two weeks, making sure your visitors have the latest information. It also lets users switch over to live chat to get human assistance if the chatbot fails to answer their queries.
Wikipedia Concept Map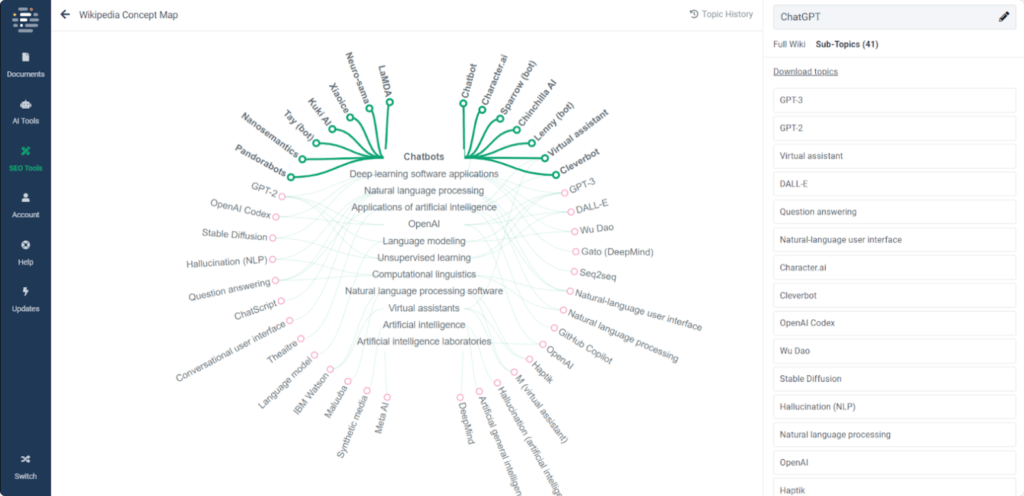 Another noteworthy feature is Frase's Wikipedia concept map. Frase uses Wikipedia's knowledge graph to visualize related topics and concepts in a circular display with interconnected nodes. The Concept Map gives you a high-level overview of related topics and concepts related to your keyword.
Other Features
AI Content Writer – Frase is not just an SEO tool but also a writing tool. Like Jasper, Frase also provides pre-built templates for different use cases, such as Article Rewriter, AIDA, Blog introductions, and How-To Blog posts.
Customer Support – Frase offers live chat and email support to its users. With live chat, users can get a reply to their questions instantly. Email queries are generally answered within a window of 24 hours. They also have a Help Center, which covers most of the information regarding the software. The Frase community is also very active.
Integrations – Frase also offers integrations with Google Search Console and Google Docs. They also have a WordPress plugin for people who prefer to edit content in WordPress.
Frase Tutorials – Frase provides several tutorials, detailed guides and a crash course to help users learn how the software works. Some of it may be outdated because of all the updates the team releases.
Limitations of Frase
Learning curve – Frase is a powerhouse with SEO features, custom templates, AI writing, content analytics, and topic planning features. The downside of having all those features in one tool is the learning curve. While it's not crazy complicated, it requires more work compared to a plug-and-play tool like Jasper AI.
Limited learning resources – Frase team rolls new features at break-neck speed, but unfortunately, their documentation can't keep up with the development pace. So many users have to rely on third-party courses to learn the tool.
Limited to SEO writing – Frase is appropriately positioned as a multi-purpose tool with SEO and AI writing features. It's perfect for SEO-focused content, no doubt. I can't say the same for other types of writing, such as novels. Frase lacks the flexibility and intuitiveness to write long-form content like novels.
Frase.io Pricing
Frase offers three different pricing plans: Solo, Basic, and Team.
The Solo plan costs $14.99/month if paid monthly and $12.66/month if paid annually. With this plan, you can write and optimize four articles per month and generate 4,000 AI words per month.
The Basic plan costs $44.99/month if paid monthly and $38.25/month if paid annually. This plan lets you write and optimize 30 articles and generate 4,000 AI words monthly.
The Team plan costs $114.99/month if paid monthly and $97.75/month if paid annually. With this plan, you can write and optimize unlimited articles per month and generate 4,000 AI words each month. It also gives you three user seats to add your team members.
My recommendation
If you're a content creator who is focused on SEO, Frase is the perfect tool for you. It offers a comprehensive all-in-one package with all the SEO tools you need, along with AI writing capabilities.
However, Jasper AI is the way to go if you're a marketer who needs a wider range of AI copywriting templates. Remember that you may have to spend extra money on a third-party tool for SEO features.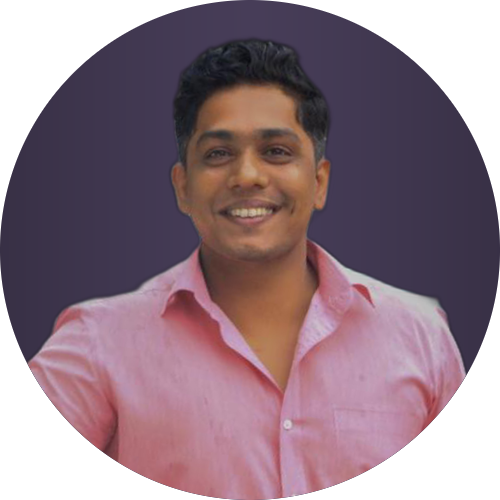 Vivek Mathew
(aka The Mindful Marketer, aka the guy who rocks a pink shirt 😄)
I'm a content consultant who helps small businesses become iconic brands by clarifying their brand message and creating strategic content. I've worked with brands like EY, Natwest, and some early-stage startups like Vivartah.

Click the button below and book a call with me.