AI Marketing Statistics: Data Shows Emerging Technologies Are Here Now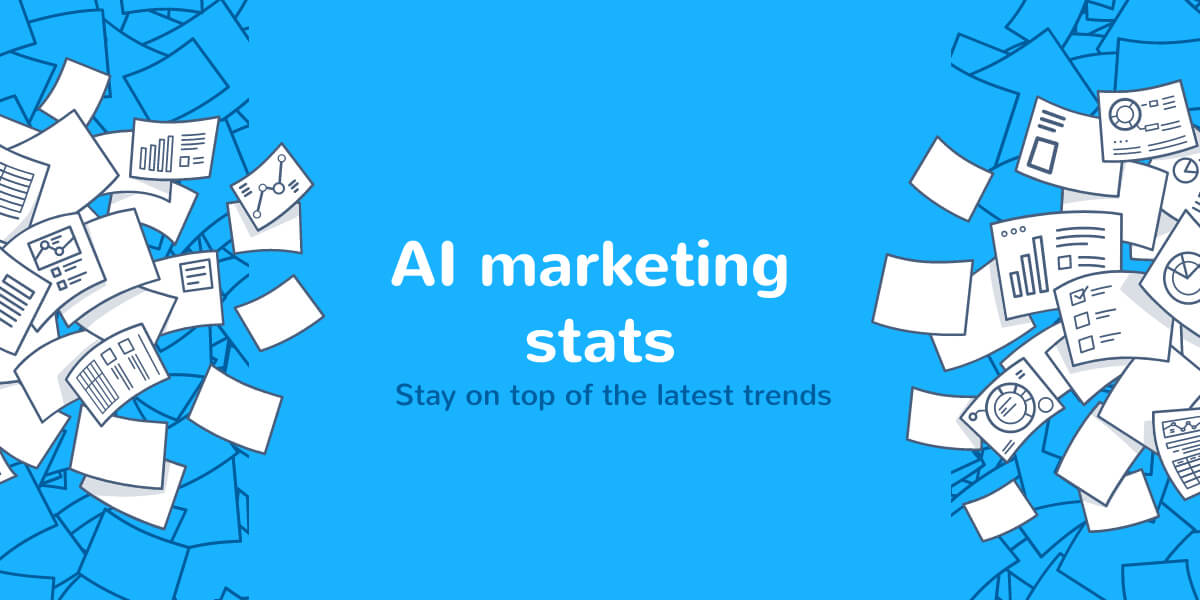 Artificial intelligence (AI) is transforming our world. We interact with AI every day through voice assistants like Siri, Google Assistant, and Amazon's Alexa, or by watching personalized content suggestions on Netflix and Amazon Prime. It's touched every sector, industry, and function, and marketing is no exception.
AI marketing statistics show the impact is huge and changing how marketers rely on technology. It's reshaping everything from lead generation, conversion rates, customer engagement, customer experience, content optimization, and more. AI hasn't just changed the way we market to customers. It's also changed how people buy your products and services.

AI-powered chatbots, personalized content recommendations, and AI-generated content and data insights are a few AI innovations disrupting the industry. In this blog post, we've listed 31 artificial intelligence statistics that show just how much AI has impacted marketing.
Related articles on AI-assisted content creation and optimization
How AI impacts business
AI impacts marketing as well
How marketers priorities prioritize and understand AI
Barriers to AI adoption
Benefits of using AI for marketing
Personalization
According to Gartner, 63% of Digital Marketing leaders are struggling with personalization, yet only 17% implement AI or machine learning across their departments.
47% of B2C consumers say brands could better align their engagement activities with their preferences, and 56% of consumers expect each interaction with a brand or vendor to be tailored.
71% of customers expect companies to communicate in real time, which explains the increasing popularity of using AI conversational marketing solutions to engage with customers and prospects.
Source: Gartner, IBM, How AI is changing advertising
Increased revenue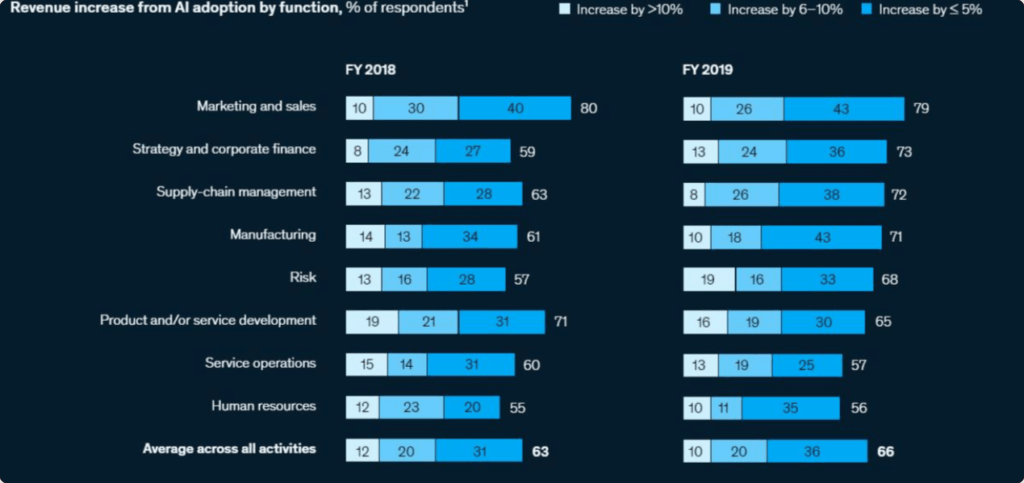 Results of the McKinsey & Company 2020 Global Survey on artificial intelligence (AI) indicate that organizations are using AI to generate value. Increasingly, that value comes in the form of revenue. Some respondents ascribe 20 percent or more of their organizations' earnings before interest and taxes (EBIT) to artificial intelligence.
Ten percent said their revenue increased by more than ten percent, 26 percent said it increased by six to ten percent, and 43 percent said it increased by less than five percent.
Decreased cost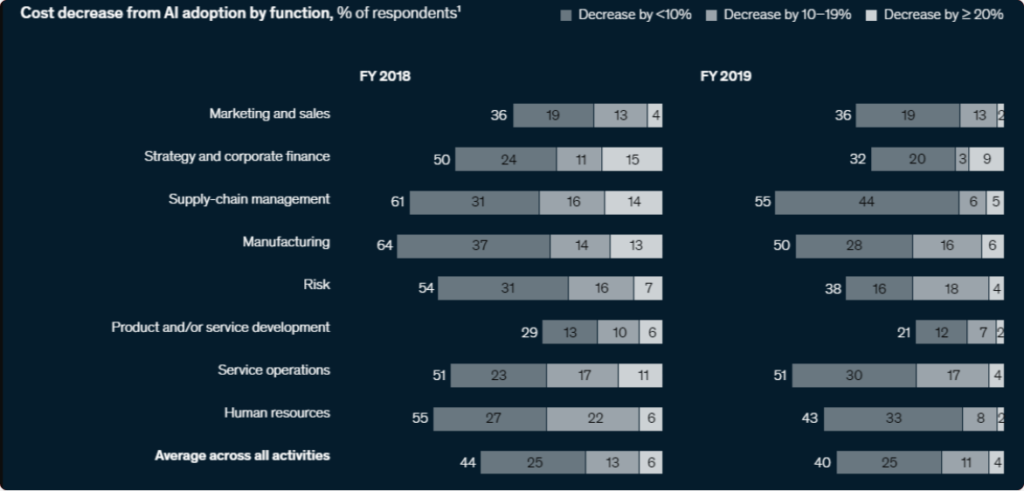 Cost decreases are less common in most functions. According to 19 percent of respondents, AI adoption decreased costs in their function by less than 10 percent, 13 percent said costs declined by between 10 and 19 percent, and two percent said costs decreased by more than 20 percent.
Source: McKinsey & Company, The state of AI in 2020
Make sense of customer data
In the coming years, marketers anticipate using 50% more customer data sources than they did in 2019, which makes it even more challenging to make sense of all that information. Artificial intelligence (AI) can help make sense of the increasing amount of customer data.
Source: Salesforce, State of Marketing Report
Increased sales and customer retention
Gartner forecasts that 30% of all B2B companies will use AI for at least one of their primary sales processes by 2020.
A study found that AI enables marketers to increase sales (52%), increase customer retention (51%), and succeed at new product launches (49%).
21% of sales leaders rely on AI-powered applications, and most of them share these applications with their marketing departments.

Over the next two years, sales leaders anticipate their use of AI to increase by 155%.
Sales leaders predicted AI to become mainstream by 2020 and 54% saw themselves adopting these technologies.
Source: Gartner, Forbes, Salesforce, State of sales, third edition
Email marketing
The average order value (AOV) for senders using AI was $145.08, compared to $138.00 for those not using AI. Email marketing revenue was up 41 percent in organizations using AI.
Marketers who use AI generate more revenue per subscriber. AI users generate their results from 35 million emails sent per month, compared to 36 million that are sent without AI solutions.
With the use of AI, email marketers are reporting better subscriber engagement. Open, and click-through rates averaged about two points higher with AI senders as opposed to those who rely on humans exclusively. 
Solutions that leverage AI can lead to improved deliverability. Mailbox providers frequently use engagement signals to filter spam, and survey results indicate AI senders have a higher delivery rate than human-curated senders.
Source: Business Wire
Marketing automation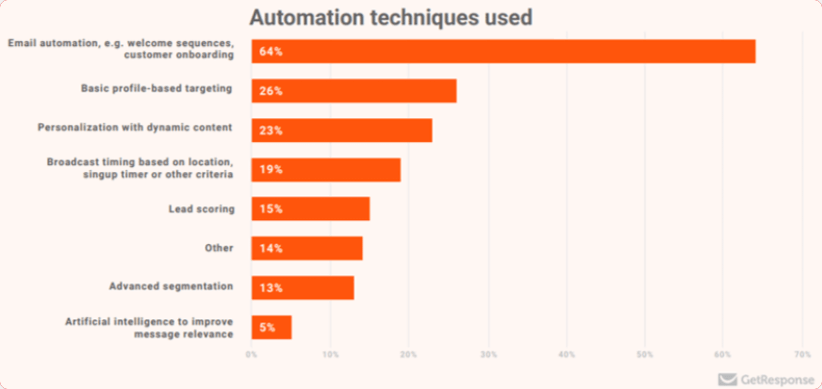 As AI and marketing automation rise, it's only natural that they'll be combined to produce better results.
The least commonly used marketing automation techniques were lead scoring, advanced segmentation, and AI (artificial intelligence to improve message relevance). According to the Email Marketing and Marketing Automation Excellence 2018 report prepared by Smart Insights and Get response, this could be the result of digital skills in this area.
Marketing automation is used by 53% of B2B organizations today, and 37% plan to implement it, according to the eConsultancy report.
According to Forrester, 70% of enterprises expect to implement artificial intelligence in the next 12 months.
Source: Smart Insights and Get response, Econsultancy, Forrester
AI for chatbots
56% of companies say conversational bots are driving disruption in their industry, and 43% say their competitors are already using the technology.
It is projected that 75-90% of queries will be handled by bots by 2022.
According to Allegis 2017 survey, 58% of candidates expressed comfort with interacting with AI and recruitment chatbots during the early stages of the application process. 60 % were comfortable with chatbots or AI being used to schedule interviews.
In retail, 34% of customers would be comfortable interacting with a chatbot instead of contacting live support.
When business executives were asked what AI-powered solutions they saw having the most impact on their business, virtual assistants (31%), analytics (29%), and automated communications like emails and chatbots (28%) topped the list.
Chatbots are used in 53% of companies' IT departments, 23% in their administrative departments, and 20% in their customer service departments. AI chatbots and assistants are used in sales and marketing departments in 16% of organizations.
Juniper Research reports that the adoption of chatbots in the retail, banking, and healthcare sectors will result in business cost savings of $11 billion annually by 2023, up from an estimated $6 billion in 2018.
Source: Accenture, CNBC, Gartner, Allegis Global Solutions, Statista, PWC, Spiceworks, Juniper research
AI in social media
AI has many applications in social media, such as personalized social feeds, animated lenses and filters that change the appearance of users with facial recognition, sentiment analysis that finds positive and negative words in posts and comments on social media, and much more.
According to MarketsandMarkets, the global use of AI in the social media market is projected to grow from USD 0.6 billion in 2018 to USD 2.2 billion by 2023 at a Compound Annual Growth Rate (CAGR) of 28.3% during the forecast period.
Source: Markets and Markets
AI for content marketing
Leading marketers are 56% more likely to strongly agree that decisions based on data are superior to those based on intuition and experience.
Technologies such as machine learning, deep learning, neural networks, natural language processing (NLP), and natural language generation (NLG) allow us to process an enormous amount of unstructured data and decipher the natural language. It can be used to gather insights and recommend ways to improve the performance of your content. There are several AI-powered search engine optimization tools that use these technologies.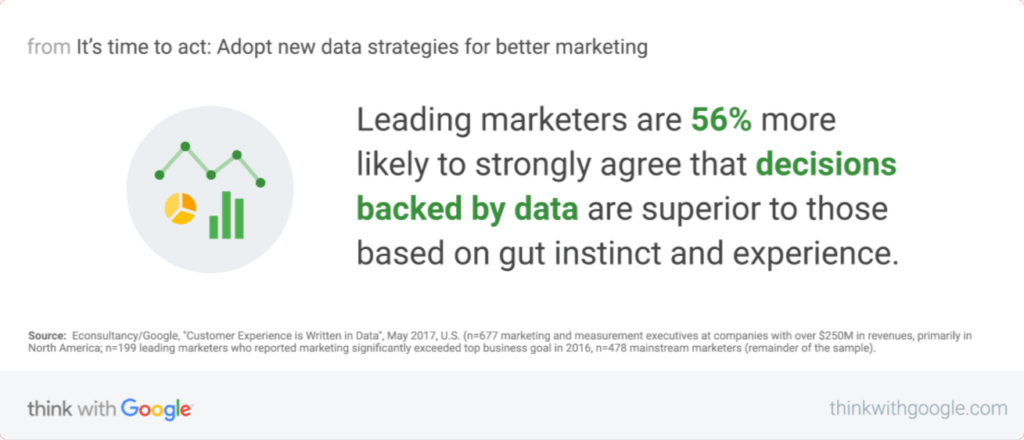 Content marketers can use it to discover keywords, plan blog post topics, optimize and personalize content, test landing pages, schedule social shares, and review analytics.
Conclusion
It's time to stop thinking of AI as some futuristic technology and start using it in your marketing! AI-powered solutions are being used to automate tasks within business departments such as customer service or healthcare administration, saving companies millions of dollars every year. There is a bright future for AI in marketing because it offers many benefits – all with less work for marketers!
Advancements in AI technology have changed how we market to customers and how they interact with brands.
Whether you're a B2B marketer or a B2C marketer, AI can help automate tasks like lead scoring, segmentation, analytics, and automated communications to save time, increase revenue per subscriber, or reduce costs associated with hiring customer service staff. 
AI and machine learning will likely become more prevalent over the next few years. People prefer a conversational user experience and are increasingly becoming comfortable interacting with bots when buying products online. This shift can reduce your cost while simultaneously improving ROI metrics. Advanced data analysis and customer segmentation capabilities will help you understand and tailor messages for your customers better.
As a marketer, if you don't embrace and take advantage of AI, your competitors will. Smart marketers will embrace the new technology and take advantage of it to stay competitive.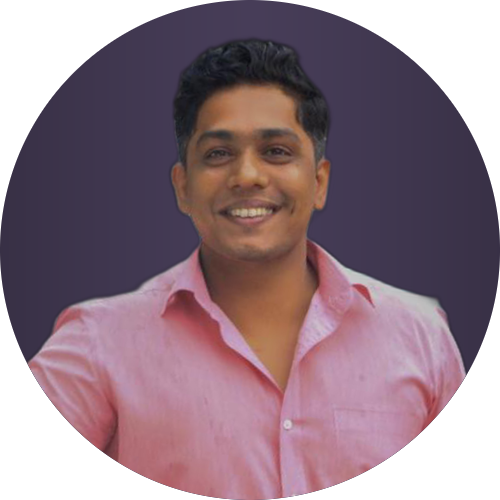 Vivek Mathew
(aka The Mindful Marketer, aka the guy who rocks a pink shirt 😄)
I'm a content consultant who helps small businesses become iconic brands by clarifying their brand message and creating strategic content. I've worked with brands like EY, Natwest, and some early-stage startups like Vivartah.

Click the button below and book a call with me.